Hey guys! Welcome to Robotobzor! Today I'll comparing Xiaomi Robot Vacuums under $300 in 2021. These five robots that I have reviewed before are as follows: Mijia 1T, Roborock E5, Dreame F9, Mijia 2C and Mijia 1C. I also decided to include Roborock E4 and Mijia G1, which are also up for sale. All of these robots are below 300$ and because of this, many have trouble picking the right robot. I'll compare the robot's functions, characteristics, and the main cleaning features. This includes the navigation, power, suction power and so on. Now, let's get rolling!
Price comparison
Let's start by comparing the robot's prices. The cheapest of the 7 models is Xiaomi Mi Robot Vacuum Mop Essential. This is the full name for Europe, and in China it is just the Xiaomi Mijia G1. The robot stays within the $165-205 price range. And during sales events it goes down to even $140.
Then we have the Xiaomi Mi Robot Vacuum Mop, which is a bit more expensive than the G1. It is also known to the Chinese market as Mijia 1C. This vacuum sells for $200-250.
This year we got the new and improves Xiaomi Mijia 2C. Right now it is only sold to China, and there is no European version, but I'll go over that detail later. This vacuum costs from $200-260.
Another cool vacuum that came out towards the end of 2020 – to the start of 2021 – is Xiaomi Mi Robot Vacuum Mop 2 Pro+, known in China as Mijia 1T. This robot goes for $275-300 on AliExpress, and in local electronics stores can reach $410, which brings the question, what are you exactly paying for?
So we went over the Mijia sub-brand, let's move on. From the Dreame brand we have the popular Dreame F9, which costs from $200 to $250.
And from Roborock we got two more robots: Roborock E4, which came out in 2020 and currently goes for $220-250, and the newer Roborock E5, which came out this year and costs $275-300.
And so our robots stayed within the $165-300 boundary, and now it's time to find out what we're really paying for.
Technical characteristics
In the chart I put together the characteristics for the Xiaomi vacuums: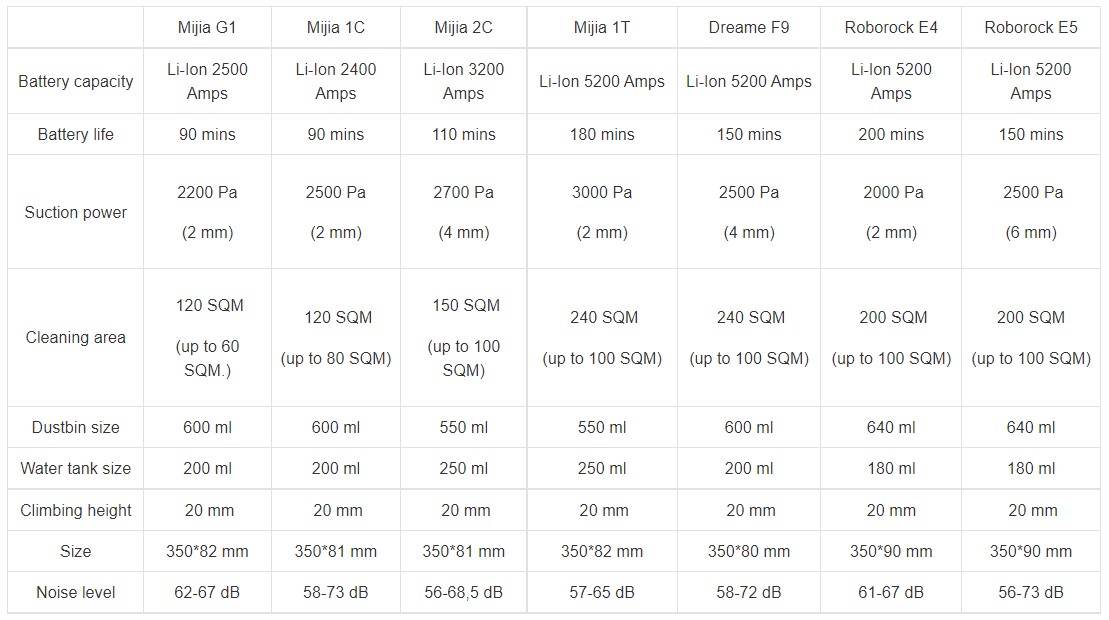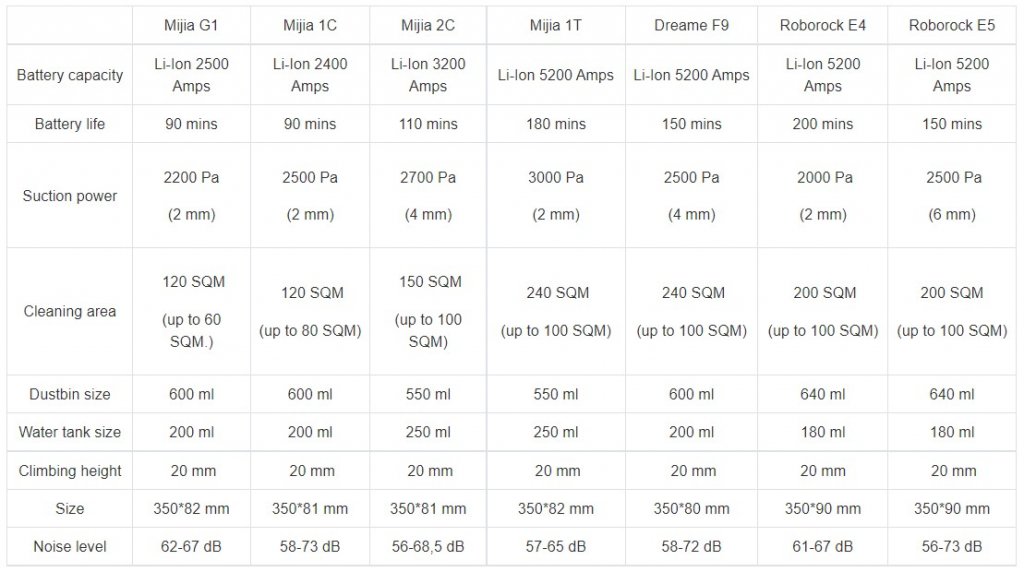 Suction power is actually testable- and has been tested by us. From what depth can each robot suck out dirt? As we can see the most powerful is the new Roborock E5. But it's just a little more powerful than Mijia 2C and Dreame F9. Mijia 1T's suction power is honestly just a corporate lie. In reality it is closer to E4, 1С and G1.I'll add just a couple comments that can clarify the chart. Xiaomi Mijia G1, 1C and 2C has pretty weak batteries, and so their battery life is less. Mijia 1c also has a lesser cleaning area, sadly.
For the cleaning size I put the actual size in brackets, which relies more on the battery and the navigation.
We can see that the Roborock models are just 1 cm higher because of their bulging IR sensor on the front. On the other hand they have the largest dust collectors.
Well and lastly I put the noise level from personal tests. The more power a robot has, the louder it's going to be. And another thing, Mijia 1C turned out to be extremely loud, reaching 73 DB.
Functionality
Now let's move on to the functionality. Once again I have put all my info in a chart: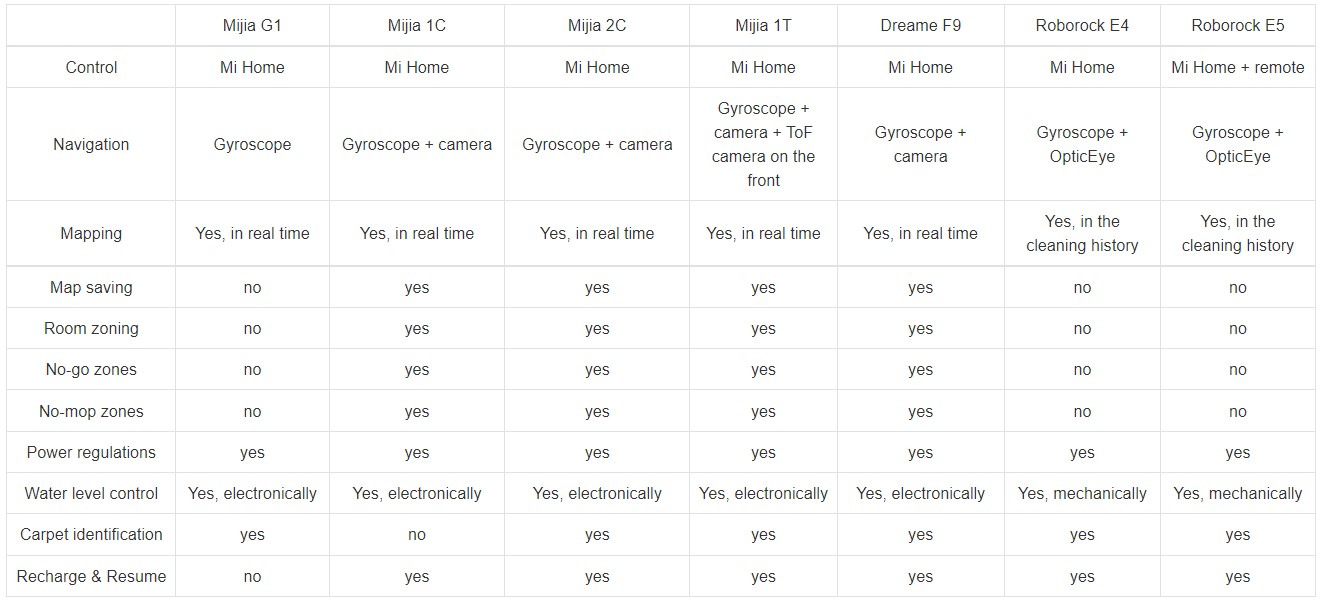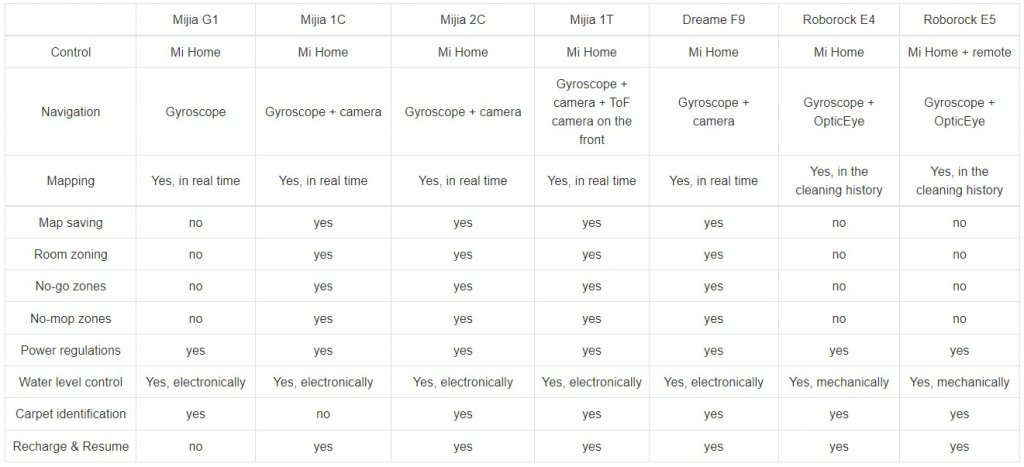 The best navigation is in Mijia 1C, 2C and Dreame F9. This is because they all have a Gyroscope and a camera installed, and also save the map. Mijia G1 has only a gyroscope, and therefore costs less. It also doesn't't have modern map functions. Roborocks have a gyroscope and a sensor on the bottom. These robots perform better in rooms than Mijia G1, but in practice the camera works better than the sensor, and these robots have no additional navigation features. Аnd don't get me started on Mijia 1T. The ToF sensor doesn't work well, and hurts the navigation in the long run, I showed this pretty well during testing, and the links for all the robot's reviews are in the description below. Moving on, the robot not only can't go over objects, but it also remembers invisible objects and drives in a chaotic pattern. The problem mostly arises with fluffy carpets. So all in all this robot is the worst one that I have ever reviewed.The data is really basic, you can see everything for yourself. But just in case I'll clarify some things. First off, a round of applause to Roborock E5, for including a remote. This is a great option for the older generation, who might have a hard time with the app. It's also good to have if you don't have Wi-Fi.
All of the vacuums except the Roborocks have electronic water regulation, and I feel that it is better as it doesn't get the water on the cleaning rug when charging at the base.
Only Mijia 1C, sadly, can't increase power on carpets.
And the last problem is- that Mijia 2C and 1T were intended for China, so they only speak Chinese and English.
So obviously the best robot by functionality is Dreame F9. The runner-ups include Mijia 1C, 2C and 1T. after them comes Mijia G1, and lastly Roborock E4 and E5.
Cleaning Quality
A detailed video review with all the tests:
Lastly let's test the cleaning quality of the robots. All of the robots are above average on hard floors. Only a bit of dirt is left at the corners because of the robot's round shape.
The best carpet cleaners happen to be Roborock E5, Dreame F9 and Mijia 2C thanks to their increase of power. Mijia 1T moves around chaotically because of the false signals the ToF sensor sends, so I really don't recommend this robot to carpet owners.
When mopping the Roborocks are a little better, but only a little. All of the robots have a good rag for mopping and are even able to get out dried dirt.
All 7 models are able to overcome obstacles well, but what's interesting- is that all of the robots are afraid of dark spaces, and take them for cliffs.
I'll note that only Roborocks are able to move around objects like chair legs, for example, during testing I put a box in the center of the room.
Lastly I'll go over the central brushes. They are all bristly, but only Dreame F9's brush can be removed for hair and dust cleansing. By the way, Mijia 2C has a six sided side brush, but this didn't reflect on the cleaning quality.
In conclusion
I compared the characteristics, functions, and the main problems the Xiaomi robot vacuums had. Now I'll give you my opinion on which one fits your needs.
By the way, the robots were able to get this many points out of 100. Our grading algorithm, as well as the other robot's grades are listed in the description below.
Dreame F9 – 67/100
Mijia 2C – 59/100
Mijia 1T – 57/100
Mijia 1C – 57/100
Roborock E5 – 55/100
Roborock E4 – 53/100
Mijia G1 – 49/100
In my opinion Mijia 1T and Roborock E4 – aren't the best to buy. Mijia 1T is the most expensive, but has a bad navigation, which poorly reflects on the cleaning. But in its defense, it was made for China, so the functions are limited. Roborock E4 is a pretty debatable model. It doesn't stand out much, and costs as much as other robots with a better navigation. So I think that now, with the release of the updated version, there is no point in buying it.
And our obvious leader under $300 – is Dreame F9. Is has the most functions, is more powerful, and cleans well. The price is also reasonable, compared to the other vacuums.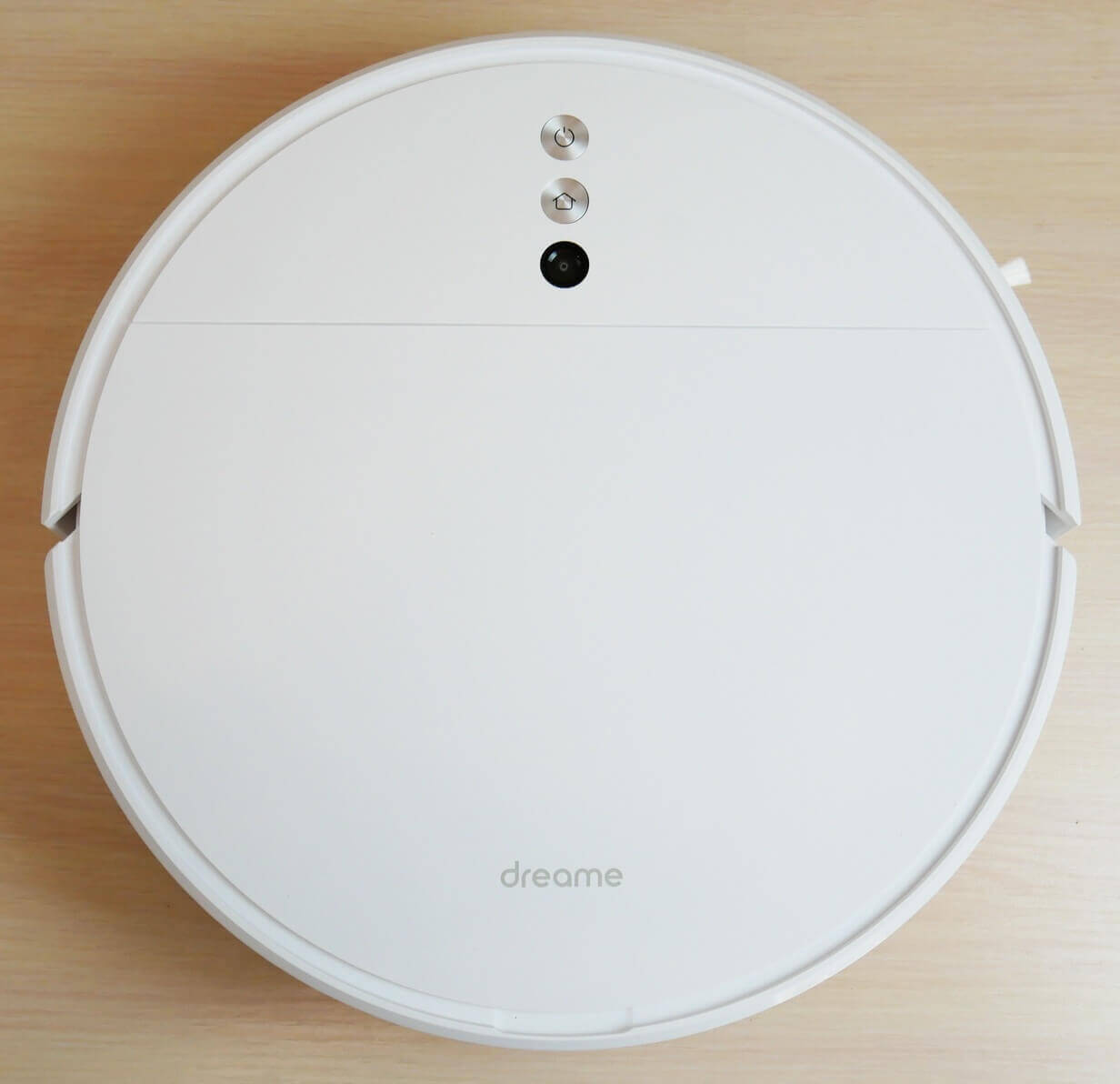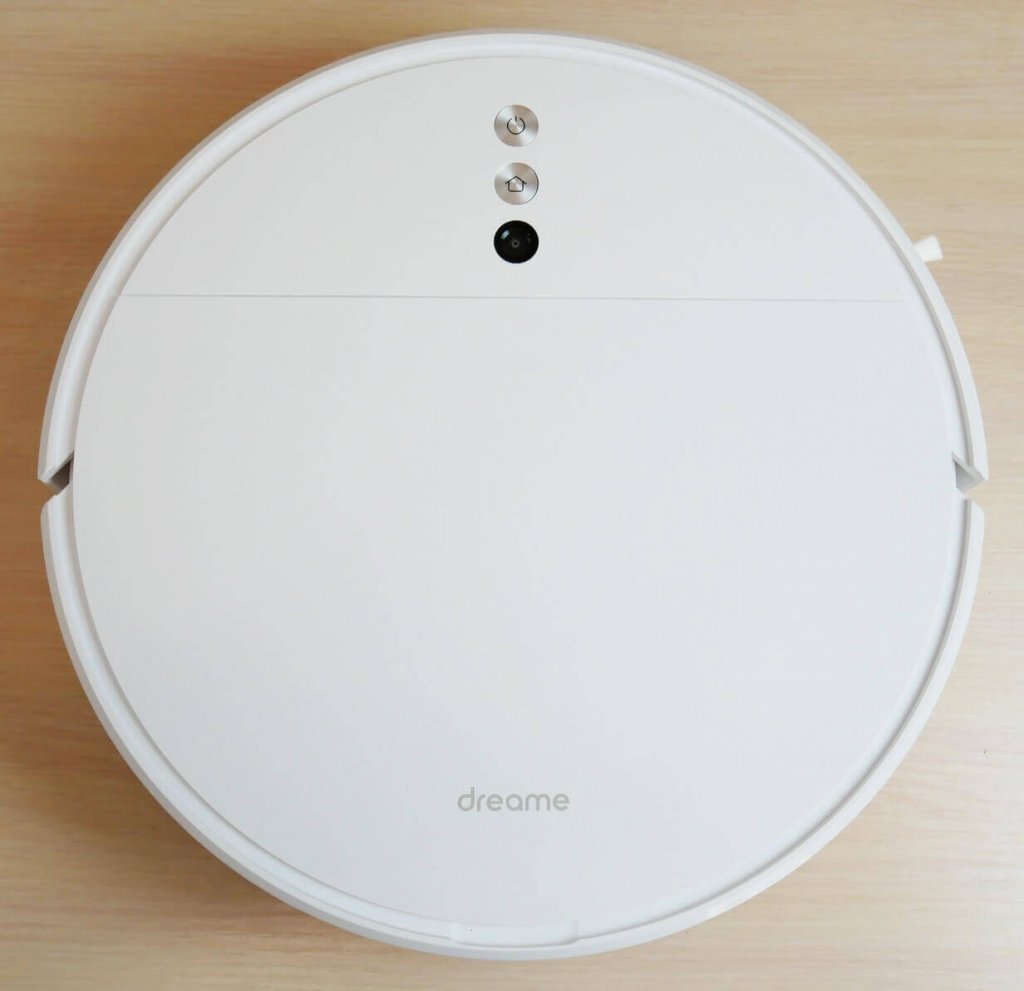 I'll give second place to Roborock E5 for the highest suction rate, best cleaning, and the addition of a remote. If you don't need modern software for a map, or you have a small living space, this robot would be great for you.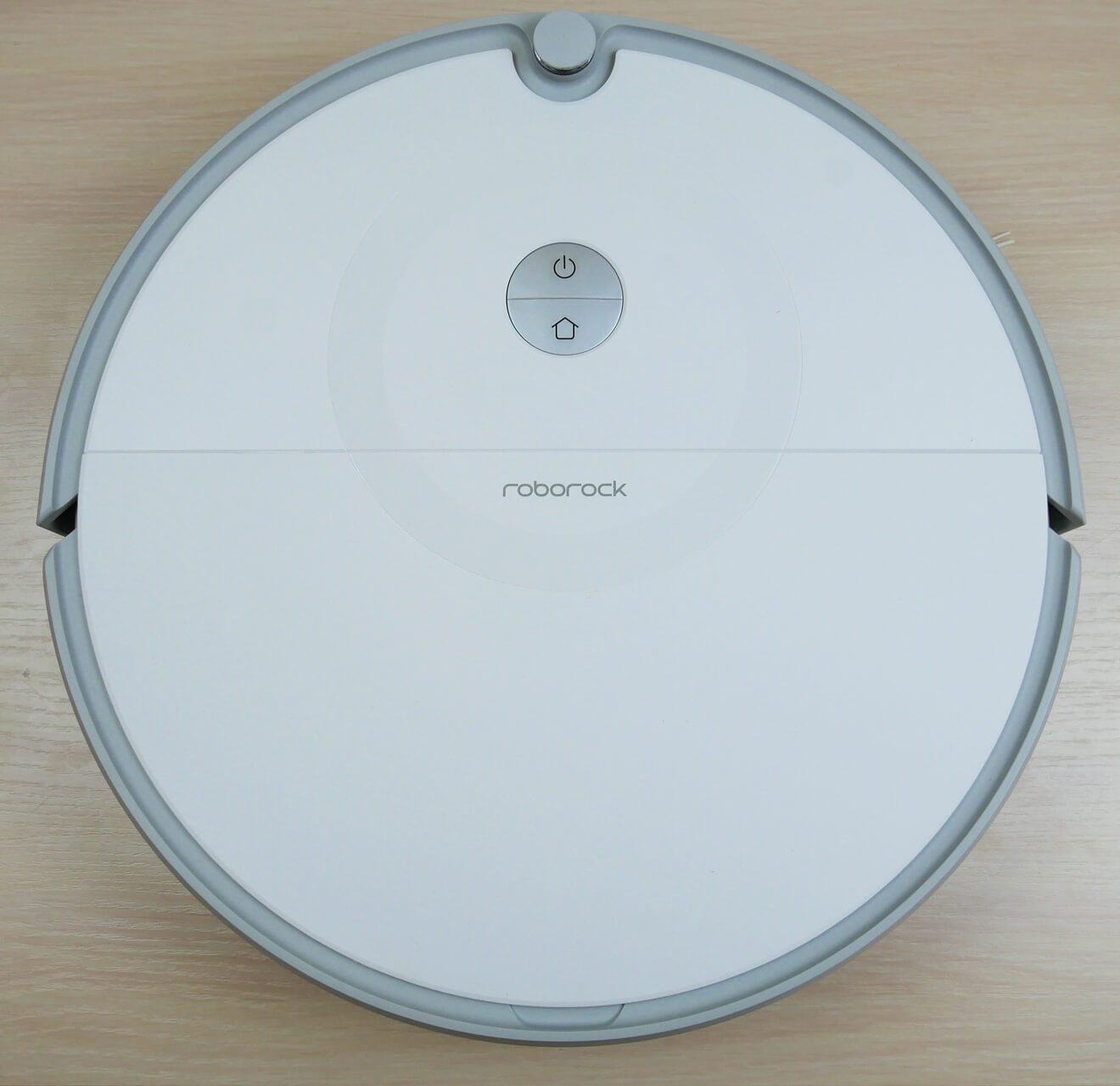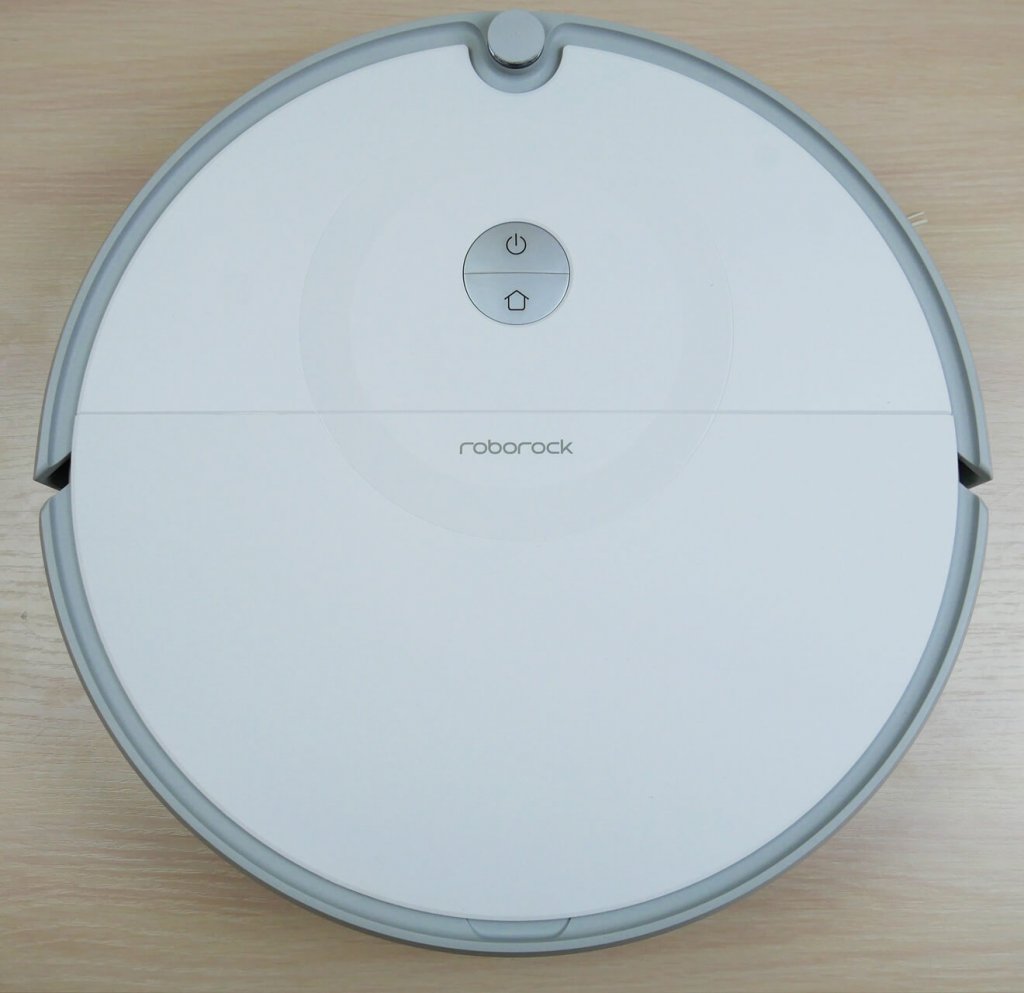 The third and fourth place goes to Mijia 2C and 1C. The re-styled model has a better price, is sold in most digital-stores, and supports some digital assistants. And the app works best when close to the vacuum.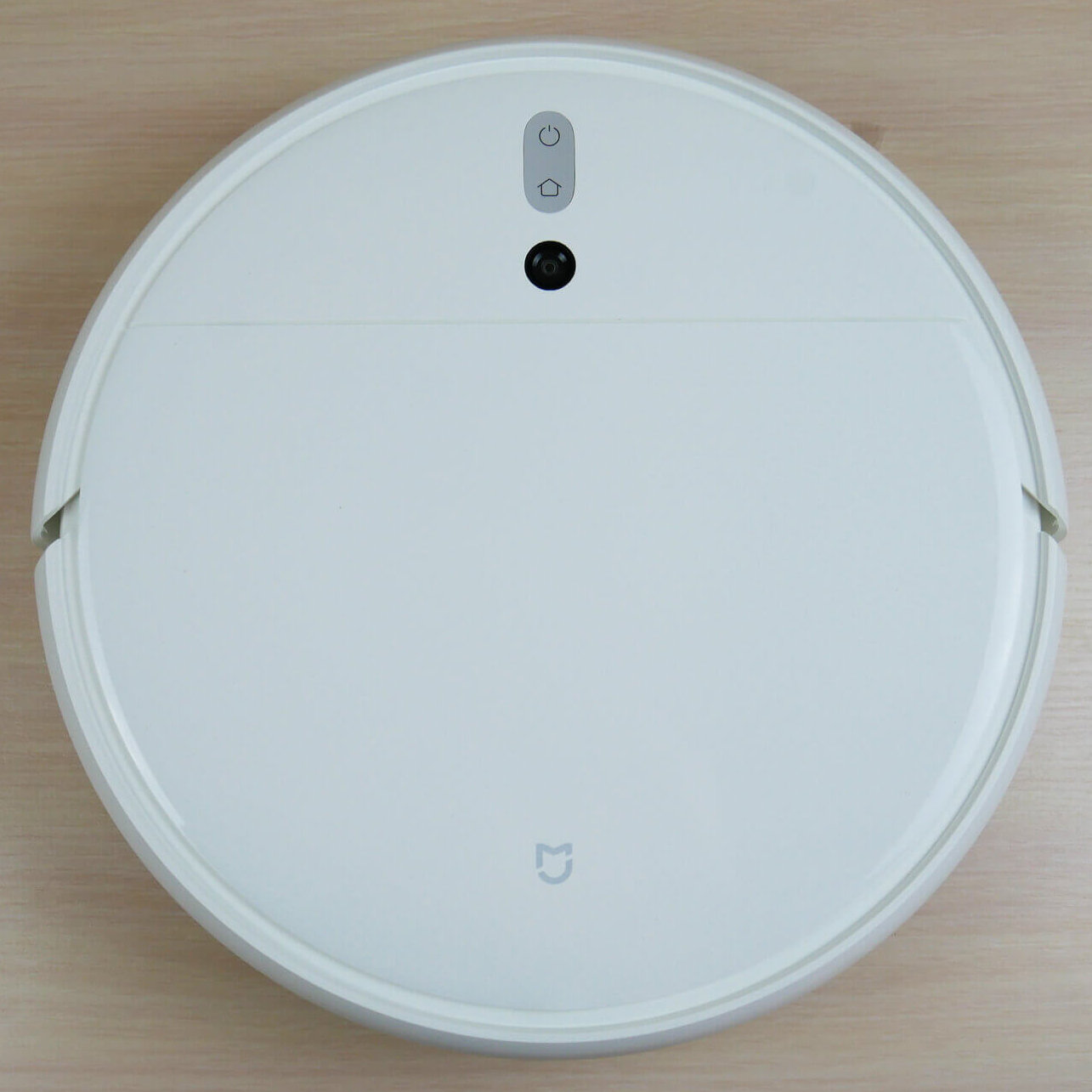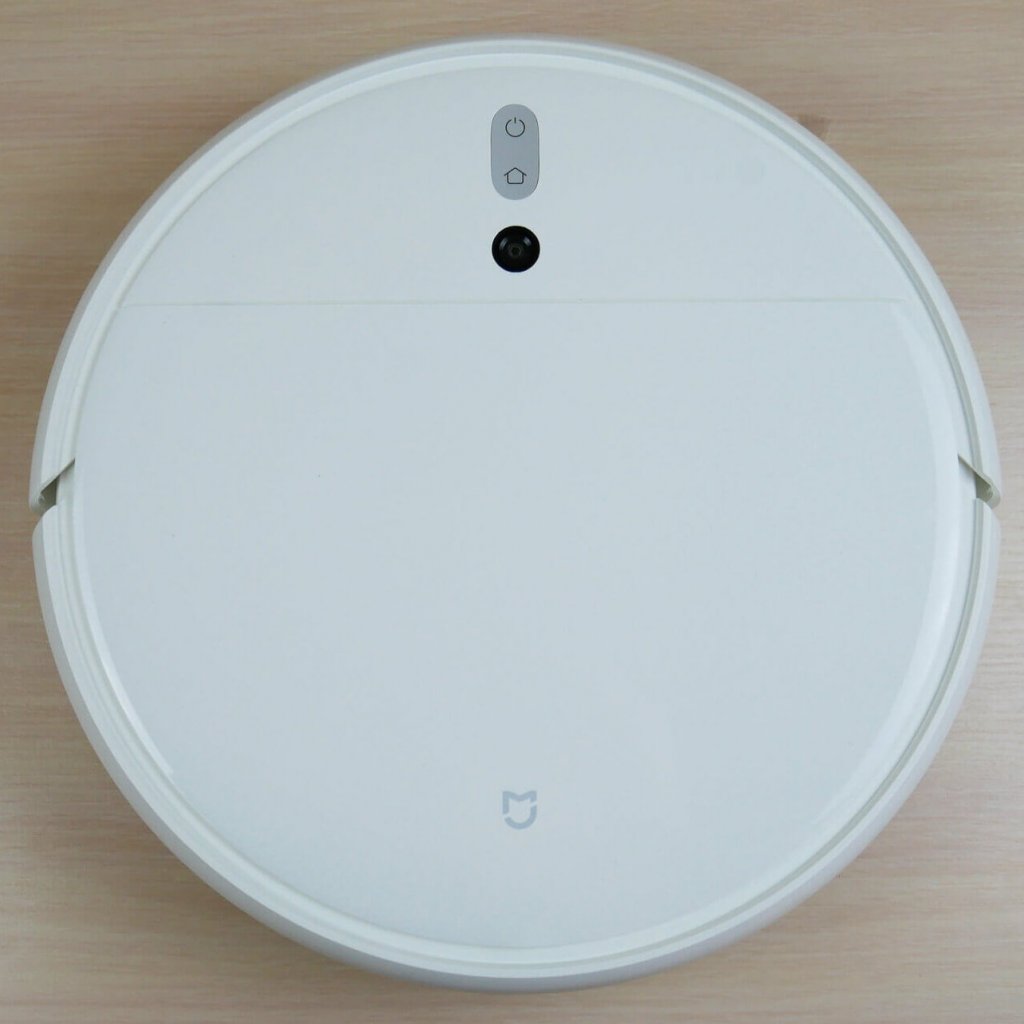 But the newer Mijia 2C has better suction power, has a better battery, and automatically increases power when driving on carpets. Oh, and they also updated the water container. Just pick what is more important to you when buying. I personally suggest the newer one.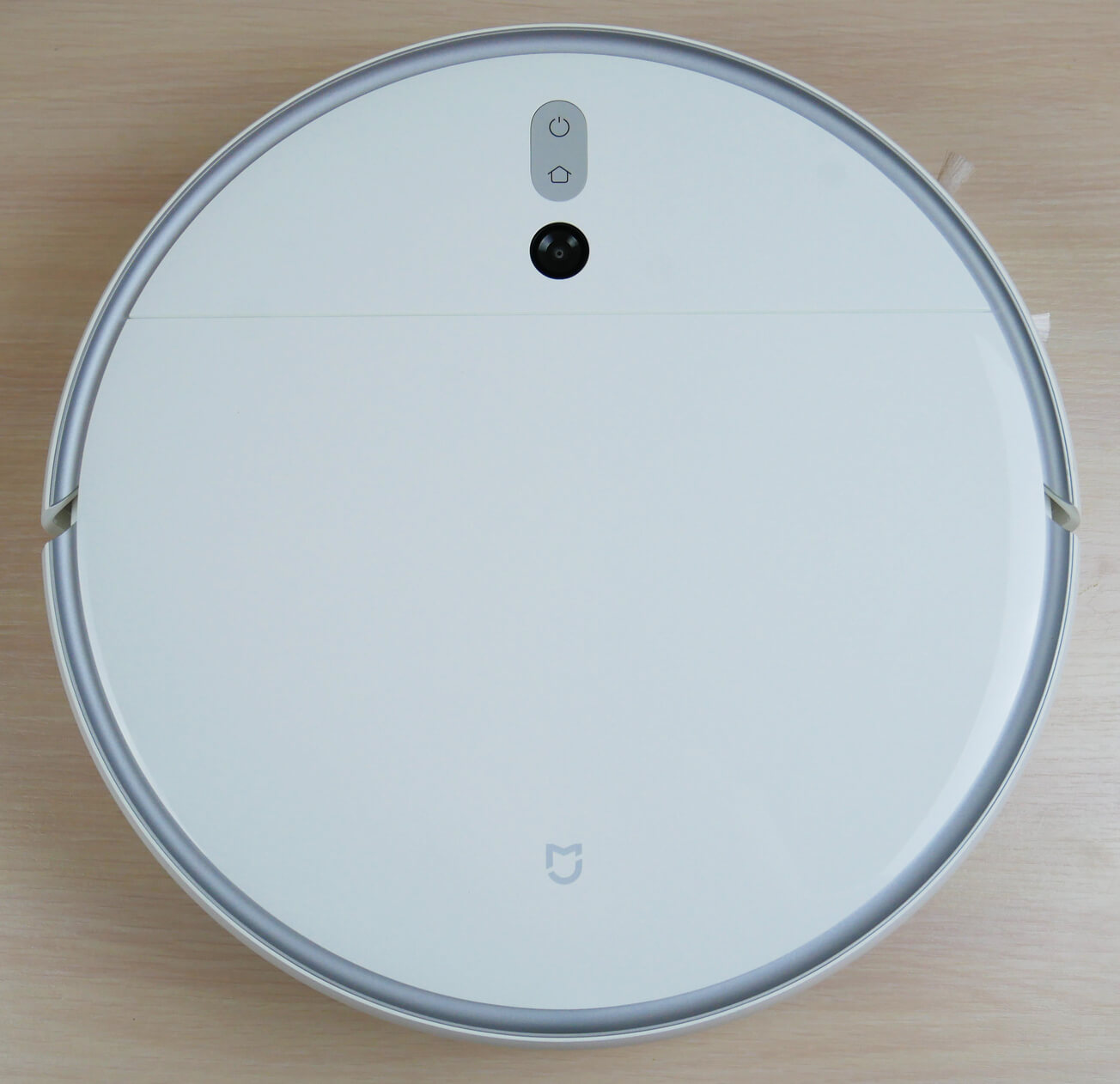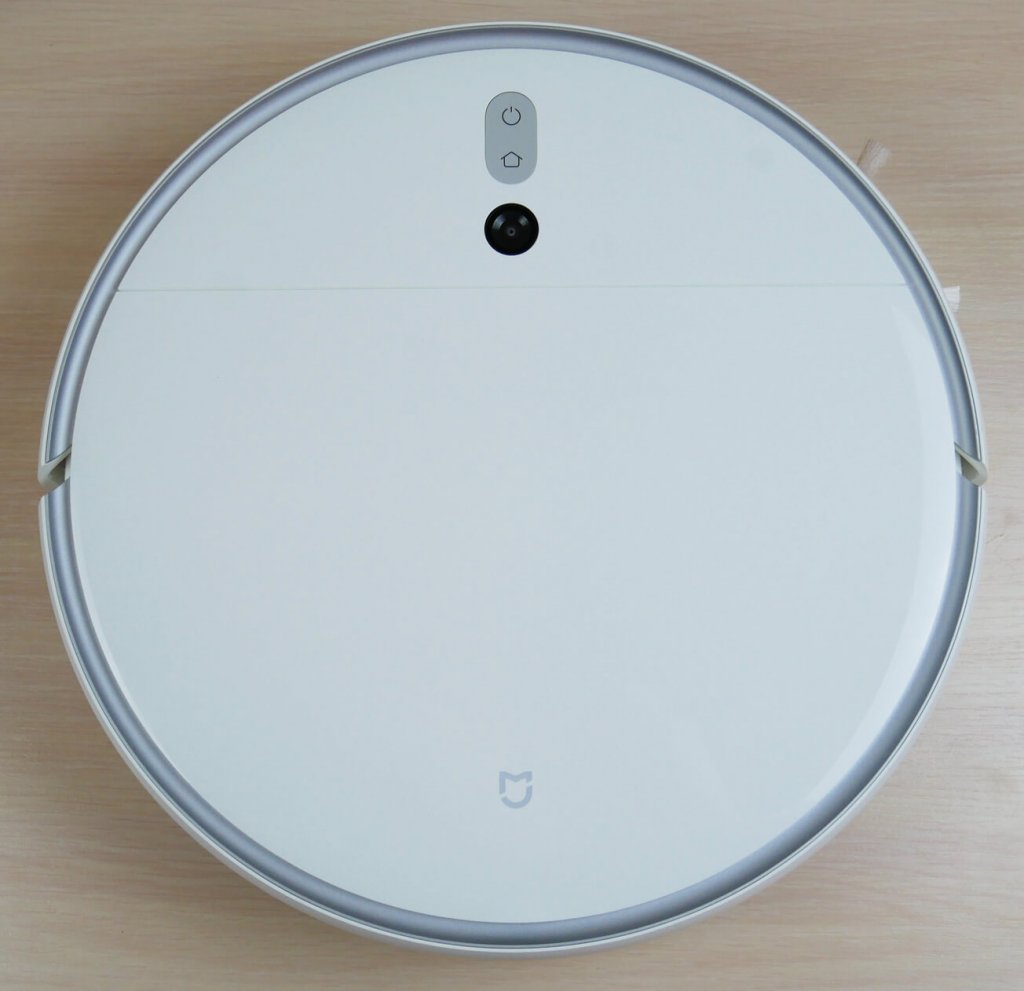 And last place goes to Mijia G1. It has the least functions and the worst navigation, and the price could be cheaper by maybe 30-50%. For small homes it makes sence to buy a cheap but good robot. Especially if it costs $150 or below or is on sale. Just make sure to go over the functions that you need in your home before buying.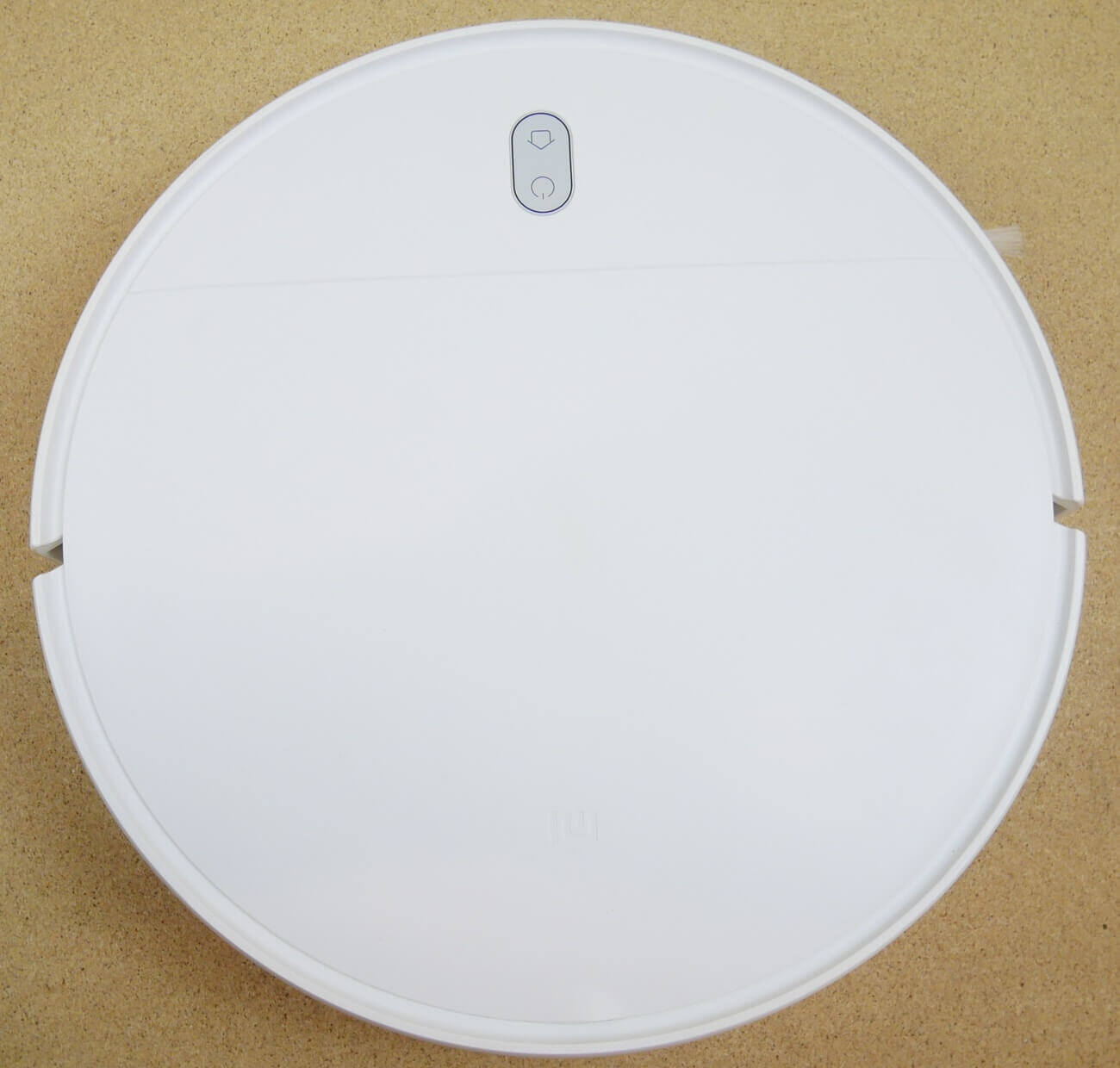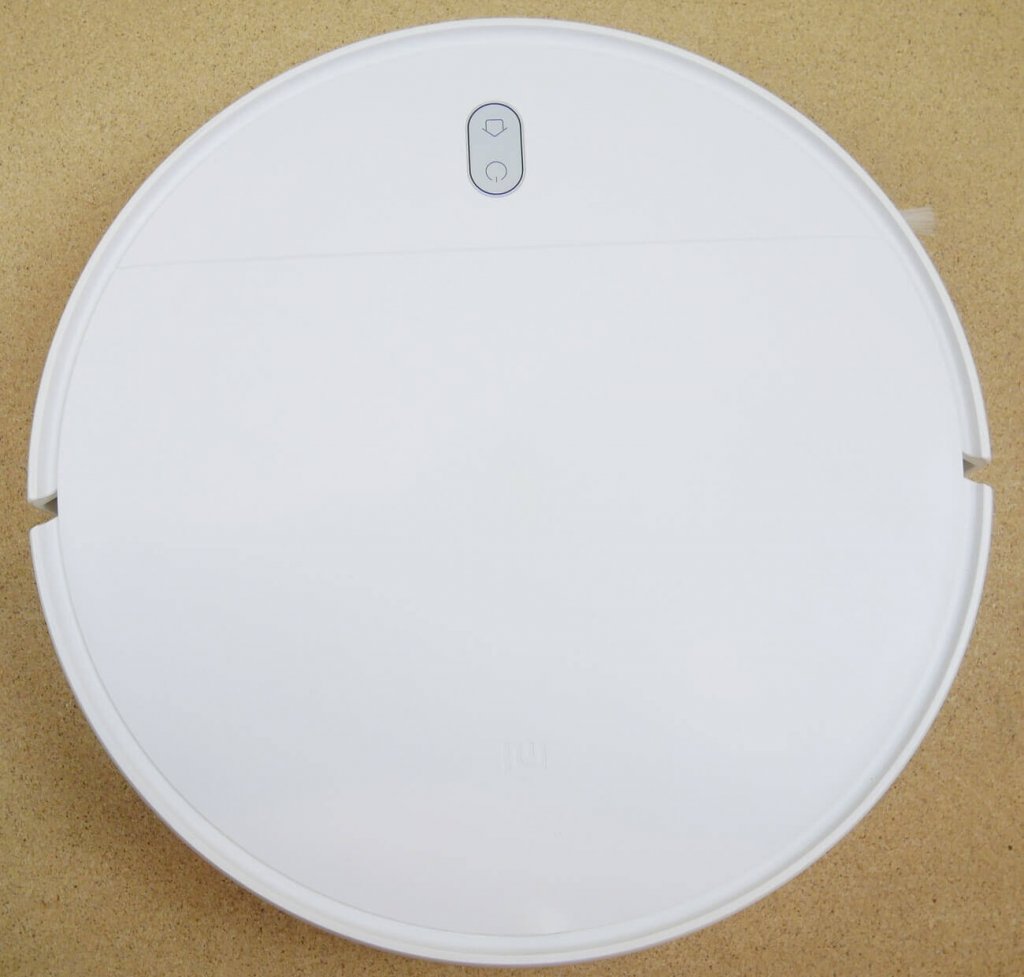 So this is how our ratings look for Xiaomi robot vacuums under $300:
Dreame F9
Roborock E5
Mijia 2C
Mijia 1C
Mijia G1
Roborock E4
Mijia 1T
Well, if the Dreame D9 Max's price stays below $300, then it will stay the best robot vacuum from Xiaomi. The robot is equipped with Lidar sensors, and so the navigation is much better, as well as the great suction power, which is better than others. It is advertised to have 4000 PA, but in reality it can suck dirt from even 8mm holes! So if you're not looking to spend a lot of money on a good vacuum, this bot is for you!
Now let's wrap up. I hope you liked the compiled Comparing Xiaomi Robot Vacuums. Enjoy your shopping, bye!