Hello everyone! Welcome to the Robotobzor! Today we will review one of the best cordless vacuum cleaner in 2022 called Dreame V12 Pro. It boasts a fairly high declared suction power, reaching 210 AWt, a full set of nozzles, an informative display and an automatic power increase function when detecting carpets. And all this Dreame engineers put into a very stylish and ergonomic vacuum cleaner shell. For such a set of solutions, you will have to pay from 375 to 500$. Next, I will test the Dreame V12 Pro in detail, after which I will express my opinion on how effective it is and whether it is worth the money. Let's go!
Equipment
The vacuum cleaner came in such a branded box.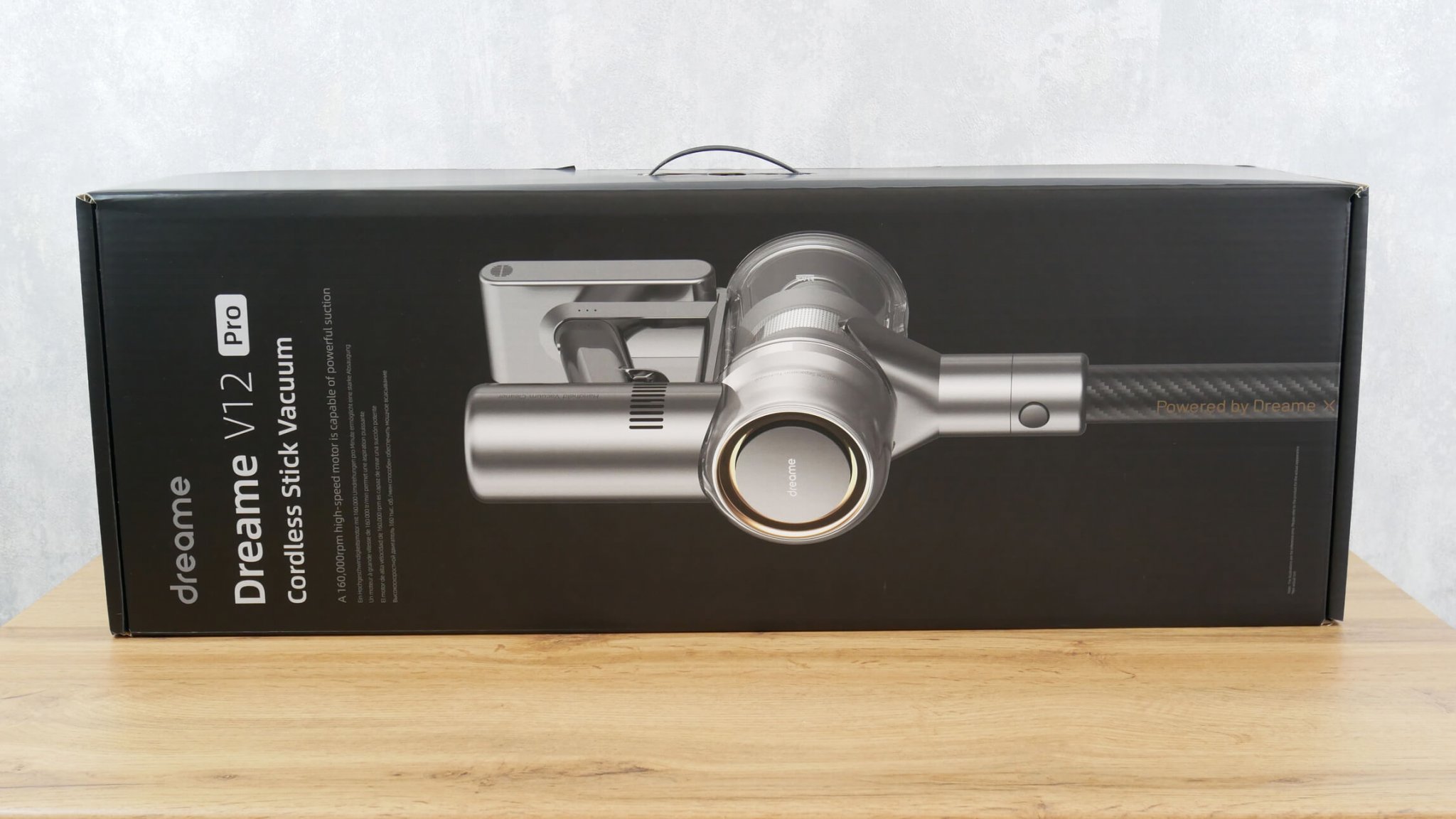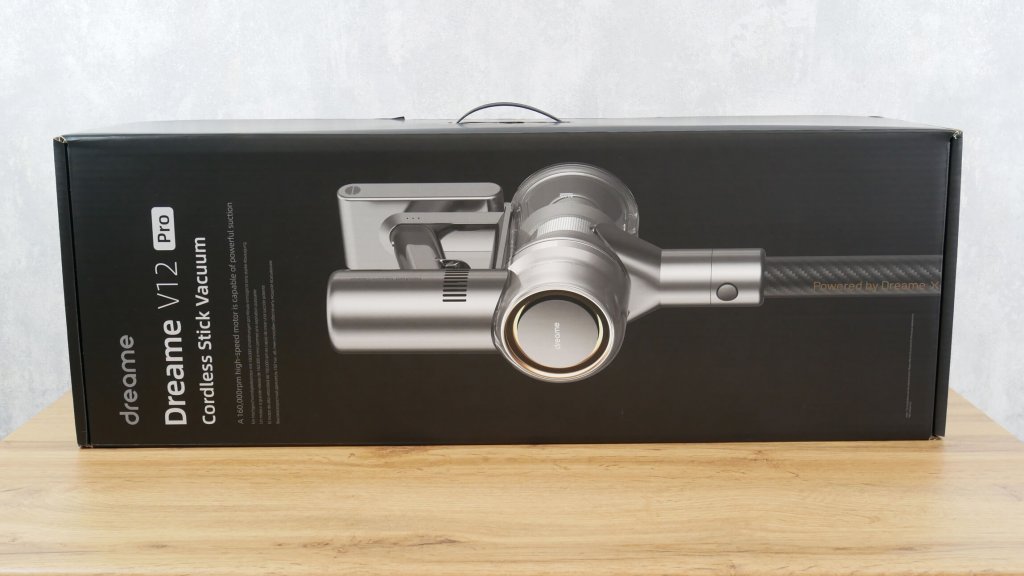 The package includes:
Main block.
Extension tube.
Basic floor nozzle.
Wall holder with fasteners.
Power adapter.
Documentation for the vacuum cleaner.
Flexible connecting hose.
Foldable adapter.
Nozzle for cleaning mattresses and upholstered furniture.
Nozzle with soft bristles.
2 in 1 brush with adjustable bristles.
Crevice nozzle.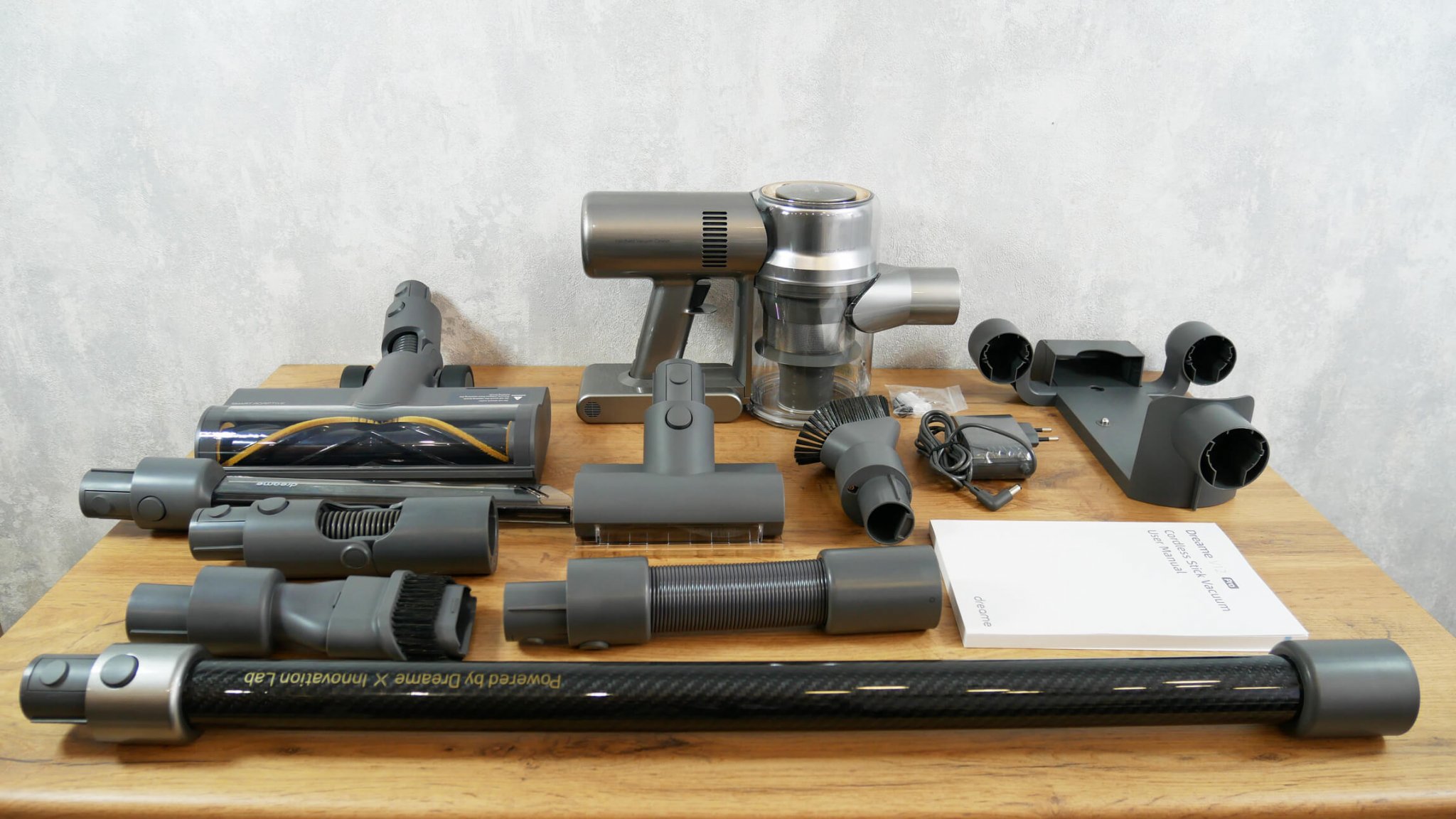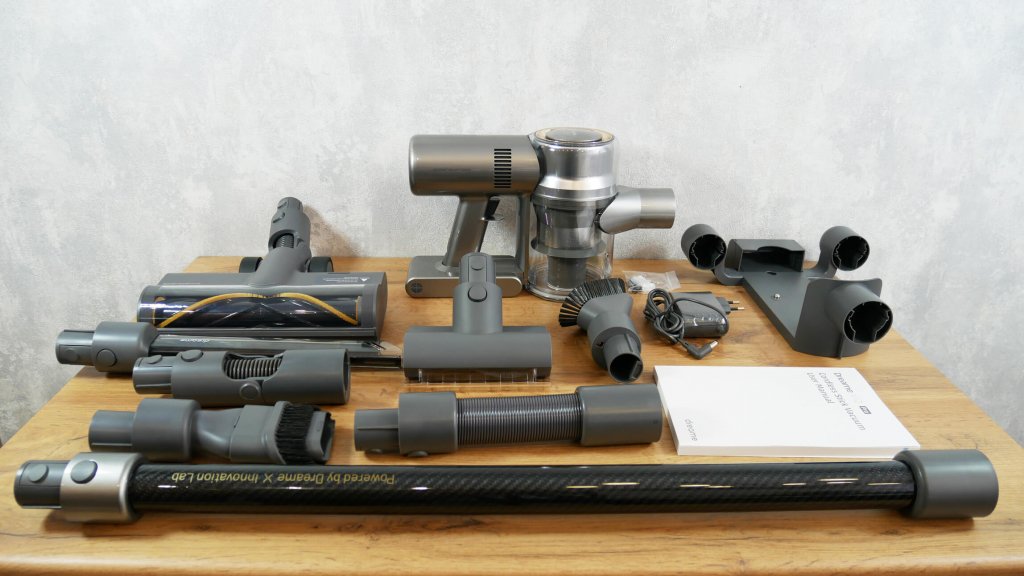 The set is complete. This is a plus!
Design
Now let's look at how the Dreame V12 Pro upright vacuum cleaner is designed. Let's start with the main block. It is made in graphite color. At the top there is a cover of the blown filter, on which the brand logo is placed. Around we see a golden edging. Looks very stylish and adds value to the vacuum cleaner.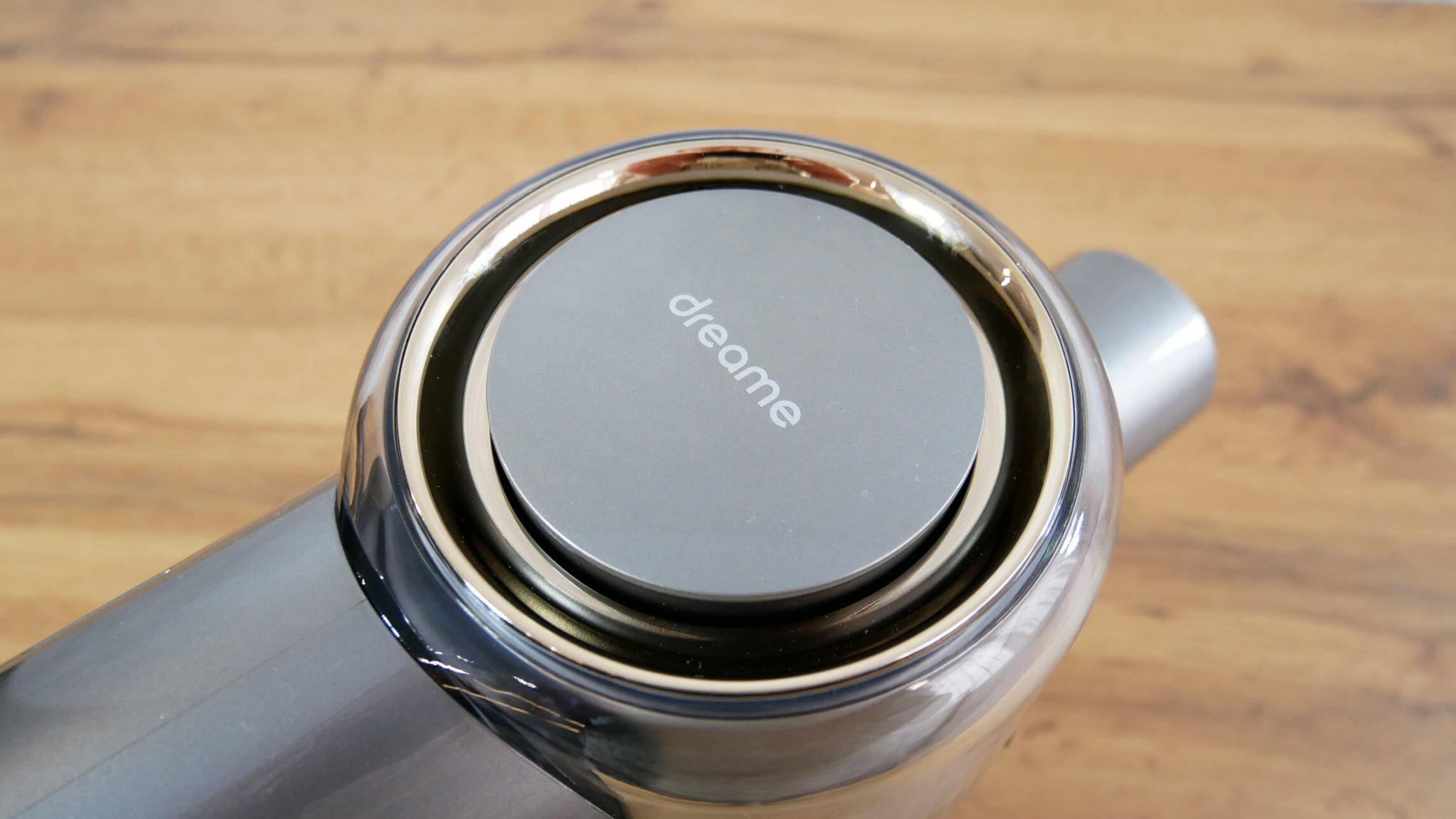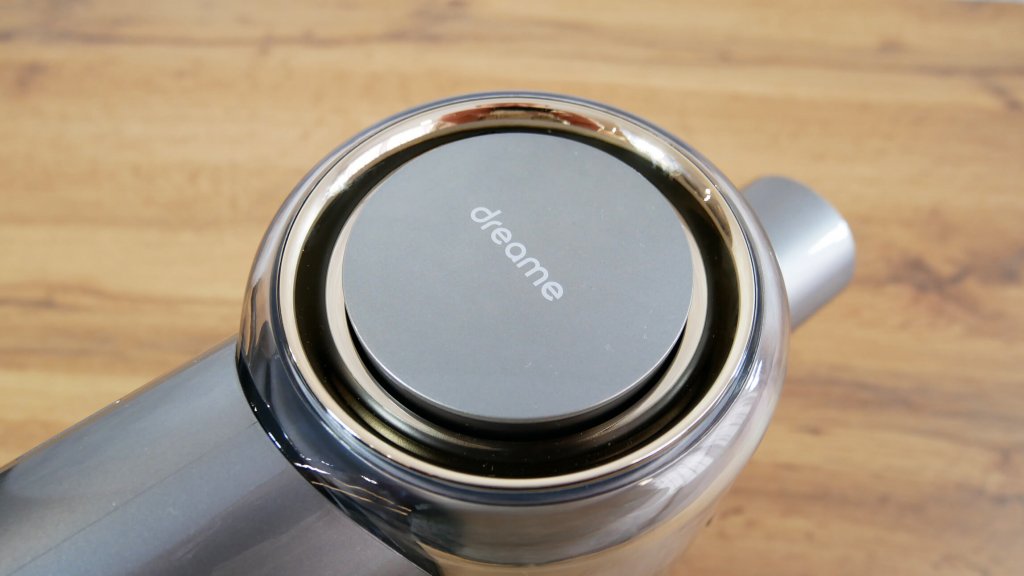 The vacuum cleaner turns on and off by pressing the trigger. On the side there is an informative display and two mechanical control buttons: blocking the power button and selecting the operating mode. Battery charge indicators are duplicated near the handle.


Unfortunately, the battery itself is non-removable. On it we see contact pads for convenient charging on a wall holder.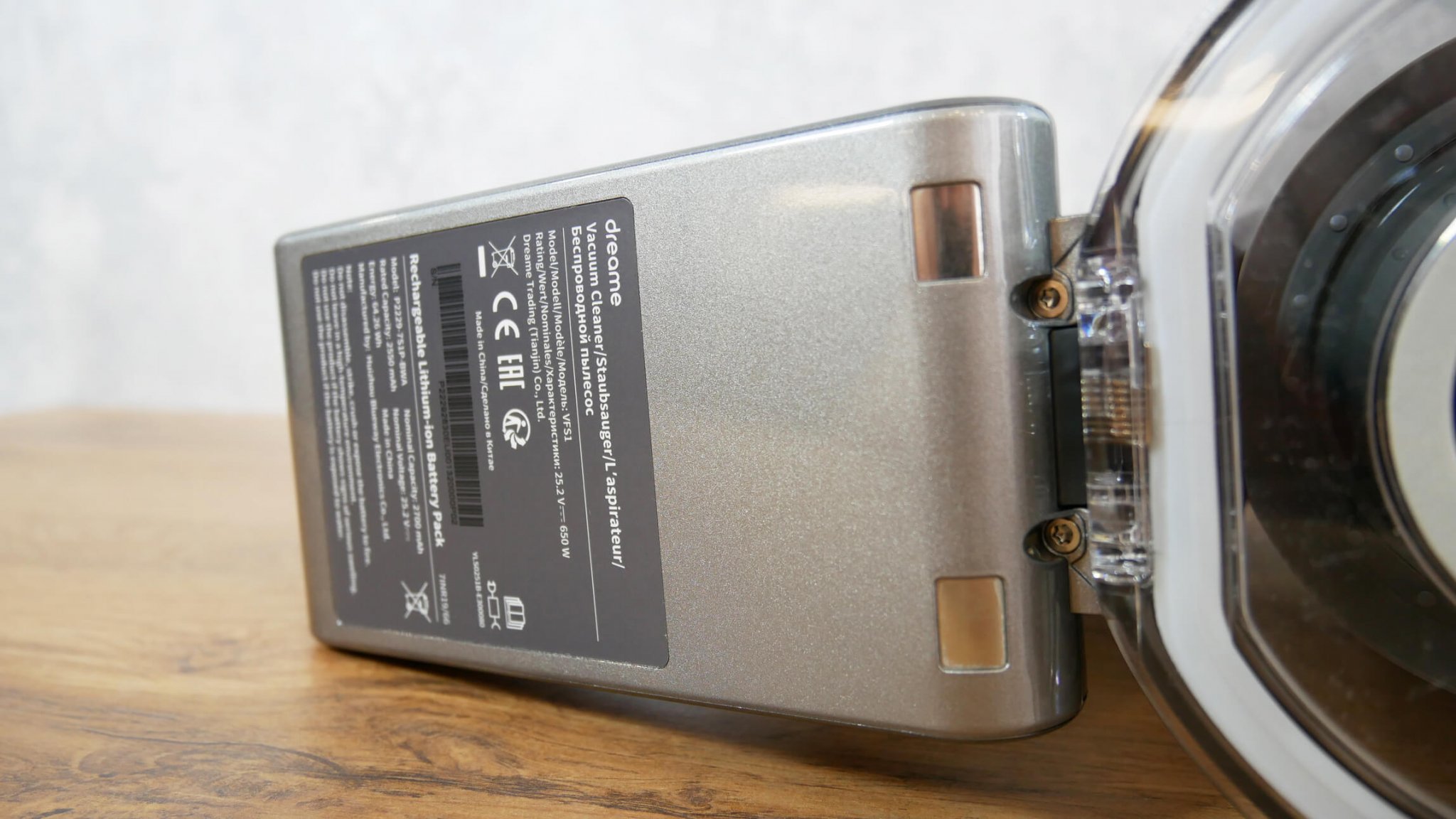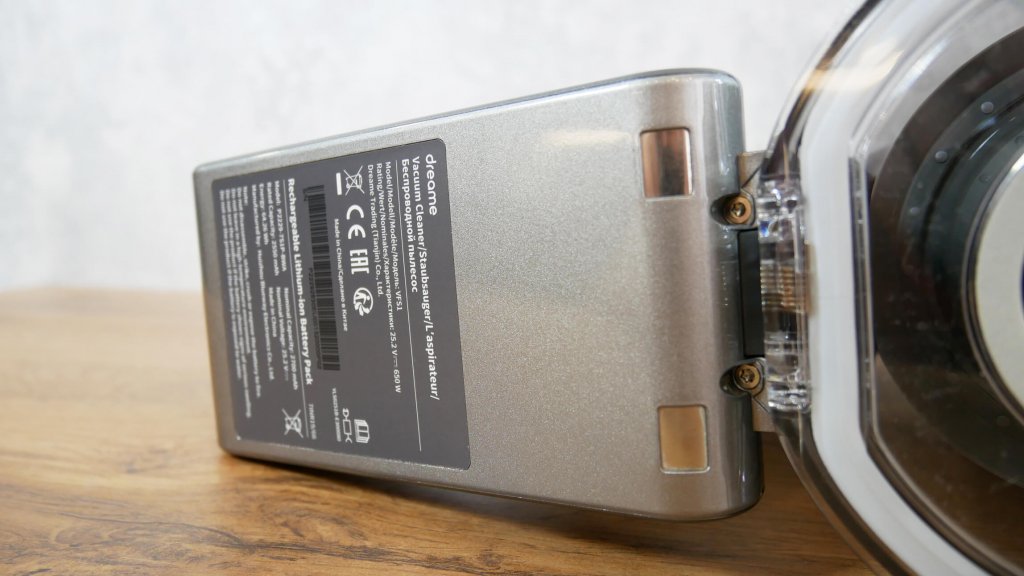 The blow holes are directed to the sides, not to the face. This is a plus. A blown HEPA filter is placed on top. It can be washed with water. A foam filter is also installed inside. The dust collector opens from below by pressing the button. A cyclone with a mesh filter is installed inside the flask. The manufacturer claims a 5-stage filtration system. Removable only 4 filters. However, another foam filter is visible inside the blow holes, which is most likely considered the fifth one.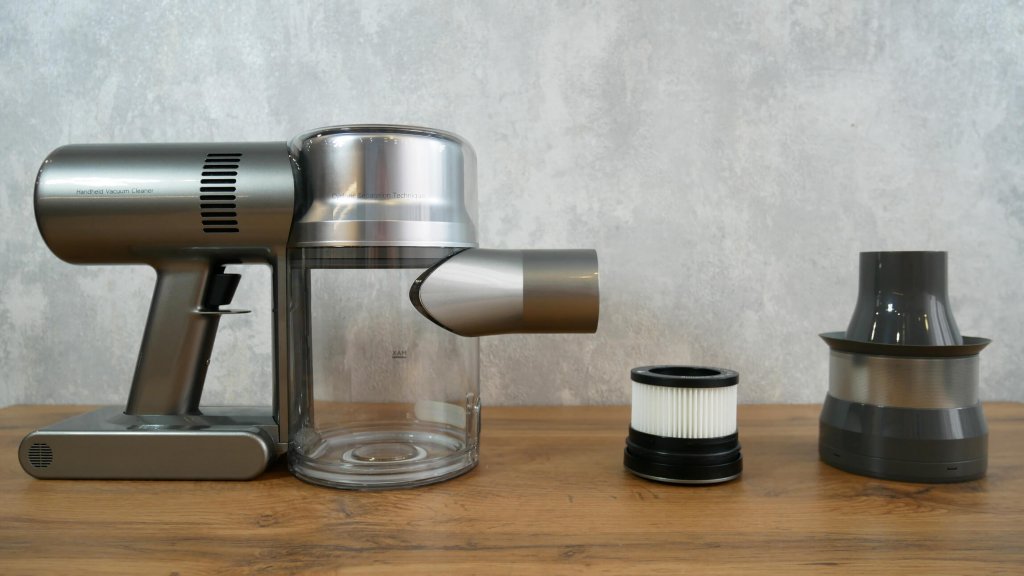 The dust collector itself is not removable, which is not very convenient. But at least Dreame engineers have implemented a convenient solution – you can insert one of the nozzles inside and rotate the cyclone, so what is happening – you are removing it without direct hand contact with dust and debris. Interesting idea!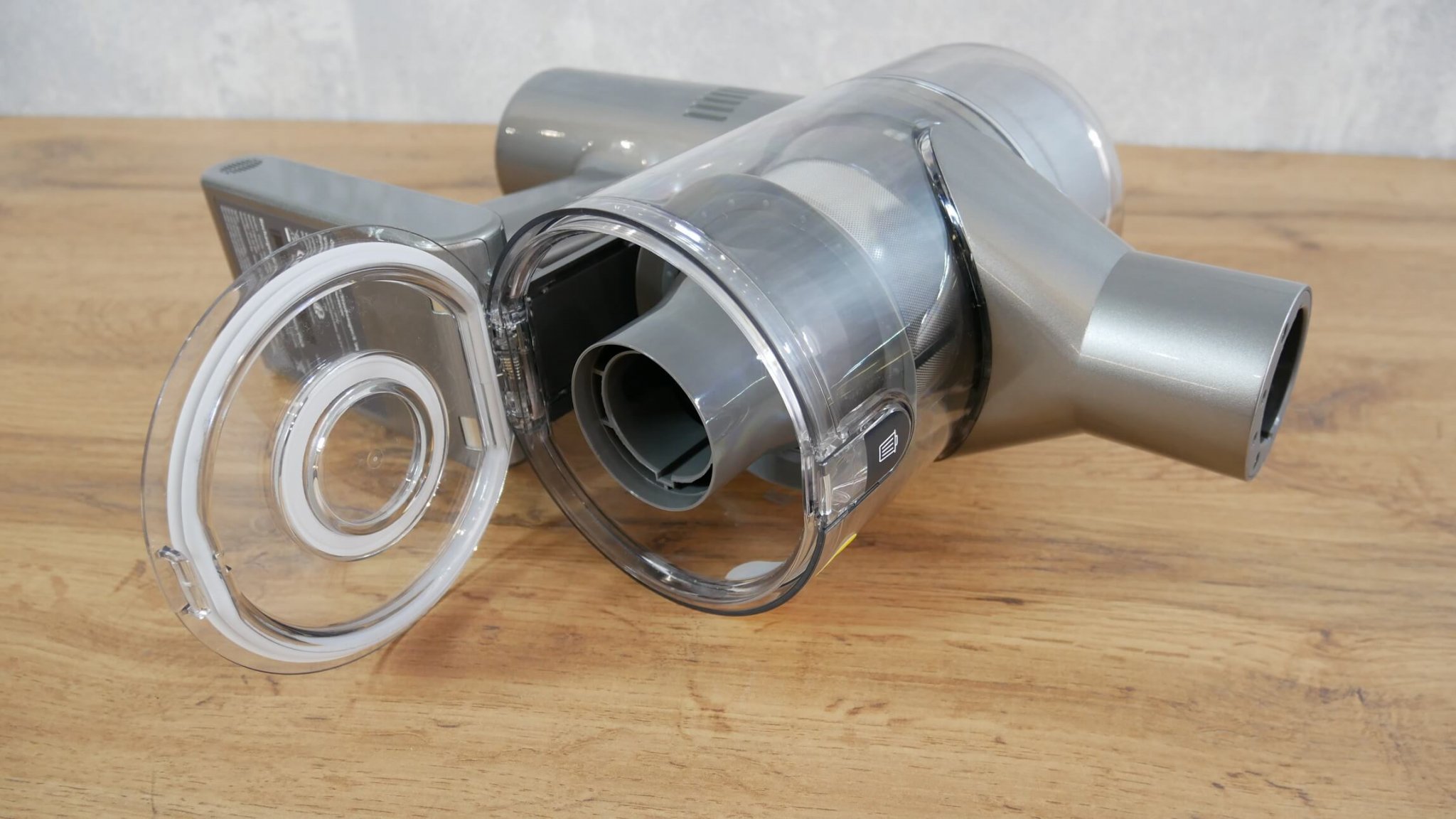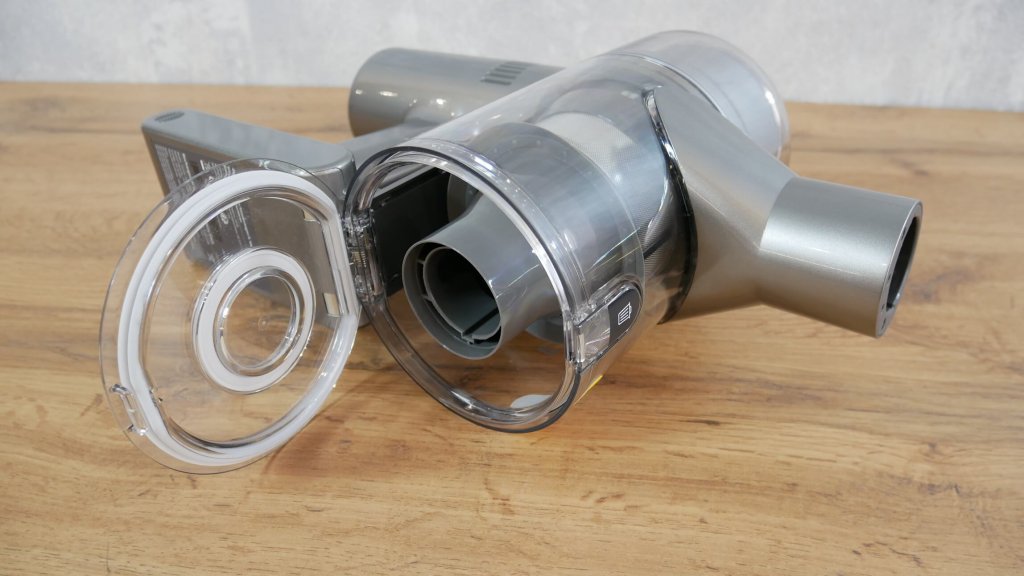 Let`s look at the main floor nozzle. At the top the plastic is transparent, which allows you to visually assess the condition of the roller. Brush with short stiff bristles. This design works well for cleaning carpets. Behind the roller is a fairly large suction hole. The wheels are rubberized, the floor covering will not be scratched. The roller lock is located on the side, it can be easily removed by hand. An additional tool is not needed, which is a plus. And here is another interesting constructive solution – a comb behind a brush. With its help, the roller is untangled from hair and wool during rotation. Well, I note that a sensor is installed in the floor nozzle, thanks to which it automatically recognizes carpets and gives a signal to the main unit to increase suction power in Auto mode. This feature will allow you to rationally use battery power and turn on Turbo mode only on carpets where it is really needed.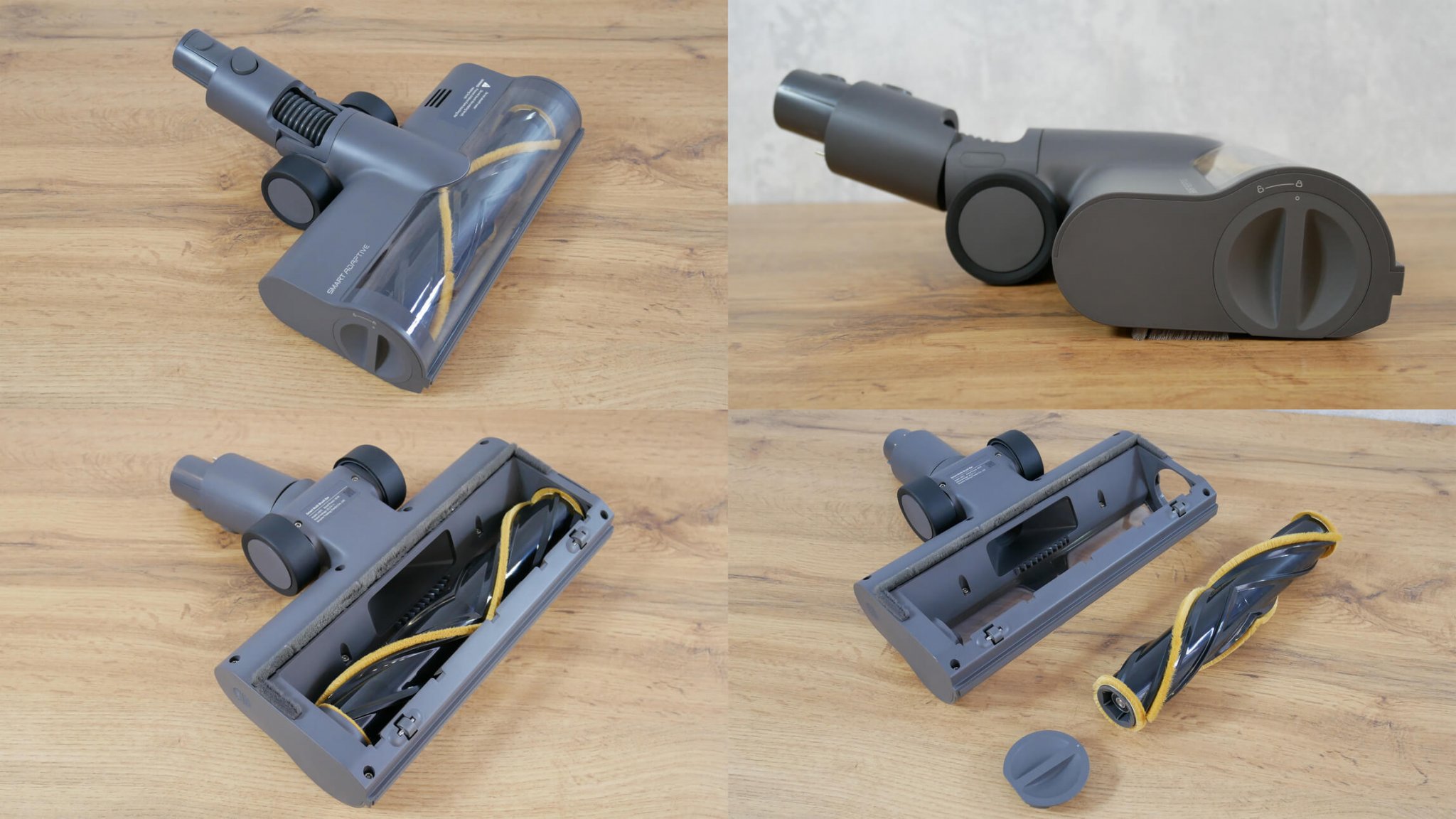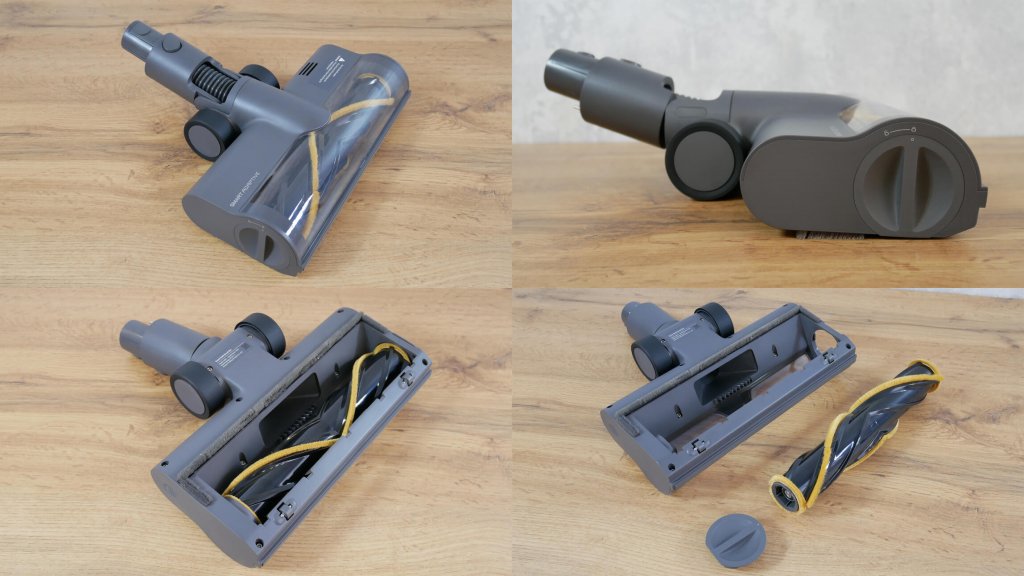 The nozzle for cleaning mattresses and upholstered furniture is also equipped with a motorized brush. It has bristly inserts. Here, just to remove the latch, you need a flat screwdriver or a coin. On one side, the roller is disassembled for cleaning from wound hair and wool.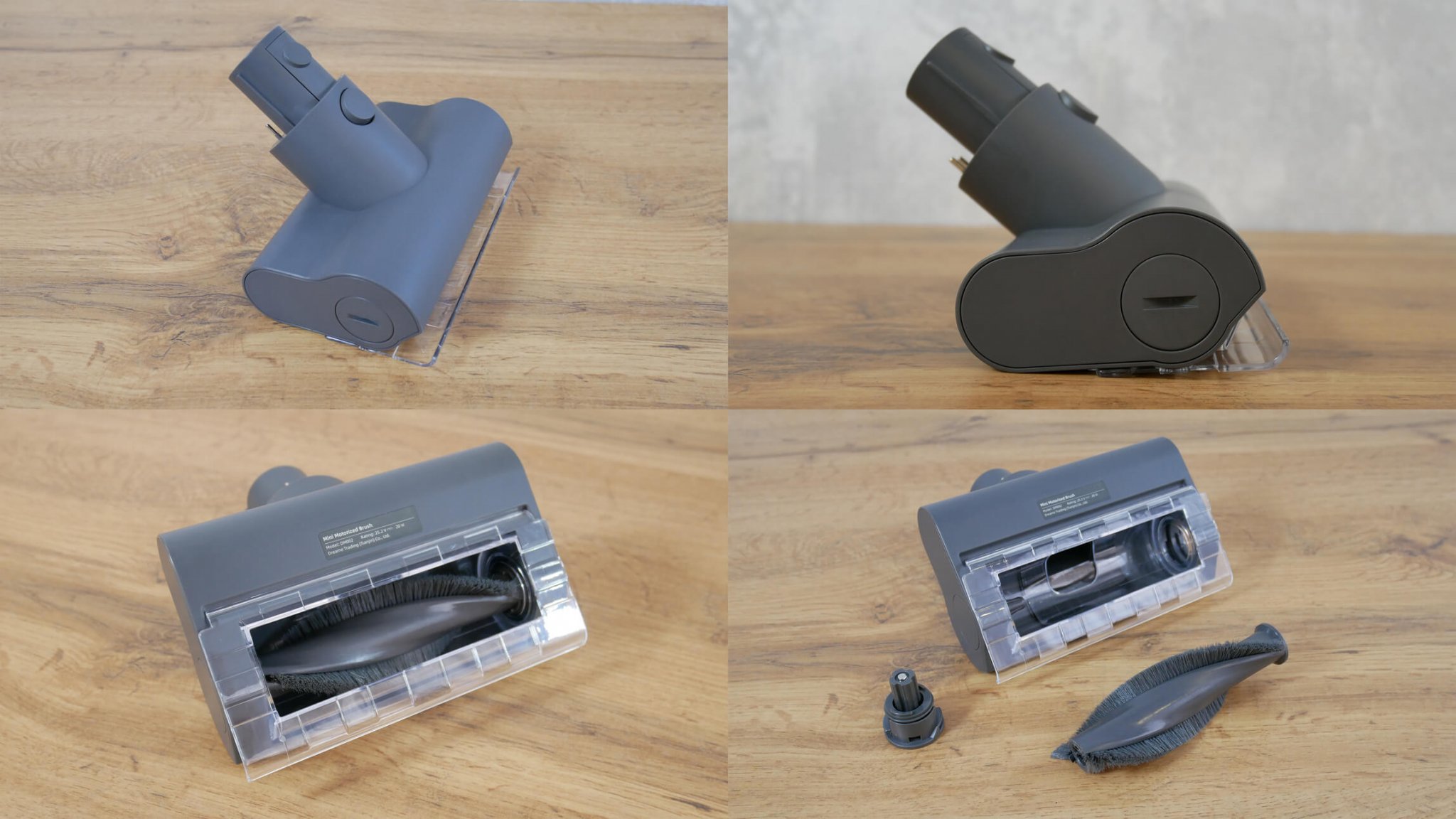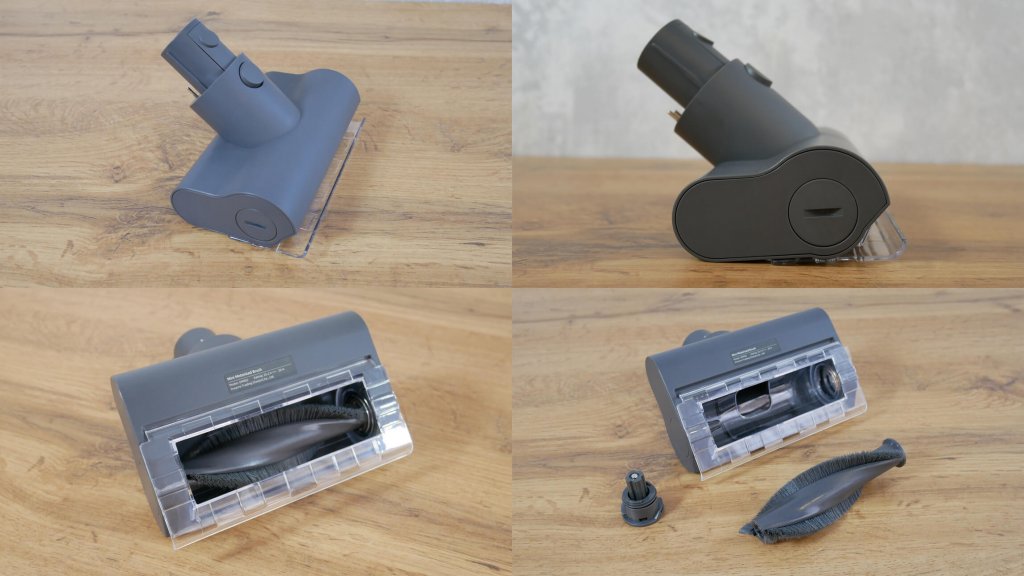 Speaking of extra nozzles, the soft bristle brush is good for picking up debris and dust on delicate surfaces, the shift bristle brush can also be used in the home. There is a bendable adapter that simplifies cleaning in hard-to-reach places and under low furniture. A flexible hose is convenient to use for cleaning the interior of a car, as well as three-dimensional structures, such as a heating radiator.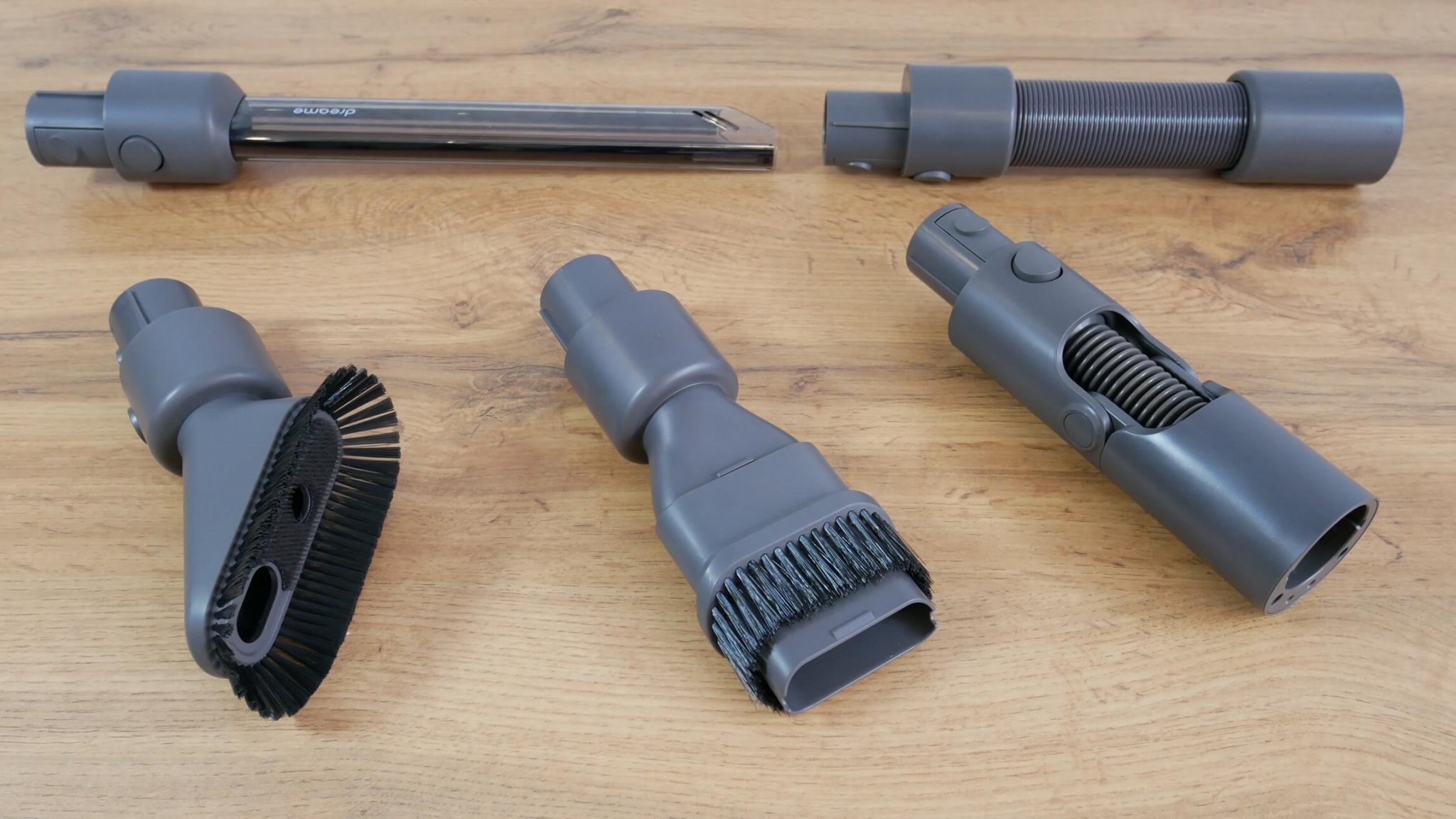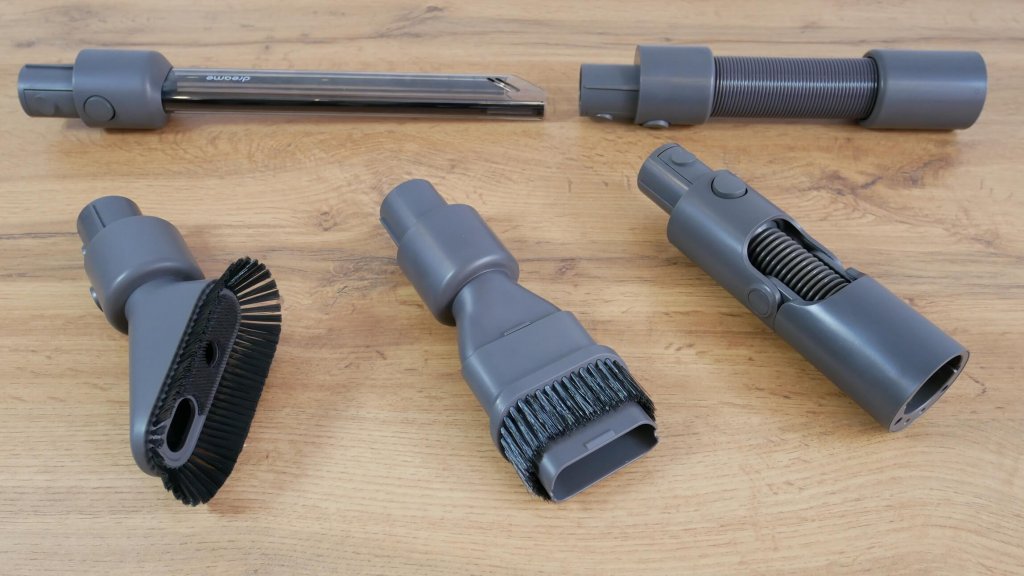 Well, one of the highlights of this vacuum cleaner is the crevice nozzle. Just look at how it works, comparing it with a regular crevice nozzle from budget vacuum cleaners. It is longer, better quality, equipped with a latch and, most importantly, a very cool LED backlight that improves the quality of cleaning in dimly lit areas.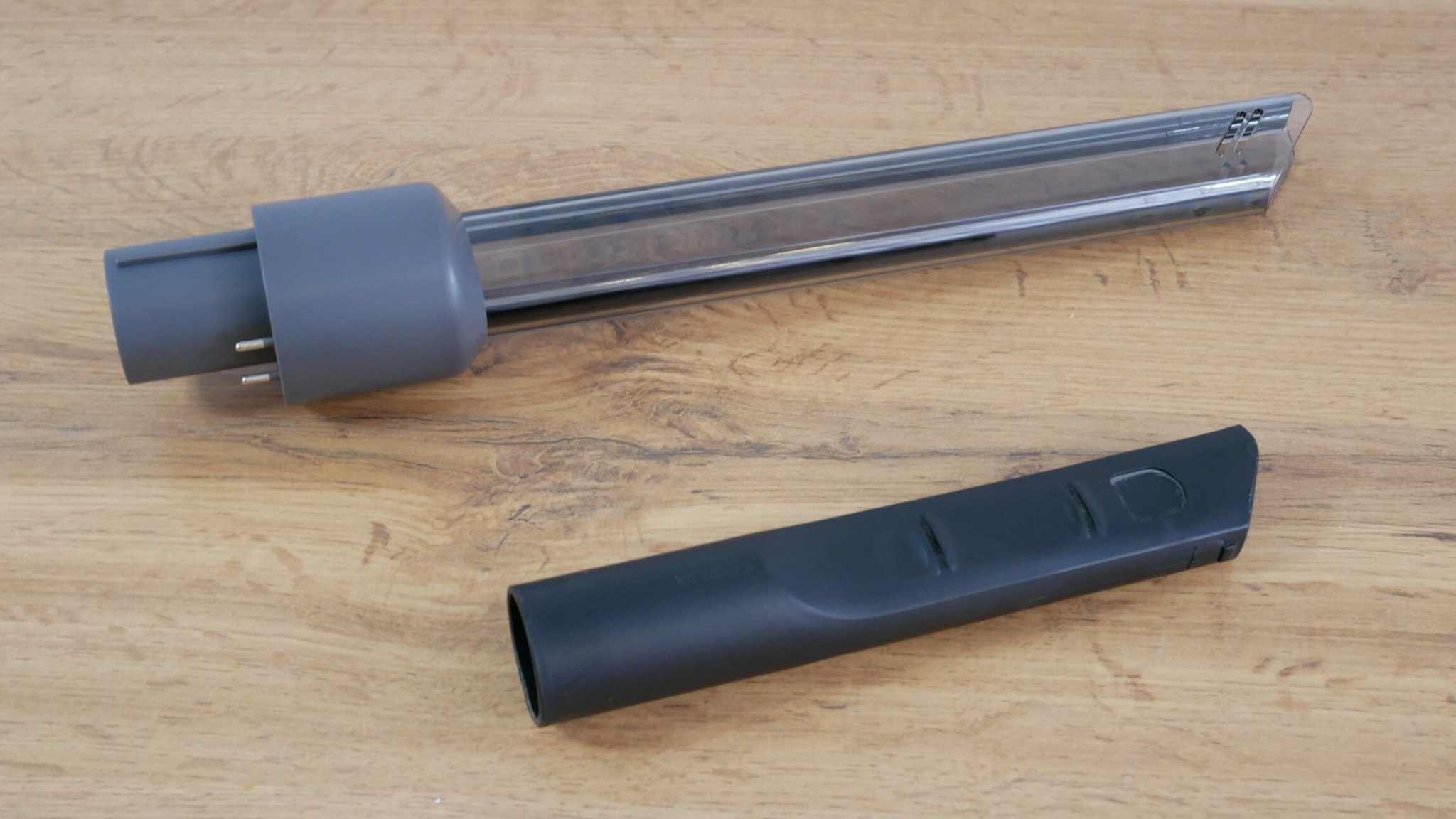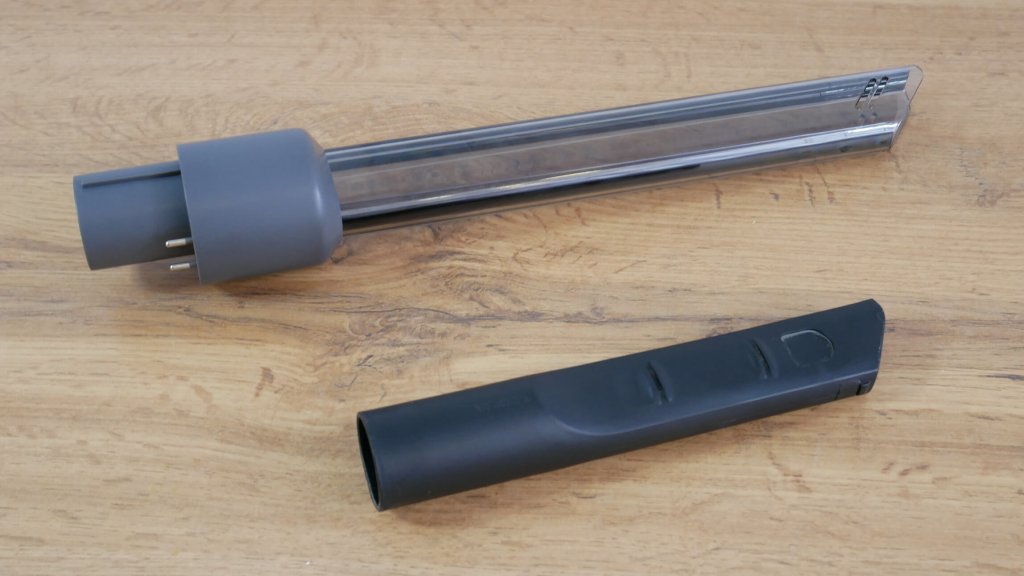 In general, everything is included in the kit and for living conditions it will be more than enough.
And here is how the Dreame V12 Pro looks when assembled: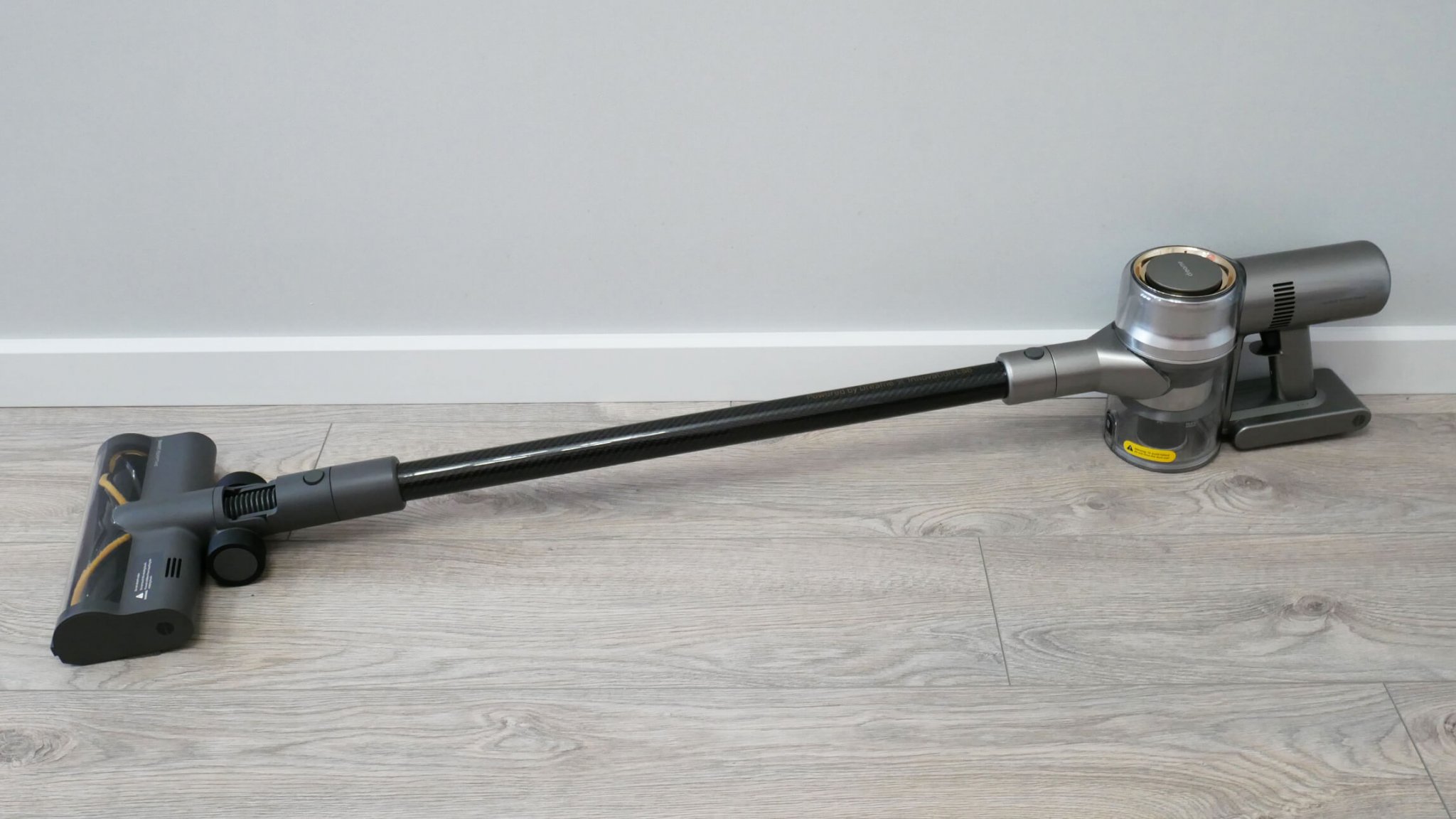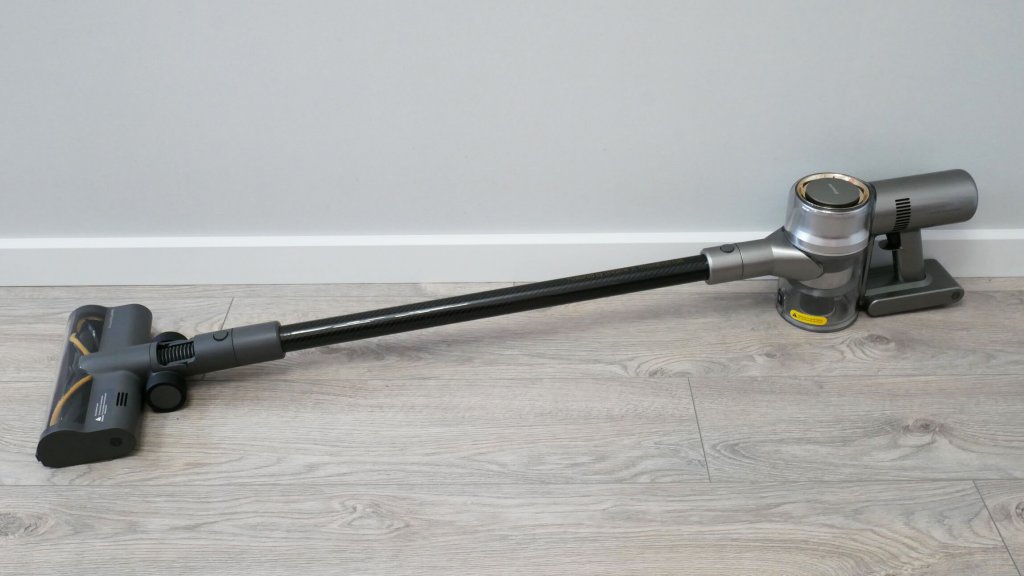 Well, the last thing I would like to focus on is the wall holder. It is equipped with contact pads for charging the vacuum cleaner and three additional holders for attachments. Here's what it looks like in working mode.


In general, the design of the vacuum cleaner is impressive and correspond to the premium segment. I have comments only on the lack of a vertical parking, non-removable battery and dust collector. For many, these things may not be critical.
Specifications
The main characteristics of Dreame V12 Pro, declared by the manufacturer:
Power consumption 650 W.
Suction power up to 210 watts.
Battery Li-Ion 2700 mAh.
Dust collector 500 ml.
Operating time up to 85 min.
Noise level 77.5-85.5 dB.
Weight fully assembled 2.66 kg.
Noise level was measured personally using a sound level meter. So, at the minimum power, it is in the range of 77.5-78 dB, and in the Turbo mode, the peak value was 85.5 dB. The noise level is slightly increased for this vacuum cleaner, but not critical, compared with powerful analogues.
In terms of weight, the main unit weighs 1662 grams, the extension tube is 205 grams, and the main nozzle is 788 grams. Total in the complete assembly, the weight of the vacuum cleaner is 2655 grams. This is quite a standard weight, as for an upright vacuum cleaner. The center of gravity is correctly shifted to the bottom, so the hand will not get tired during operation.
Testing
Quick video review Dreame V12 Pro with all tests:
Suction power
And finally, let's move on to the tests. First of all, let's check the suction power of the Dreame V12 Pro on the stand. So from a 10 mm slot, this upright vacuum cleaner sucks out debris in Turbo mode without any problems, so it can really be considered a powerful one.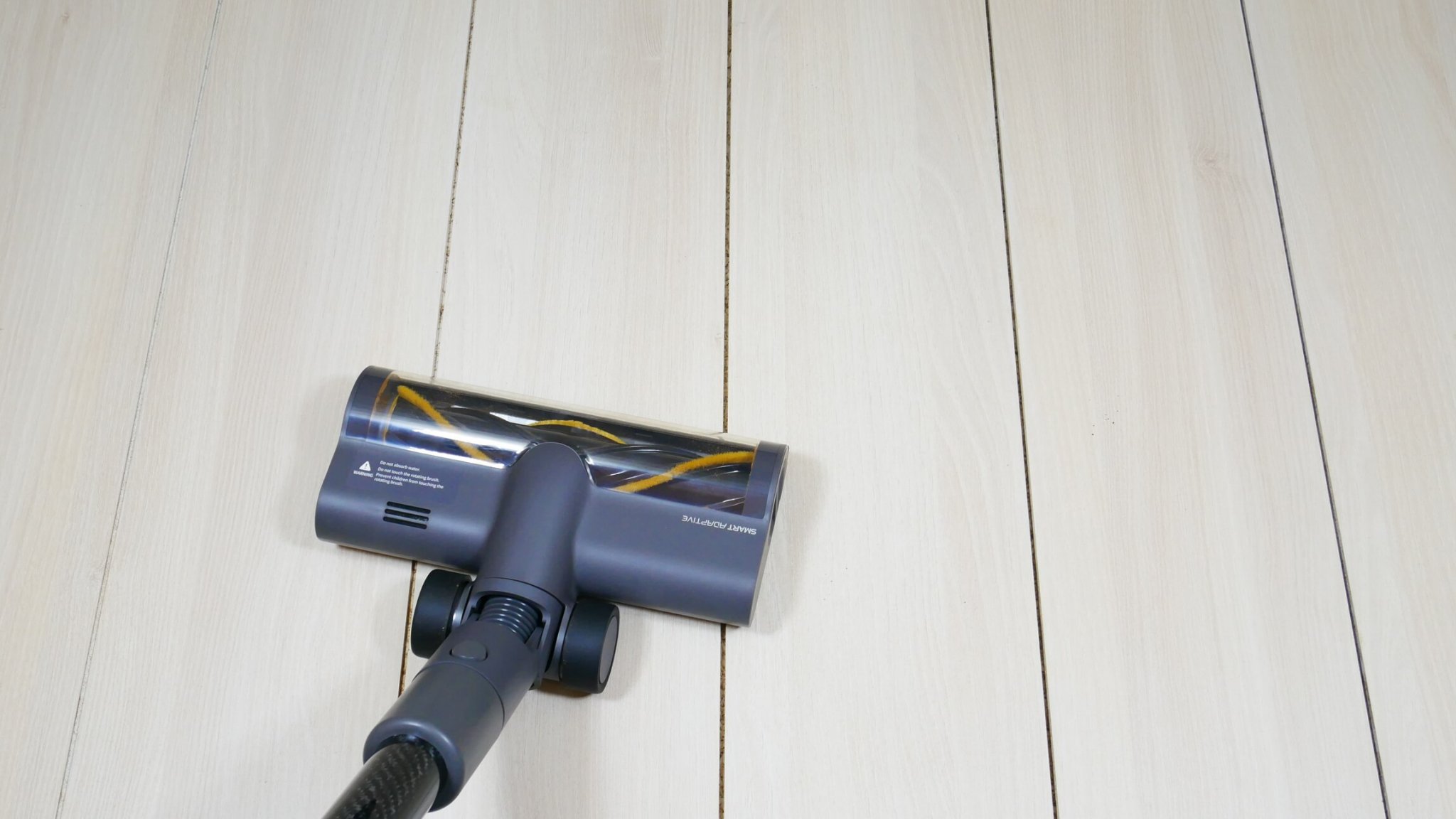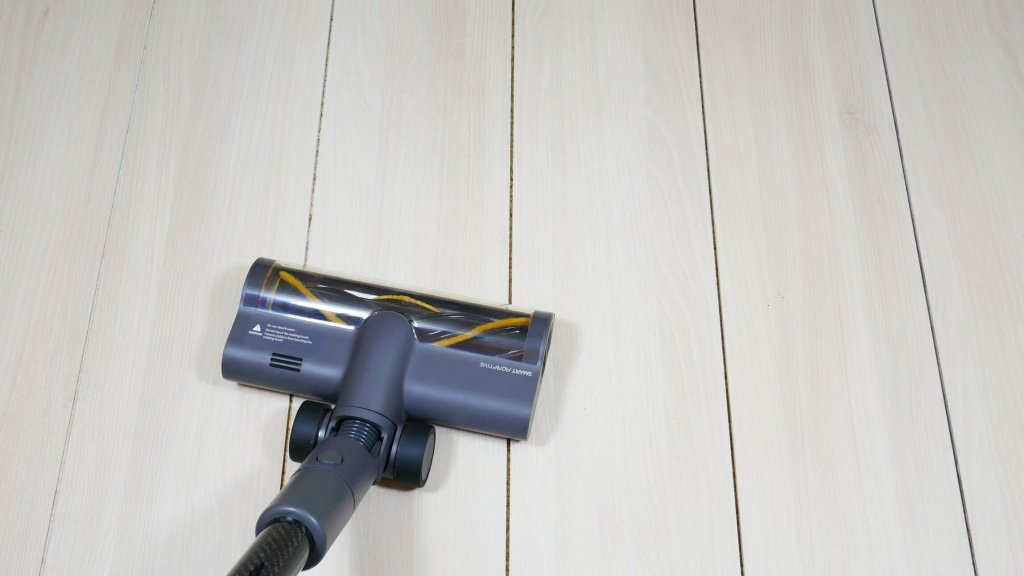 Operating time
At maximum power, Dreame V12 Pro is able to work exactly 9 and a half minutes. The result is quite standard. Not good, not bad considering the high suction power.
Collection of debris on laminate
Now let's check how well Dreame V12 Pro collects debris from the floor. I scattered garbage of different structure on the laminate: hair, wool, cereals and other small household waste. So this model did a good job. It is important to note that it does not have problems with collecting debris along the plinth and in the corners. It carefully collects everything. Wool and hair are almost not wound on the roller. They stick more to the pile insert. But in any case, everything is easy and convenient to clean.


Carpet cleaning
The same debris was scattered on the carpet, and the Dreame V12 Pro did a good job, cleaning the carpet very well.


The use of additional nozzles
It is also worth noting that, thanks to the complete set, you can clean the sofa, clean where the main nozzle does not reach, and even, if necessary, clean the car interior. In general, the vacuum cleaner is suitable for different terms of use.
Personal opinion
The Dreame V12 Pro cordless vacuum cleaner was reviewed and tested in detail. Like all the rest of Dreame's vacuums, this model left a mostly positive Impression. I can highlight the following pros and cons, based on the experience of testing this model.
I liked the following:
Stylish design.
Ergonomic design.
Very high build quality.
High suction power.
High-quality garbage collection on any surfaces.
Complete set of nozzles.
Good filtration system.
Automatic power increase function on carpets.
Informative display.
Speaking of cons, there are more comments on the vacuum cleaner than serious cons:
Non-removable battery.
Non-removable dust collector.
There is no vertical parking.
In general, Dreame V12 Pro left a mostly positive impression about itself. Design of this vacuum cleaner is very captivating, but the assembly also impressive. And this applies not only to the vacuum cleaner itself, but also to all the nozzles that come with the kit. The main nozzle has no blind spots, it does an excellent job of collecting debris, so I have no reason not to recommend it for purchase. Definitely one of the best cordless upright vacuum cleaners of 2022.
On this note, I would like to end the review. If you have any questions, ask them in the comments below. Don't forget about subscriptions and likes. Happy tech shopping. Bye!