Hello everyone, welcome to RobotObzor! Today, we'll be looking at a VERY interesting robot-vacuum cleaner, namely the 360 S8. The main interest comes from the price, starting at $300 on the market. The robot has Lidar navigation, mopping and vacuuming, and a very neat assembly for the price. Additionally, the unit has a few cool features, which I'll tell later. So, now I'll review and test, both in detail, our robot, after which I'll tell you if this is really worth your money, considering it's around $300-$450. Let's go!
Equipment
The vacuum came in this box: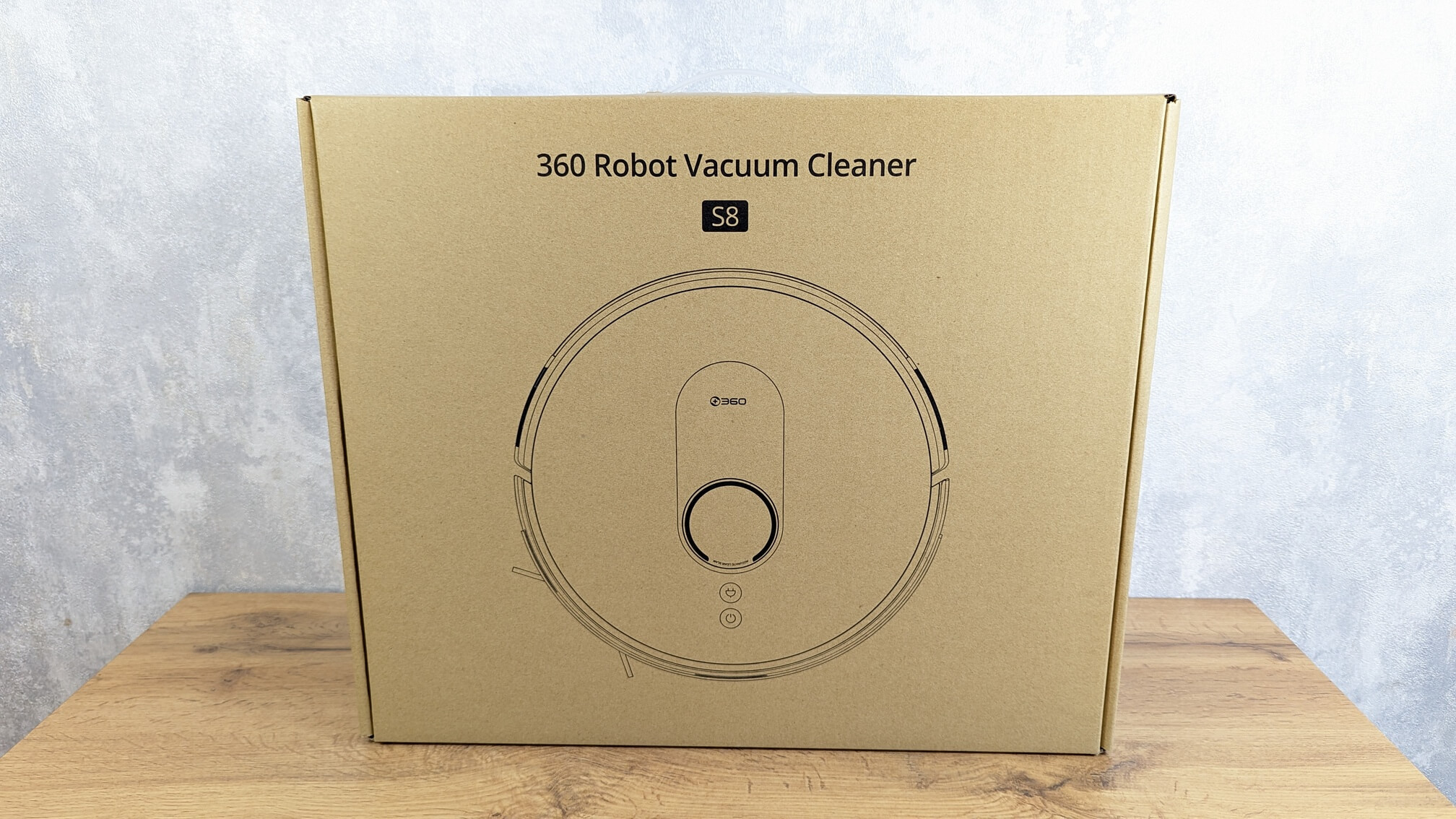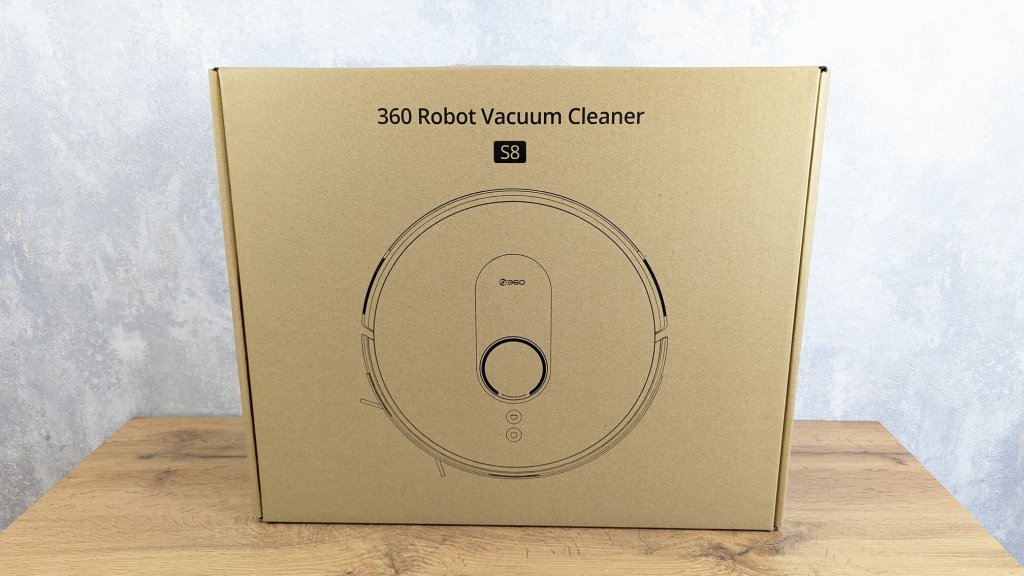 The box includes:
Charging base.
Power adaptor with different plugs.
Nozzle with a wipe.
Documents.
Extra side brush.
Tool for cleaning the robot.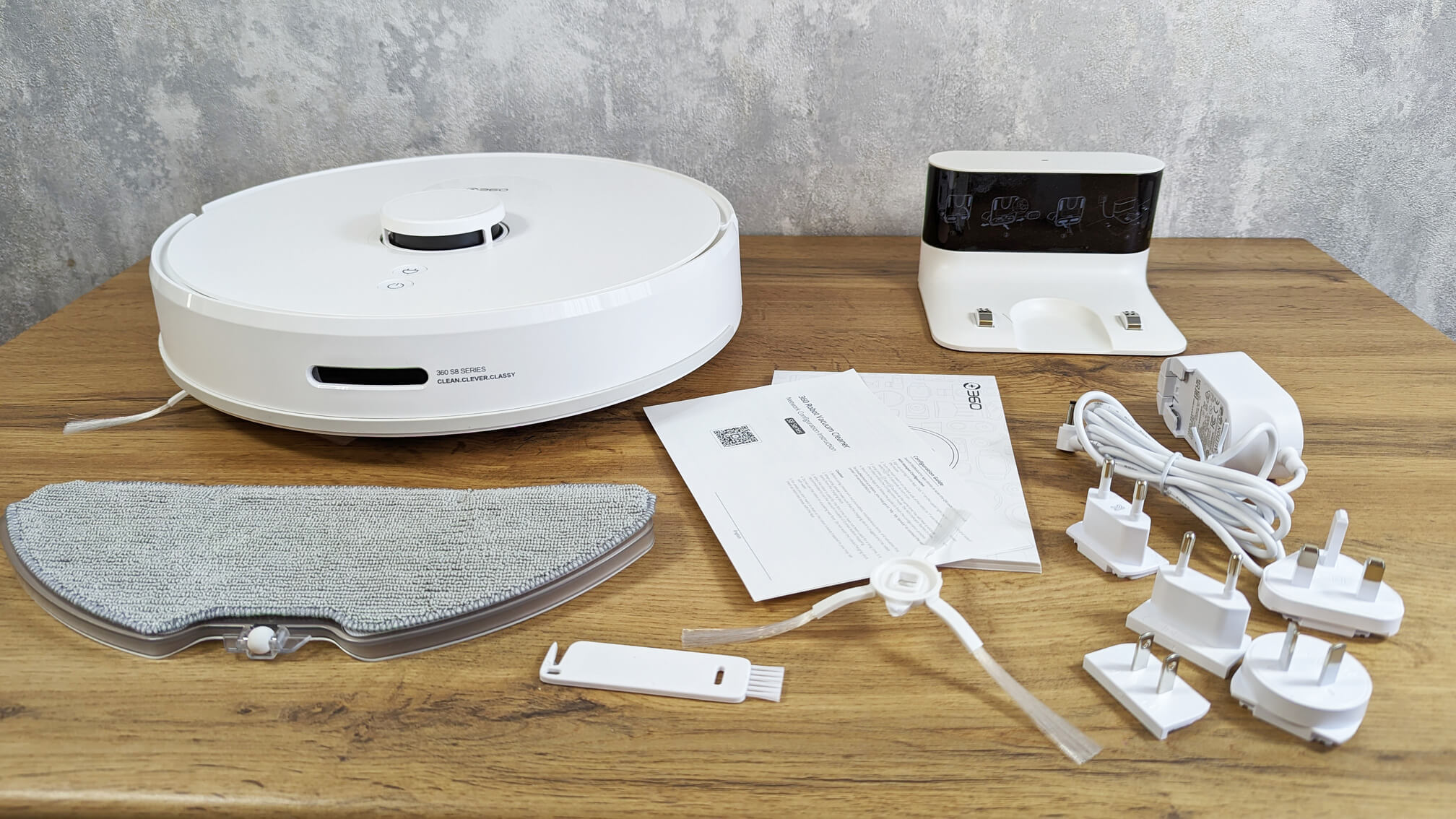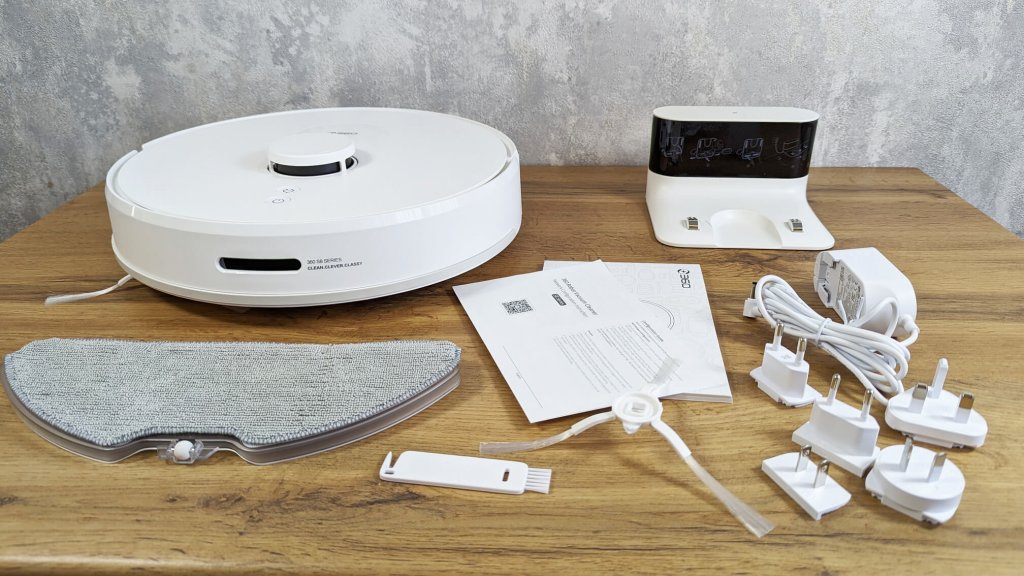 The kit is pretty standard.
Design
Let's take a look at how our vacuum works.It's white and round, standing 95mm (3.7 In.) off the floor. On the right of the bumper is a wall sensor, and in the center an object sensor for large objects on the floor.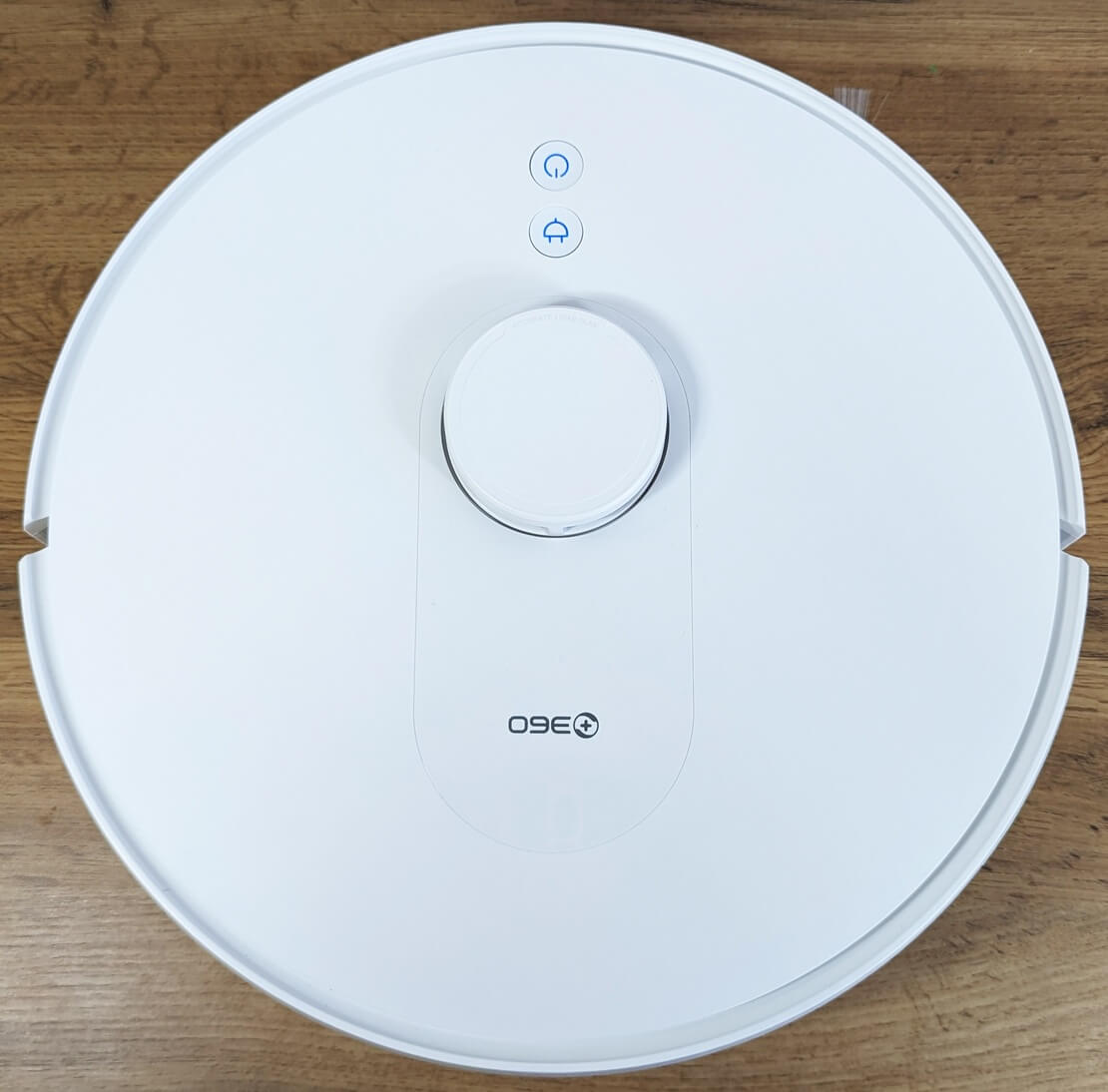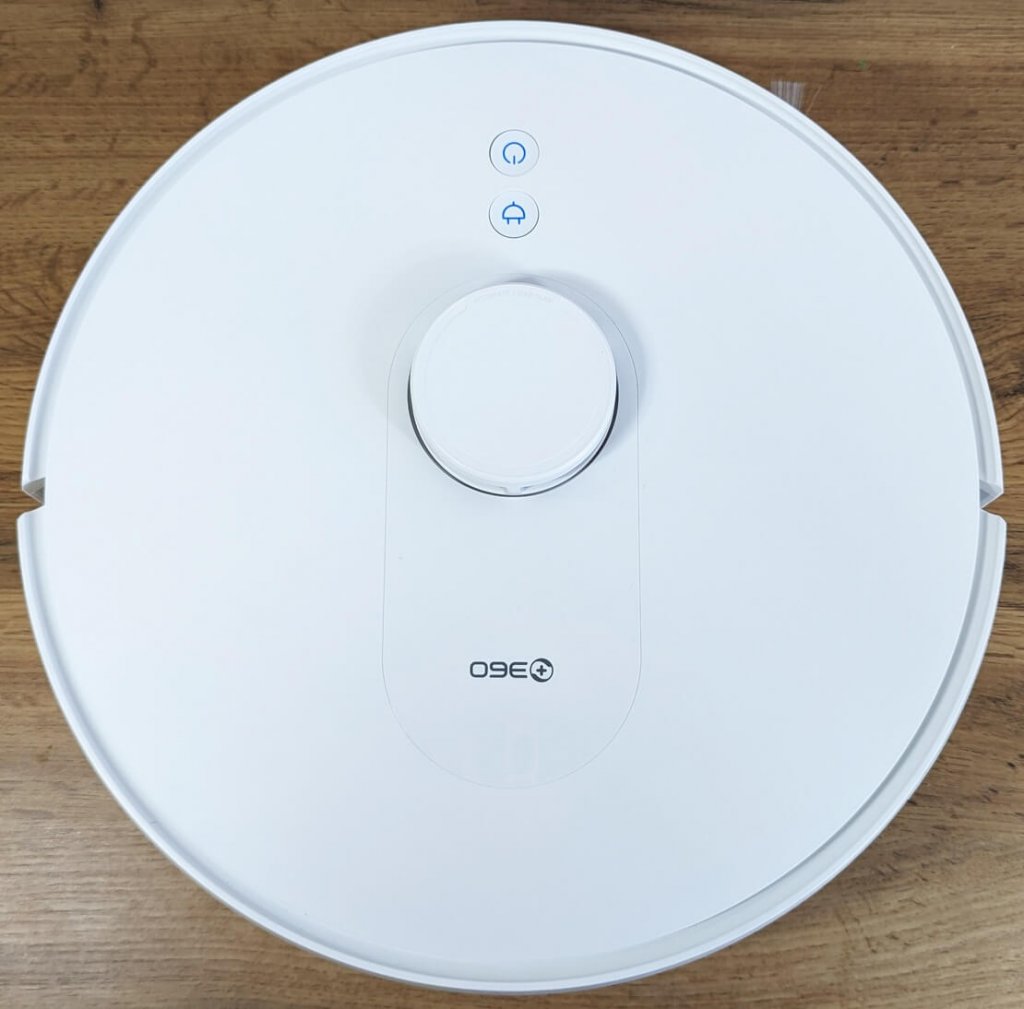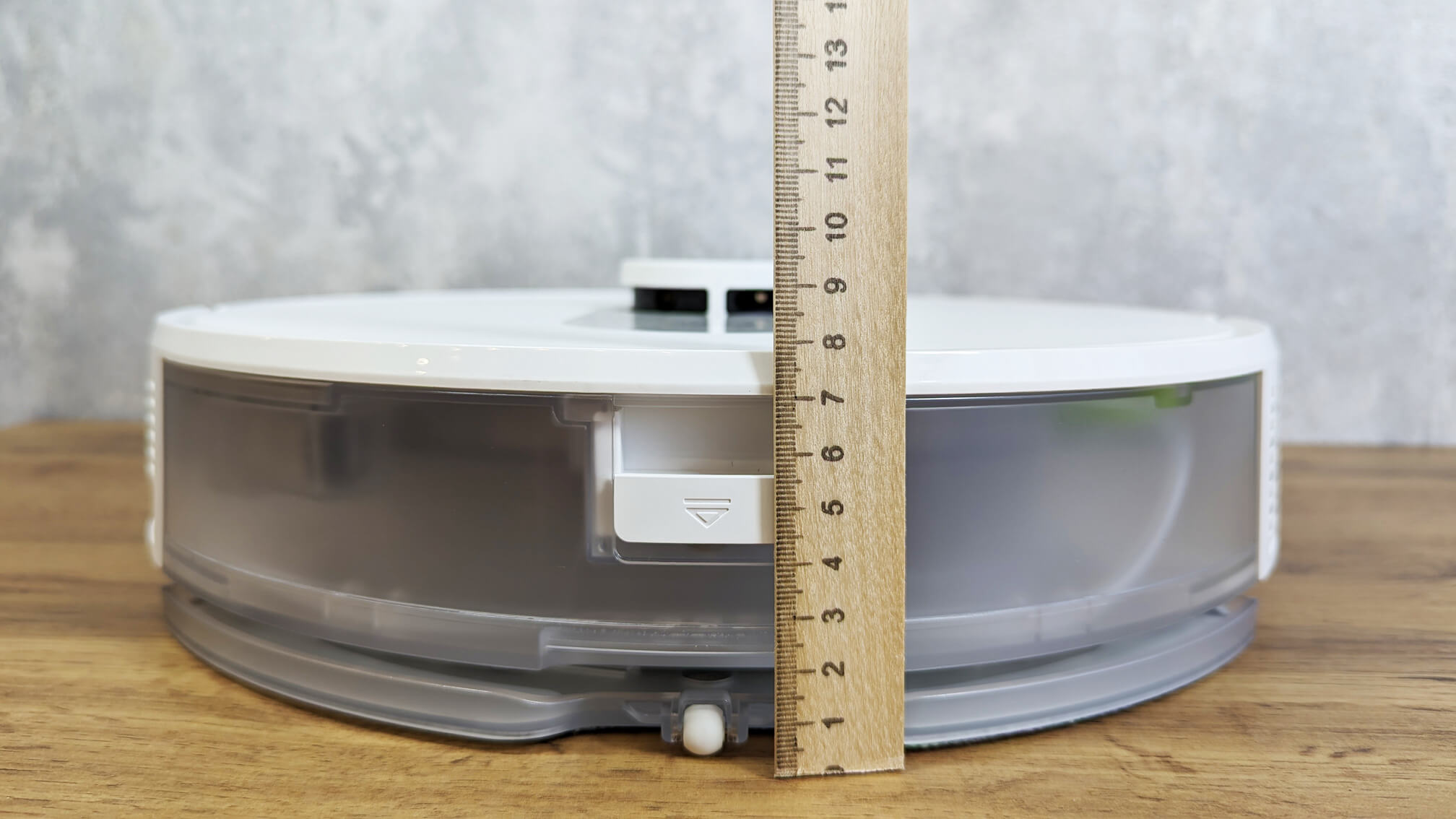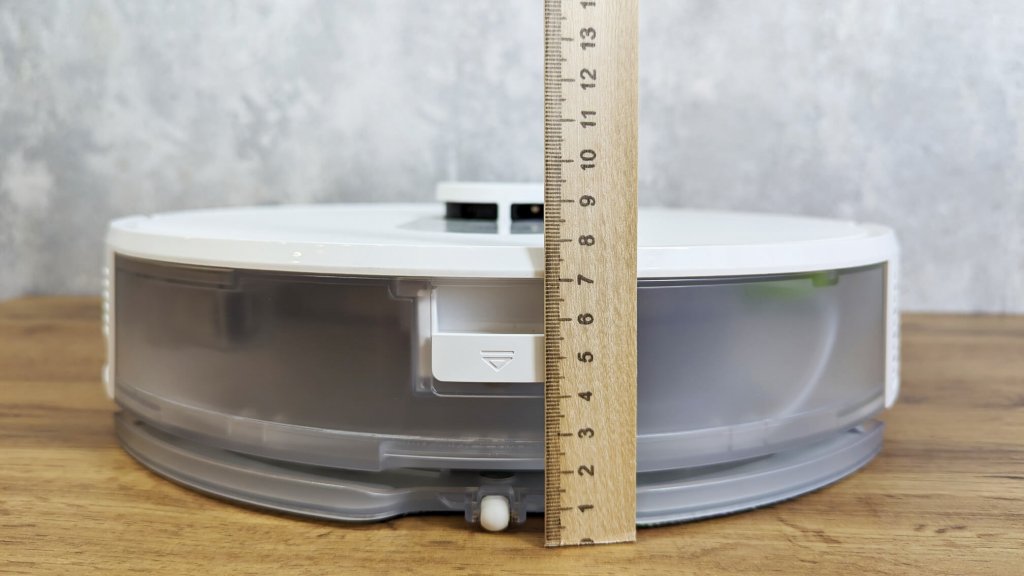 There are two buttons on the panel. Lidar controls navigation, which is protected by a spring loaded cover to stop it from getting stuck under low furniture.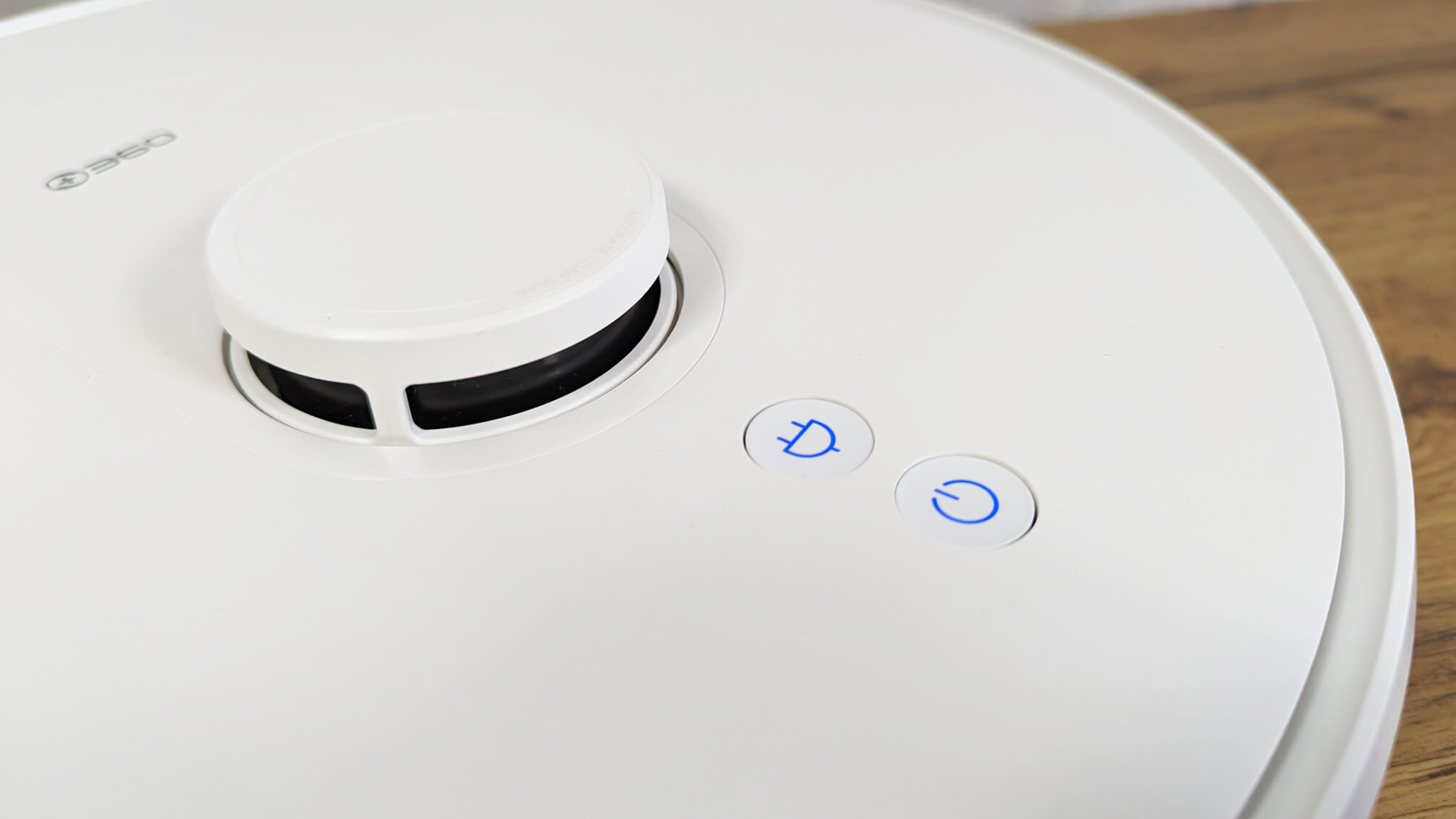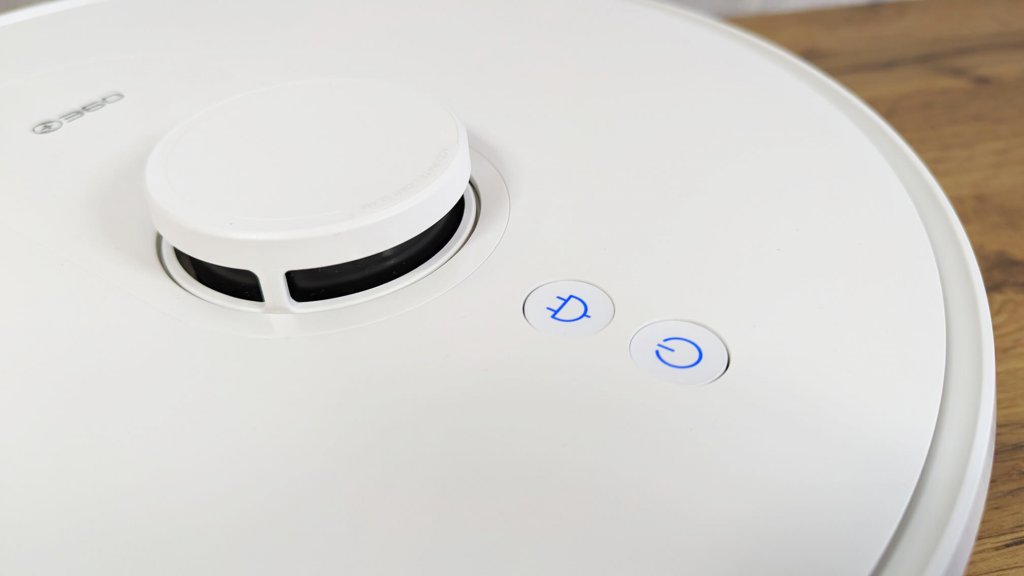 The conjoined water and trash tank can be removed from the back. The water tank holds 320 ml (10.8 Oz.). There is a pump inside for electronically adjusting the flow. The trash container holds up to 360 ml (12 Oz.) of dry dirt, and can be rinsed with water. The filters are based on mesh and HEPA.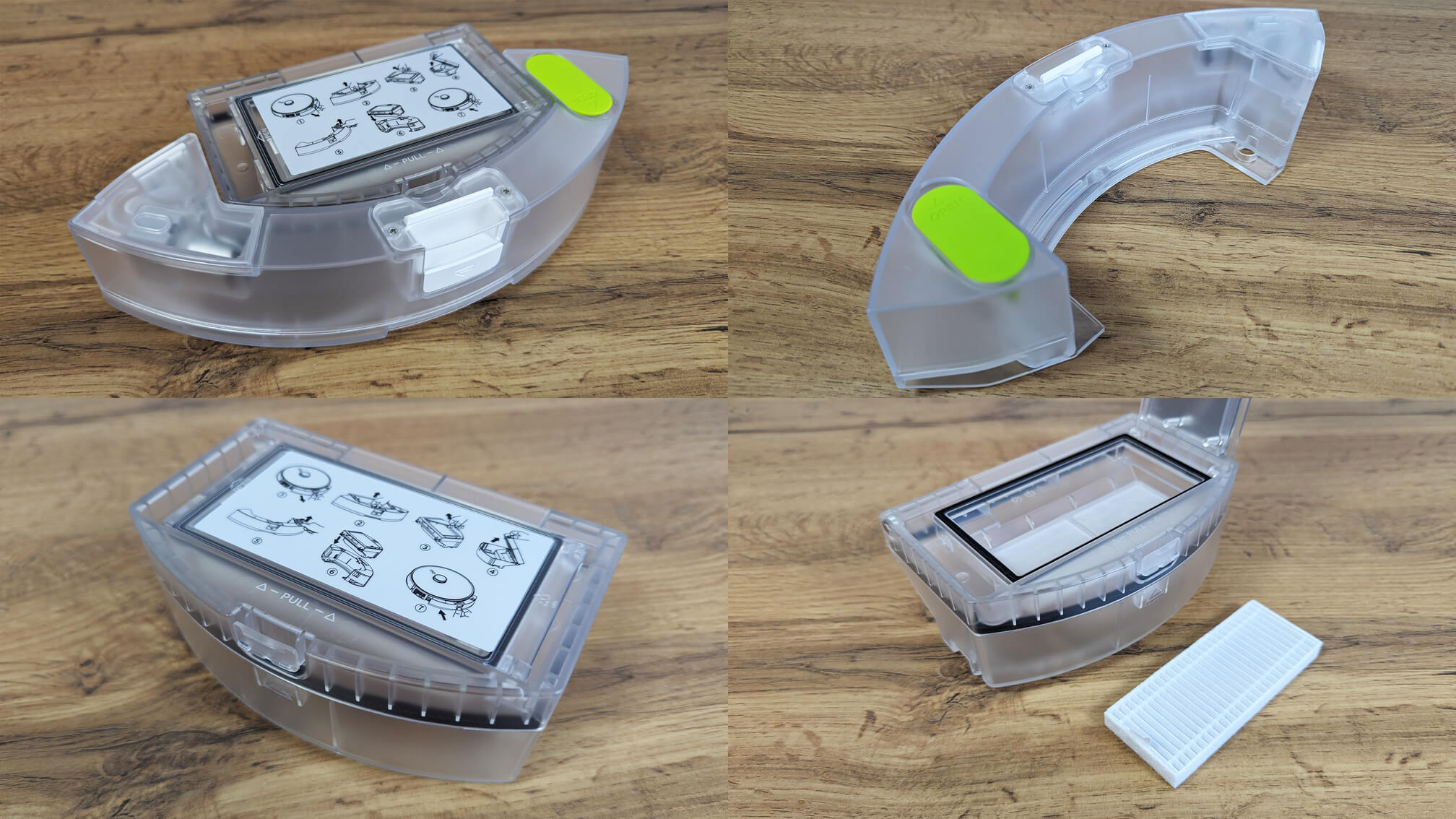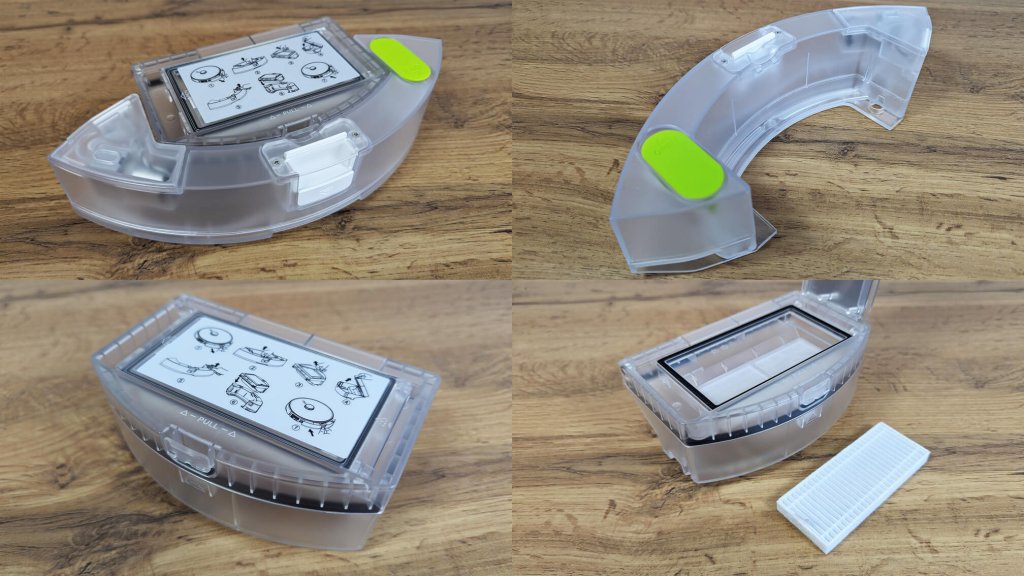 There are 3 sensors on the bottom to protect it from falling. There is one three beamed, easy to take off side brush. The brush isn't fluid, only the frame moves a little, but that's a little different. It has bristles, and can't be taken off, only the cap from one side comes off.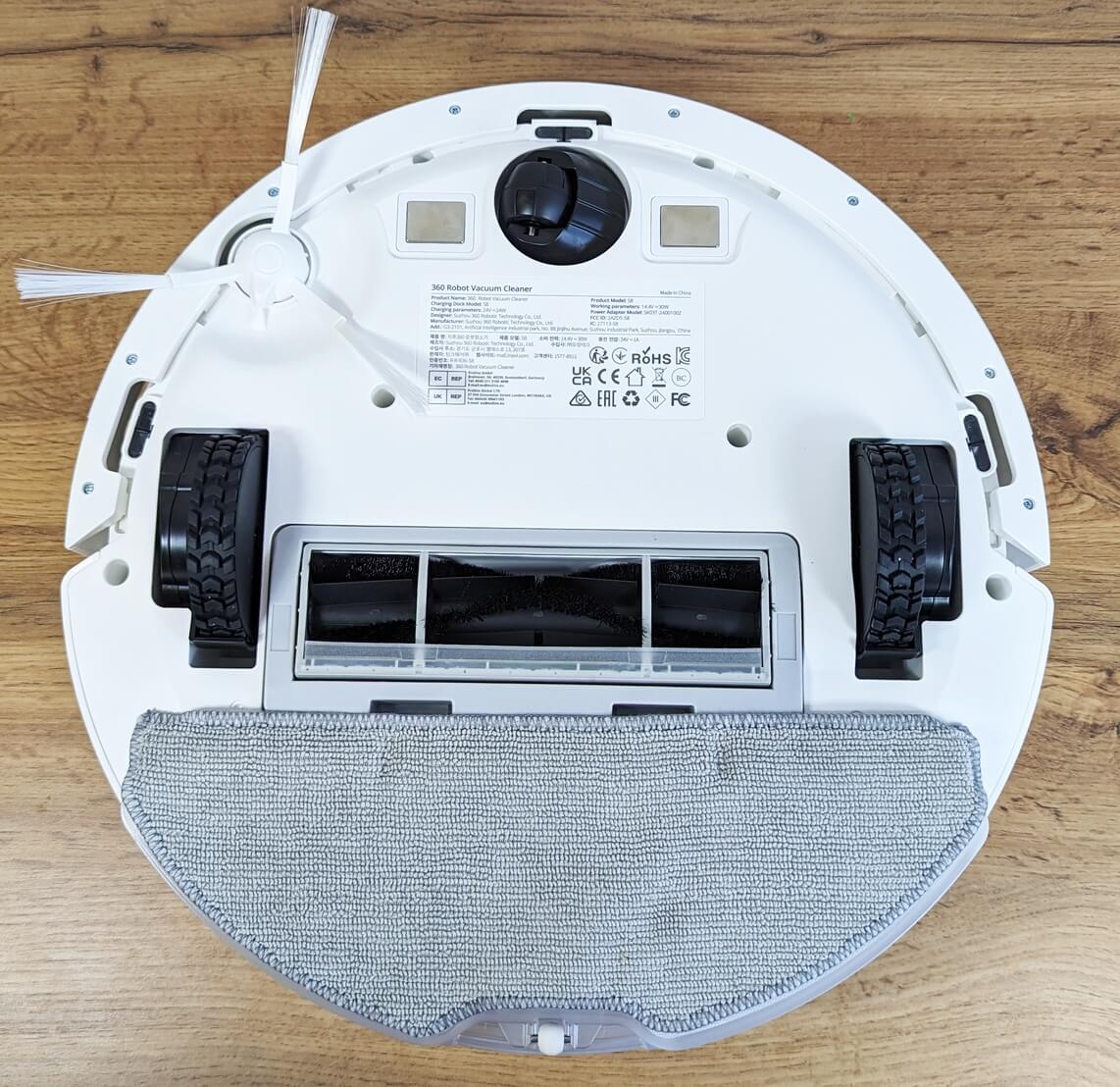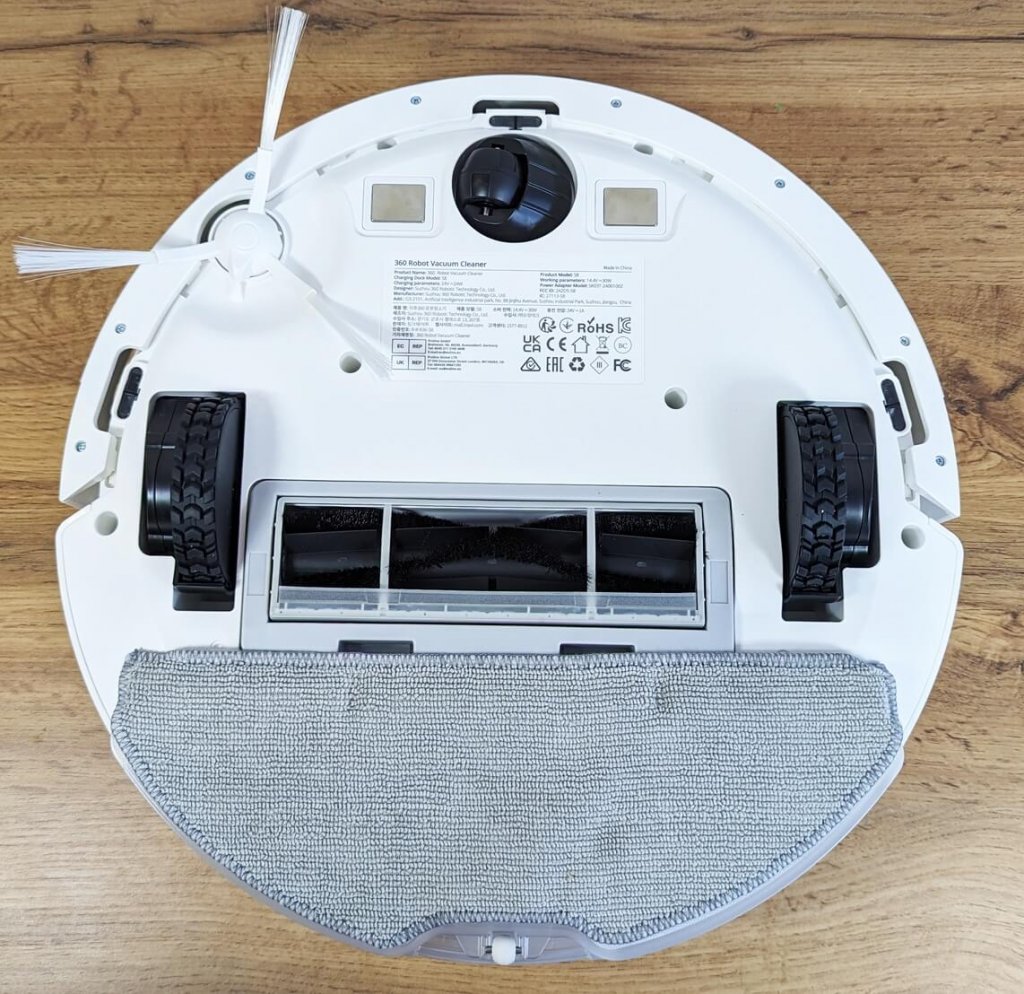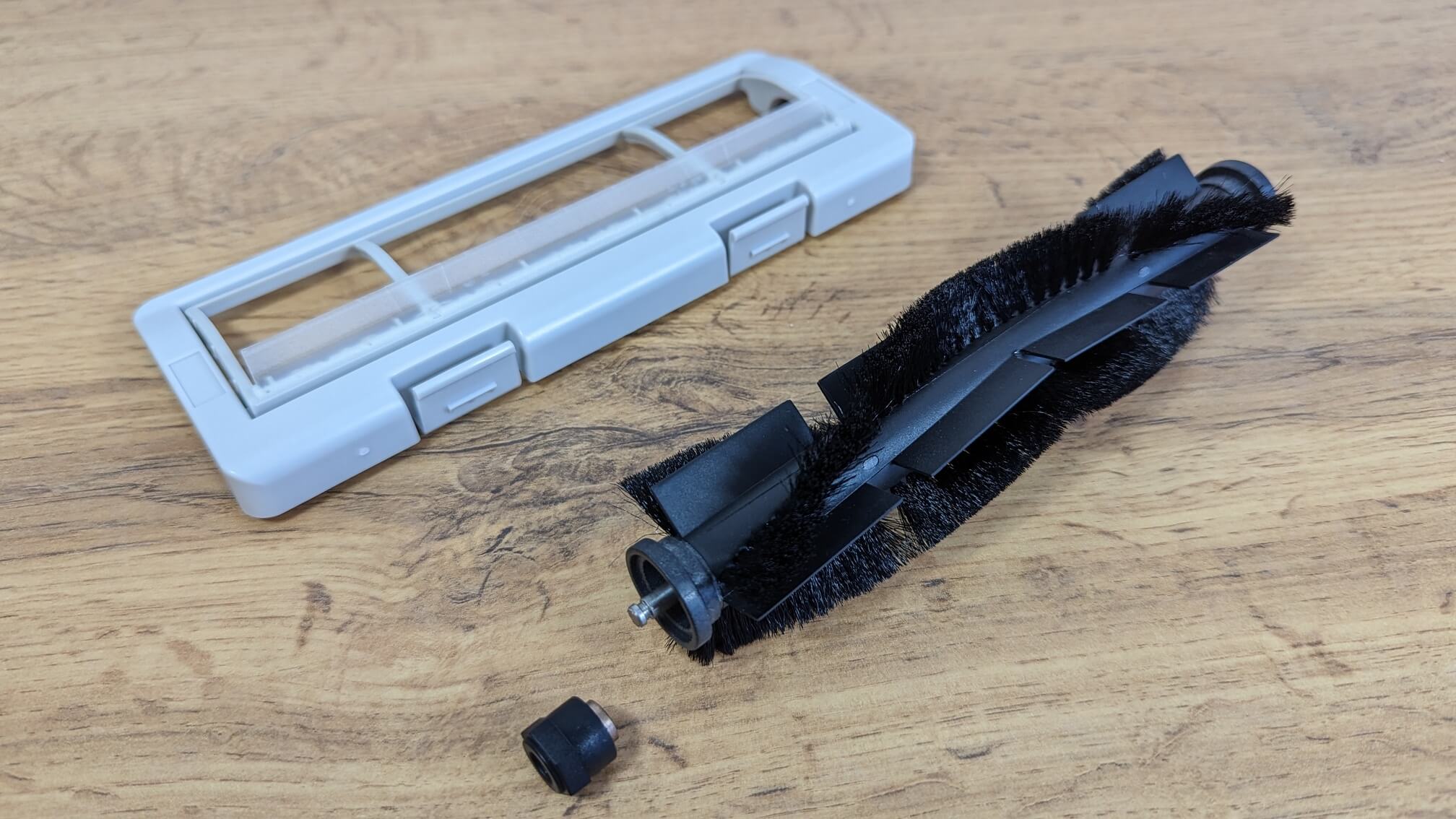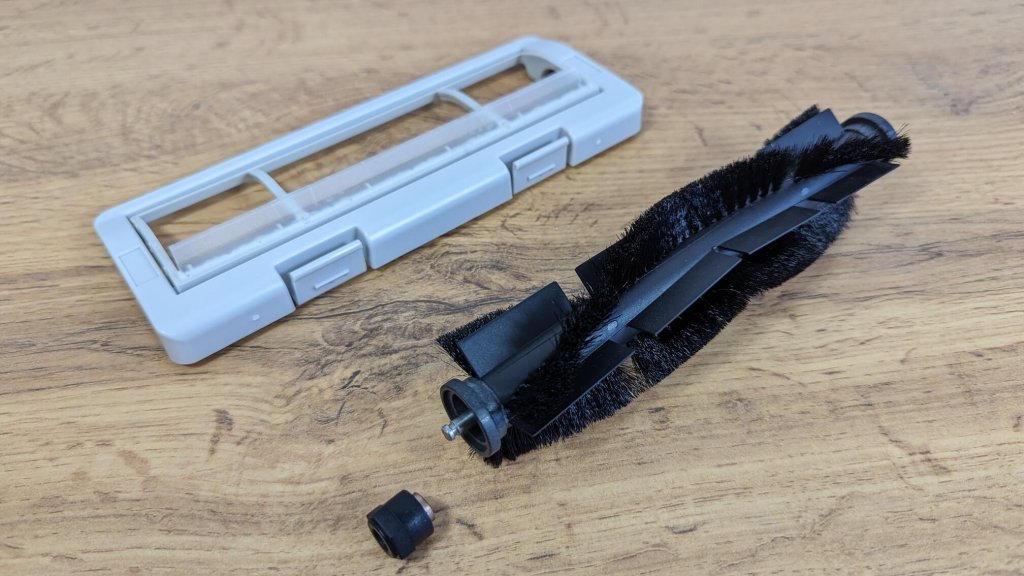 And this is what the mopping nozzle looks like. The wipe is held by pockets and velcro, so not very convenient.


Overall, as mentioned earlier, for it's price of $200-250, the vacuum is assembled pretty well. There are some issues, but for the price, it's ok, compared to the competition.
Note, that this robot is also sold with a self-cleaning station in the 360 Botslab S8 Plus version. Theoretically, the S8 model could structurally support a self-cleaning station, if you replace the conjoined container with one like the 360 Botslab S8 Plus, with a dirt curtain. But I couldn't find a station to buy separately, and I don't know if it's programmed to support it. I never got an answer from the brand, so probably not. But it would be very cool!
Technical characteristics
The vacuum's main features:
Battery Li-Ion 3200 mA*h.
Suction power 2700 Pa.
Battery life 120 mins.
Cleaning area 100 sqm (328 sqf).
Dirt tank 360 ml (12 Oz.).
Water tank 320 ml (10.8 Oz.).
Obstacle size 20 mm (.78 In.).
Size: 340*95 mm (13.3×3.7).
Weight: 3,45 kg (7.6 lbs.).
The only thing worth highlighting here is that the battery is weaker than usual. So, it's life is short, compared to others. But then again, for its price, most lidar robots are equipped with the same capacity battery. This is a common way to make bots cheaper.
Functions
Speaking of the functions, the robot is controlled by the 360robot app. The app's main functions are up on the screen:
Saving multiple maps (up to 10).
Automatically zones the space into rooms.
You can choose individual rooms and zones that need cleaning.
Virtual walls and no-go zones (separately for mopping).
Suction power control.
Water flow control.
User mode.
Cleaning journal.
Cleaning schedule.
Voice notifications.
Automatic power increase on carpets.
Mode for going around objects (Anti-collision).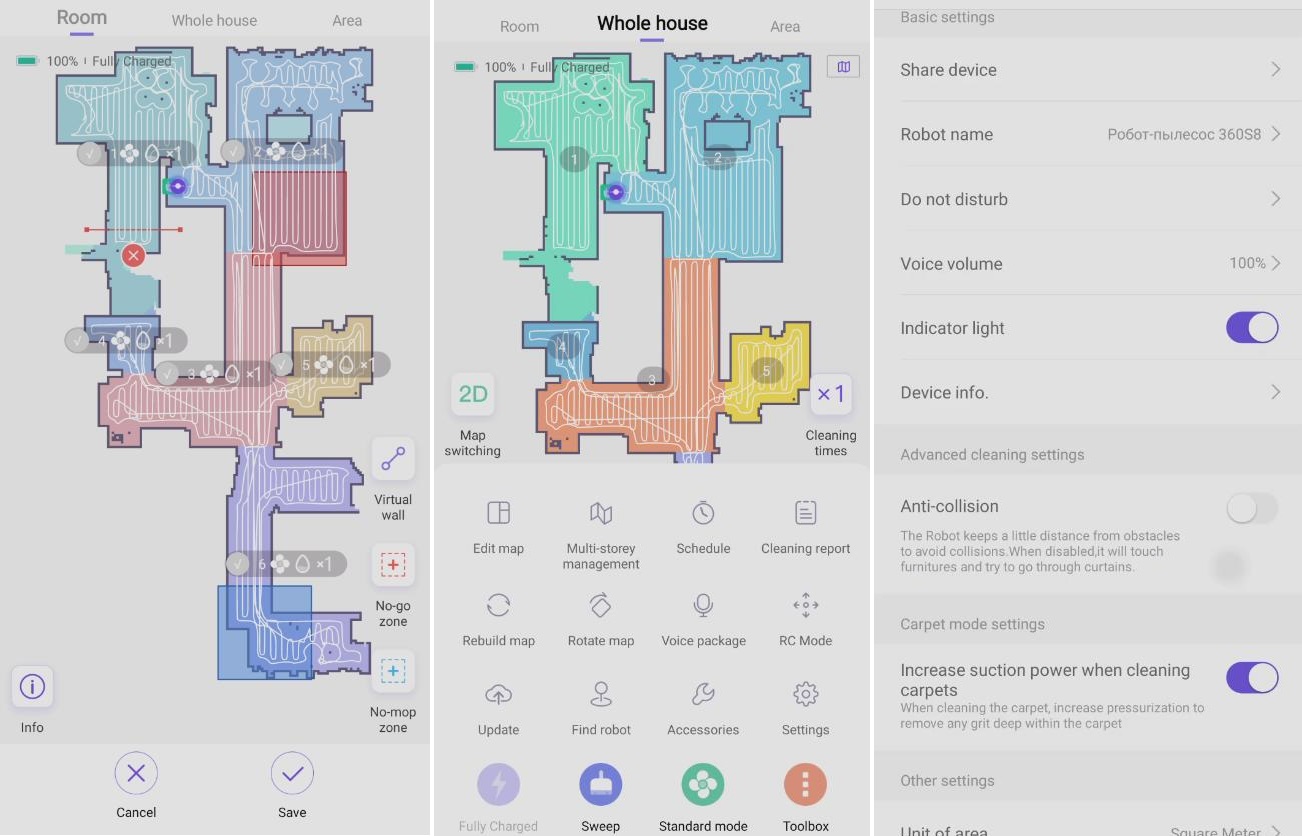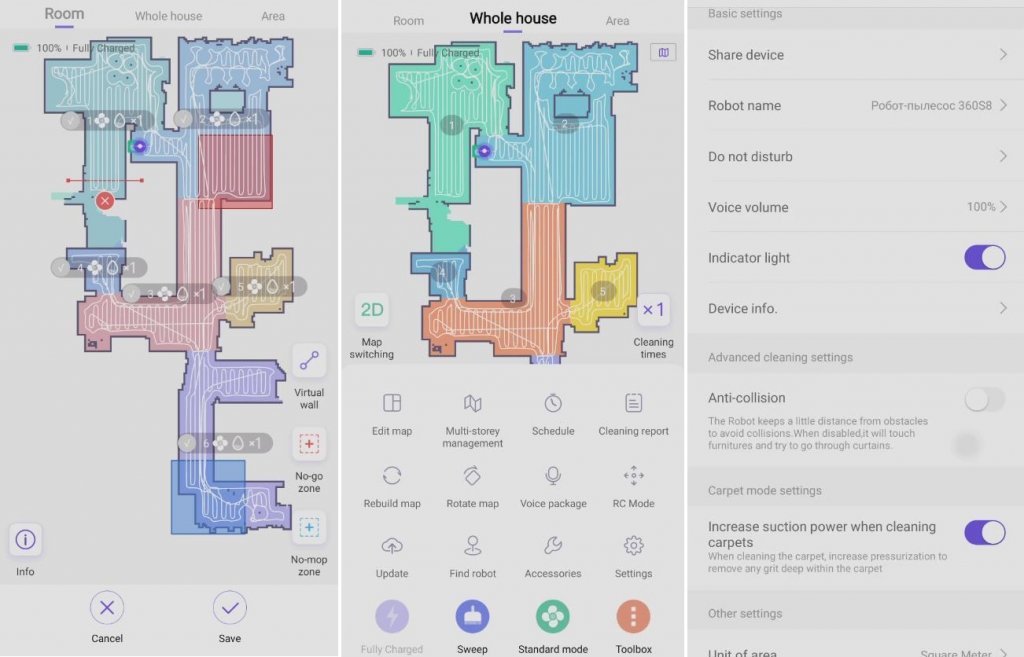 Interesting feature of the model is the obstacle avoidance mode (Anti-collision). In other words, you can manually turn on/off the sensor in the front of the bumper. If it is on, the robot gently bypasses all obstacles on its way. But if it is turned off, it is able to clean even behind curtains and drapes, pushing them through, which most robot vacuum cleaners with lidar for navigation are not able to do. Admittedly, the robot hits objects in its path harder when the detour mode is disabled. About the same as robots with a camera for navigation and gyroscope models. Nothing life or death, but still worth noting.
Either way, there's enough functions for you to flexibly adjust the cleaning mode under you. This is very cool!
Testing
Quick video review with all tests:
Navigation
Finally, let's get to testing. First, let's test the navigation in a room with obstacles. The robot first goes around the perimeter, then cleans the entire available area in a snake-like pattern. The drying rack didn't stop it, and it even swept around the box and chair legs, before returning to the station. It passed with flying colors!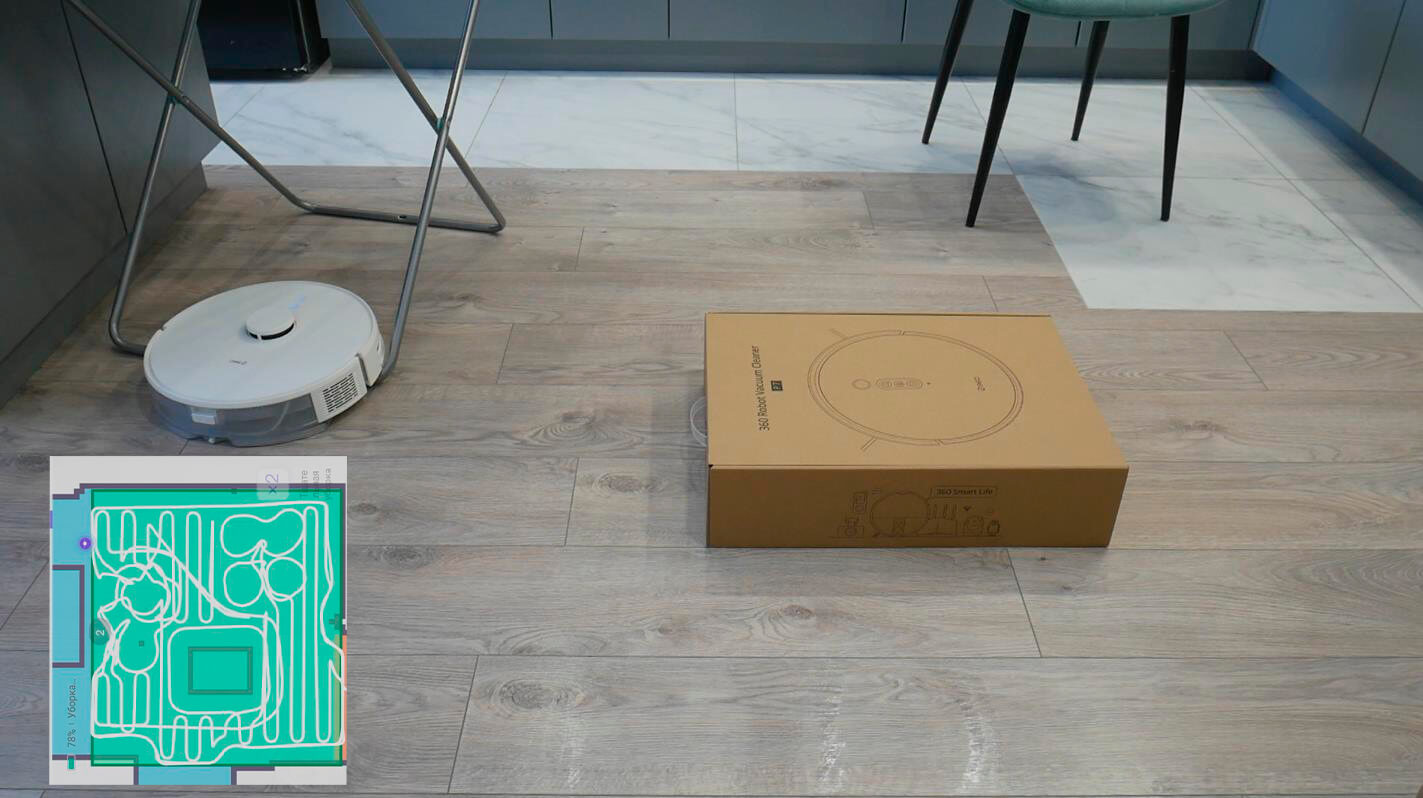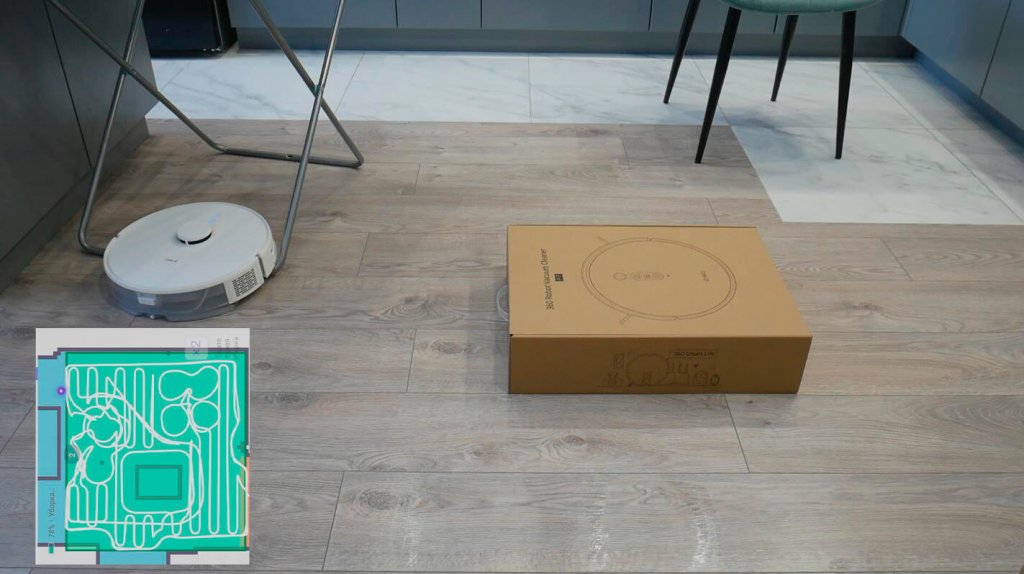 Speaking of navigating within the house, the 360 S8 cleans room by room, first around the perimeter, then in a snake-like pattern. Nothing left dirty, so this model's navigation is great!
Suction power
The suction power is pretty standard. It only managed to get dirt out of a 2 mm (.07 In.) deep slot. For casual use this is enough, I think.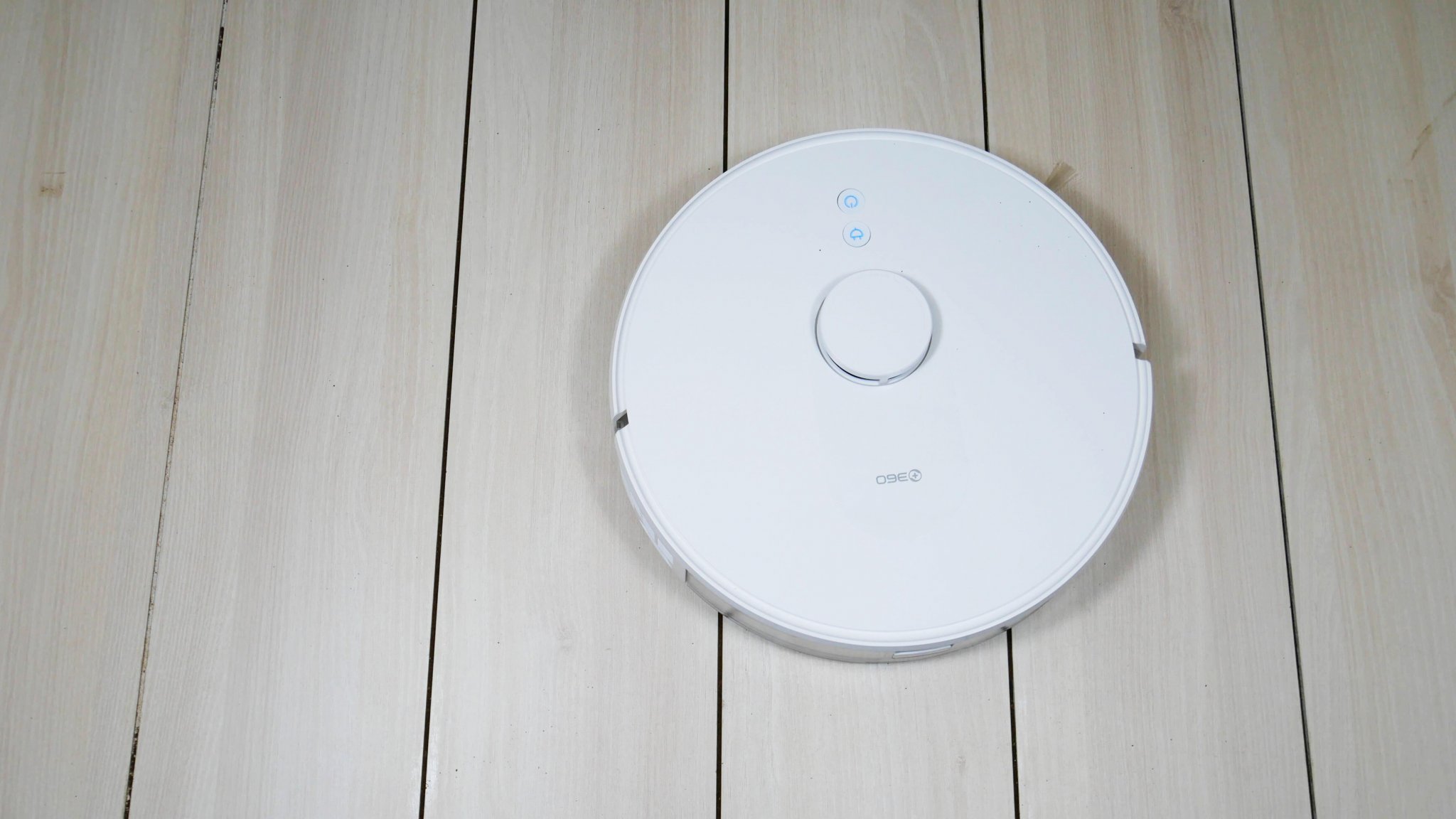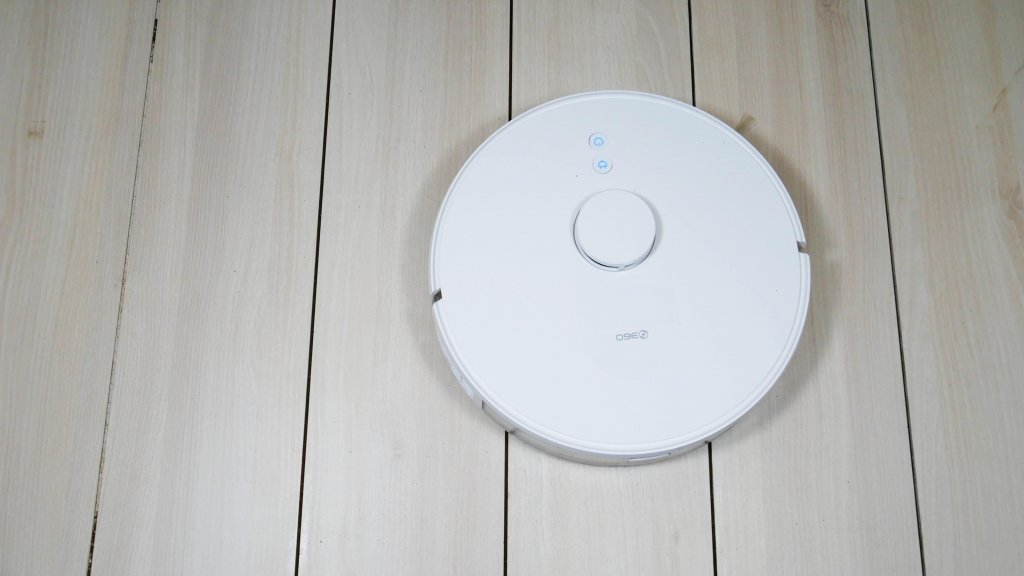 Vacuuming
It did well picking up different sized trash off the floor. It even did better sweeping in the corners tha other robots. This is a plus! The central brush has some hair and fur on it, but still most of the dirt is collected in the trash container. Test passed!


Carpet cleaning
As for cleaning medium carpets, the vacuum cleaner collected most of the dirt, but a small amount of hair and fur was still stuck in the carpet. Here, the quality was worsened by the weak power and the fact that the central brush isn't fluid, in my opinion. But for casual use, this is fine.


Mopping
The 360 S8 also scrubbed off simple dirt. A bit of dirt is left, but the results are better in comparison to vacuums of the middle range, like Roborock and Dreame. Though the area along the baseboard wasn't cleaned, which is a trend we keep seeing.


It's also important to note that the 360 S8 is capable of vacuuming and mopping the floor simultaneously. And the wipe gives enough water to leave a wet spot on the floor. Test passed!
Mopping on carpets
Speaking of mopping in the presence of carpets, the 360 S8 doesn't have a carpet detection sensor, so it's not able to see carpets and go around them while mopping. I advise setting a no-go zone of your carpet for mopping to save it..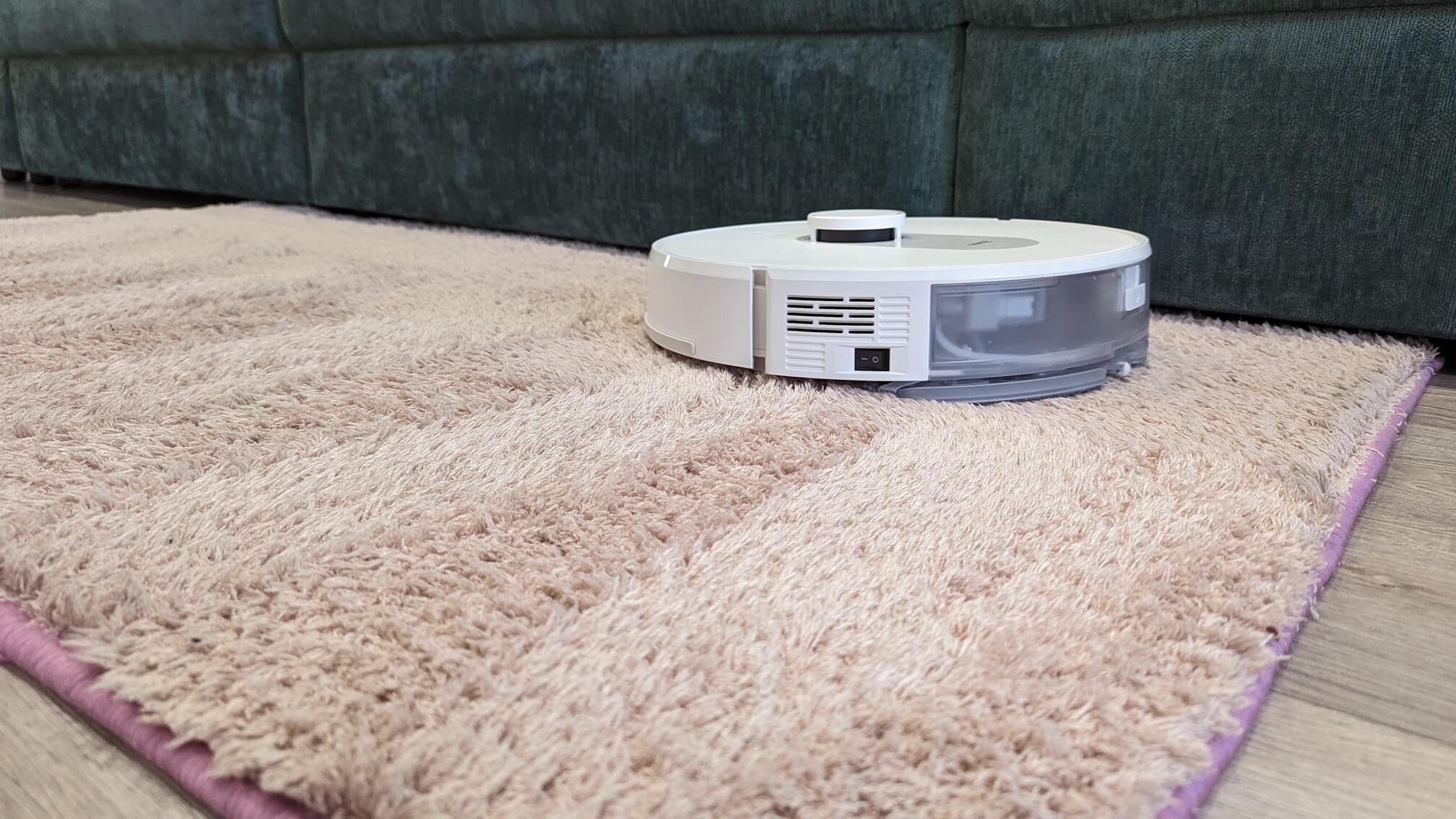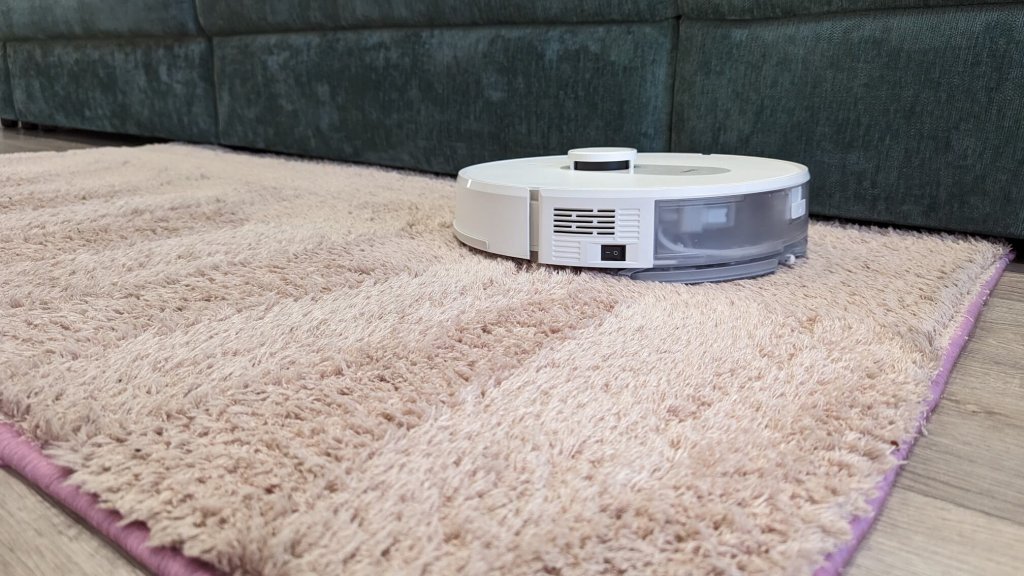 Right away, I'd like to point out that the vacuum has a problem with increasing the power on carpets, and isn't always fast. Sometimes the power increases when the robot is already done with the carpet, and this isn't very good.
Obstacles
The vacuum can climb over 2 cm (.78 In.) obstacles. Not always immediately, but still.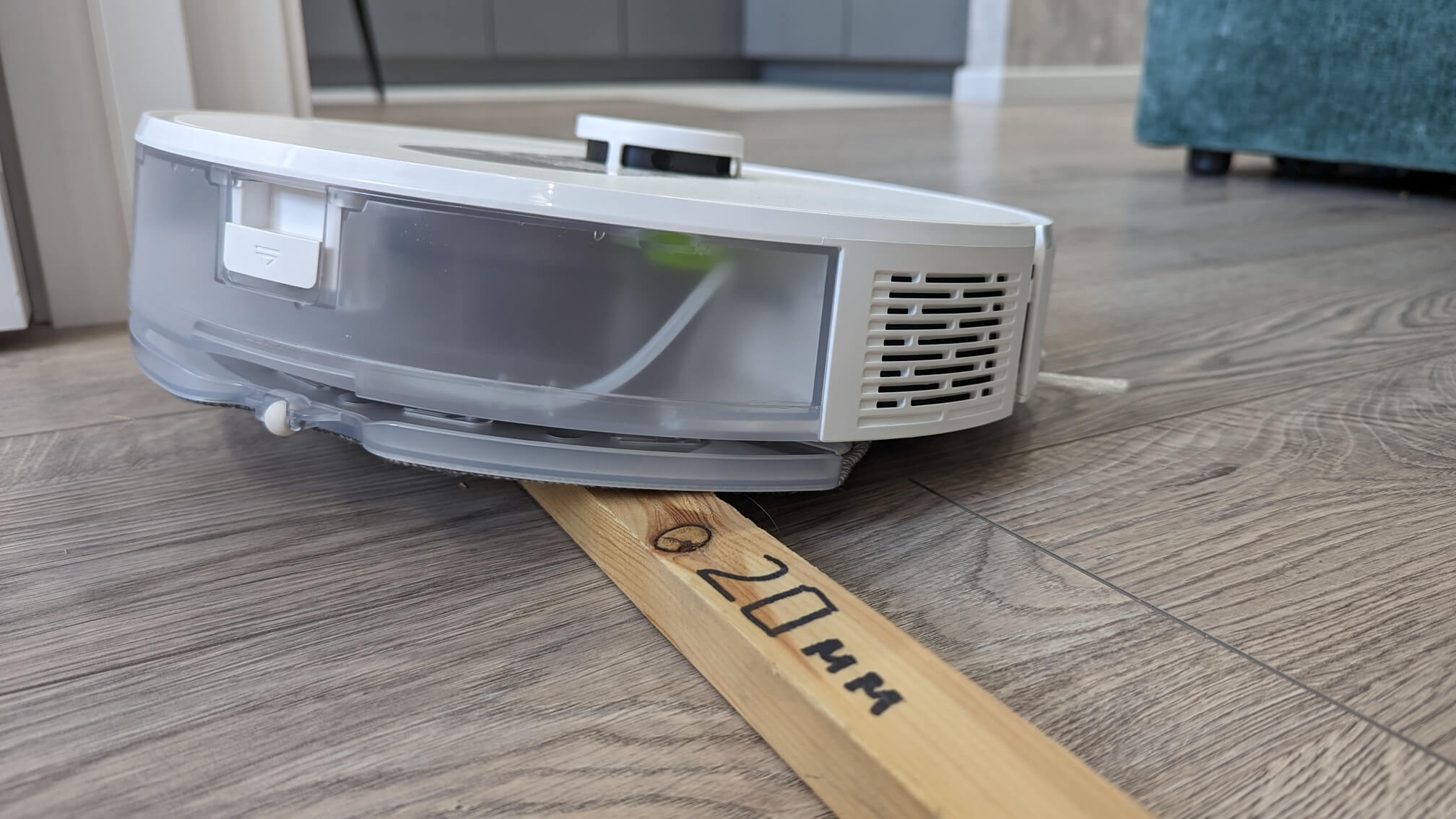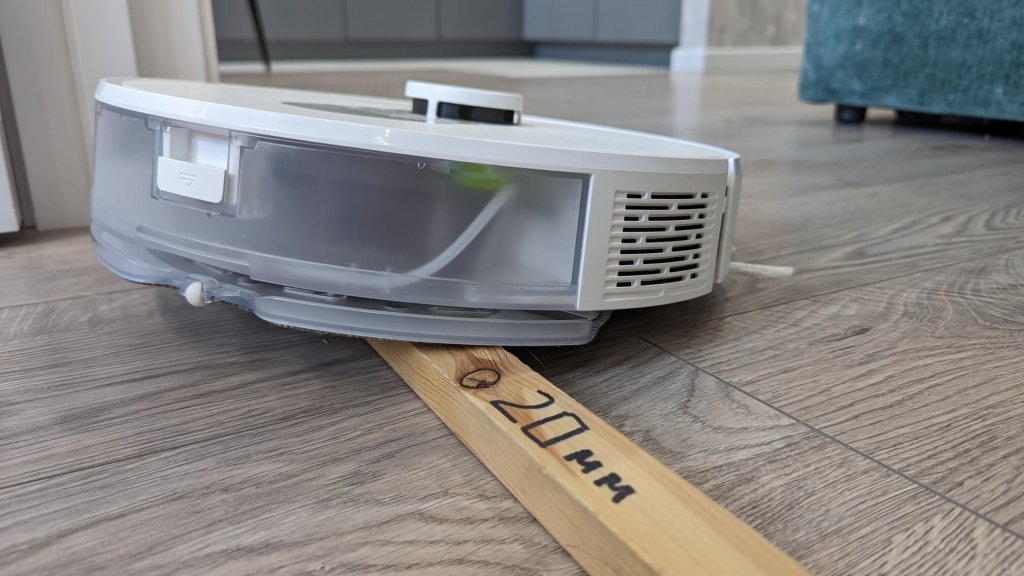 Dark spaces
When it sees black, however, it recognises it as a cliff, and goes around it. This is common for vacuums, but it's still worth thinking about when buying it.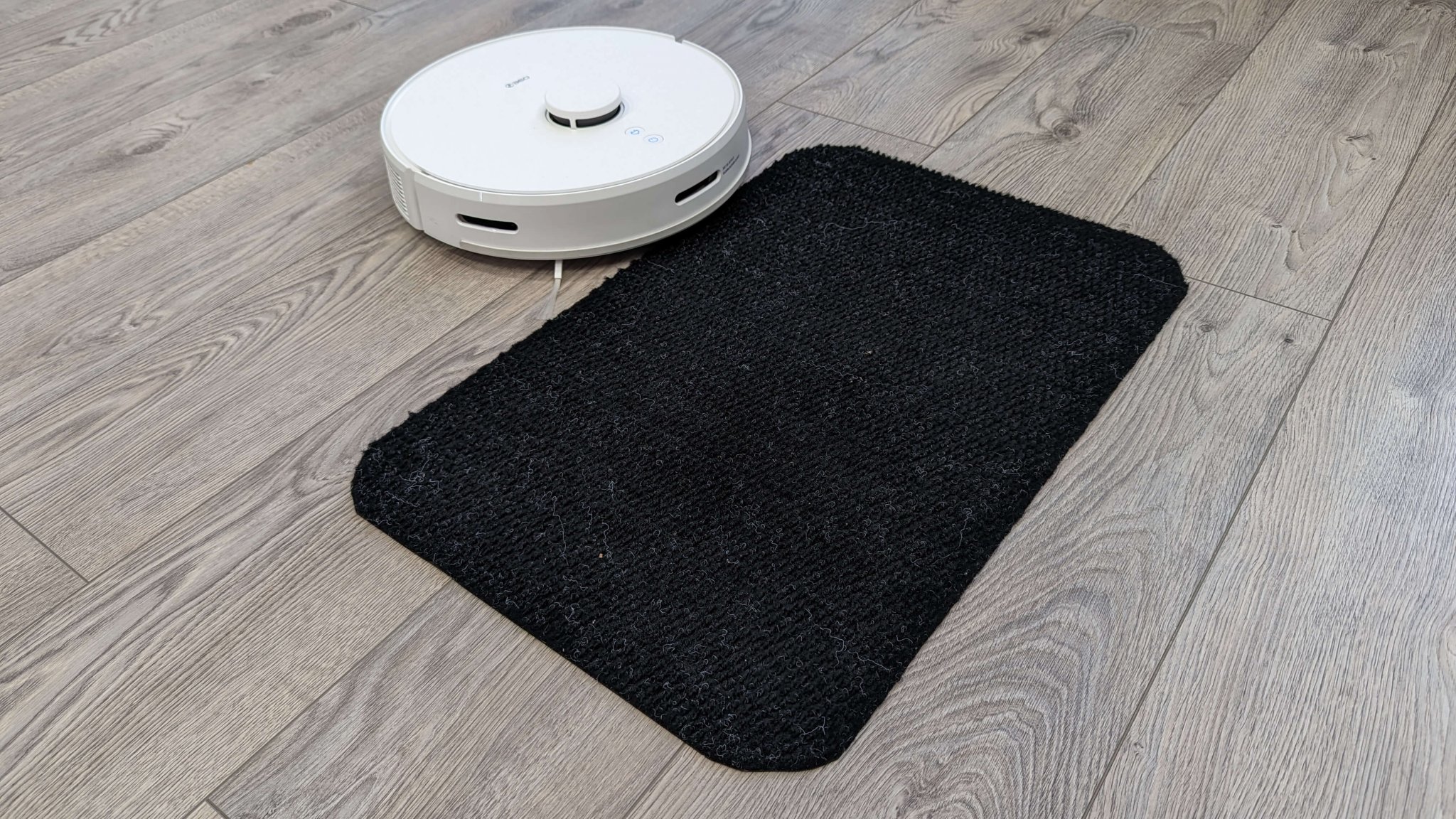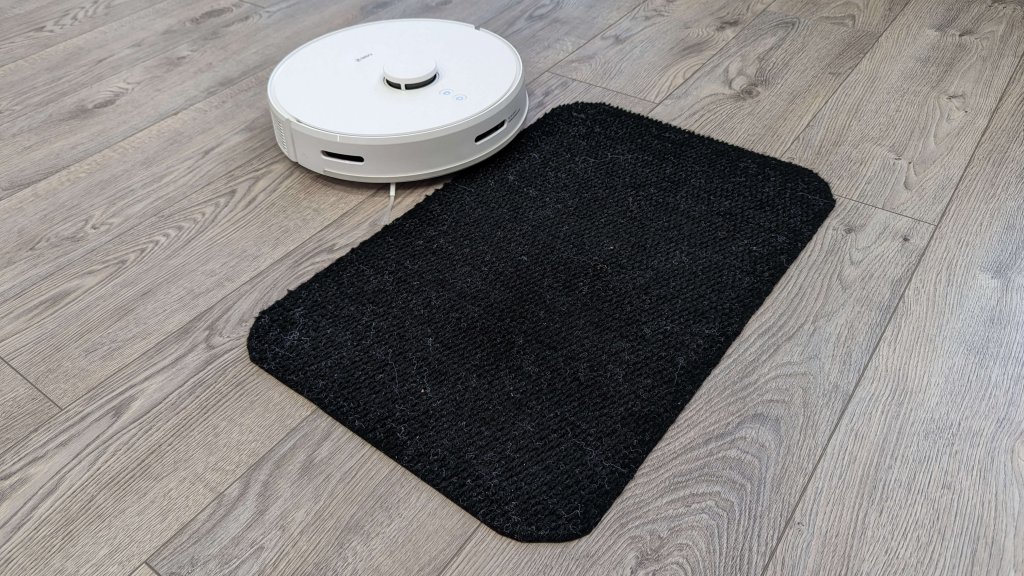 Noise level
And to end, let's measure the volume of 360 S8 in different modes. In "Quiet" mode it's within 59-62 dB, in auto mode it goes up to 64-66 dB, in amplified mode it reaches 67 dB, and at max power it peaks at 70 dB. It's pretty loud, considering that the suction power is standard.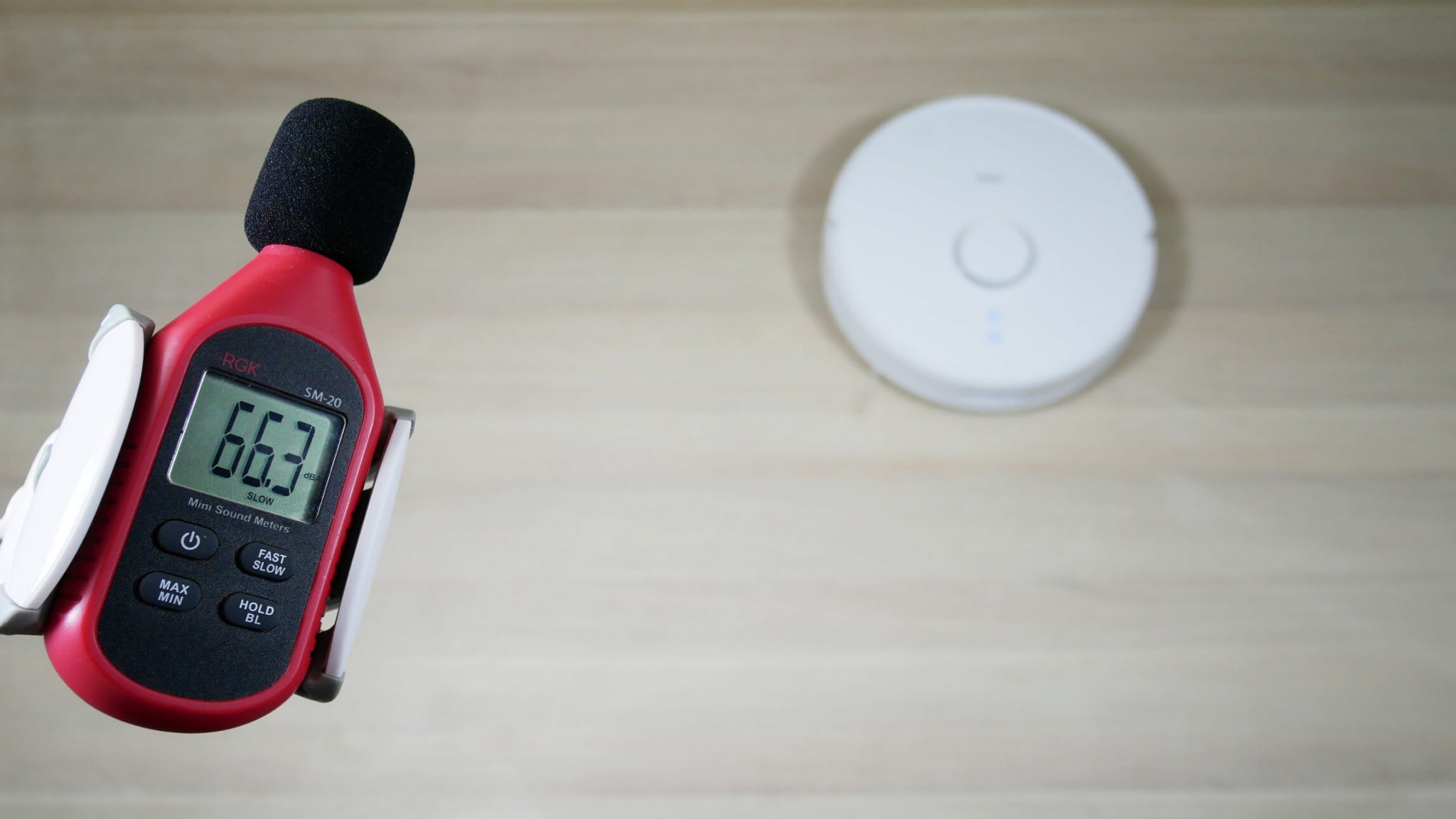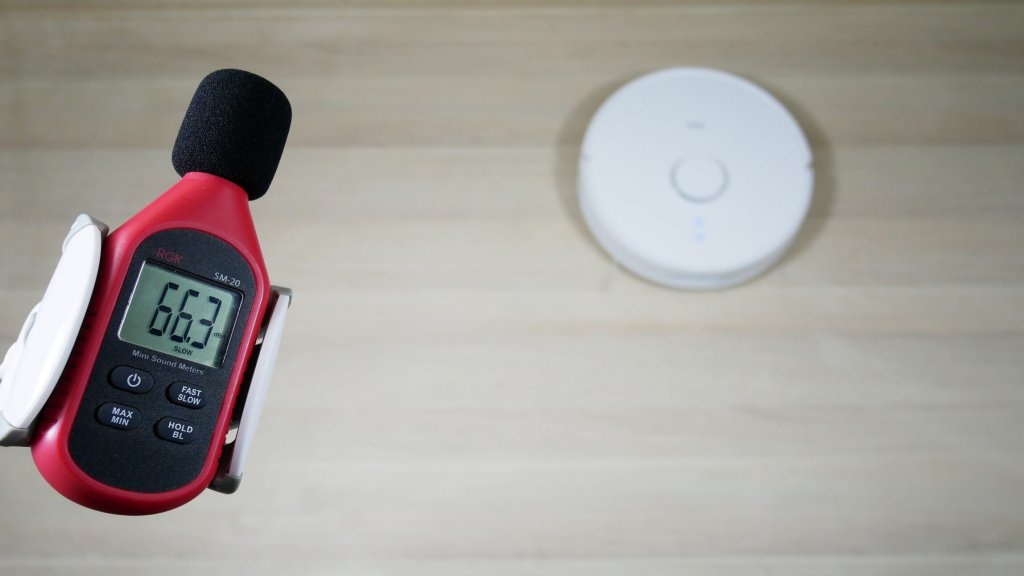 Opinion
The 360 S8 robot vacuum was thoroughly reviewed and tested. Our system gave it 114 points. For an ordinary lidar robot vacuum cleaner this is good, especially for the price.
Overall rating of robotic vacuum cleaners that have passed the Robotobzor test: https://robotobzor.com/ratings/general-rating-of-robot-vacuum-cleaners.html.
Now, I'll share what I liked:
Good navigation.
Simultaneous vacuuming and mopping.
Quality cleaning on different floors.
Is better at getting dirt out of corners than others.
Cleans behind curtains.
Lots of functions to flexibly adjust the cleaning cycle under you.
Good off-road.
Large water tank
Good price.
As for what could be better, here's what I caught:
Weak battery.
Is scared of dark spaces.
Not a big trash tank.
The function to increase power on carpets doesn't work correctly.
Overall, at a price of $250-300, I see the disadvantages as manageable. For the price the robot is very interesting and, most likely, can be considered the best for a budget of up to 15 thousand rubles, if the price doesn't change. 360 S8 left a mostly positive impression, so I'd recommend it. If you still have questions, make sure to leave them in the comments below. Have fun shopping, bye!