Hey guys, welcome to Robotobzor! Today we'll review the Dreame H12 Pro Wet and Dry Cordless Vacuum, which went on sale in 2023. The main differences from Dreame H12 are the roller output to the edge of the body on both sides, increased power, a bigger tank for dirty water, and it drying the roller with hot air, something that was very lacking in the earlier model. In addition, a new operating mode has been added and the self-cleaning function has been upgraded. Overall, they put in some work and all we have to do now is test how much this affects it. Which brings me to testing and reviewing Dreame H12 Pro in detail, after which I'll express my own opinion whether it's worth it. At the time of the review, it's between $480 and $575, which puts it in the premium sector. So, let's get rolling!
Kit
Dreame H12 Pro came in this box: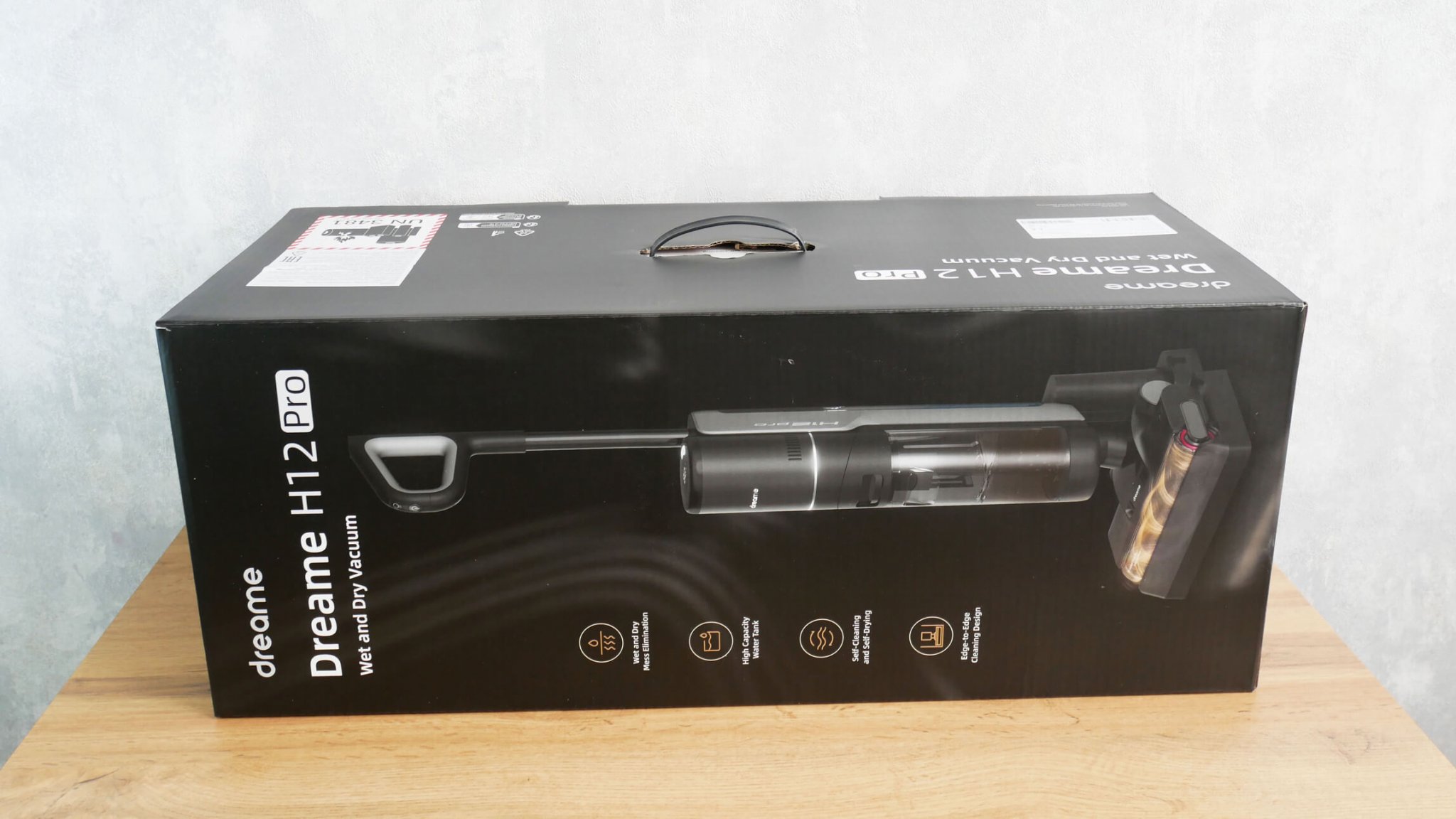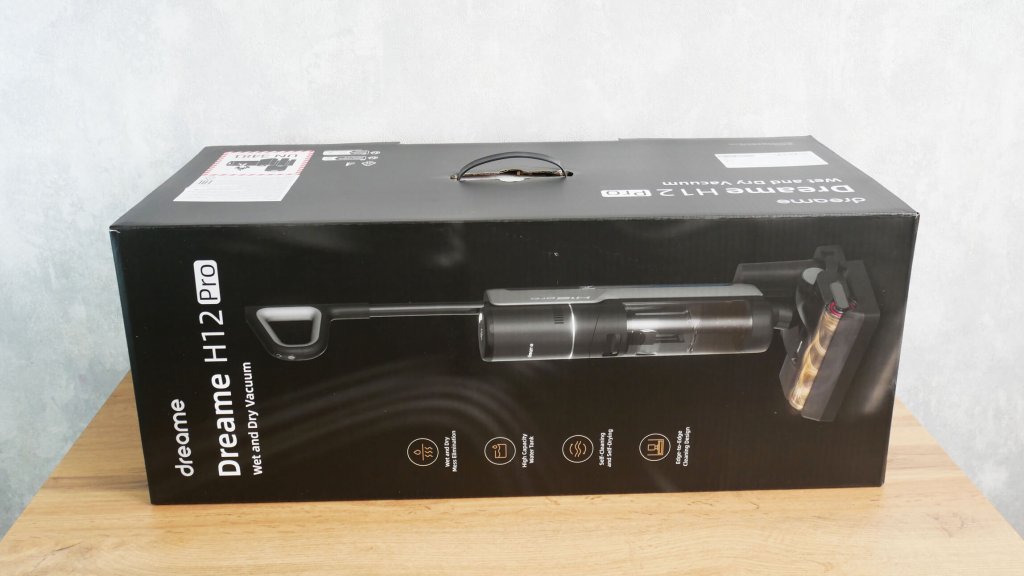 It includes:
Removable handle.
Charging and self-cleaning base with extra holders and a non-removable cord.
A brush for cleaning the vacuum.
An extra roller.
An extra HEPA-фильтр.
Brand's liquid cleaner
A manual.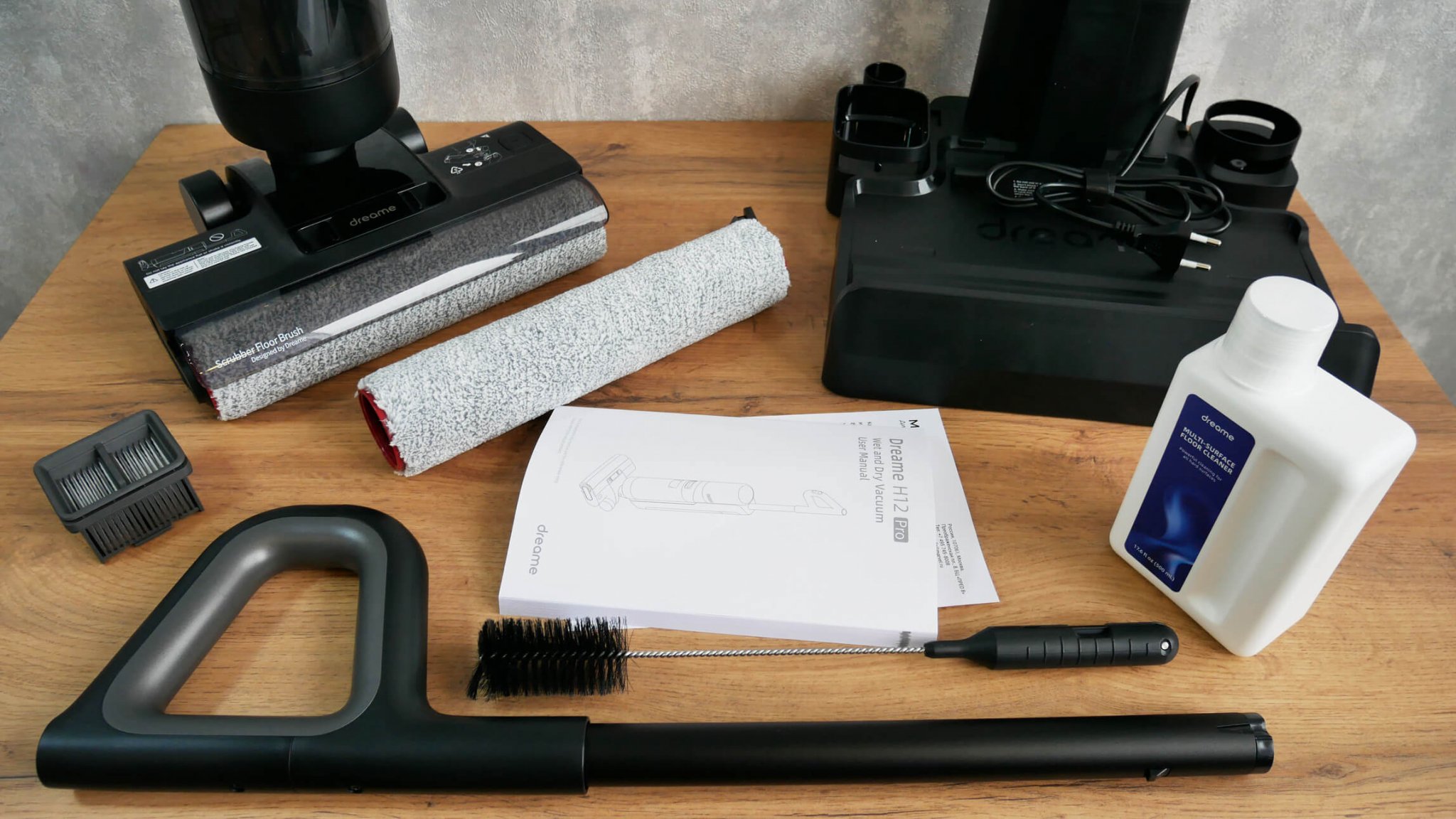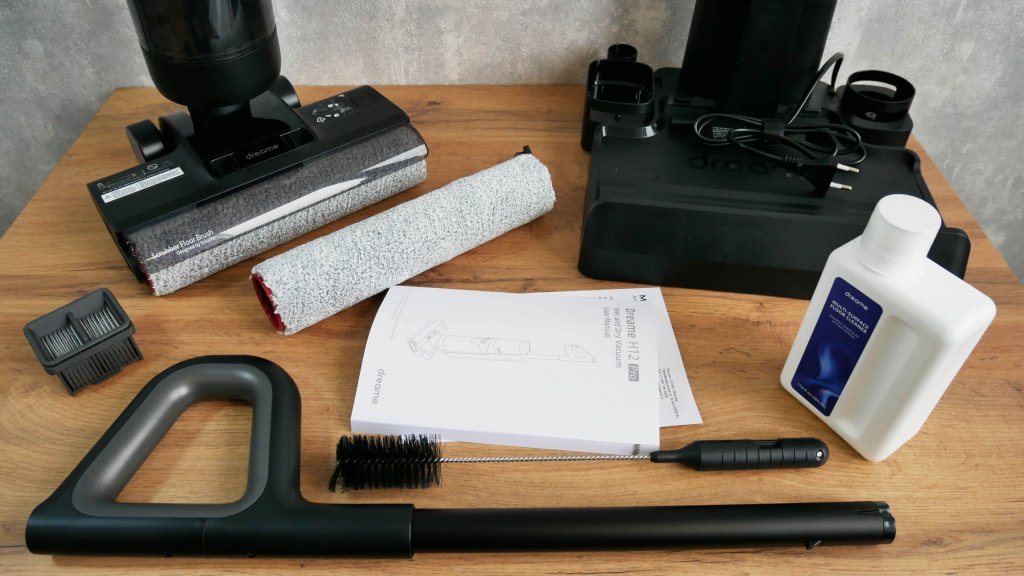 It's pretty full, even comes with a cleaner, pretty cool!
Design
Now let's look at Dreame H12 Pro's build. Let's start with the cleaning module. As already mentioned, the roller's design was updated. Now it goes to the edge of the case on both sides, however, it doesn't go the edge of the walls, with locks blocking it. So we can expect a narrow strip to be left on both sides, but it will still be smaller than in other vacuums.


The top can be removed, the roller is locked with the top button. When you remove the roller, an unusual holder pops up, which actually rotates the roller. It's not removable. Behind this holder is a scraper that collects water, a suction opening, and a comb to comb the roller. Access to the suction opening is limited, so I can see a problem with cleaning it, and with the self-cleaning's functionality. But let's wait till the tests.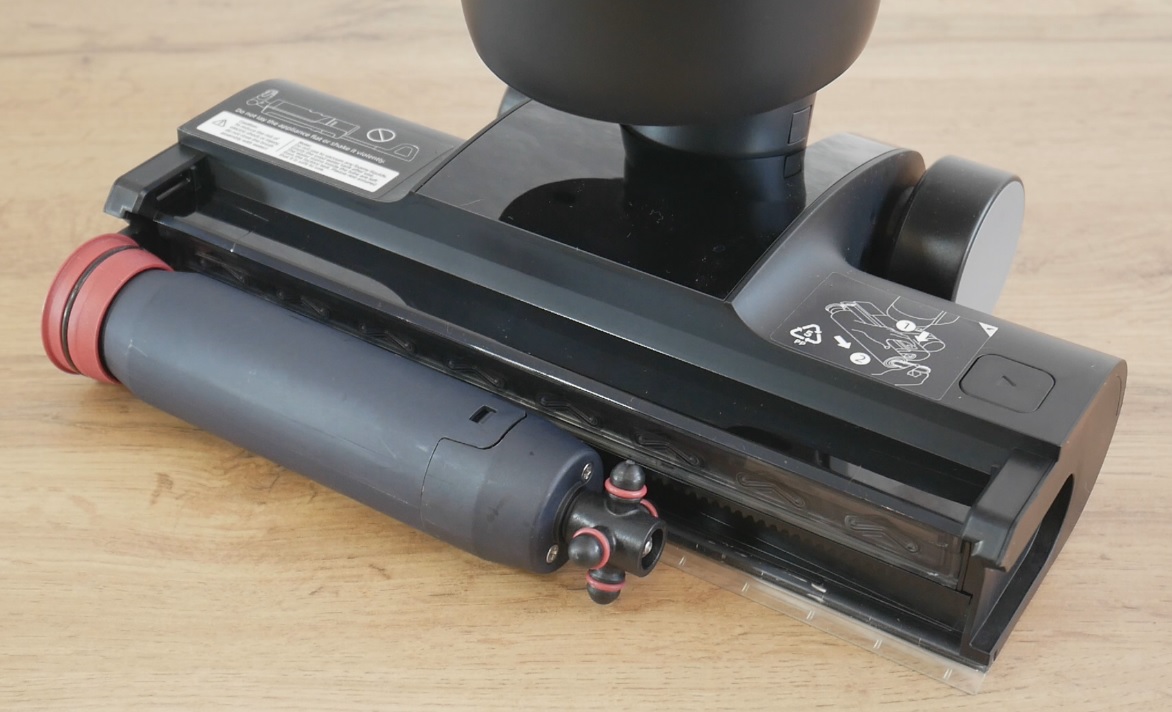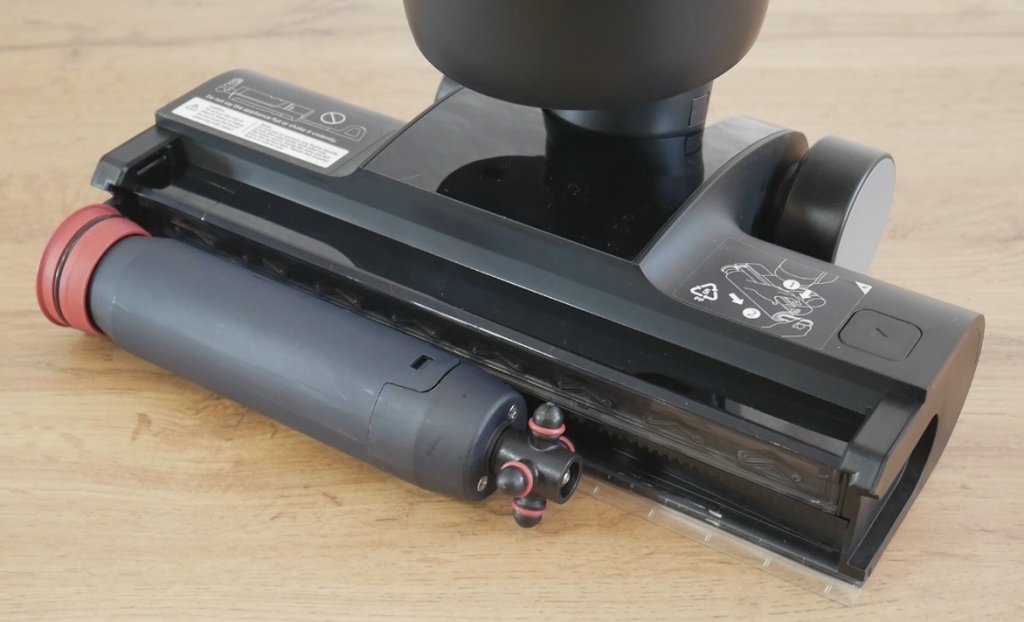 The dirty and clean water tanks are above the cleaning module. The clean water tank remains the same, holding 900 ml (30 Oz.). But the dirty water tank has been increased from 500 ml (17 Oz.) to 700 ml (23.6 Oz.), which is very good. Inside the tank is a HEPA filter with mesh and electronic water level sensors. There's no coarse filter.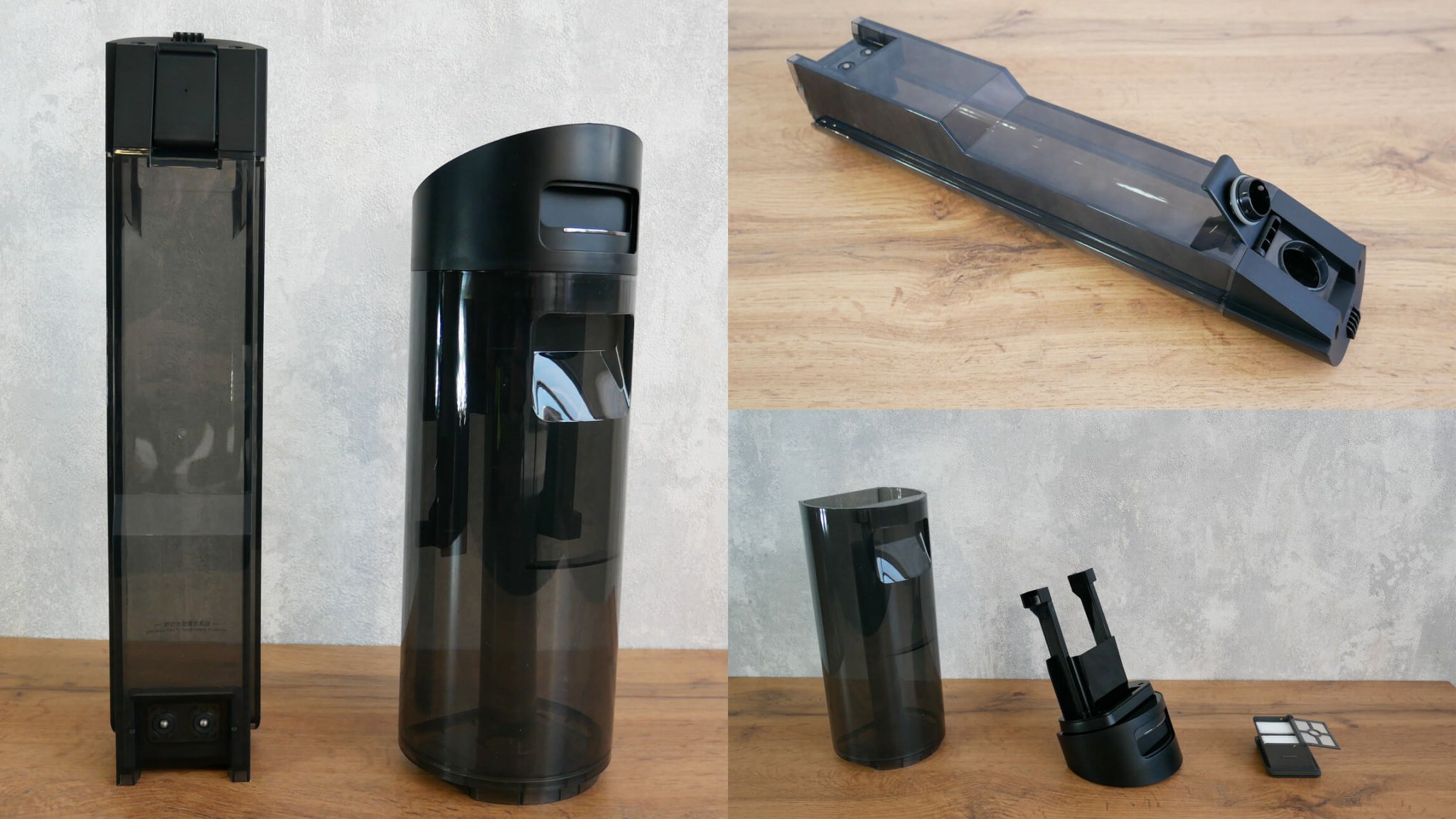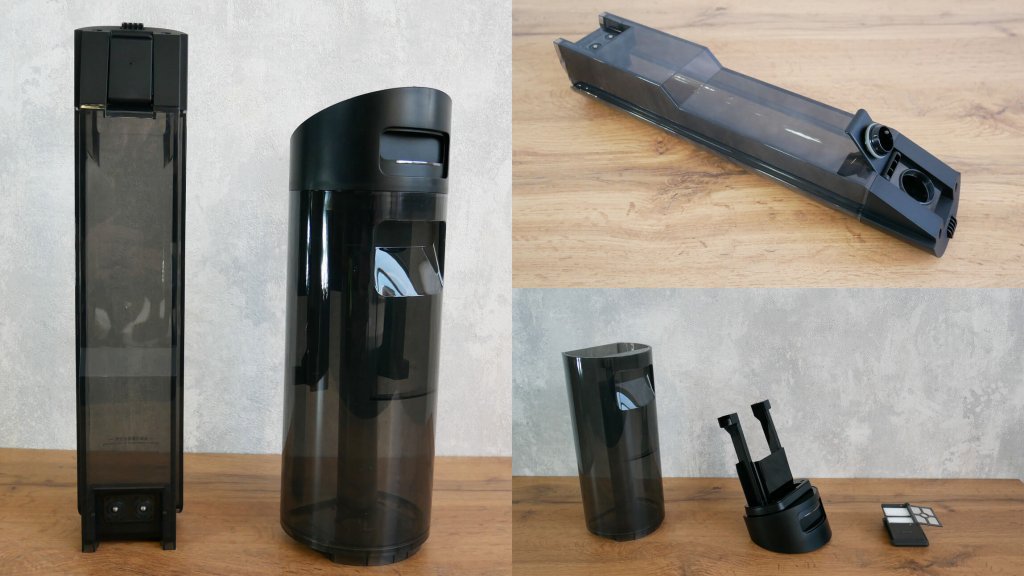 The display is conveniently put on top of the housing. It shows the charge, the selected mode, the power level, and notifications. There's 5 modes: automatic, Ultra-mode, suction mode, self-cleaning and roller drying.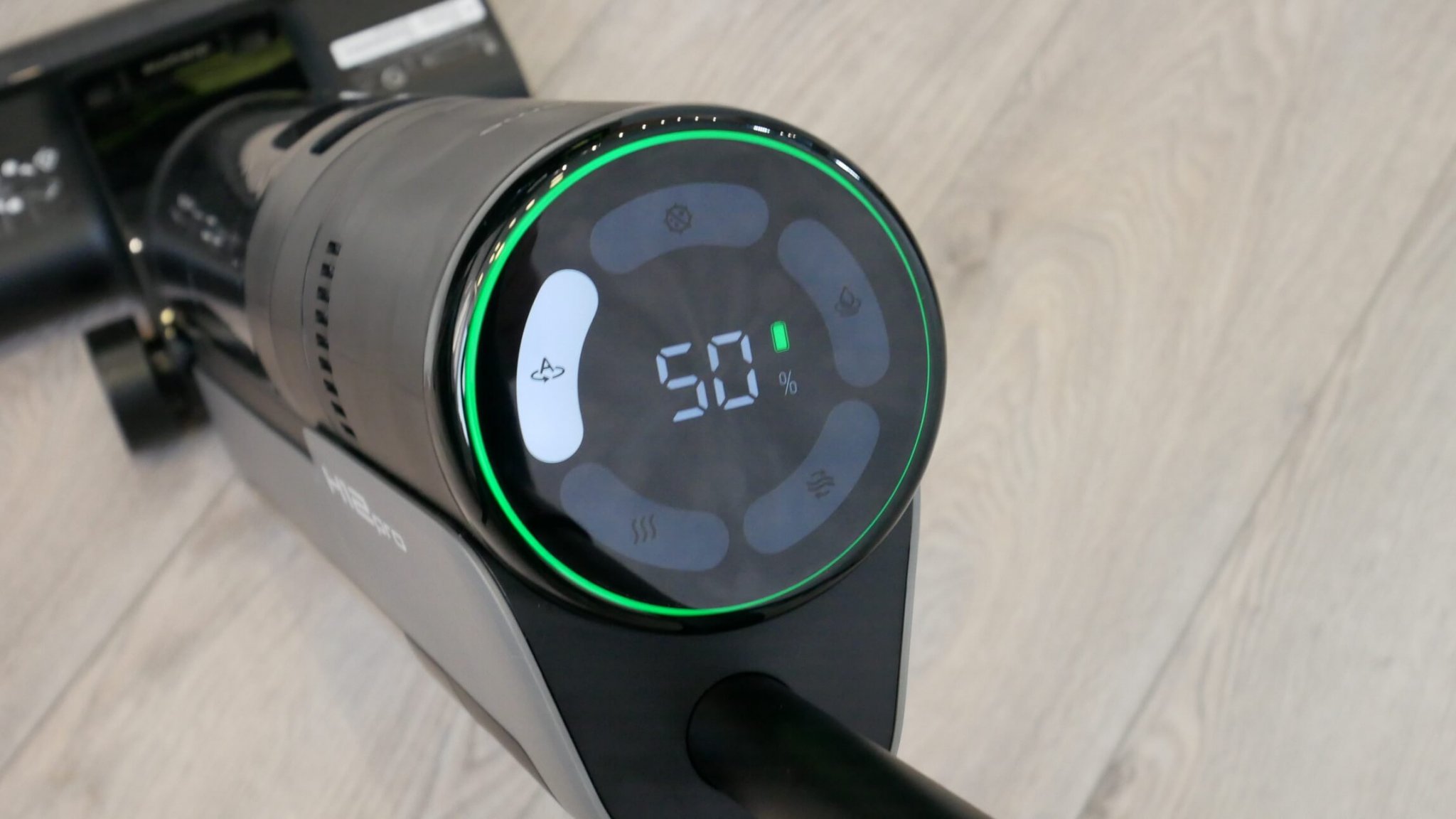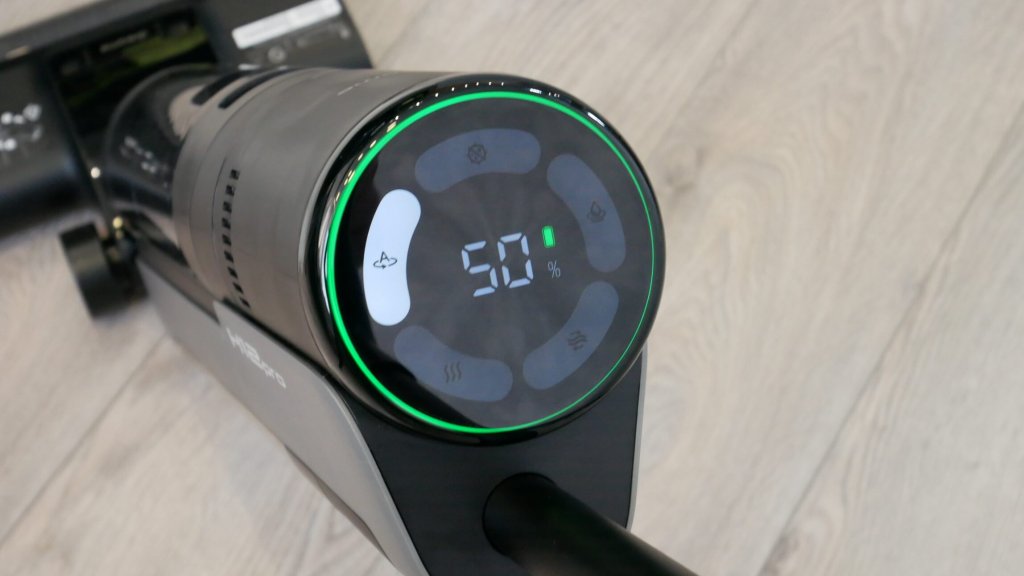 I'll quickly stop on them. In automatic mode, Dreame H12 Pro independently adjusts suction power depending on the degree of dirt on the floor. Ultra-mode was a mystery to me until the end of the tests. It's marked with an icon by the type of protection against bacteria, and the vacuum calls it disinfection mode. It's not clear, what and how it's disinfected, and in promo materials and the manual says that it's the high power mode. In general, including it, there's a 10 seconds prep, and then the suction turns on. But neither in volume, nor in actuality have I seen any difference in power between automatic and ultramode. Some kind of light inside the tanks is not switched on, too. All in all, a pretty weird addition.
The liquid suction mode switches on suction without water on the roller. Self-cleaning is already quite a standard mode for cordless vacuums, but during drying, the roller is blown with warm air, so it becomes completely dry, which is a plus!
The handle has power on/off, mode selection, and start of self-cleaning at the base buttons. There is another button on the back of the vacuum, with the help of which you can set the vacuum's language.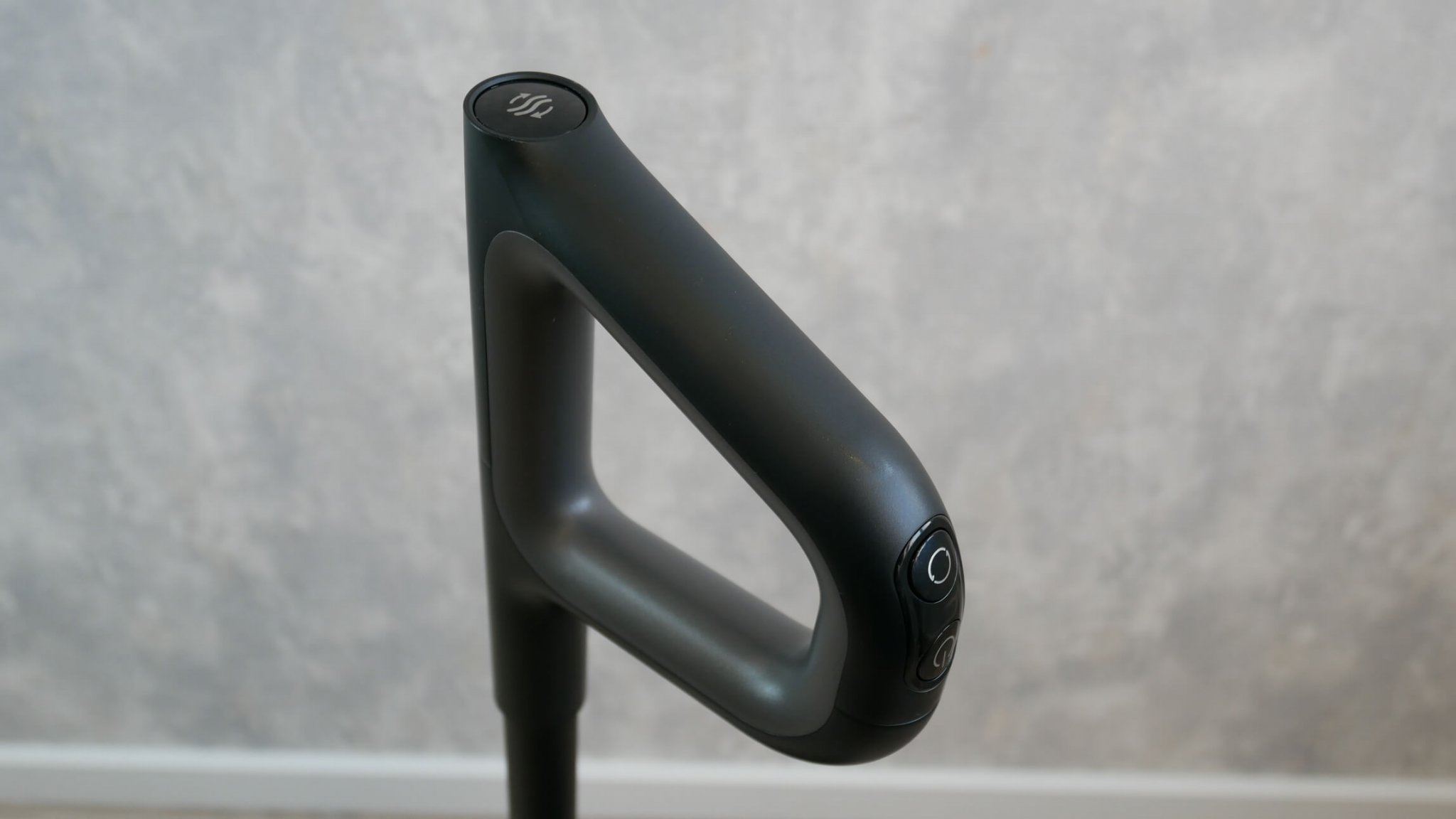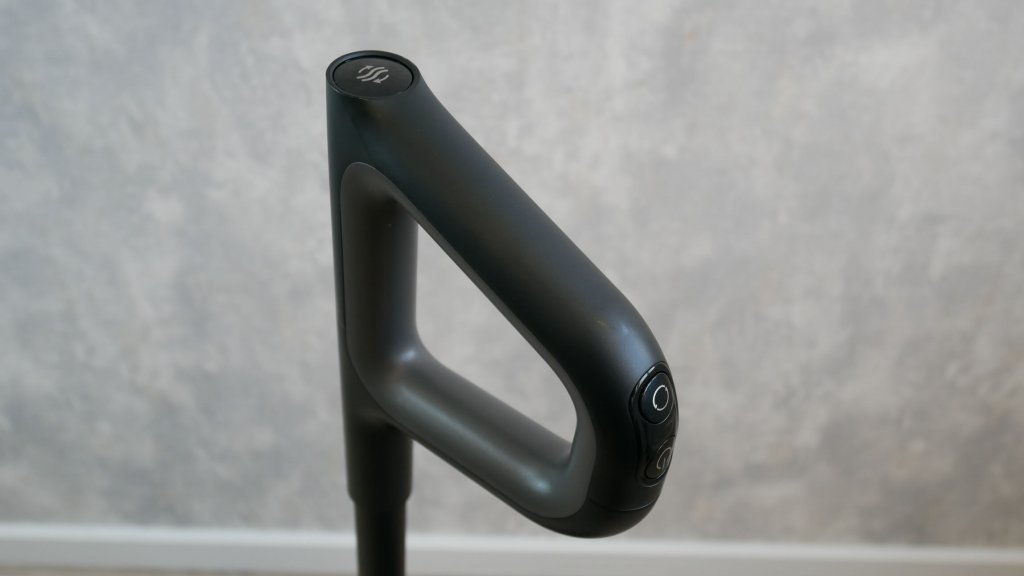 Technical features
Dreame H12 Pro' main features, given by the manufacturer, are up on the screen:
Battery: Li-Ion, 4000 mA*h.
Power: 300 Wt.
Battery life: up to 35 mins.
Clean water tank: 900 ml (30.5 Oz.).
Dirty water tank: 700 ml (23.6 Oz.).
Volume: 72-73 dB.
Weight: 4,9 kg (10.8 lbs).
I'll emphasize that we measured the volume ourselves. So it's between 72-73 dB, like in the previous model. The volume is lower than most.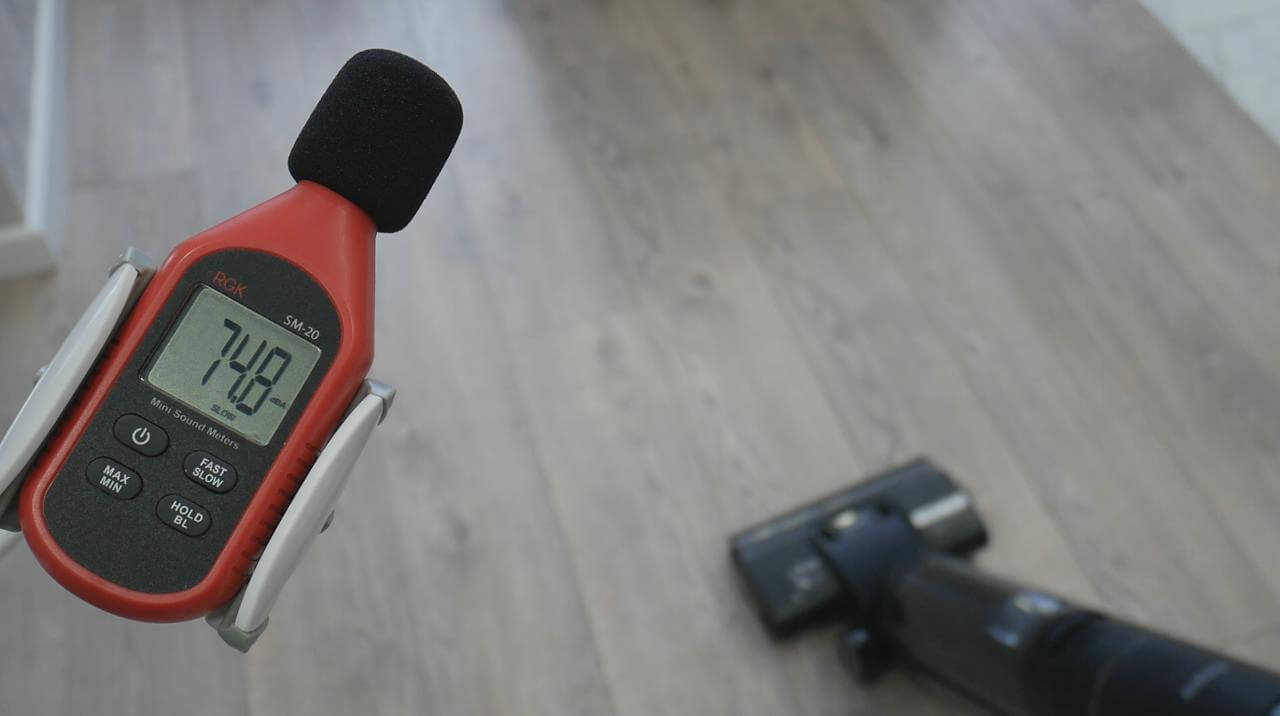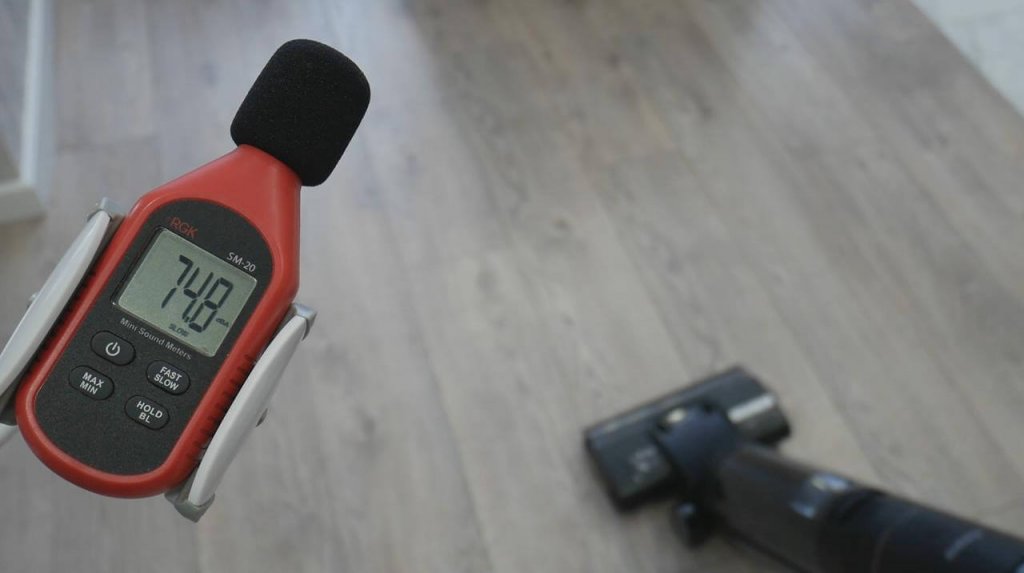 Testing
Video review:
Finally, let's get to the tests. Dreame H12 Pro does a good job with everyday floor cleaning, both on wood and tile. It doesn't leave streaks and, if used properly, won't damage your floor.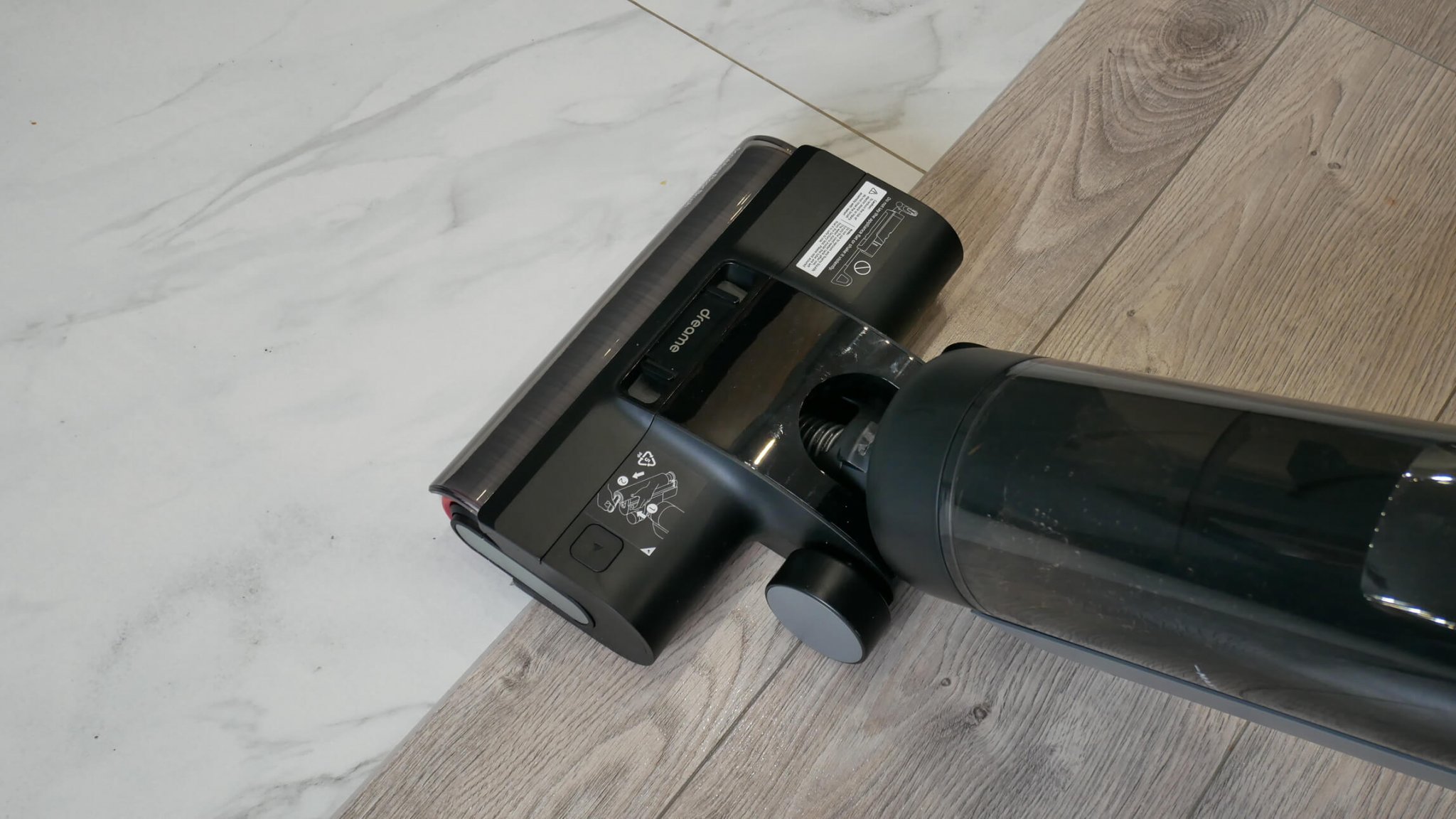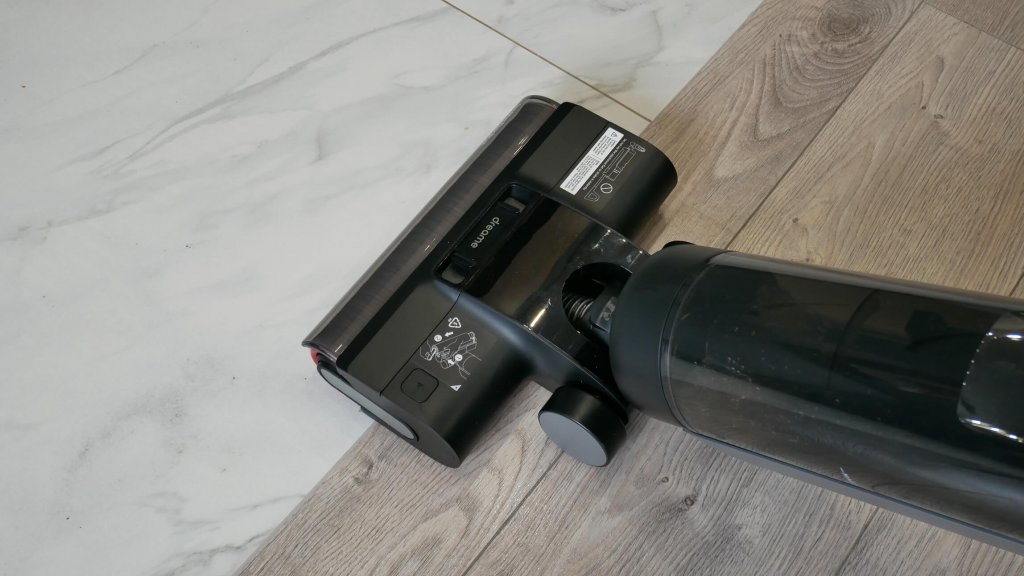 But don't limit yourself to just dry waste, as it can also pick up liquids. And even, as in my case, the vacuum did well with the traditional test – collecting a mixture of raw egg and flour. Not immediately, but it still managed to suck the shells into the dirty water tank.
Dreame H12 Pro can also be used to get slightly dried dirt. We see that no marks or streaks are left. The floor is perfectly clean.


Since there's a lock behind the roller, it doesn't hit right up against the edge of the housing. A small strip of 8 mm (.3 In.) in width remains. There's room to improve, but it's better than most.


It could even get rid of hard coffee and sauce stains. As seen in other vacuums, it took time to get rid of the sauce stains, but luckily they give us a liquid. So I can say that both in terms of feeling and time spent on cleaning the dirt, the suction power has really increased. For example, the Dreame H12 Pro took 4 and a half minutes. The Dreame H12 did the job in 9 minutes and the main competitor Roborock Dyad Pro did it in 5 minutes. So, it seems that the Dreame H12 Pro is actually the most powerful vacuum cleaner I've tested so far.


Plus, it can be used for regular dry vacuuming. It easily picks up all kinds of dirt from the floor. There's no blind spots along the baseboard or in the corners, all of the dirt was collected. This is a plus!


Considering that this is a mopping vacuum, I wouldn't use it for carpets. But it's still possible if you do not fill the tank with water or use the liquid collection mode, which is just a suction of debris without water supply. The roller, despite its fluffy structure, is capable of picking up hair, fur and other dirt. Again, though, trash can clog the suction opening and block the brush, which is what happened during the tests, because without water the debris suction system doesn't work right. In general, I still recommend cleaning carpets with an ordinary upright vacuum cleaner, or another robot that's made for this.


I can say that during the tests, Dreame H12 Pro really showed high quality floor cleaning and high suction power. Plus, all the tests were done on one battery charge, and it was only half full. So it's not just powerful, but also a self serving cordless vacuum for cleaning your floors.
All that's left is to check the self-cleaning after all the tests, and here again, Dreame H12 Pro does well. It cleans itself perfectly from garbage and dirt. Also, the self-cleaning algorithm has been updated. The roller alternately rotates in different directions, which increases the quality of its cleaning. And the most interesting thing is that even after such a difficult test the cleaning module is cleaned completely, no dirt is left behind the roller holder and on the roller as well. Both the top cover and the platform are clean.


The self cleaning is very well implemented in this model. Test passed with flying colors!
Opinion
Dreame H12 Pro upright vacuum was thoroughly reviewed and tested. Here's what I liked:
Very powerful.
High quality mopping and scrubbing.
Good self-cleaning.
Full brush drying with hot air.
Gets dirt off the baseboard better than most.
Automatic power increase on dirt.
Stylish.
Bigger dirty water tank.
Ergonomic.
LED-display.
Quieter than others.
Notifications in multiple languages.
The box is full, even including a branded cleaning liquid.
Good assembly.
The problems are the same in Dreame H12 Pro, namely:
No manual suction power adjustment.
No manual water flow adjustment.
Not good for carpets.
Doesn't completely eliminate the strip along the baseboard, though it is much smaller.
Well, not so much a comment, but just an unresolved question remains with what is the ultra mode, and whether it really has any benefit.
Overall, I really liked the new Dreame H12 Pro. Definitely one of the best wet and dry cordless vacuums of 2023. But, if this model was also equipped with a removable main unit like the Dreame M12, it would be much better. And so, apparently, this is still a transitional model, to Dreame H12 Dual, which will already have two rollers and just a removable main unit with a set of nozzles. So looking at the price, there's just no point buying it. The hot air dryer is the main big update.
On this note, I'd like to end the review. If you still have questions, make sure to ask them in the comments below. Have fun shopping, bye!