Hey guys, welcome to RobotObzor! Today I'll show you a robot vacuum cleaner called, Ecovacs Deebot OZMO N8 PRO. This is the second robot from Ecovacs that I got to test on my channel. Before I reviewed the 2021 Deebot T9 AIVI Plus, which currently tops my charts for the best robot vacuum cleaners. So N8 Pro is the simpler version, which not only has basic functions as well as a mopping and vacuuming function, but also has these functions on a higher range. For example, the TrueDetect 3D system, thanks to which the robot can identify objects on the floor and carefully go around them, as well as an self-cleaning base that is available with a more expensive version of Ecovacs Deebot OZMO N8 PRO Plus. So, the price for a kit with a charging base is $500, and the price for a kit with the auto-cleaning base included is $700-750. Later, I'll thoroughly review and test Ecovacs Deebot OZMO N8 PRO, test its navigation, and form my overall opinion on this robot. And now, let's get this show on the road!
Package
The vacuum came in this box: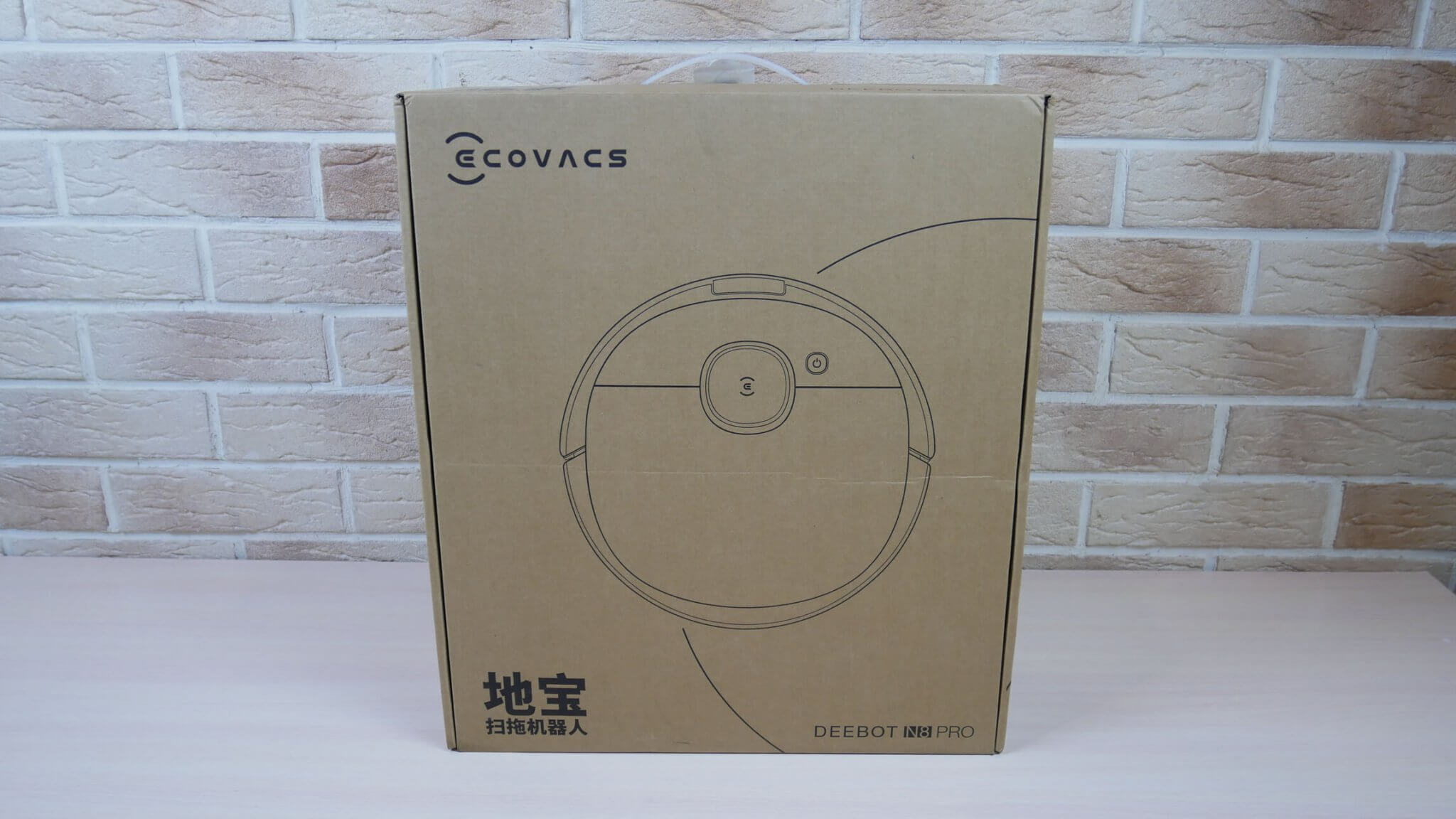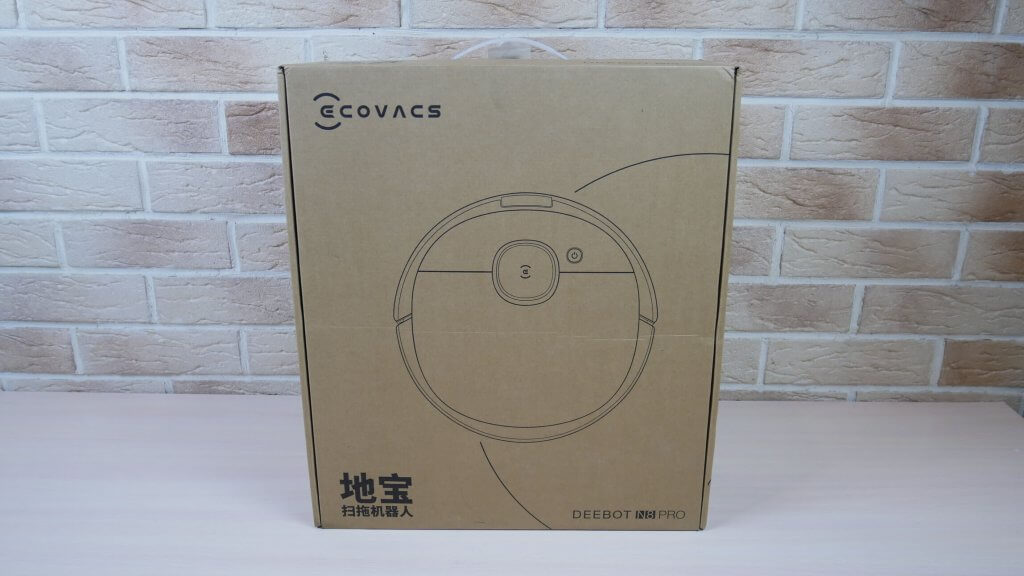 Inside you can find:
Charging base with a charging cord attached.
European plug adapter.
Nozzle with a mopping pad.
Extra 5 single-use cloths for mopping.
Documents for the robot in Chinese.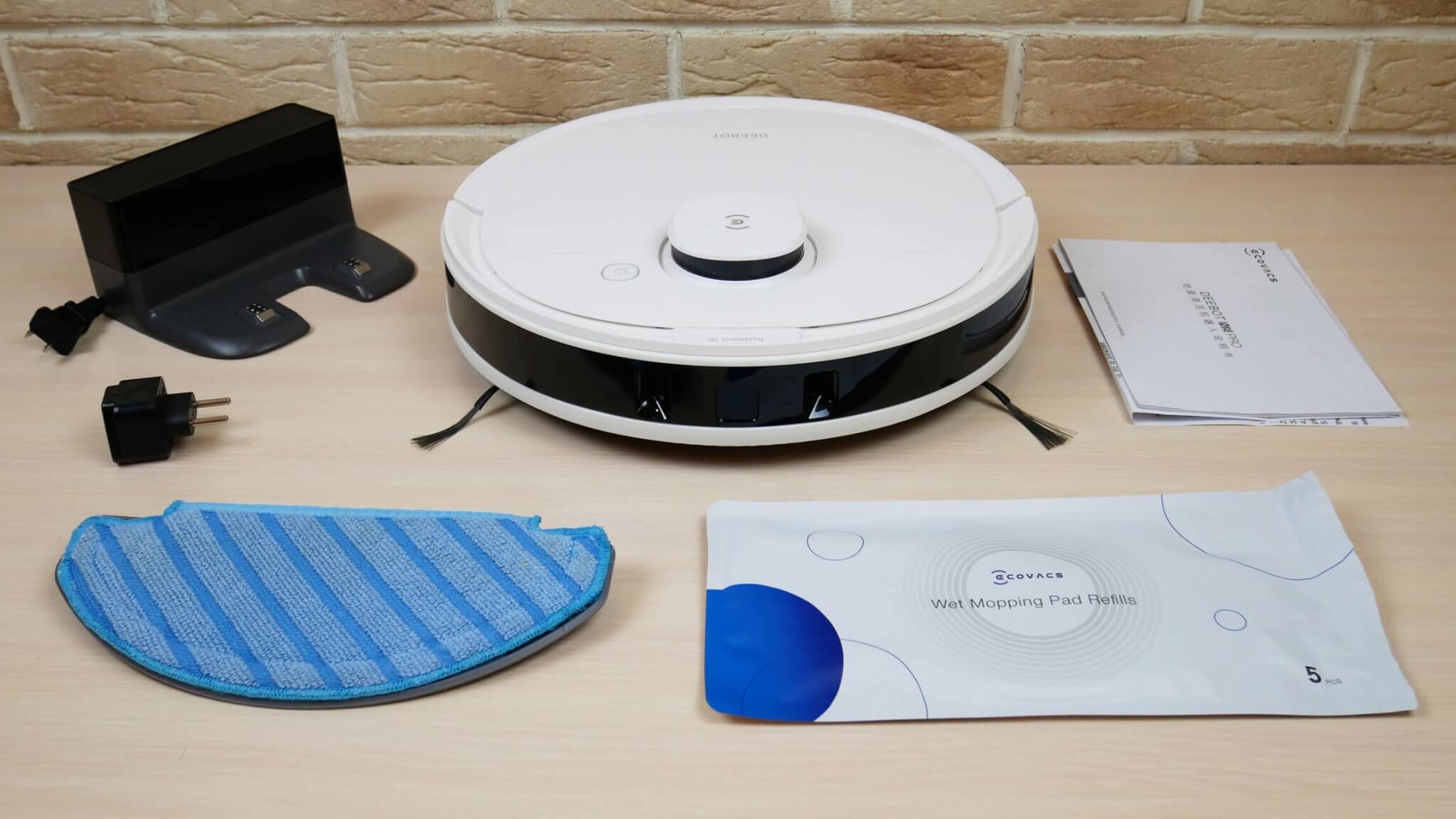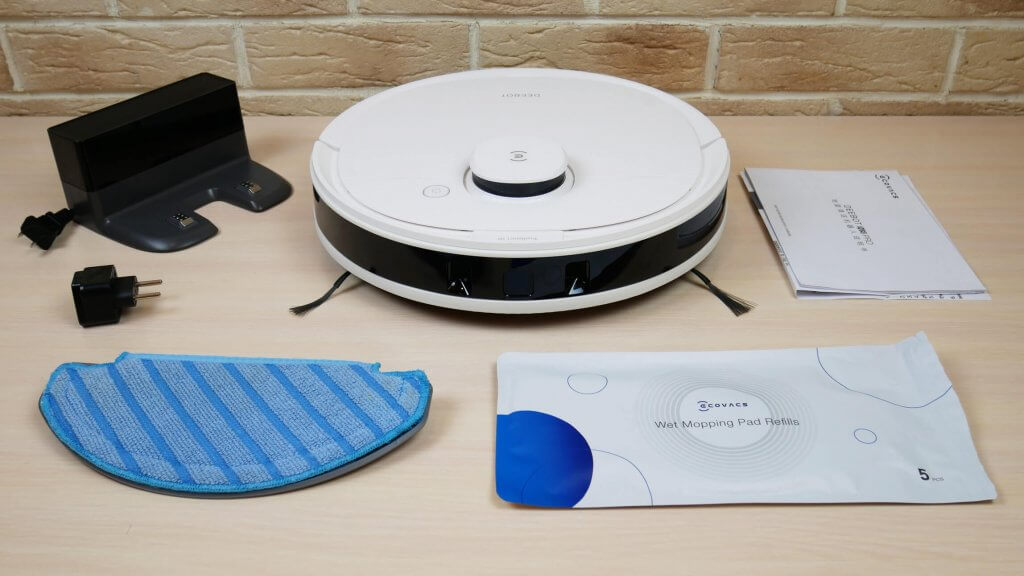 Not a lot going on here. No extra parts are given here.
Design
Now let's look at Ecovacs Deebot OZMO N8 PRO itself. I got a white model for this review, but you can also choose a black one. The robot is round. The height is standard for vacuums with a lidar going up to .73 inches (9.5 mm).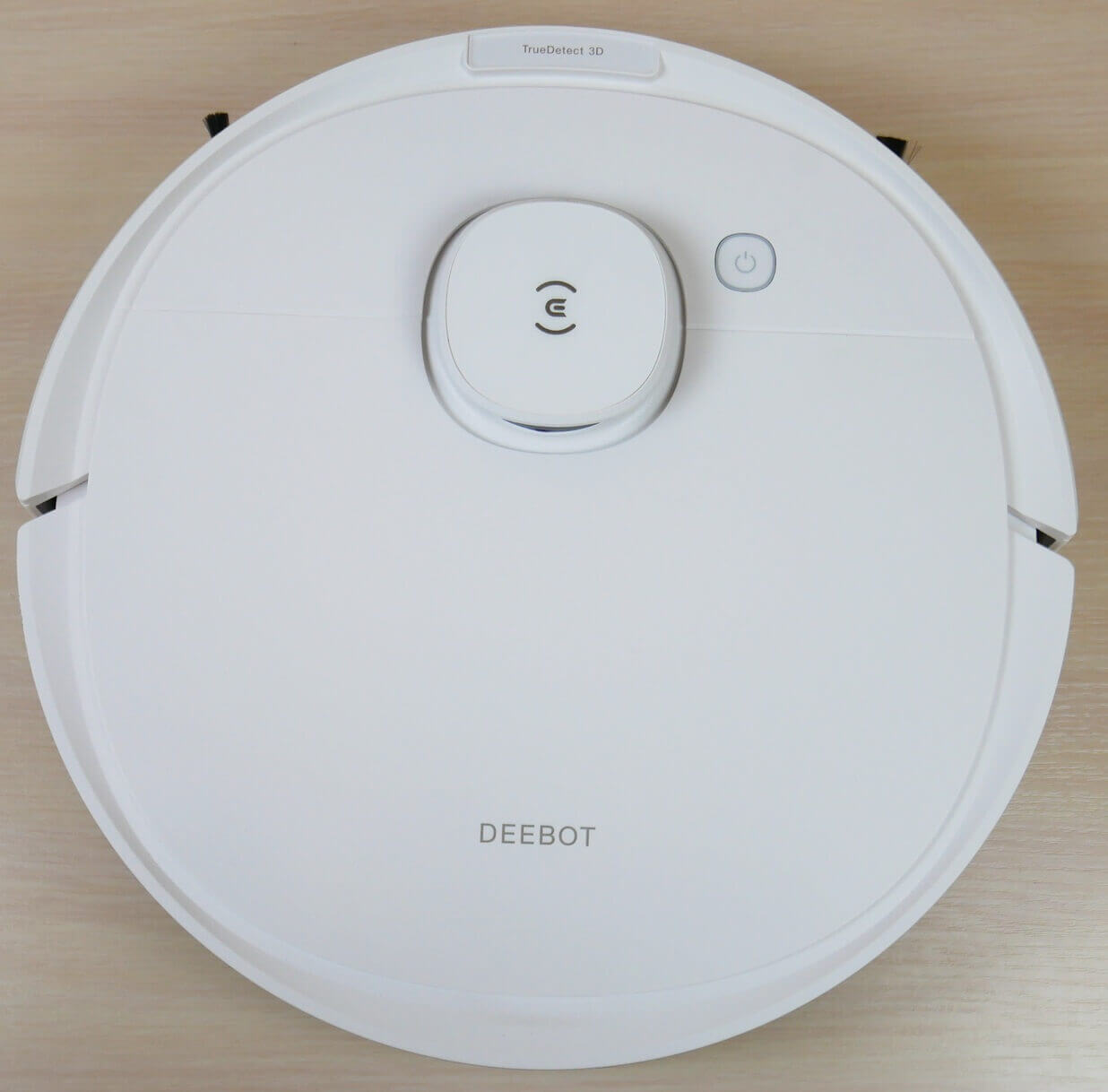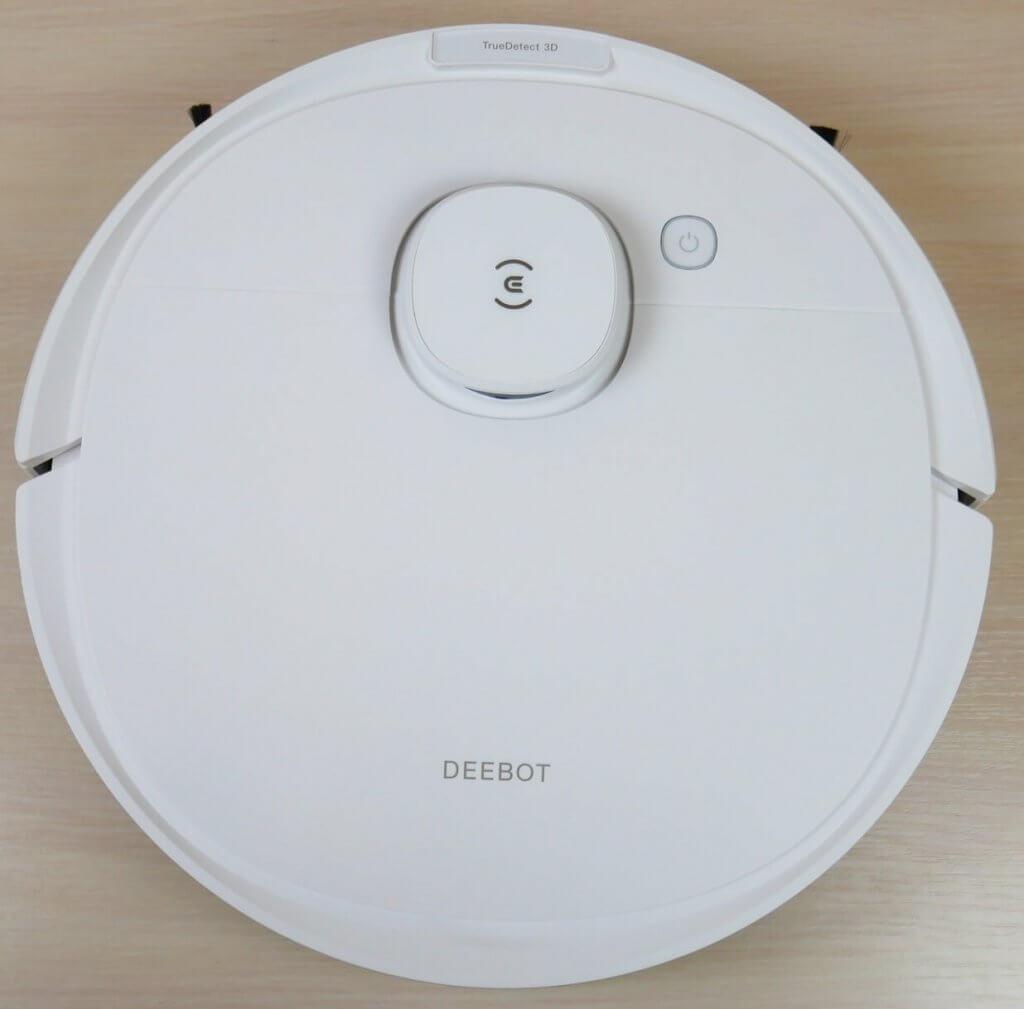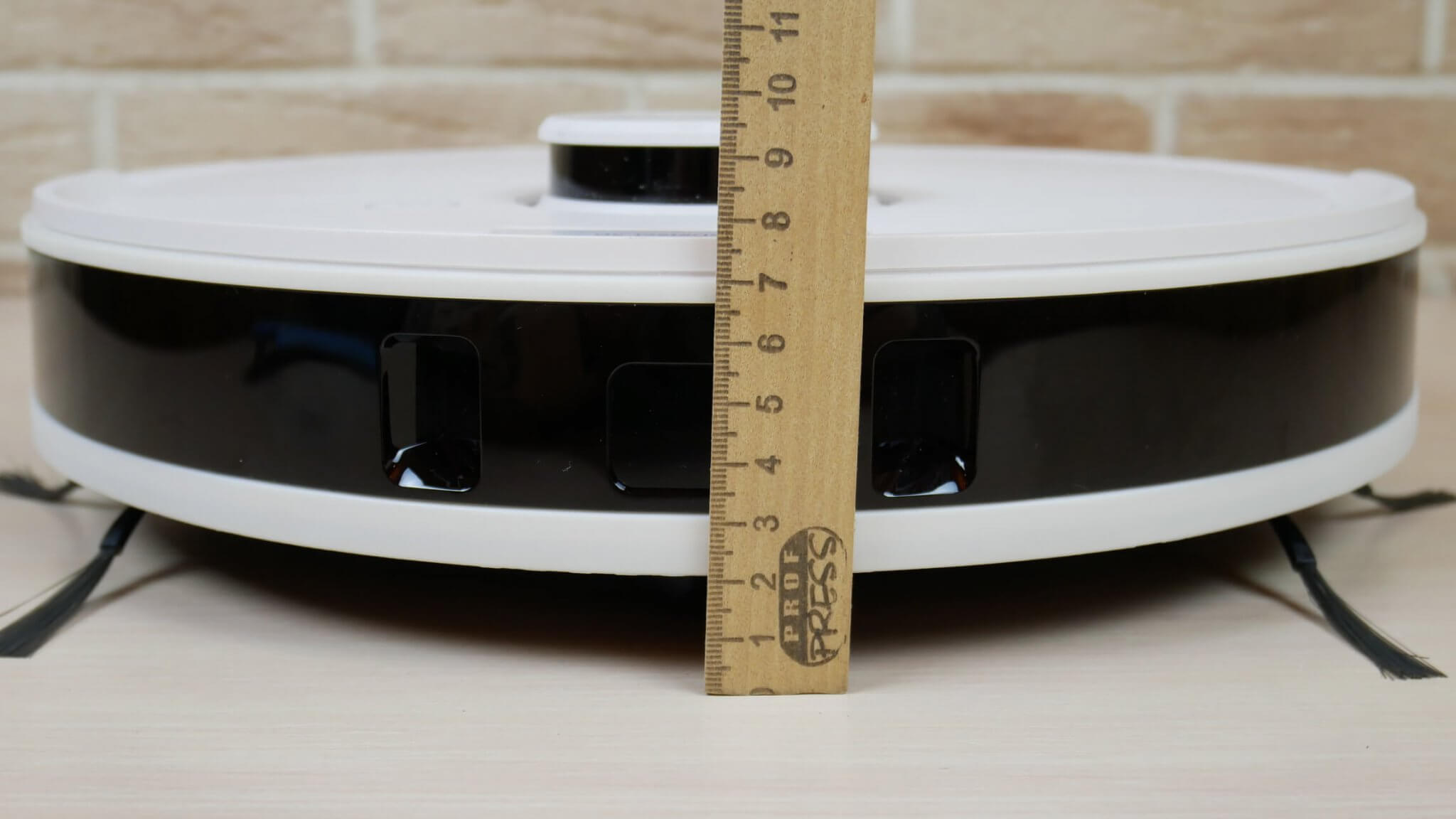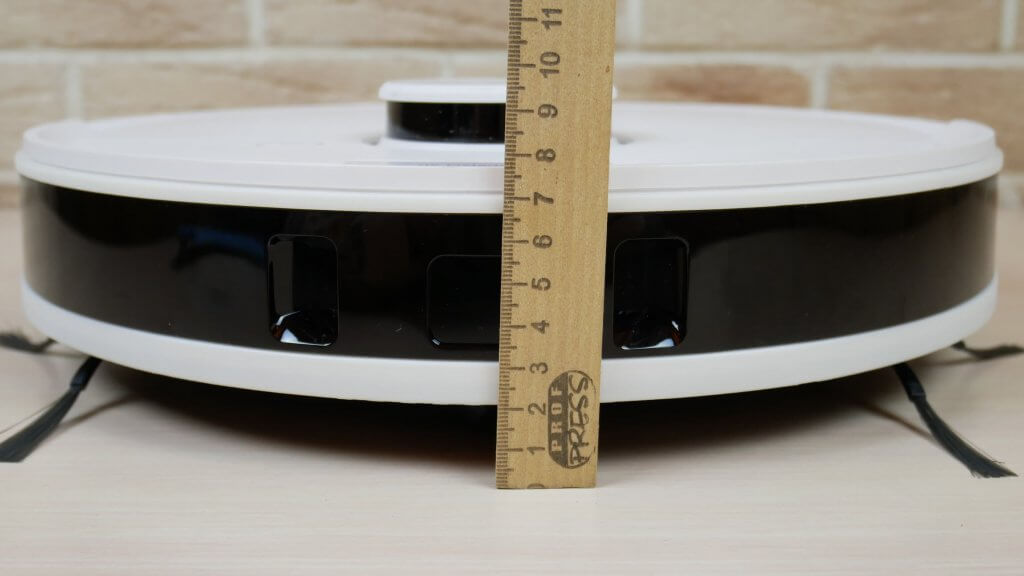 On the front we can see a system of sensors thanks to which the robot can identify objects on the floor and go around them while vacuuming. This tech got the name TrueDetect 3D. A similar system is seen in Dreame Bot L10 Pro, which was already on a previous review that I did.


The Lidar has a spring lid that prevents it from getting stuck under furniture. Next to it is the only button on the whole top responsible for start and pause. The dust collector is under the top lid. Here we can also see a button for tuning the robot on and off, taking off the Wi-Fi, a QR code for connecting to the internet, and a tool for cleaning the robot.
The dustbin fits up to 14 Oz. (420 ml). We can see that the manufacturer allows us to wash the full filtration system under water. The system has three parts: Mesh, HEPA-Filter, and a foam rubber.


On the bottom of the robot are 6 anti-falling sensors. There are two side brushes, both with three sides and easy to take off. The central brush is made with bristles. You can take it off from one side to clean it from hair and fur. The brush's block is fluid, which gives it a better grip on the floor.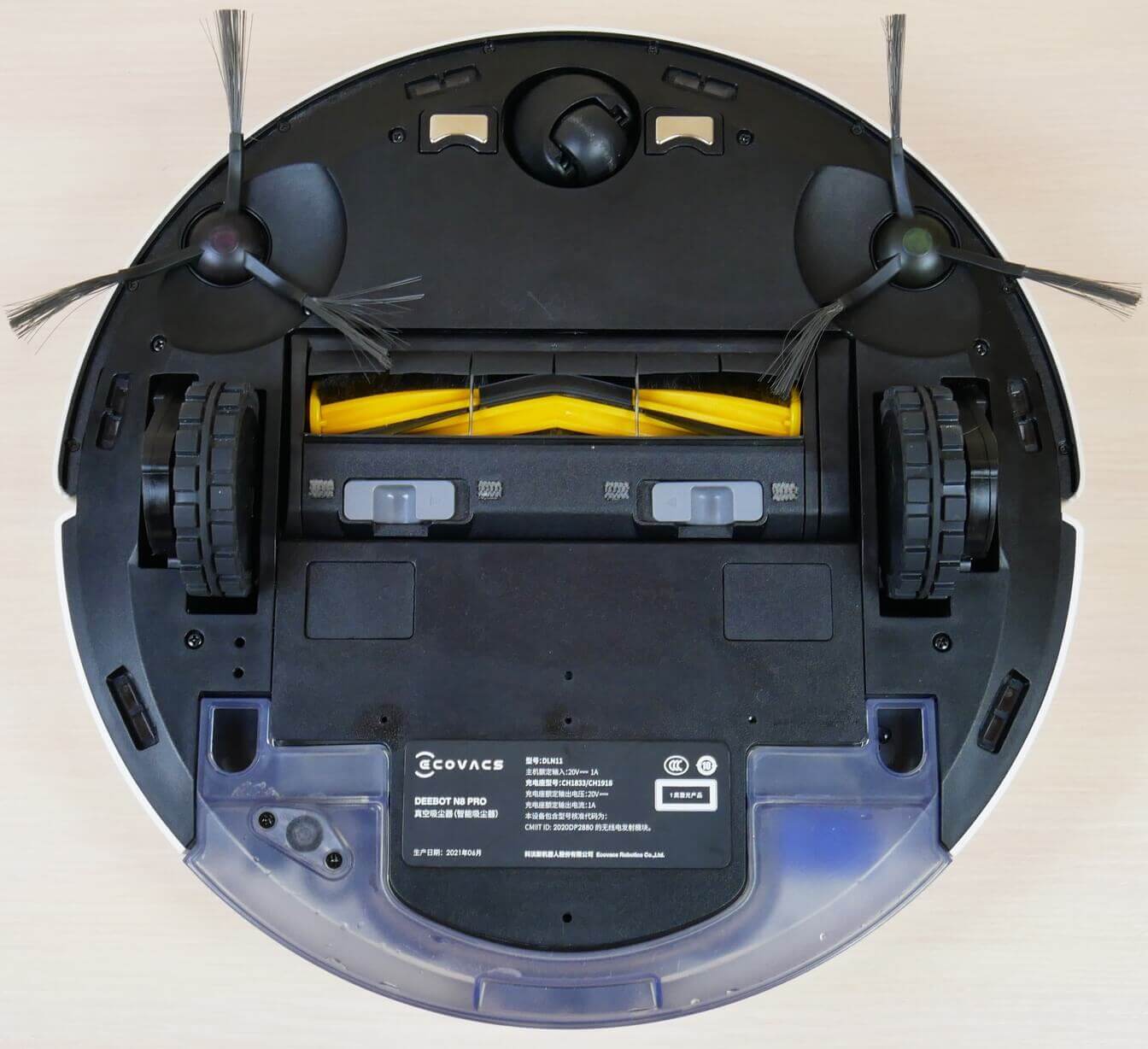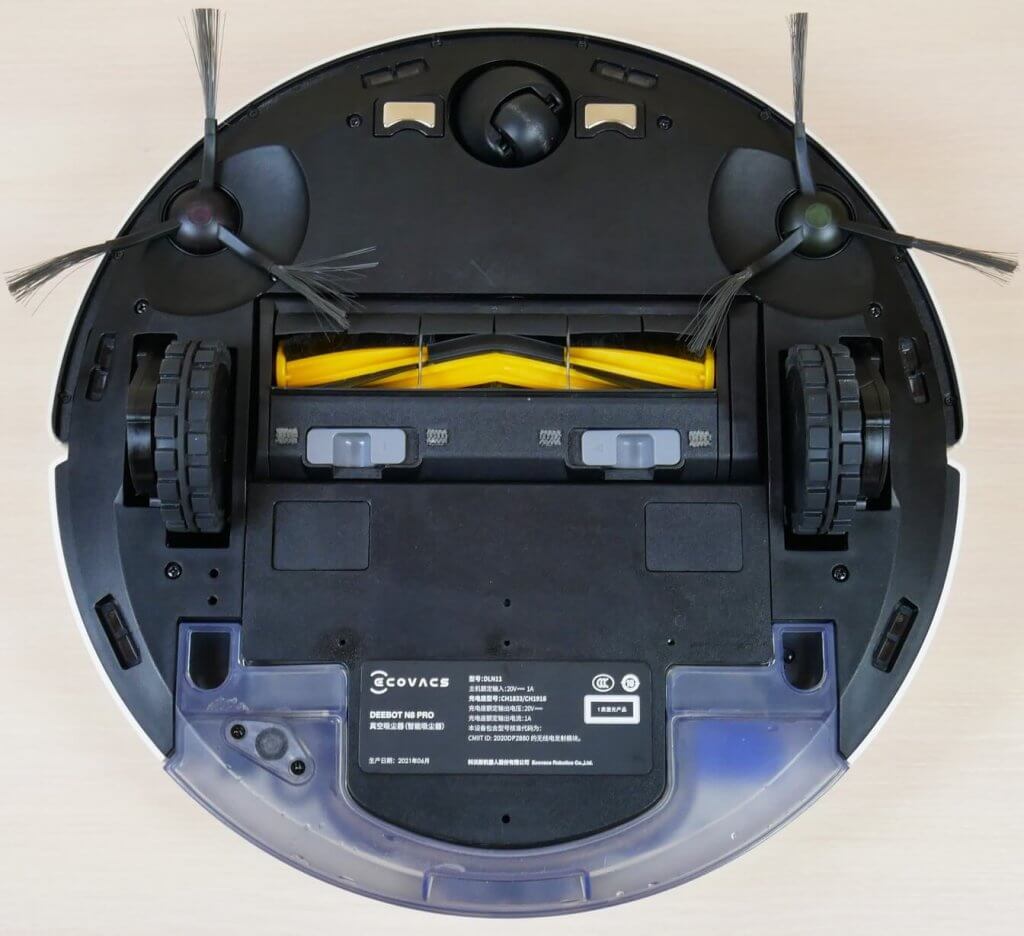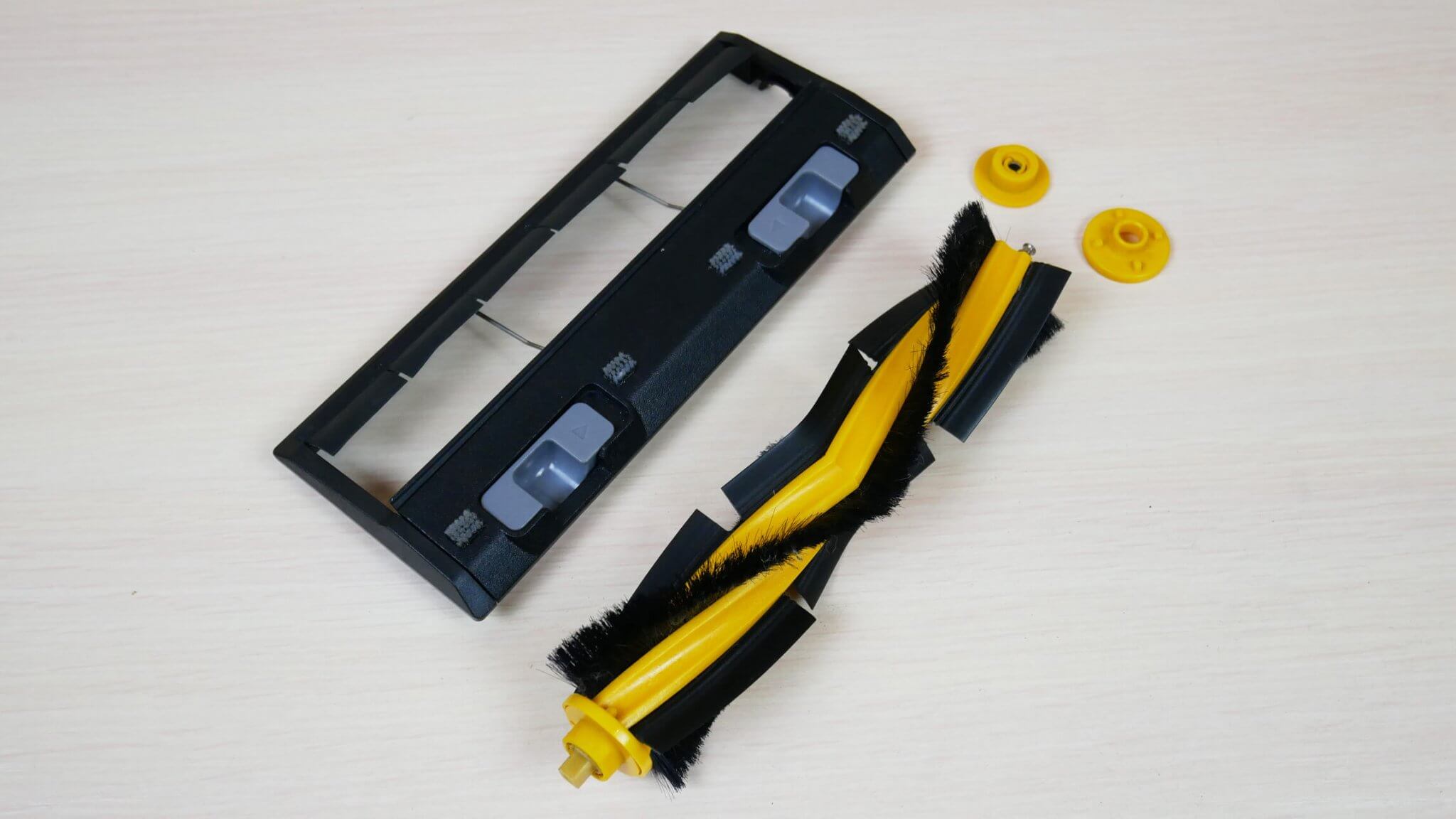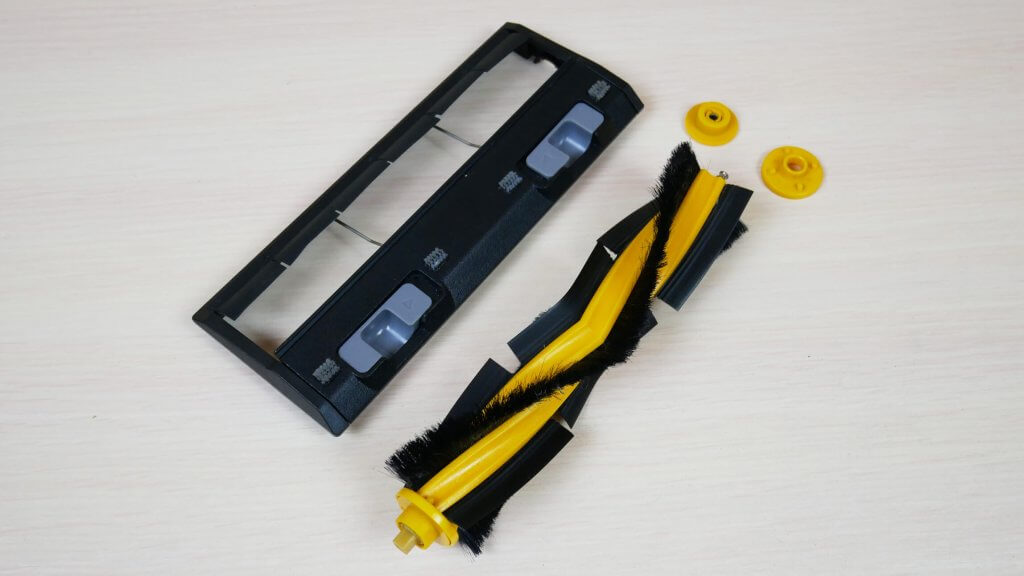 The water container on the back, holds 8.1 Fl. Oz. (240 ml). Inside is a pump for regulating the amount of water that gets on the cloth.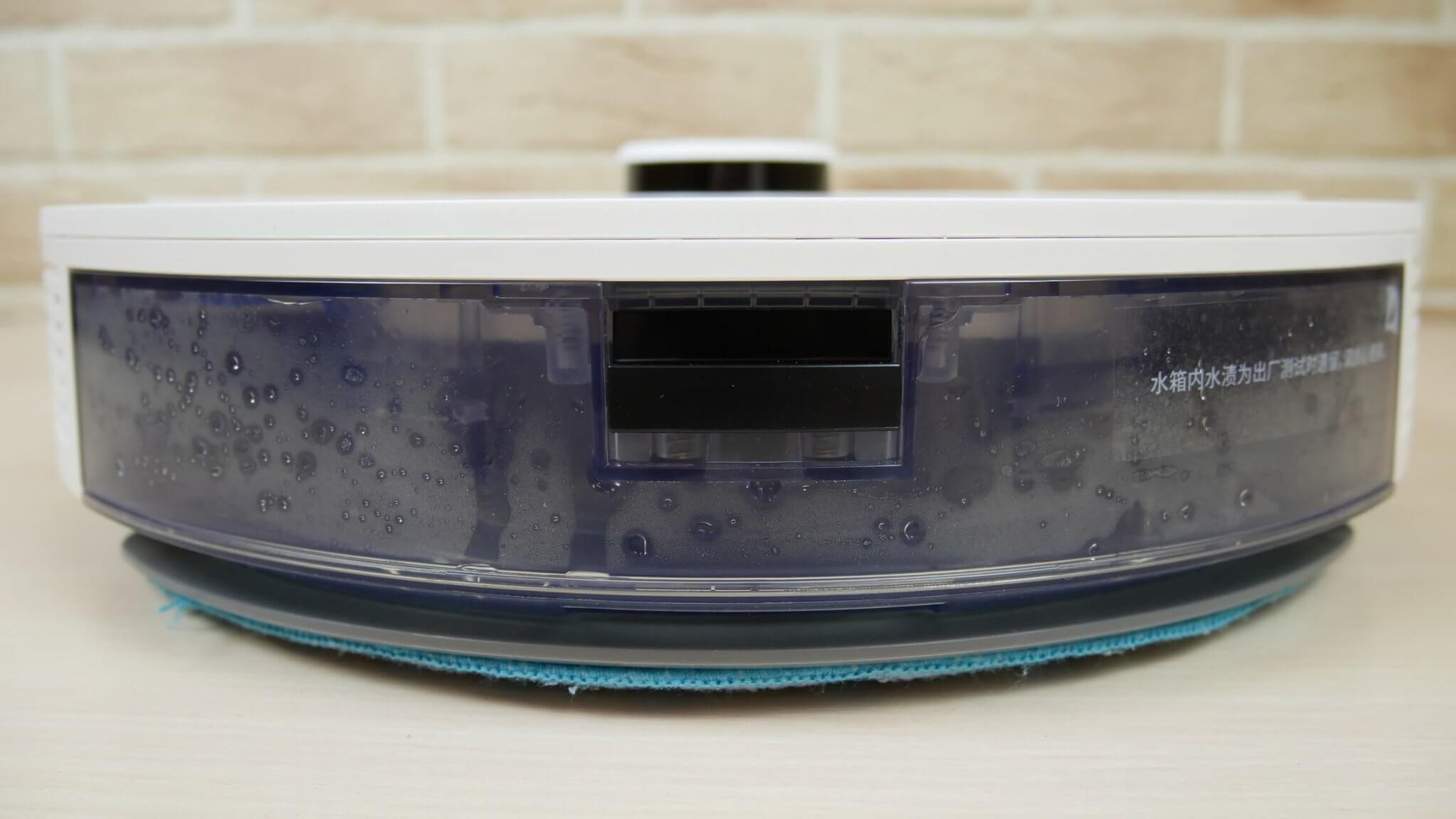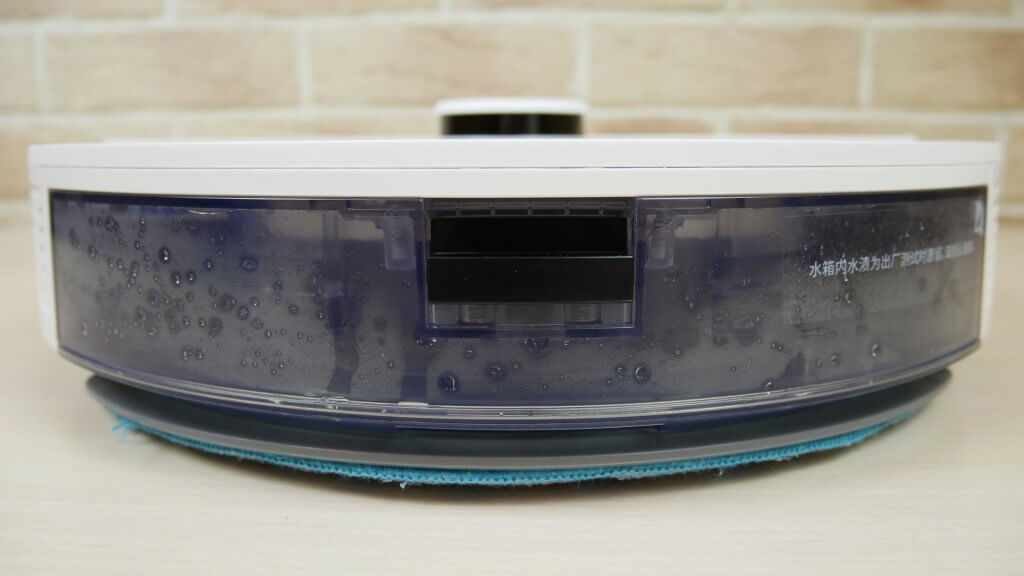 The nozzle with the cloth is attached on the bottom with two fixators. The cloth itself is pretty sturdy. The single use wipes are also really good, and I think that you could use them multiple times. The material is good.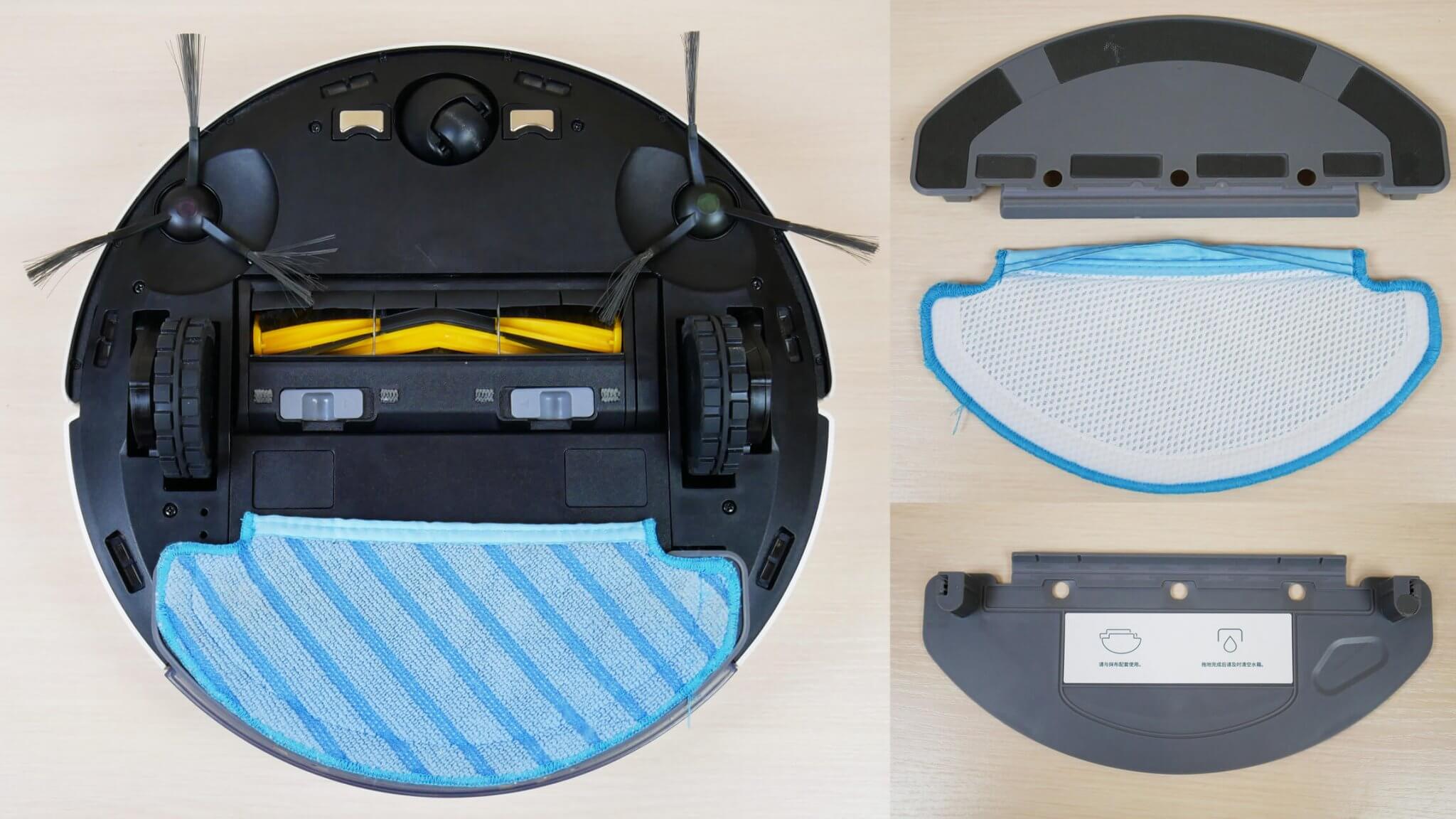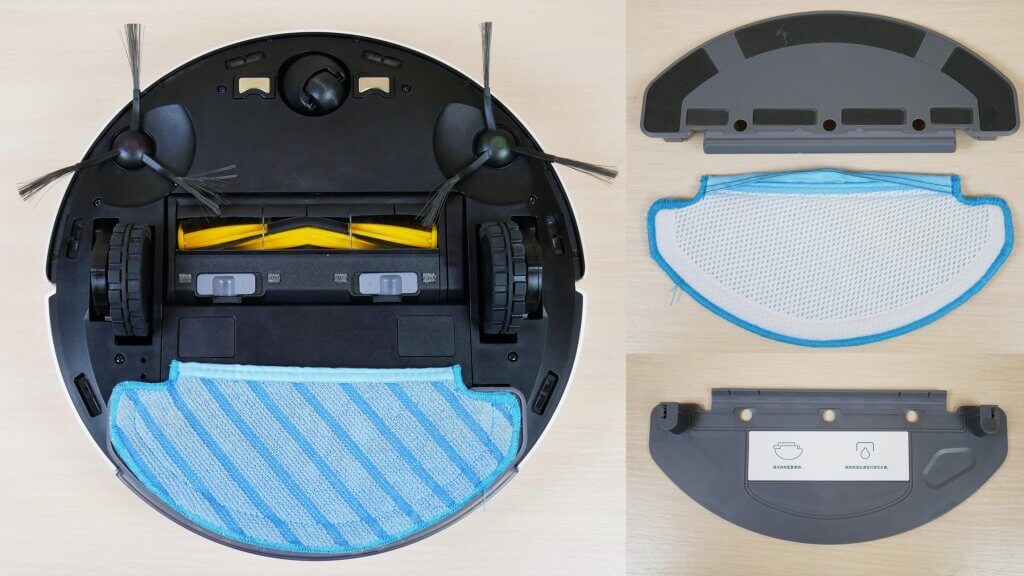 Oh, and another important detail – behind the module with the central brush are two plugs. You would have to take them off if you wish to use an self-cleaning base. Through these opening the robot actually moves the dirt from itself unto the base. I think that an extra dust container with curtains comes with the base.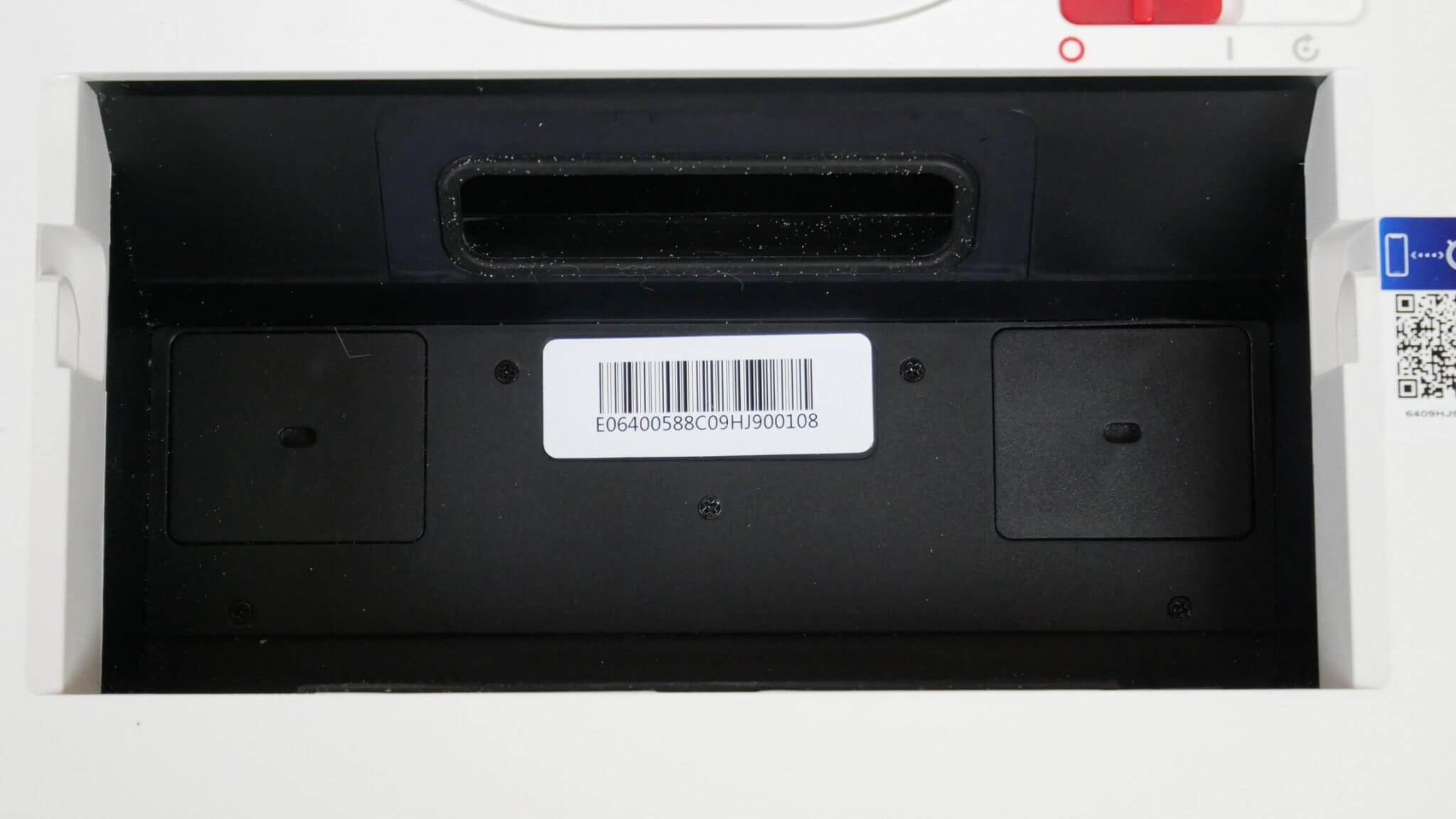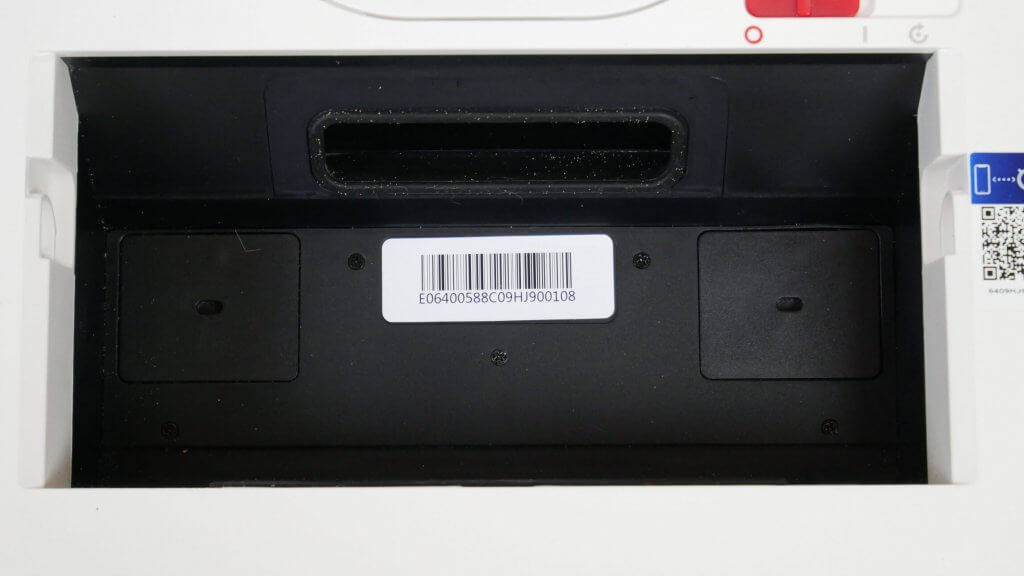 All in all, Ecovacs Deebot OZMO N8 PRO's assembly is good. I don't have any real complaints for that matter.
Technical features
Ecovas Deebot N8 PRO's main characteristics shown by the manufacturer:
Battery Li-Ion 3200 MaH.
Suction power up to 2600 Pa.
Work time up to 110 mins.
Work area ≥ 330 ft. (100 sq. f).
Dustbin 14 Oz. (420 ml.).
Water tank 8.1 Oz. (240 ml).
Obstacle size up to 0.79 inches (20 mm).
Size: 13.8×3.66 inches (350*93 mm).
The only important thing to note here, is that the battery in this model is weak. Most vacuums currently have 5200 MaH. But at least the suction power is good, which I will have to test to make sure.
Functionality
Now let's move on to Ecovacs Deebot OZMO N8 PRO's functions. For my test I got a Chinese version of this vacuum. So, to connect you would need an account connected to a Chinese phone number. Thankfully, my seller added a list of things to do to connect and go into your account. Because of that, I didn't have any problems connecting.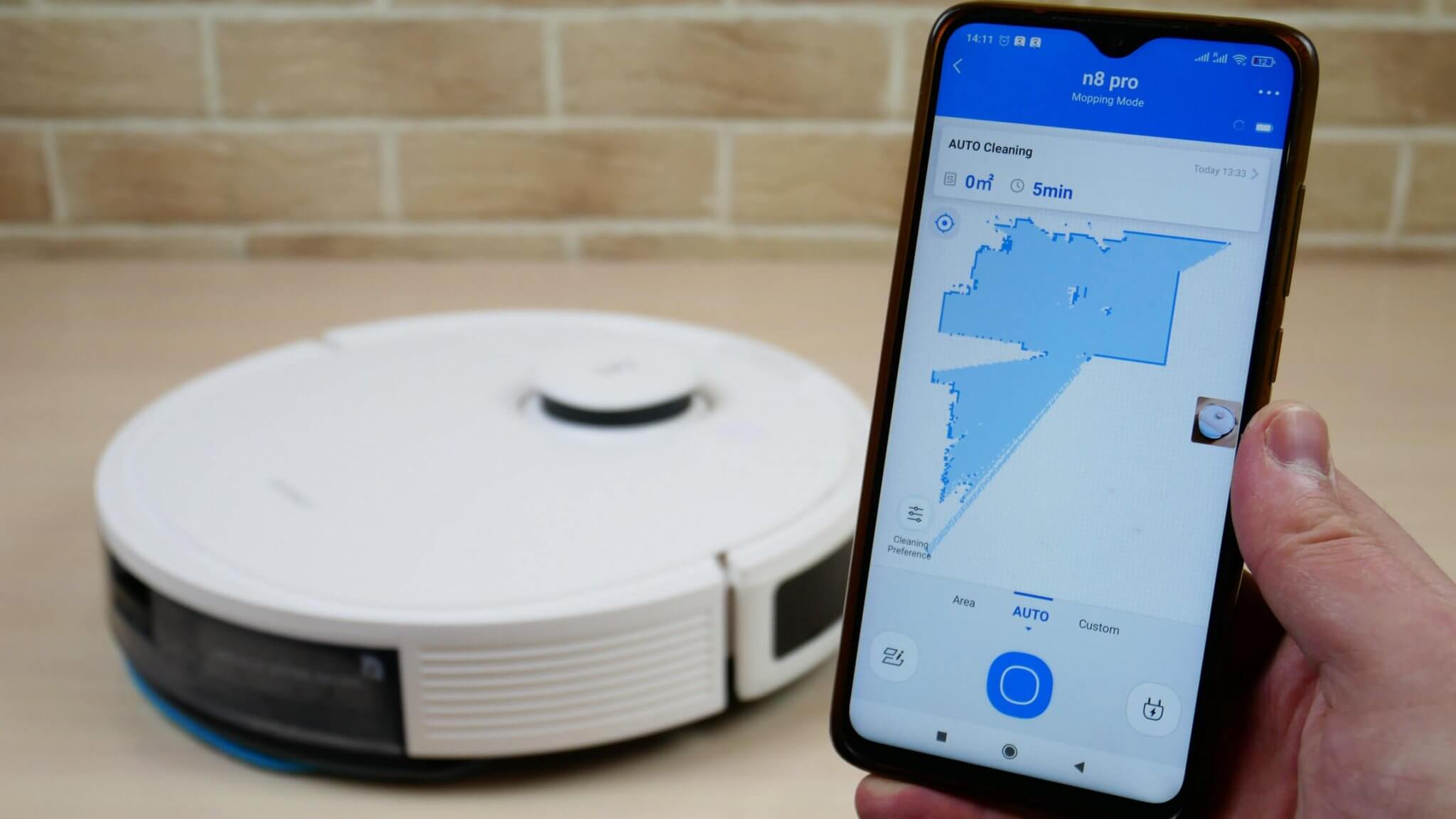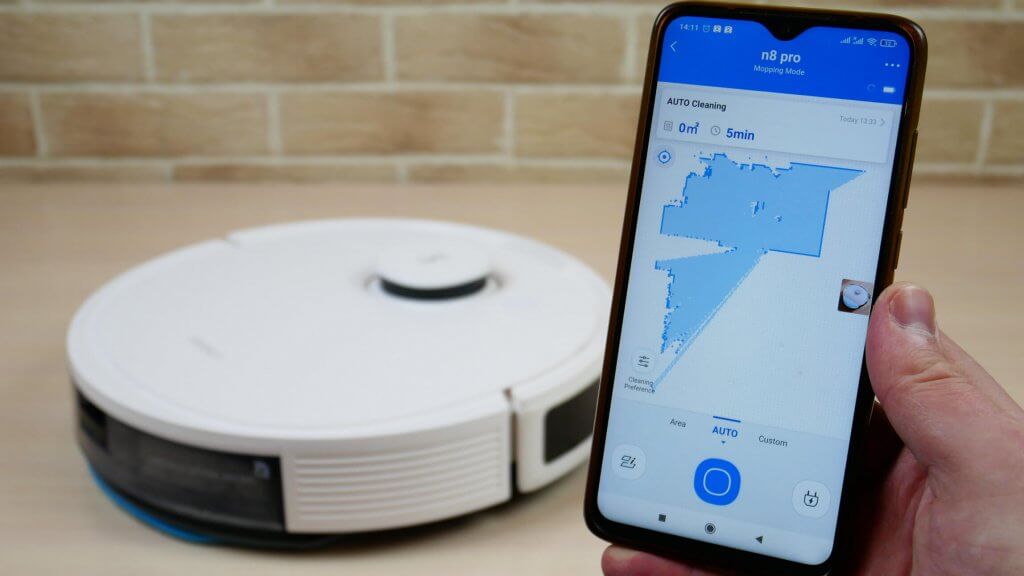 My app's interface is in English. On the main page, you can see the map your robot has built for you, with rooms automatically zoned. Under the map are three cleaning modes. In Area mode you can chose the needed rooms for vacuuming. In automatic mode the robot cleans all of the available area. And with Custom mode you can set specific zones that need cleaning. You can also choose the room cleaning sequence.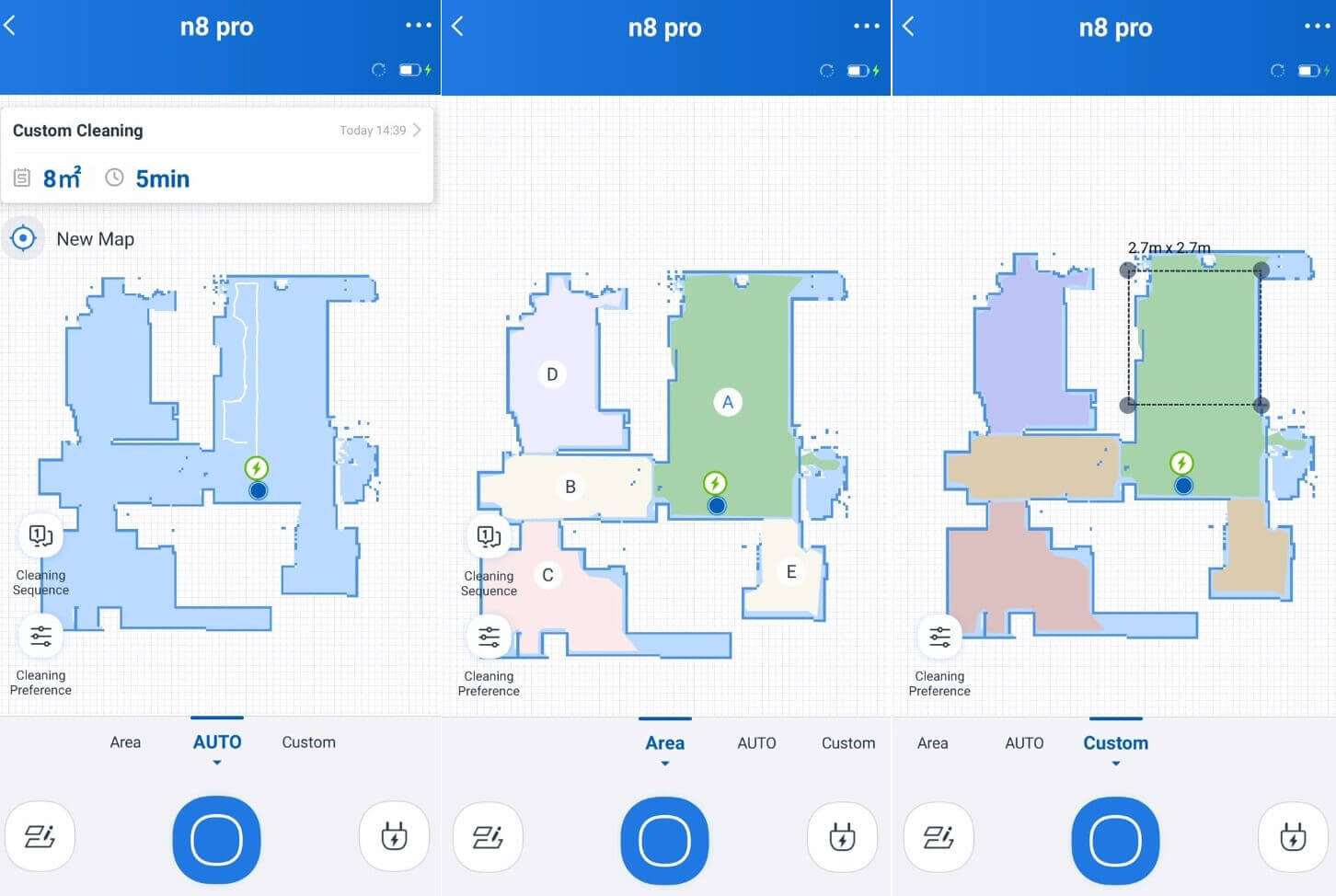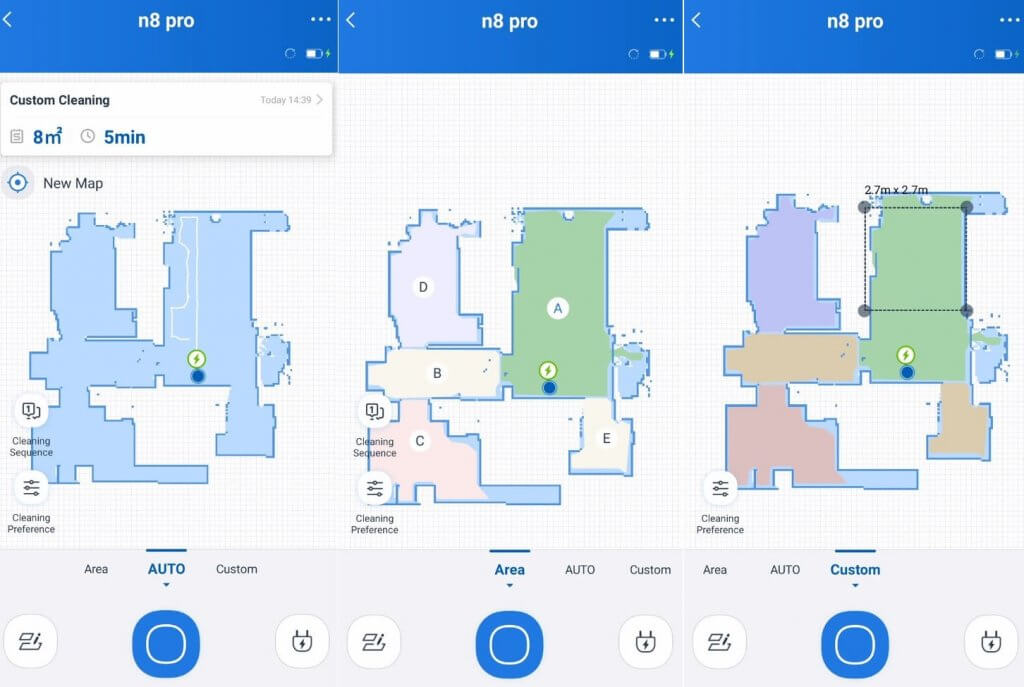 You can set the amount of times you want the robot to go through (1 or 2), set the suction power and chose the cloth wetness. The robot's functions allow you to set different functions for every single room, which is awesome!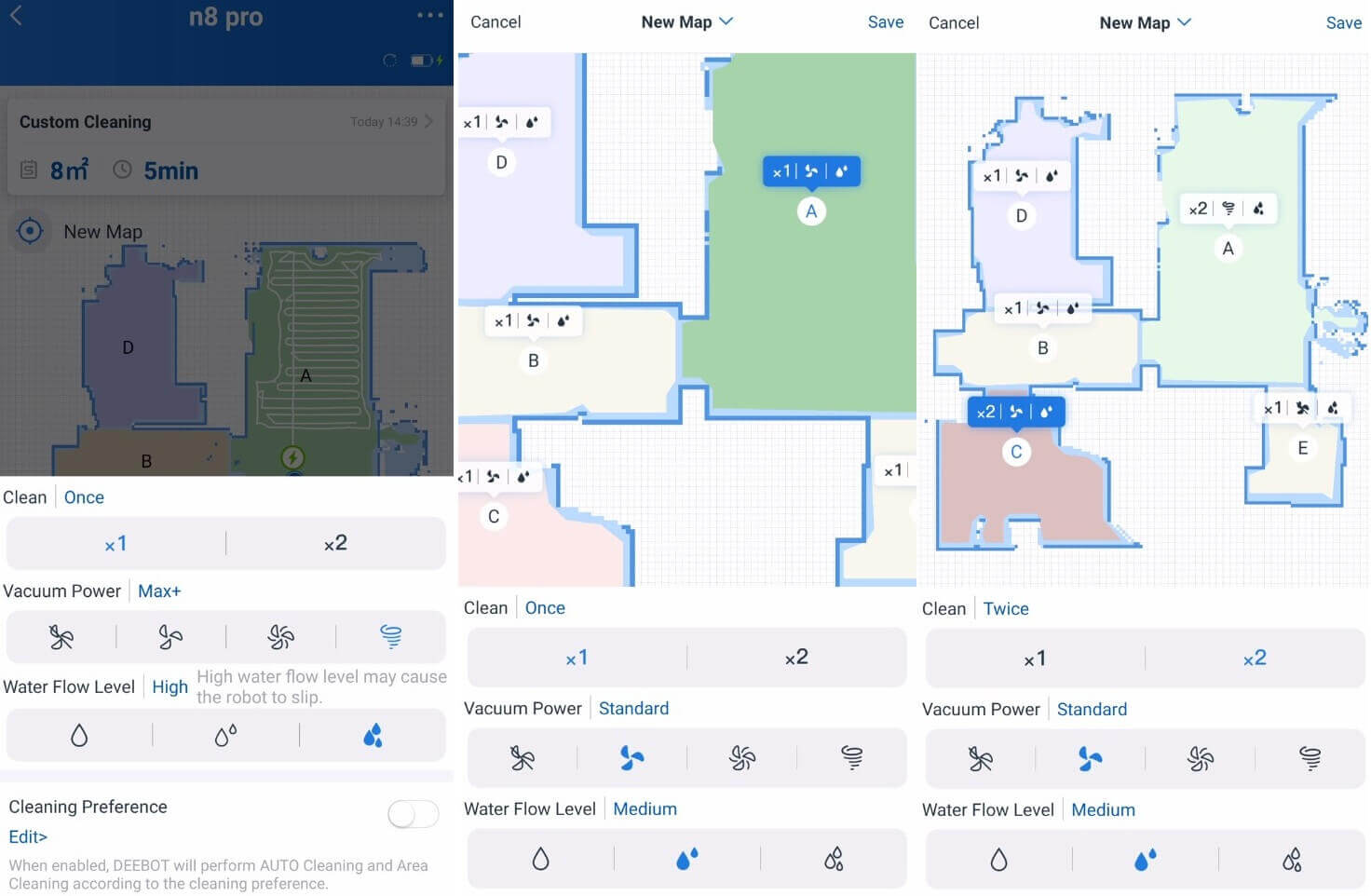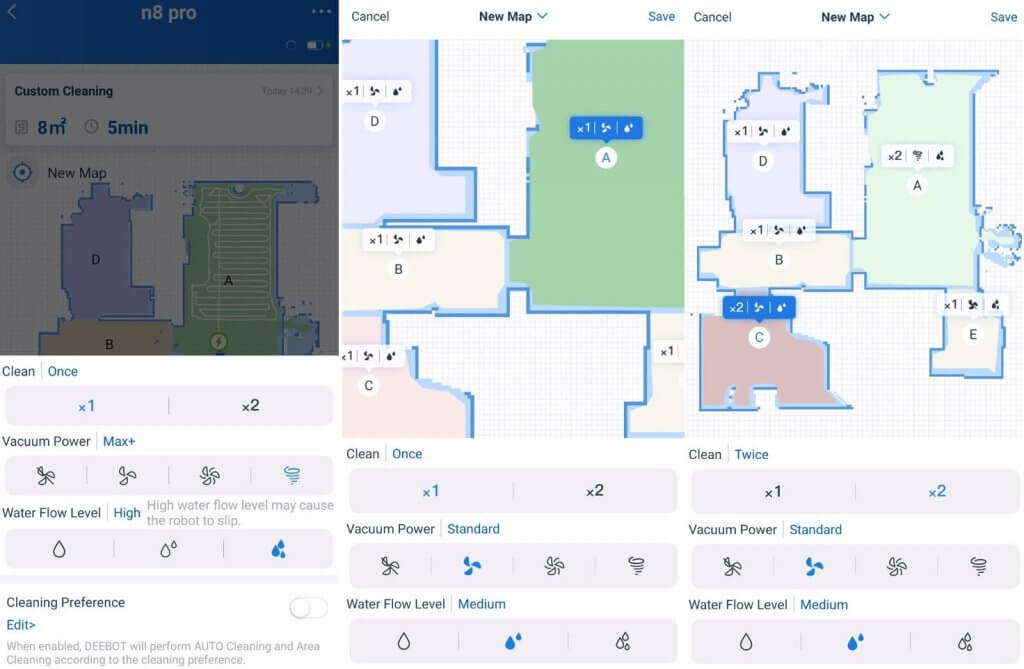 Above the map is a section that shows you cleaning history, which you can also find in the settings. I the settings themselves you can turn the auto-empty function on and off if you have the special base, set a cleaning schedule, where you can choose the time, days of the week, the needed rooms, and individual parameters for cleaning, as it seems. You can turn the detection system on and off, which proves to be useful, activate the function to keep working after charging, set the time when the robot shouldn't disturb you, turn on reminders to clean or replace the mop, and you can delete the map. By the way, Ecovacs Deebot OZMO N8 PRO can save multiple maps, which is a cool benefit to have.
In additional settings you can look at the cleaning log, check on the water level, and also set the volume and language that you want you robot to speak in. This vacuum speaks in English and Chinese.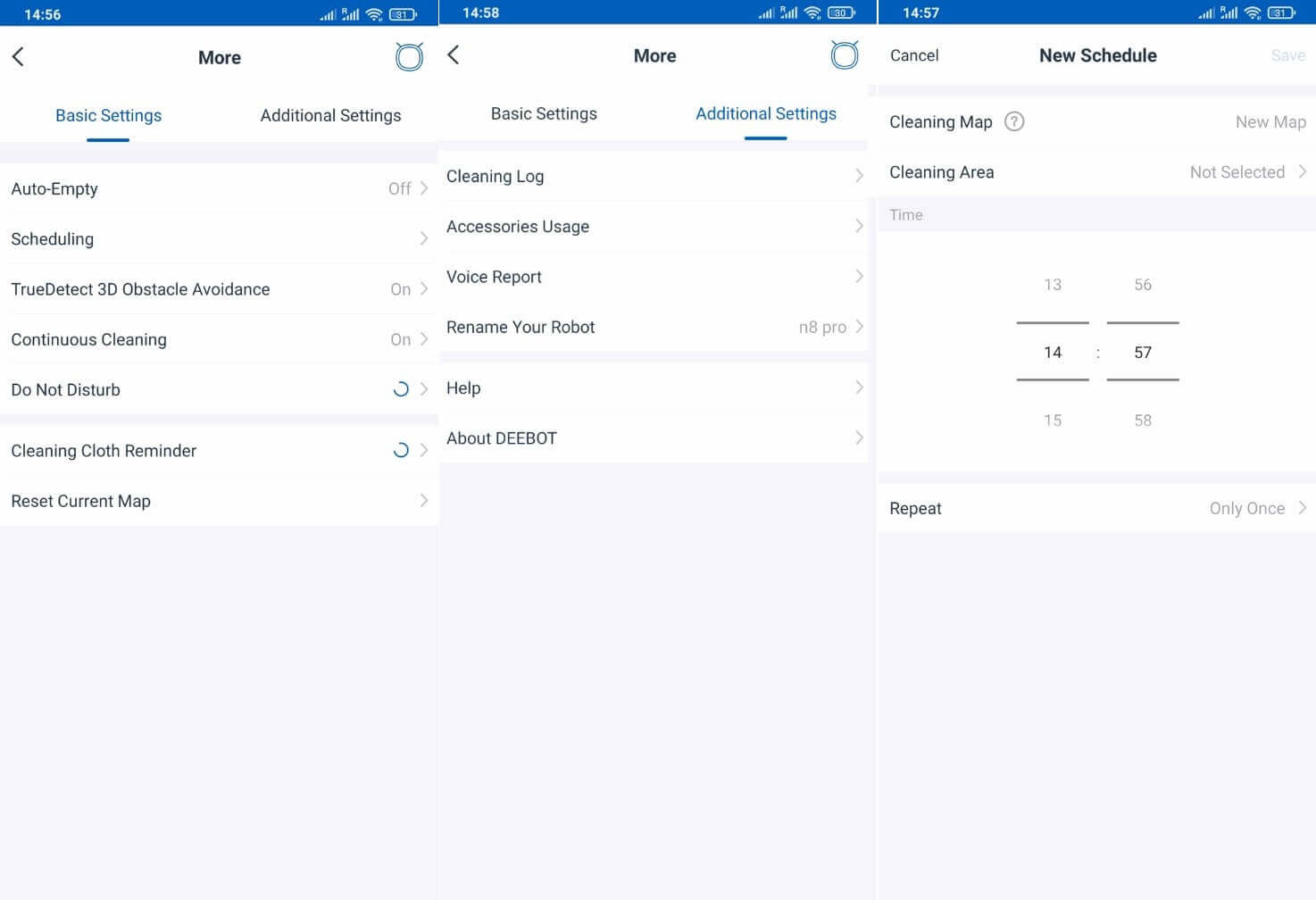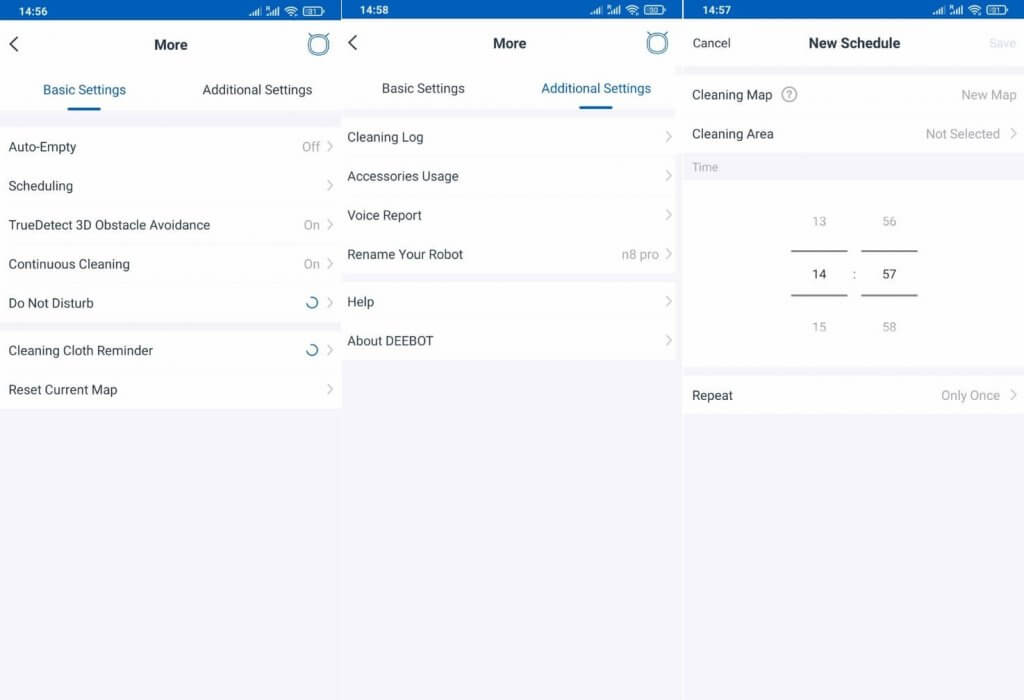 These are all of Ecovacs Deebot OZMO N8 PRO's functions. Additionally, I'll note that the robot can automatically increase power on carpets, supports no-go zones and virtual walls, including specifically for mopping, continues working after charging, and you can edit your room's borders. Sadly, you can't control the robot through home assistants in this Chinese version.
Testing
You can watch a detailed video review and test of Ecovacs Deebot OZMO N8 PRO in the video below:
Navigation
Now let's move on to the tests. First let's test Ecovacs Deebot OZMO N8 PRO's navigation in a room with obstacles. So, thanks to the detection system the robot carefully goes around the obstacles, doesn't get stuck on them, and barely pushes them. The robot didn't have problems on the chair legs, and it actually vacuumed around the leg and box very carefully. The only problem I have with this is that when 5 put on the function to go through twice, Deebot OZMO N8 PRO goes by the same snake-like pattern and not crisscross, which would be more practical.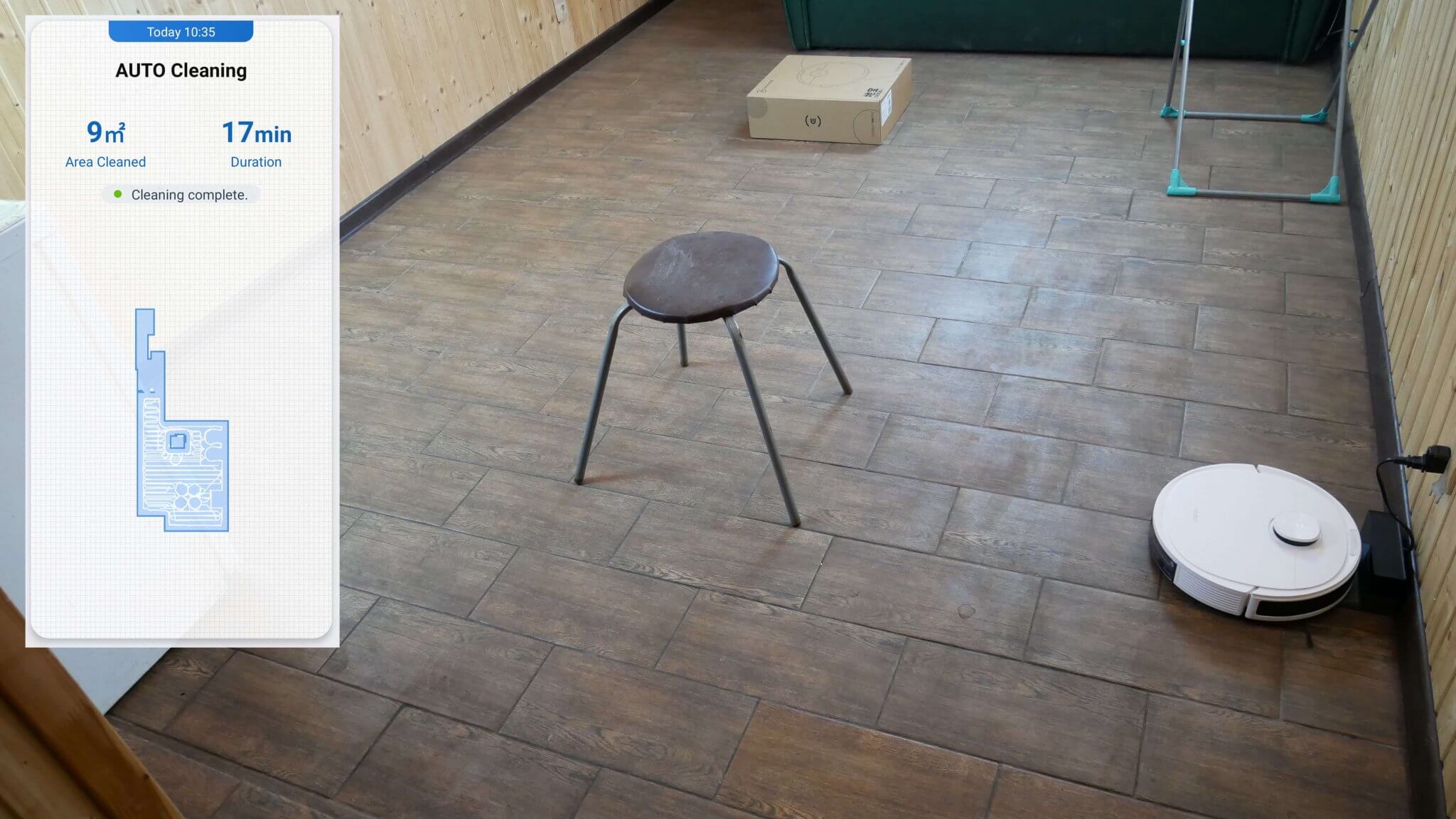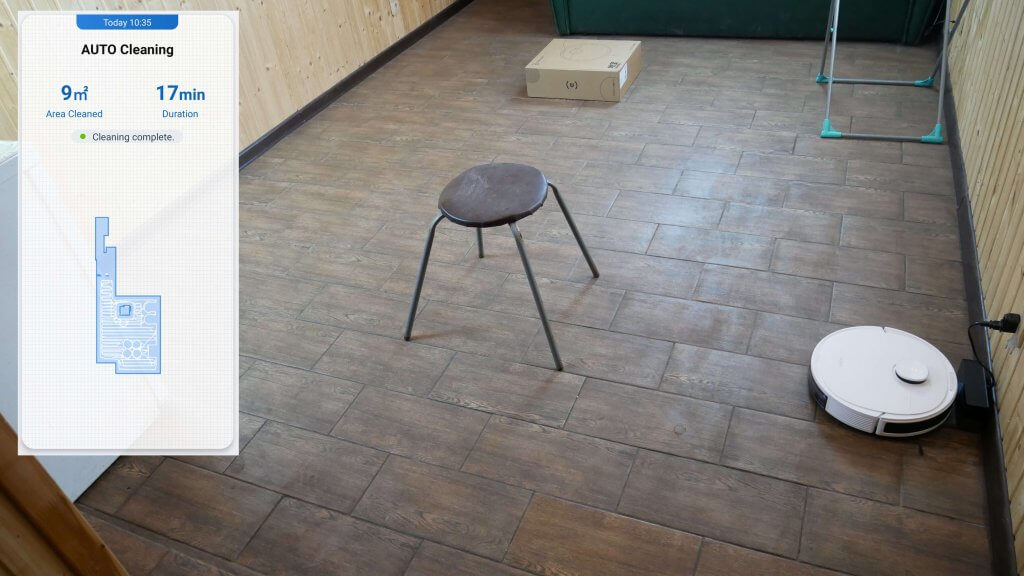 As for the rest of the house, the robot got stuck on the problem that most detection systems get stuck with. The sensors identify the carpet as an obstacle, and the robot avoids it. Sometimes it does manage to get on the carpet, but this happens rarely and as you ay imagine the 3D sensor makes it incredibly difficult to clean it. This is very important to note. Of course, you can turn off TrueDetect 3D, and the robot will act as a regular vacuum with a Lidar. In this case there are no problems with the navigation and getting on carpets.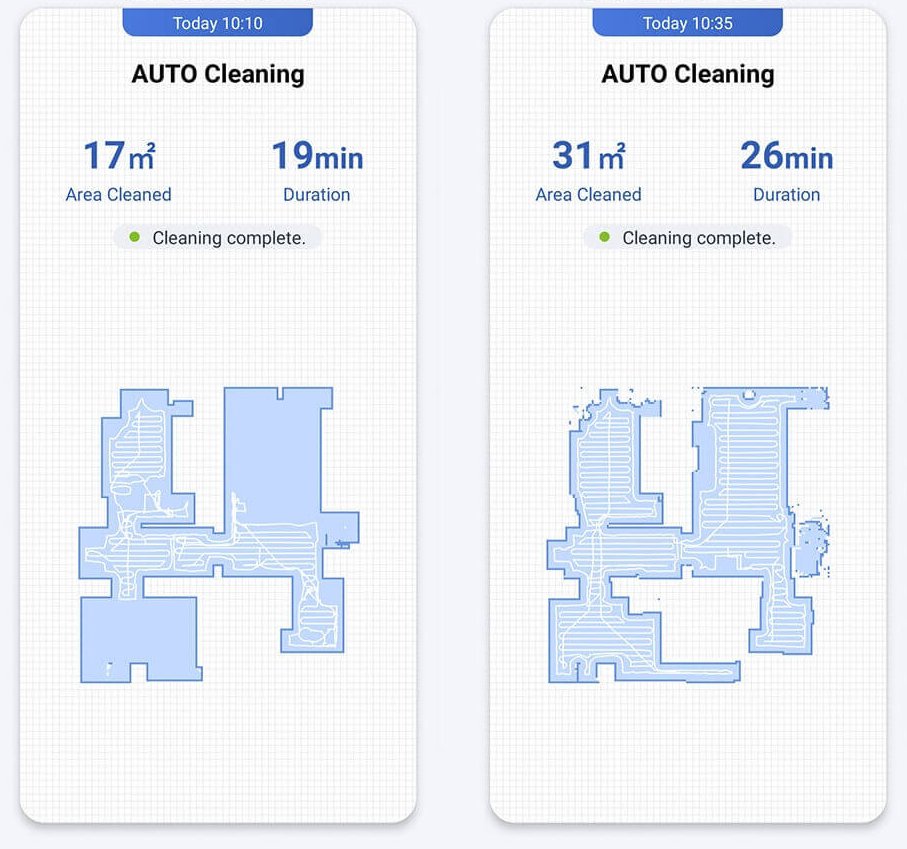 Object detection
Now let's check how well the detection works and how well it can go around them. I put some objects on the floor that may interfere with work at your house. Specifically: a charging cable, a shoe, some fake pet feces, a small toy, a slipper, some weights, and a sock.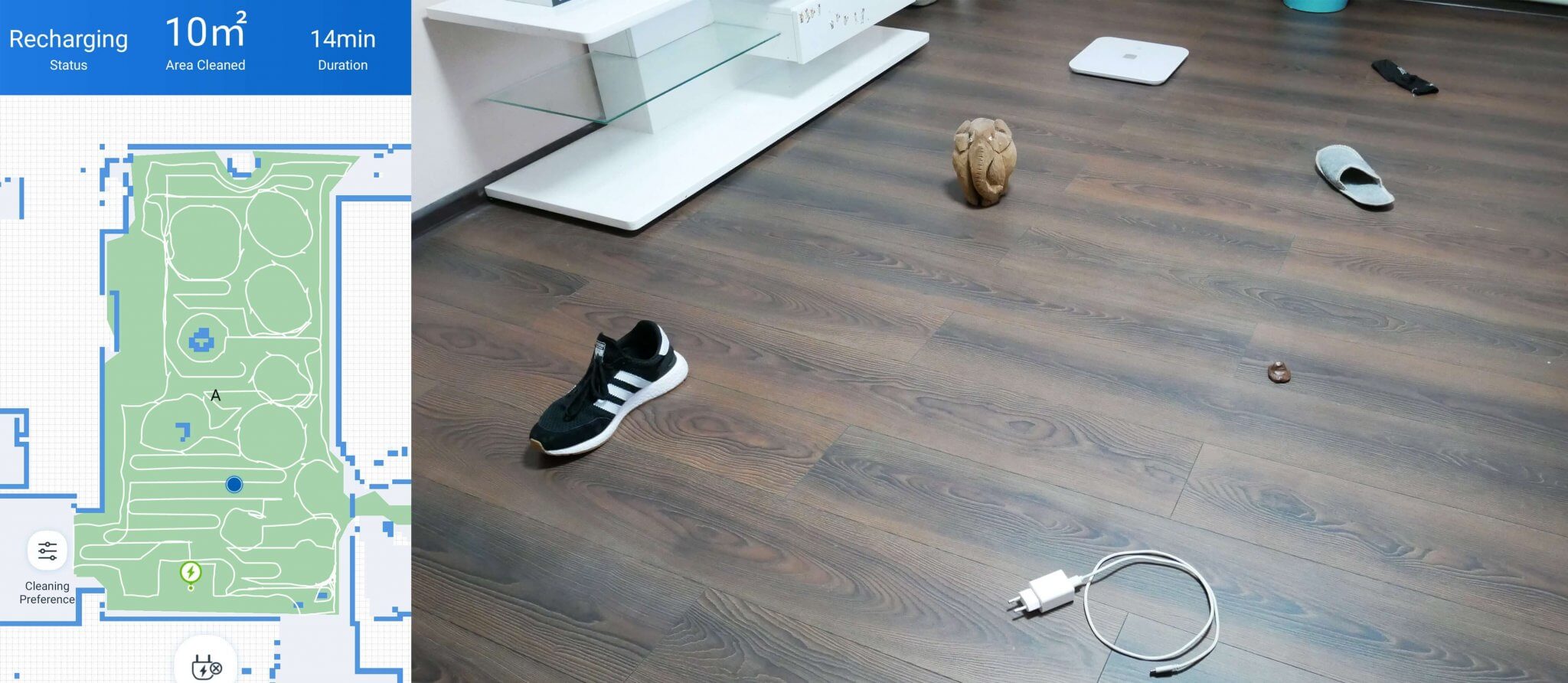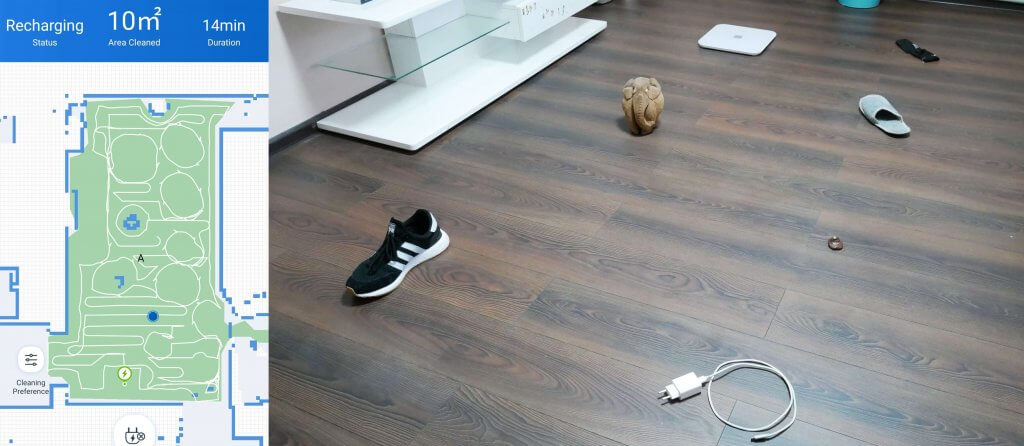 And to my surprise, Ecovacs Deebot OZMO N8 PRO was able to detect all of the objects on the floor and carefully go around them while vacuuming. Its sensors are even better than Deebot T9 AIVI's, which has an active camera and artificial intelligence. This is a major bonus for the simplified version!
Suction power
The suction power also made me happy. The robot was able to get dirt out of holes going down to .31inches (8 mm). .39 inches (10 mm) proved to be difficult, but even the result we got is amazing. It's safe to say that Ecovacs Deebot OZMO N8 PRO is truly a powerful robot!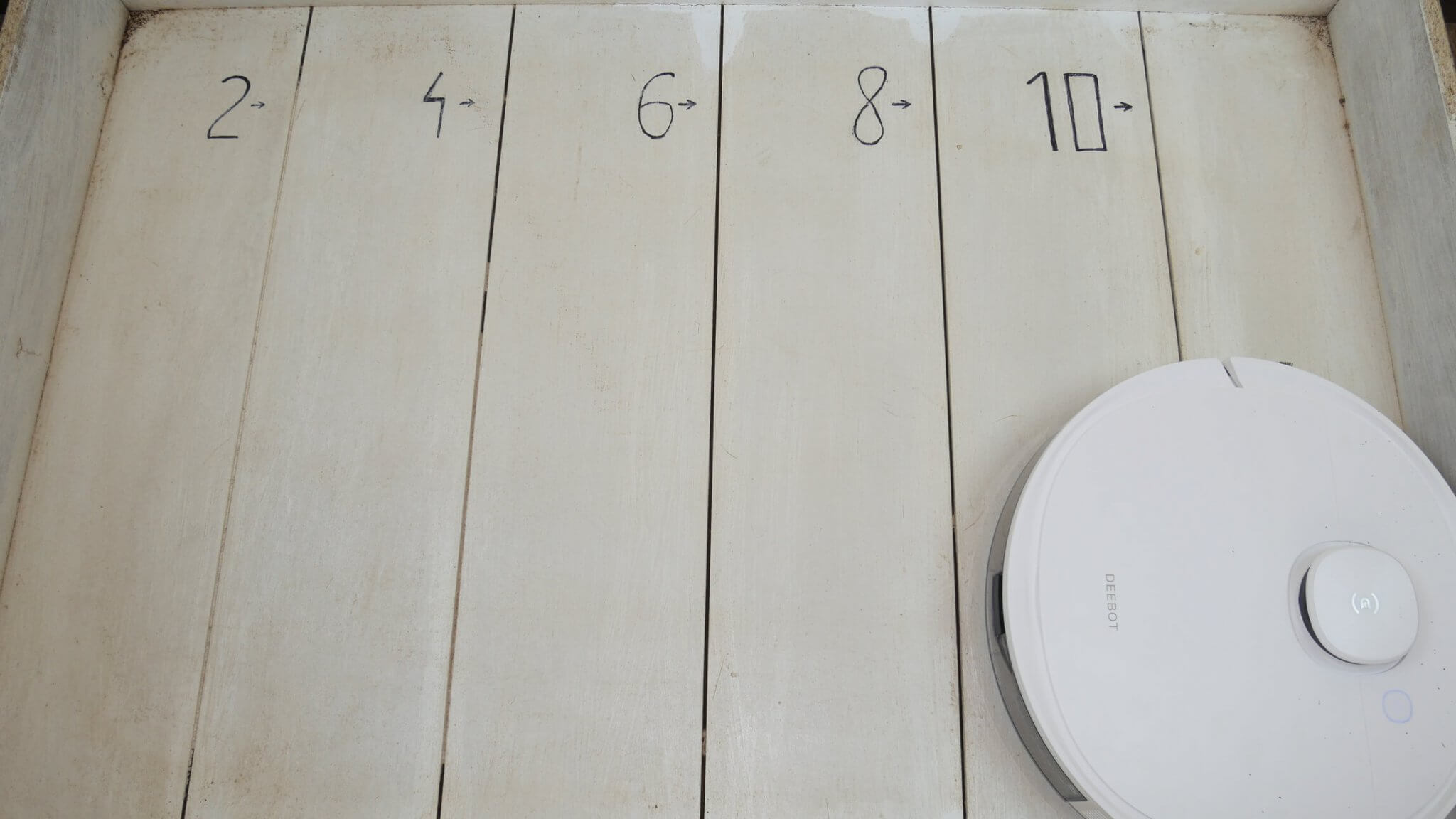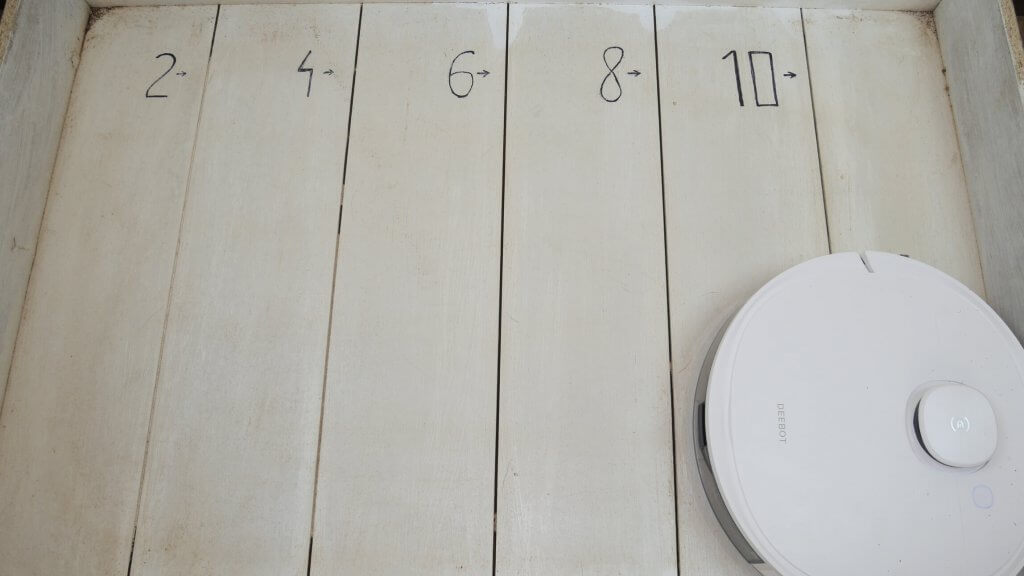 Hard floor vacuuming
The robot is actually pretty good at vacuuming different things on hard floor. Like most other round robots, this one couldn't get dirt from corners. Other than that, everything is clean. The central brush got some hair wrapped on it, while the side brushes didn't get anything. Test passed!


Carpet cleaning
The carpet cleaning is also good. Ecovacs Deebot OZMO N8 PRO very thoroughly got all of the dirt out of the carpet.


Mopping
As for the scrubbing, I have some problems. Not only is there a wide gap left uncleaned along the base board, but the robot couldn't scrub off some dirt leaving water marks.


Though for everyday use, meaning collecting dust and light mopping, this robot will do good. It's aloes good that it can mop and vacuum simultaneously.
Mopping on carpets
If your house has carpets, then there are 3 fixes to simultaneous vacuuming and mopping. First of all – you can turn on the detection system, where the robot will avoid your carpets and only clean on hard floors.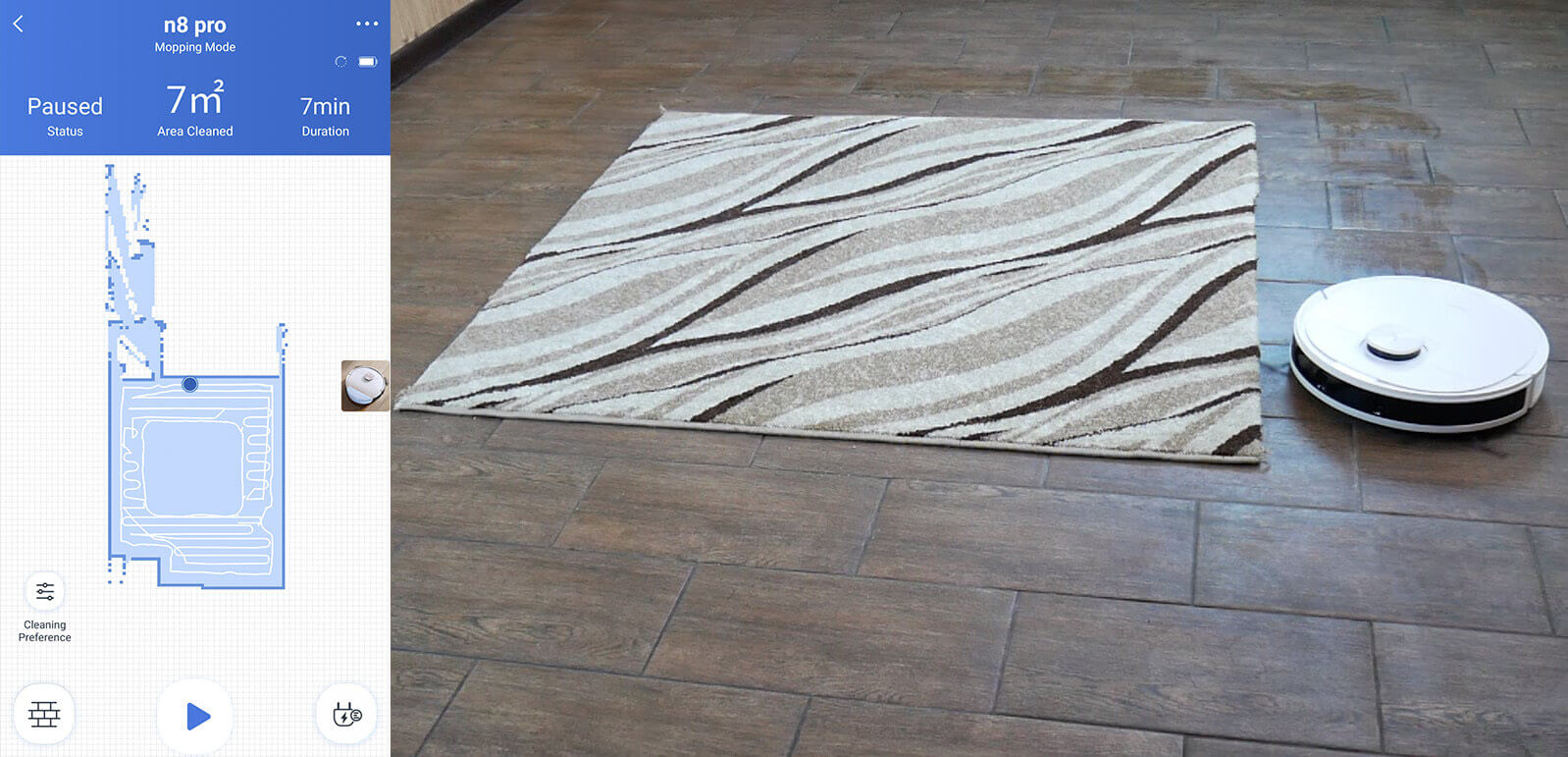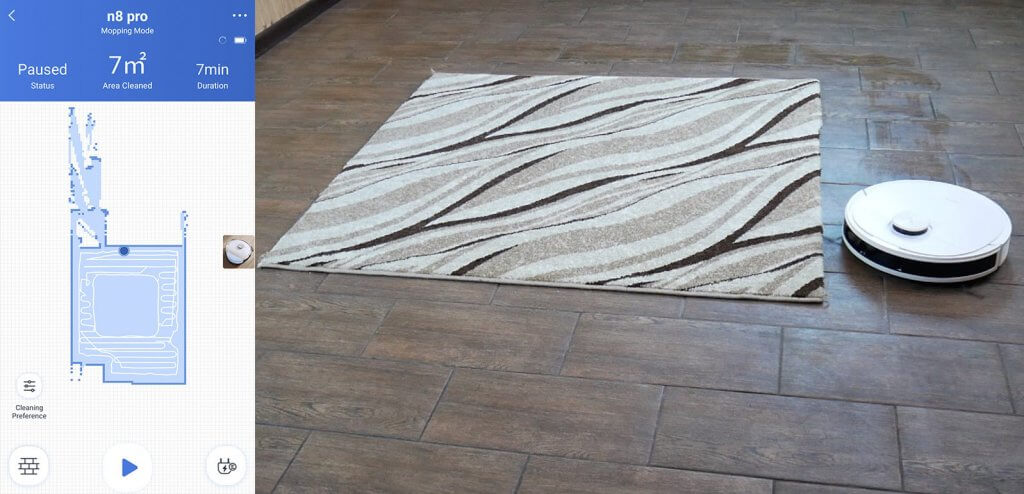 The second, you can set up no-go zones on the carpets while vacuuming. And third – if you turn the detection system off, then Ecovacs Deebot OZMO N8 PRO would go on your carpets, but at least the robot would stop putting water on the cloth.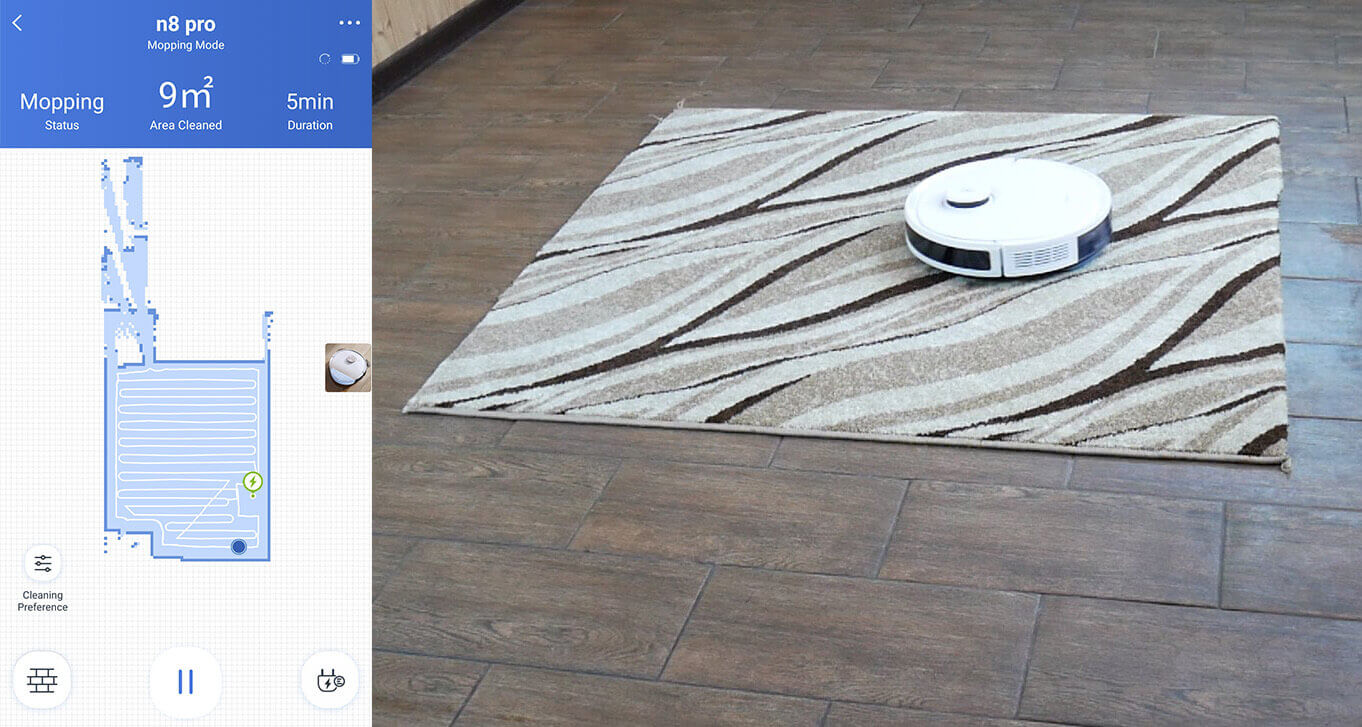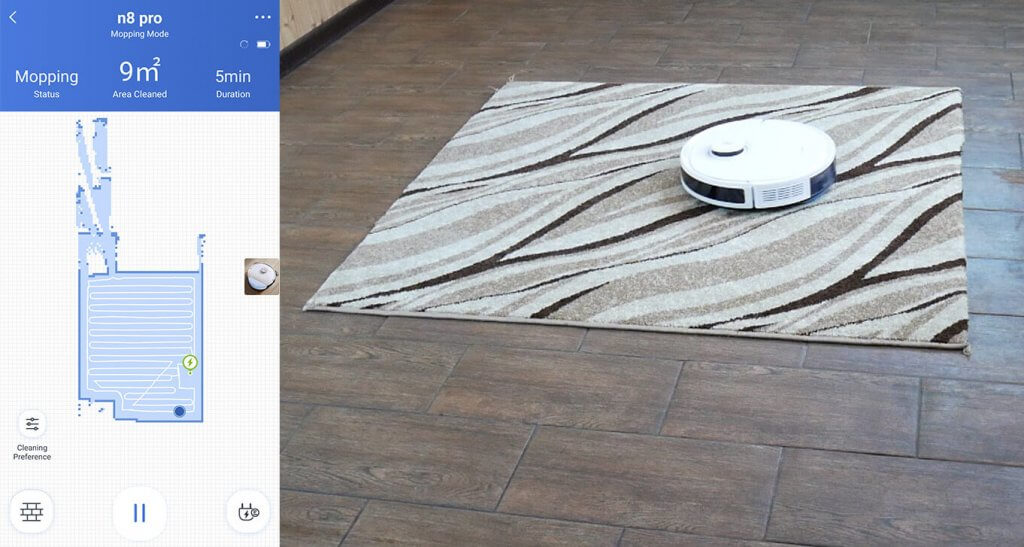 Passage of obstacles
The robot was able to go through .78-inch (2 cm) baseboards. This is great!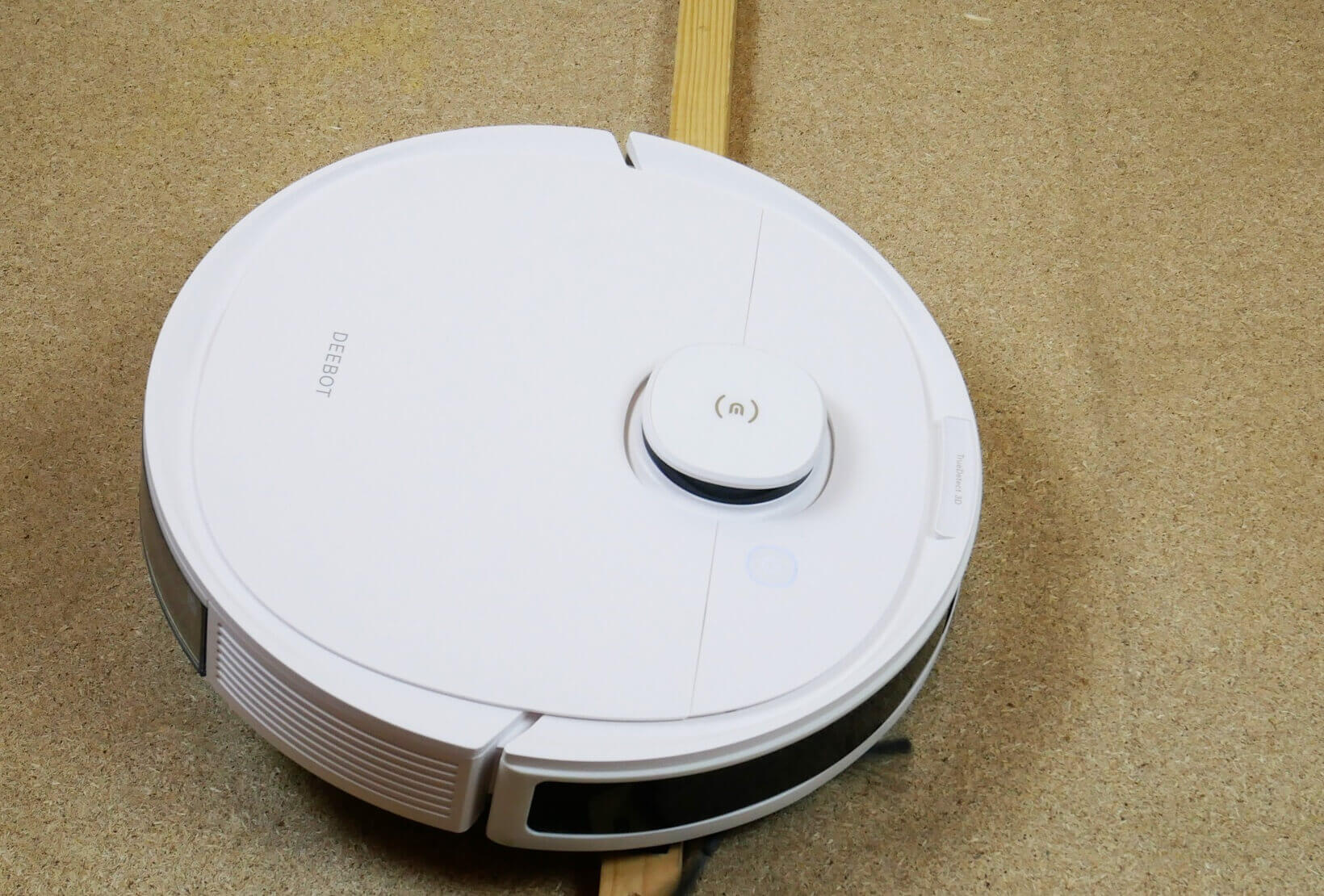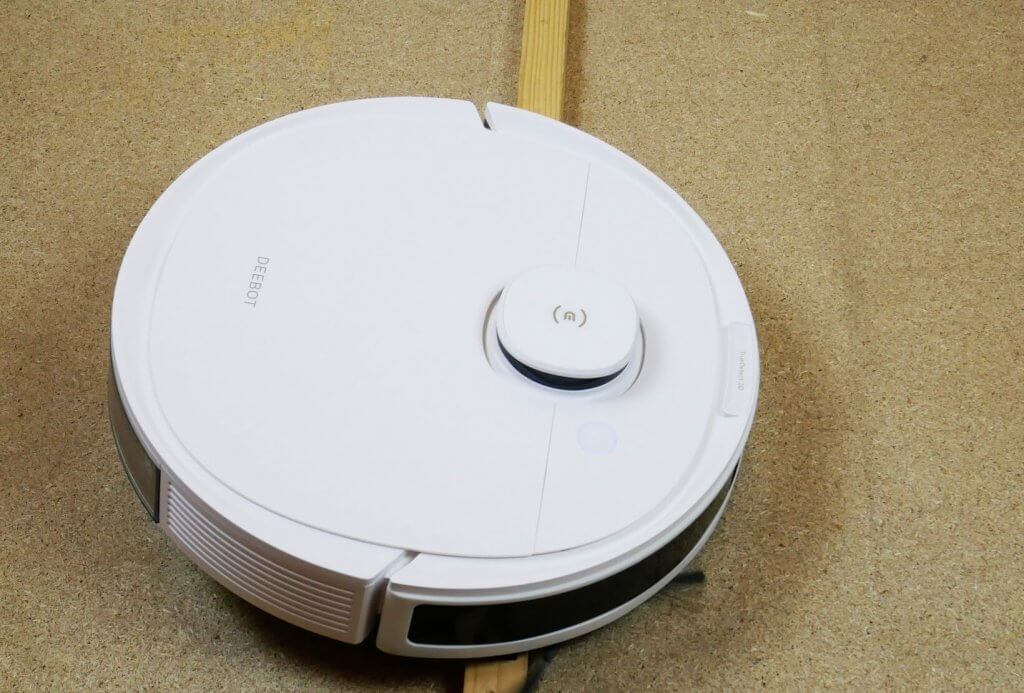 Passage of dark surfaces
And sadly, the robot identified the black carpet as a cliff, and Deebot OZMO N8 PRO avoids dark areas on the floor. This is important to note.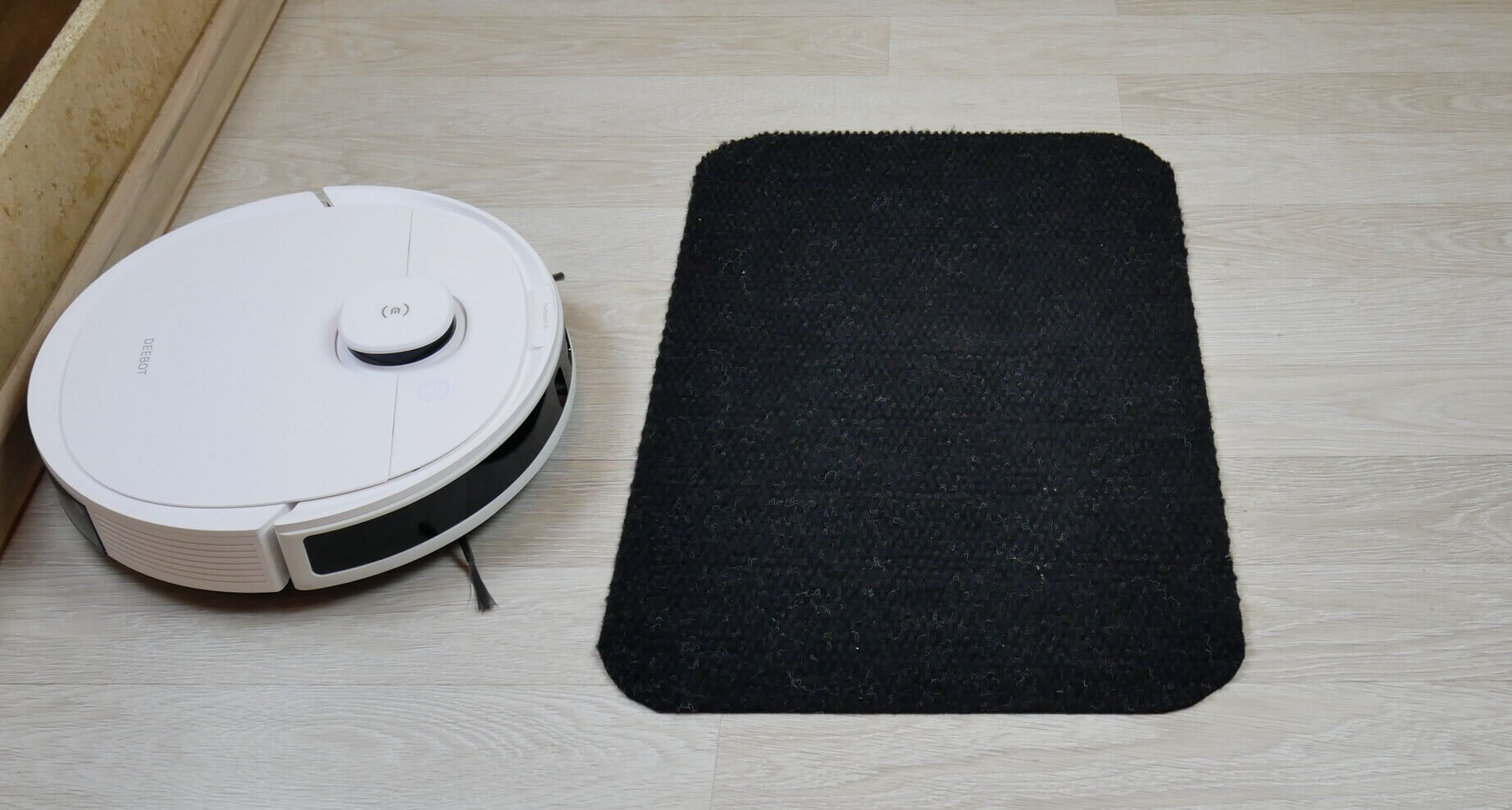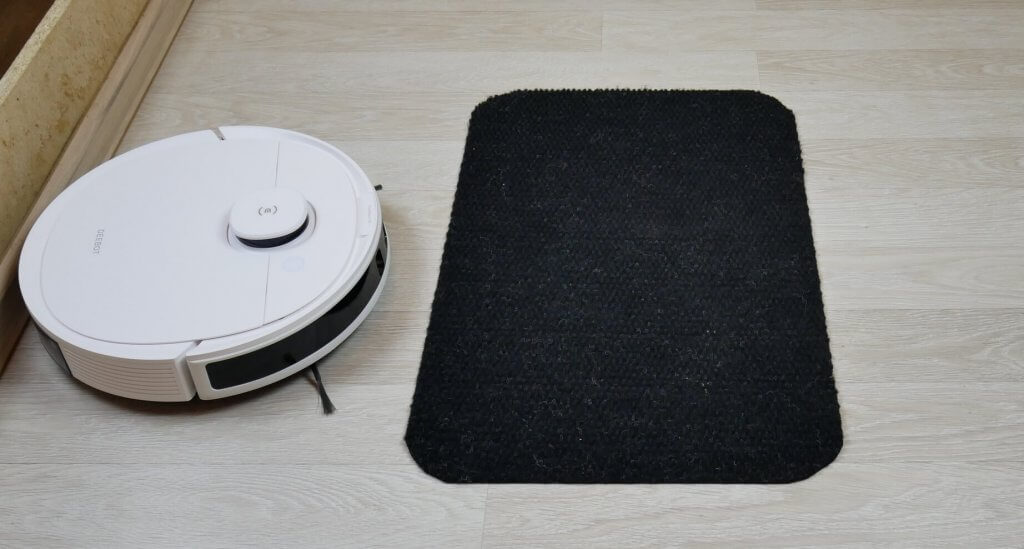 Noise level
Now, let's test how loud our robot is. With the suction turned off, the volume stays between 58-60 dB. In standard mode it goes to 63 dB. In max it goes up to 66.5-68 dB, and in Max+ it goes all the way up to 69 dB. The volume is a little higher than usual, but you have to consider the high suction power. So, you could even say that this robot isn't all that loud, and is actually quitter than other vacuums.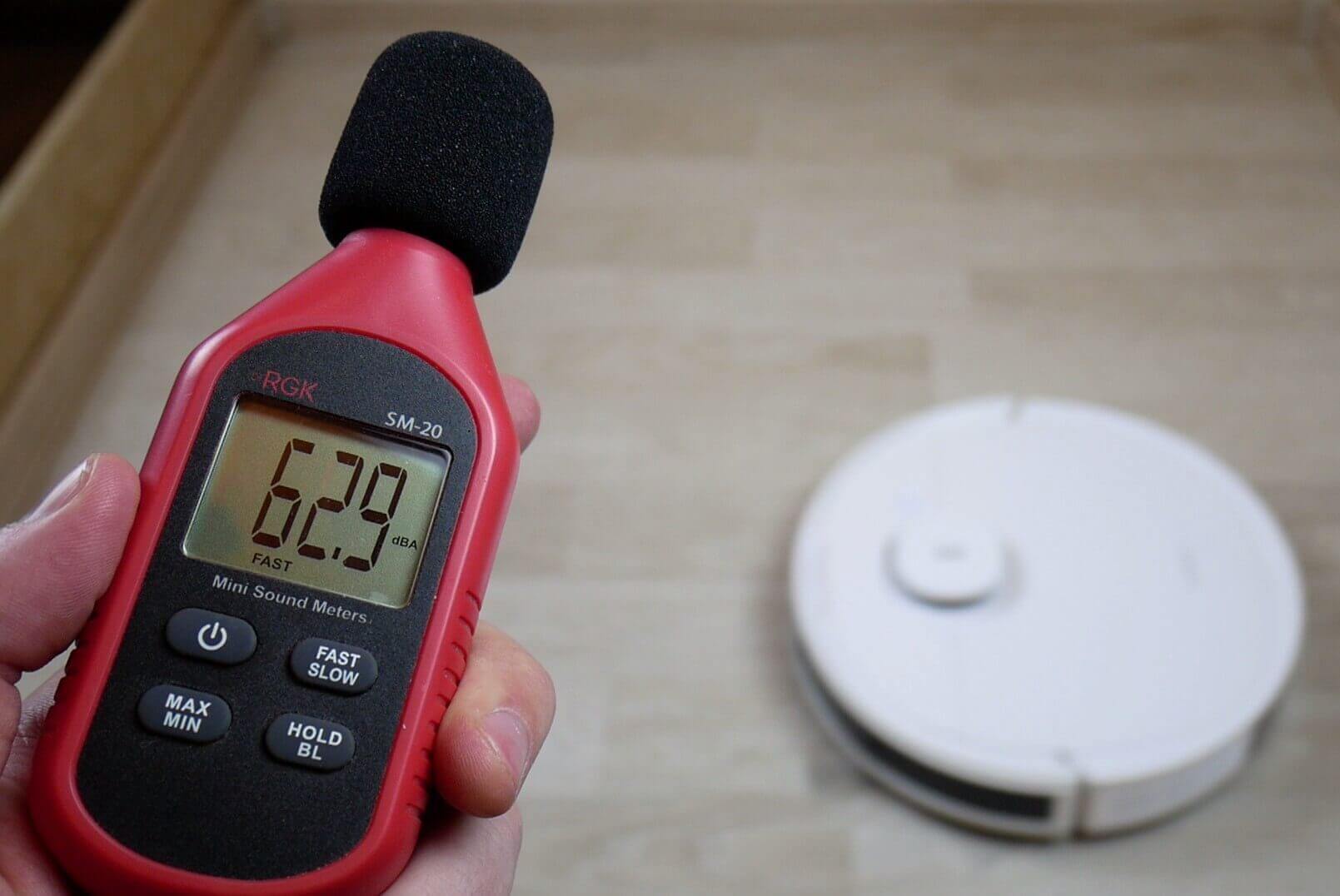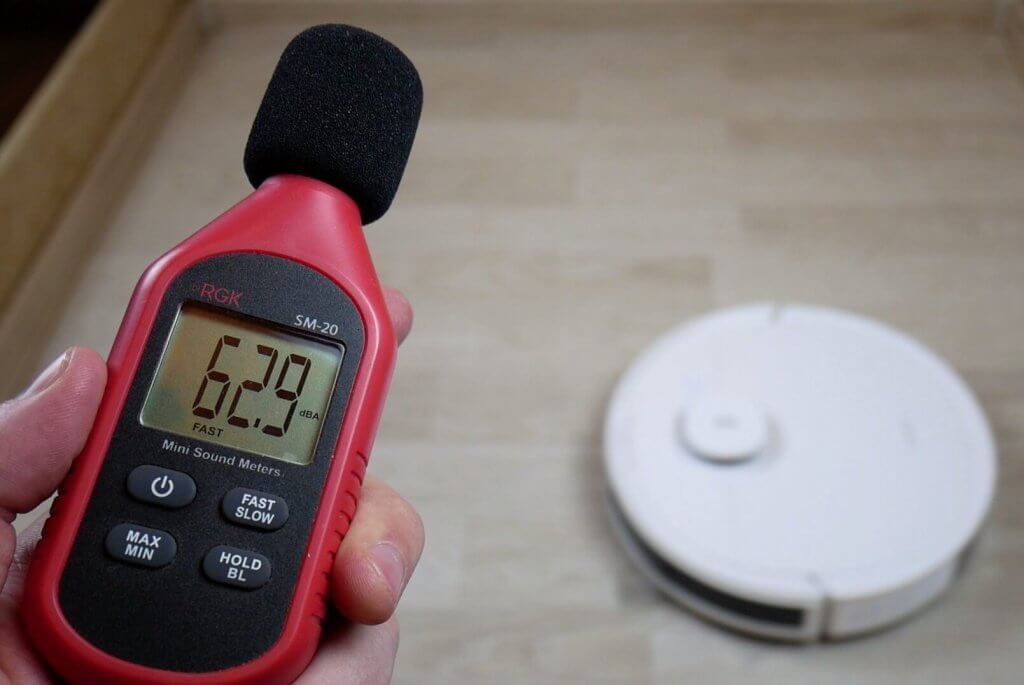 Summing up
Ecovacs Deebot OZMO N8 PRO was thoroughly reviewed and tested. Our algorithm gave it a 73 out of 100, which is a good result. Roborock S5 Max also got the same score. Though Ecovacs is available in the regular and Pro version, which got 78 points, coming into the same place as Dreame Bot Z10 Pro, Viomi Alpha UV (S9) and Roidmi Eve Plus.
The overall rating of models that passed the Robotobzor test https://robotobzor.com/ratings/general-rating-of-robot-vacuum-cleaners.html.
Now I'll share my opinion. I liked the following;
Good navigation.
Collection quality.
Very precise object detection system on hard floors.
Simultaneous mopping and vacuuming.
High suction power.
Good vacuuming quality.
Lots of functions for flexible parameter adjustments.
Good off-road.
An optional auto-cleaning base.
As for the problems, well here is a couple:
The object detection system doesn't work well on carpets.
Not good at scrubbing dirt off.
To connect you would need an account registered in China.
Its scared of dark surfaces.
The battery is weak compared to the power.
All in all, the robot left a good impression on me. Obviously, it would reach its full potential only on hard surfaces. This model is far from great if your home has carpets. So, if you're looking for a robot vacuum cleaner that can vacuum and mop on hard floor, tile, and other material, and you're interested in the object detection feature, then I can recommend this model. I can see the reason to buy it for $450, as the functions and characteristics proved themselves to be worth it. But for $500 I wouldn't buy it, and it is far from the best option. And comparing to its competitor Dreame Bot L10 Pro, you can say that with the same suction power, Ecovacs has a better detection system, while Dreame has a better price, doesn't have problems with the app, and is better at mopping. So, it's mostly up to you to decide, which is more important.
On this note I would like to end the review. If you still have questions, feel free to ask down below in the comments. Have fun shopping, bye!