Hey guys, welcome to RobotObzor! Today I'll show you a unique vacuum from Xiaomi. This is Mijia Ultra-Thin Robot Vacuum Cleaner, and as you could've guessed from the name, this robot is thin, very thin. It measures only 5,5 cm (2 inches) from the floor, thanks to which it can easily o under low furniture, and get dirt from these tight spaces, where your hand couldn't get to. Not only that, but Mijia Ultra-Thin can recognize objects on the floor and go around them while vacuuming. It can also save a map of the house, and mop. Without hesitation, I think that it's safe to say that Xiaomi Mijia Ultra-Thin Robot Vacuum Cleaner – might be the best slim robot vacuum cleaner on the market at the start of 2022. But before we can safely say that, we need to test its main function, and if it kept high cleaning quality, as it is why you're buying the robot in the first place. By our test results I will be able to tell you if this robot is worth your money, and keep in mind, it goes for about $350 on AliExpress. And so, let's get rolling!
Package
Let's start by going over the package itself. Aside from the robot itself, the box has a:
Charging base.
Power adapter with Chinese plug.
Adapter for EU standard plug.
A conjoined container for water and trash.
Nozzle for mopping with a pre-installed microfiber cloth.
An extra cloth.
Documents in Chinese.
Tool for cleaning the robot.
And a little present from the manufacturer.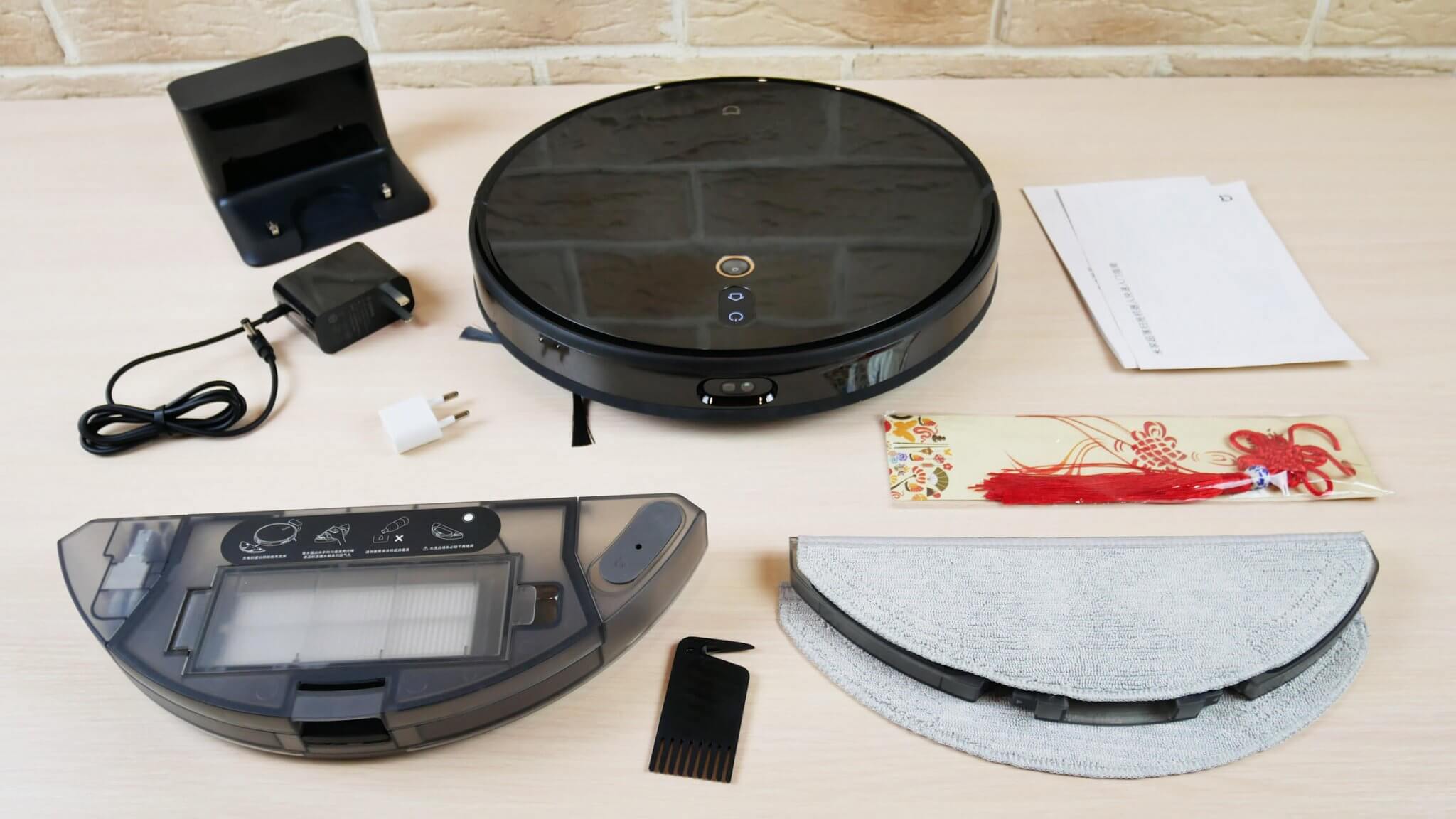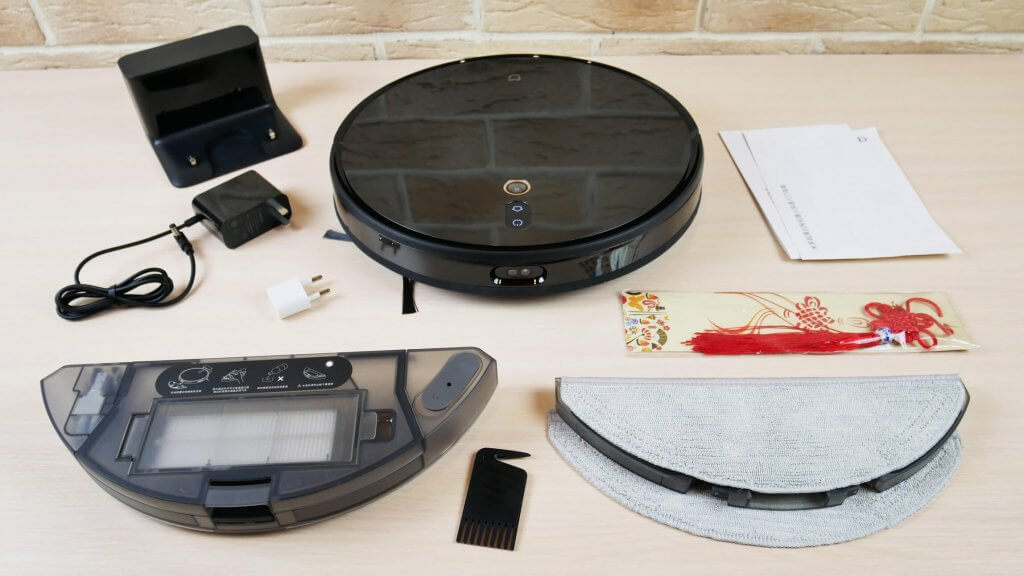 All in all, the box isn't that bad. You even have an extra cloth and even an extra HEPA-filter, as one is in the conjoined container, and one is in the dust collector already in the robot. So, for the time being you have enough extra parts to use this machine comfortably.
Design
Now let's look at how Xiaomi Mijia Ultra-Thin Robot Vacuum Cleaner works. Its black, completed with a sleek plastic coating on top.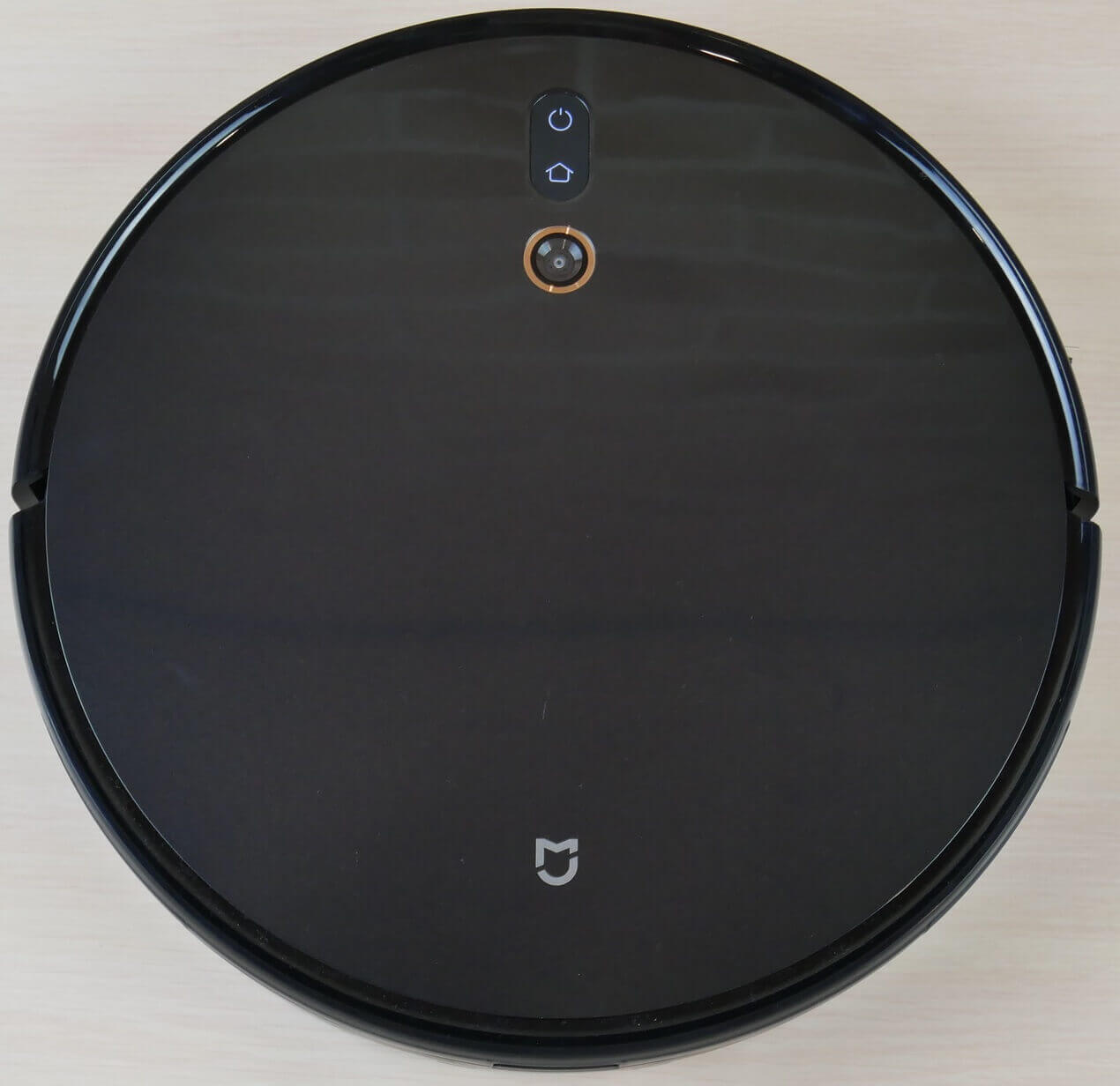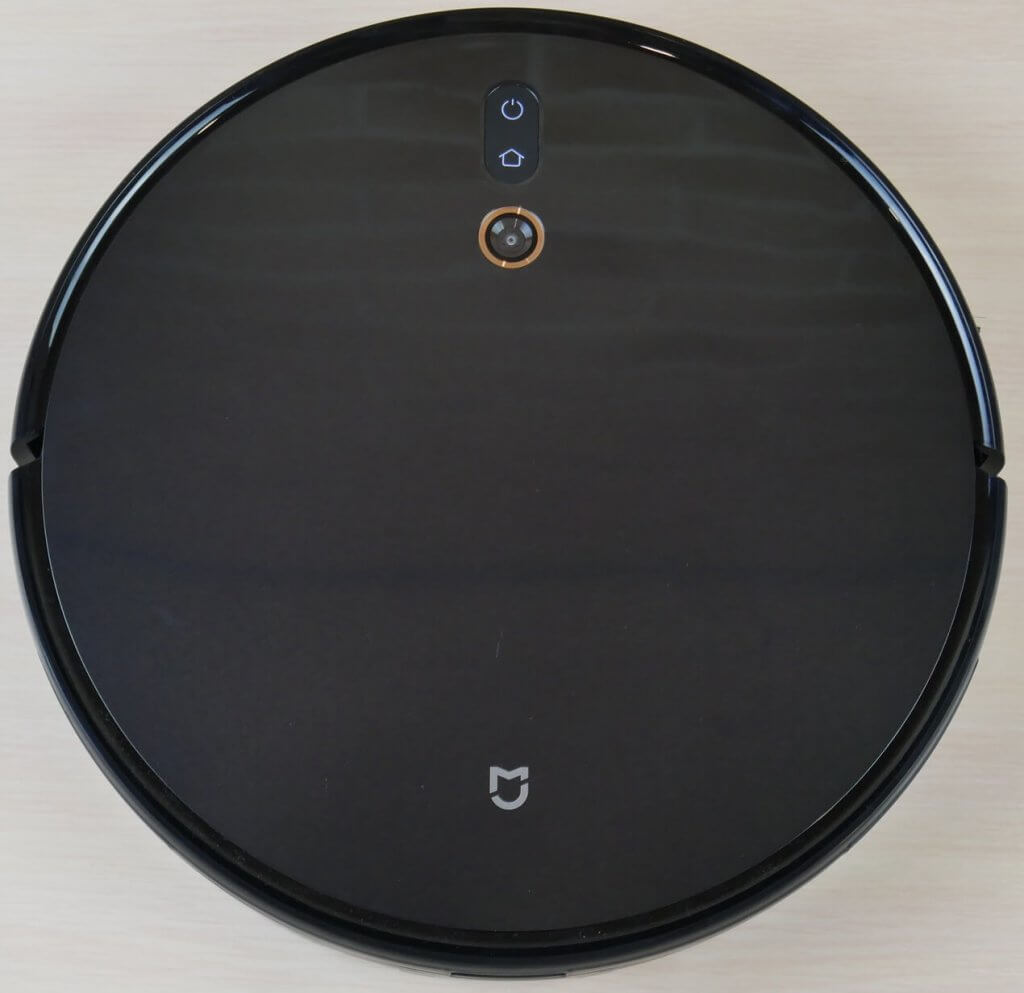 It's important to note not only the thin shell, but also the smaller diameter now being 32,3 cm (12.7 inches). Here I a comparison of this robot and a standard robot vacuum with a LIDAR. Xiaomi Mijia Ultra-Thin Robot Vacuum Cleaner is very obviously more compact.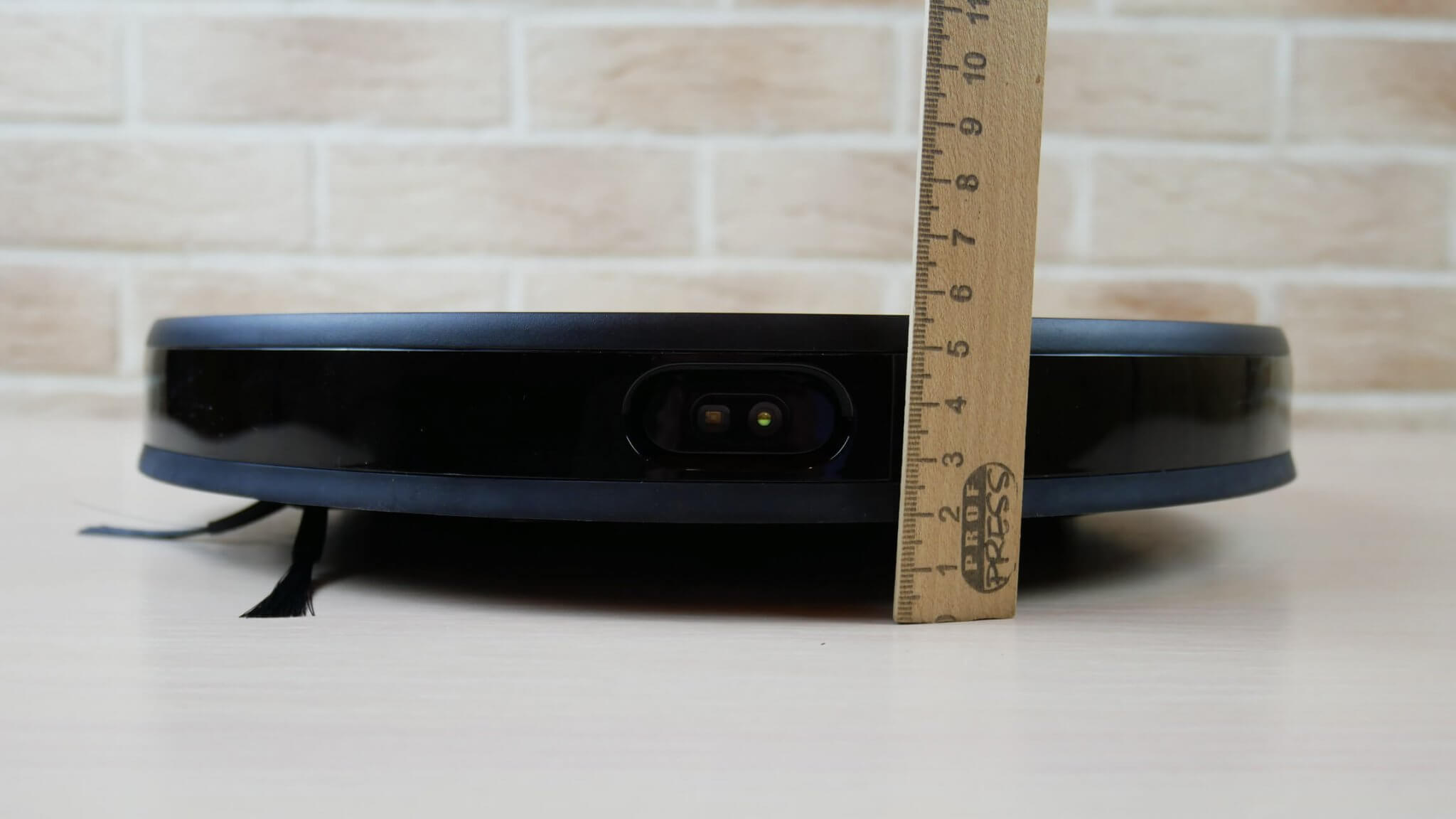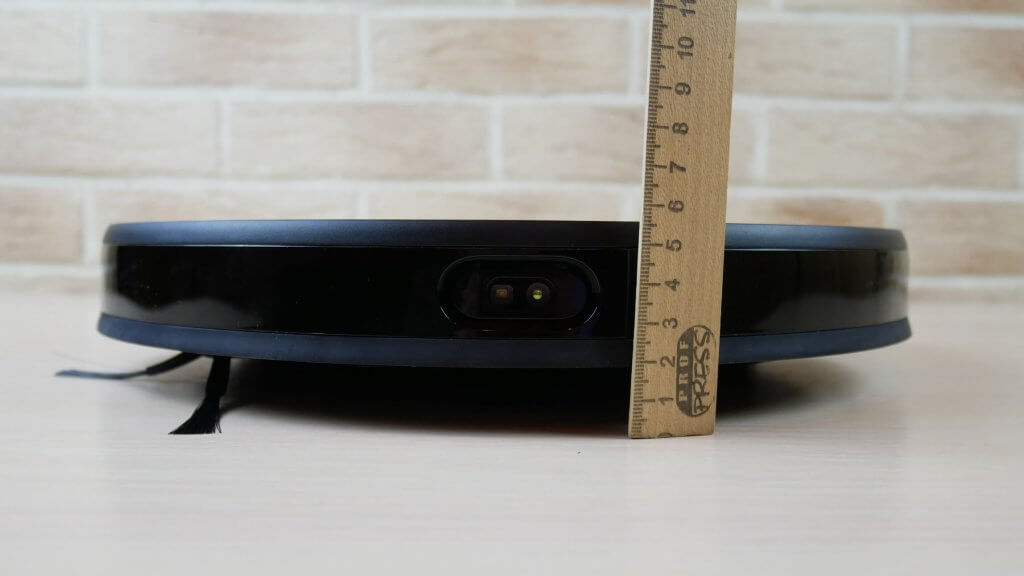 On the front mechanical bumper is a ToF-sensor, thanks to which the robot can identify objects on the floor, and carefully go around them while vacuuming. Xiaomi Mijia 1T has the same function, which was on an earlier review, so make sure to check that out.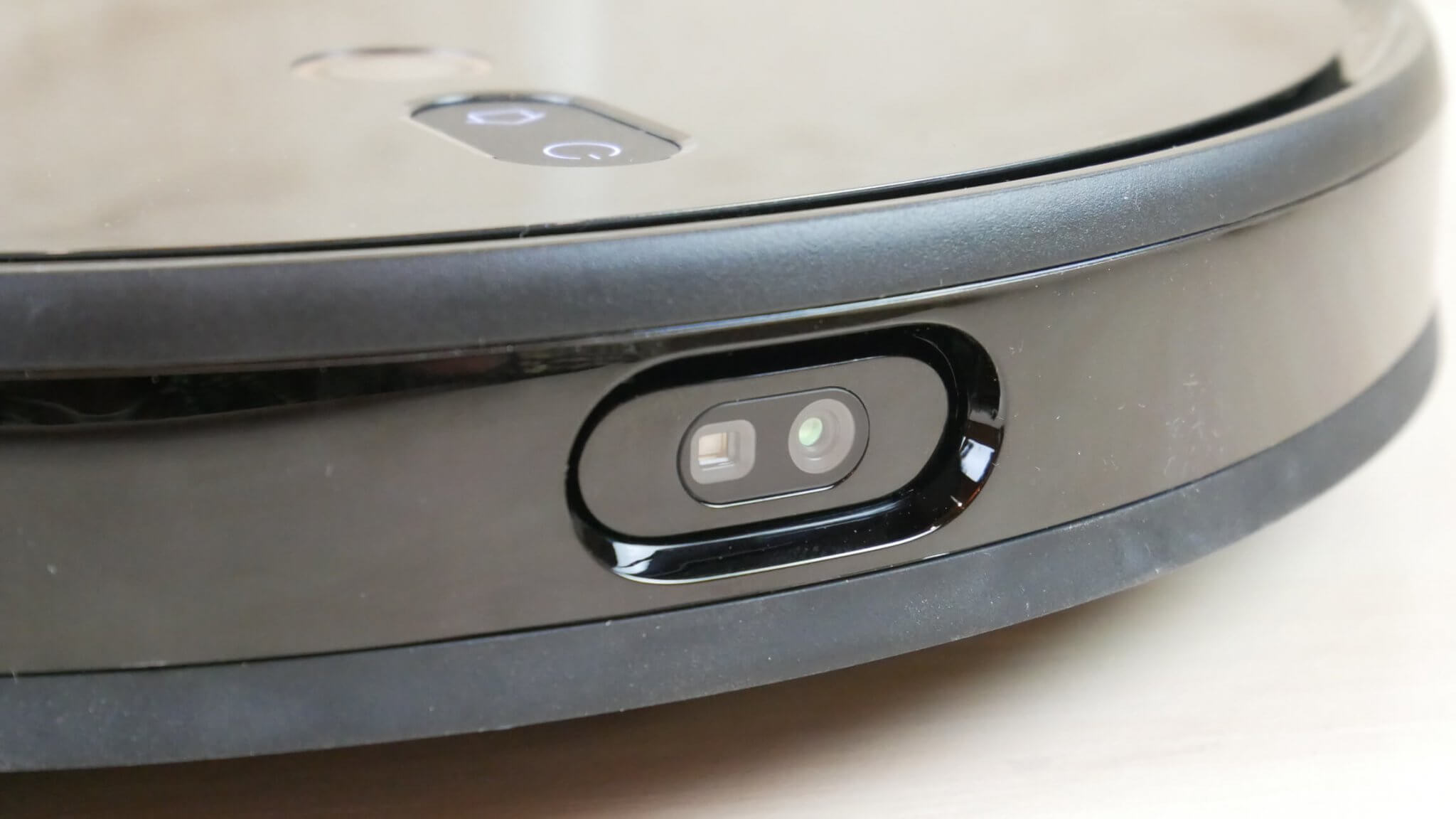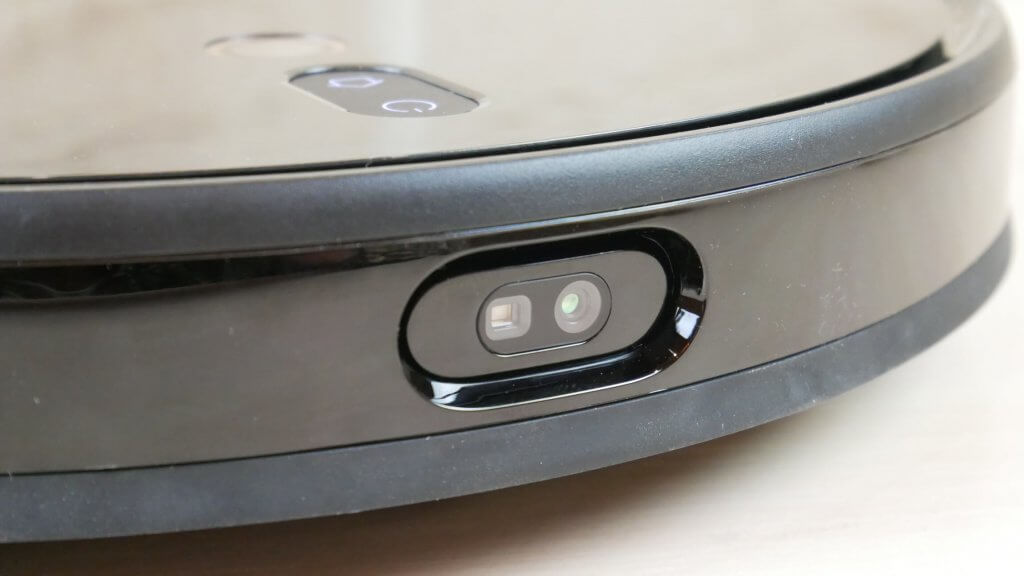 On the control panel are two mechanical buttons and a main navigation module- a camera, thanks to which the vacuum can build a map of the area and save it to the map.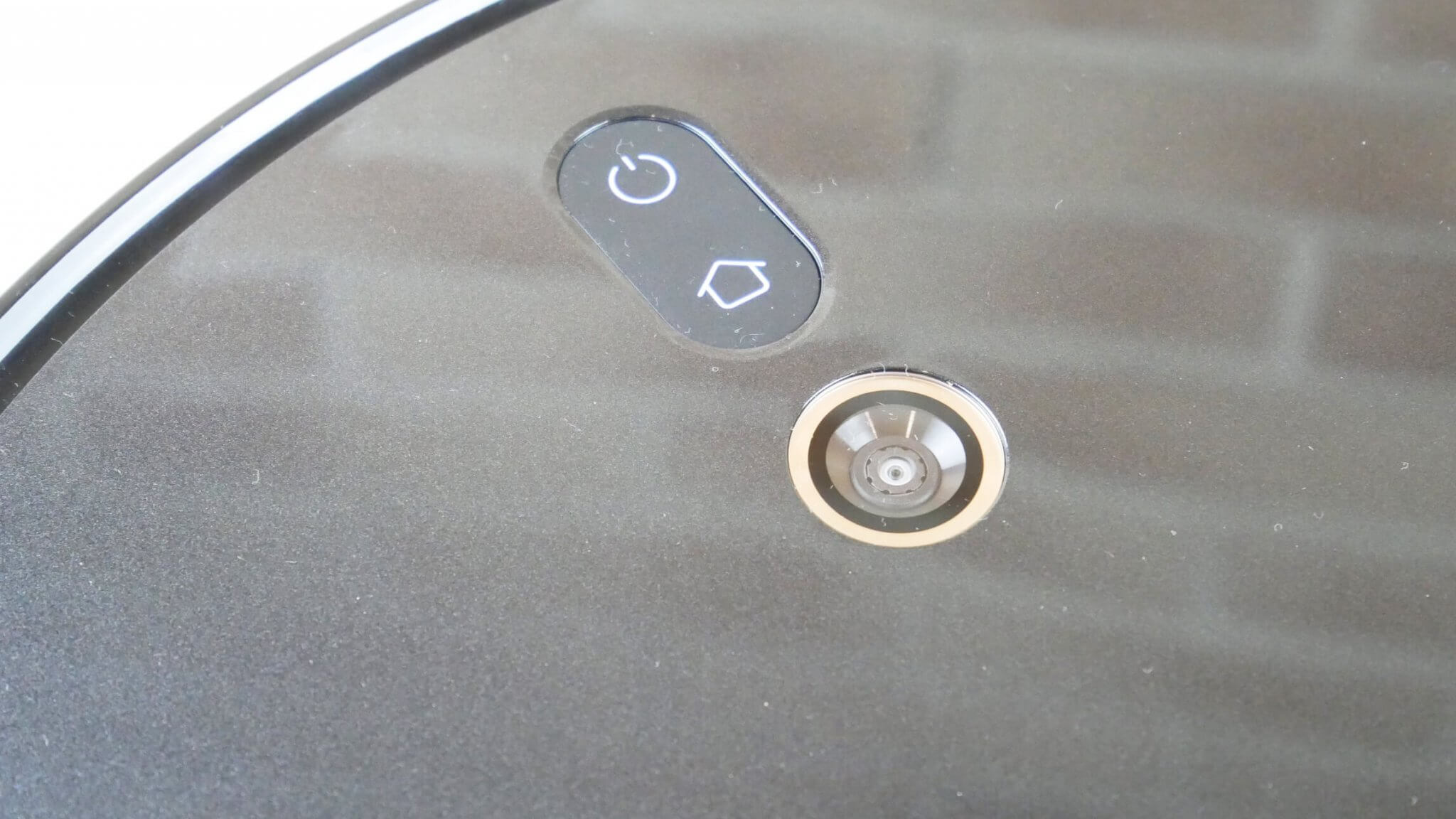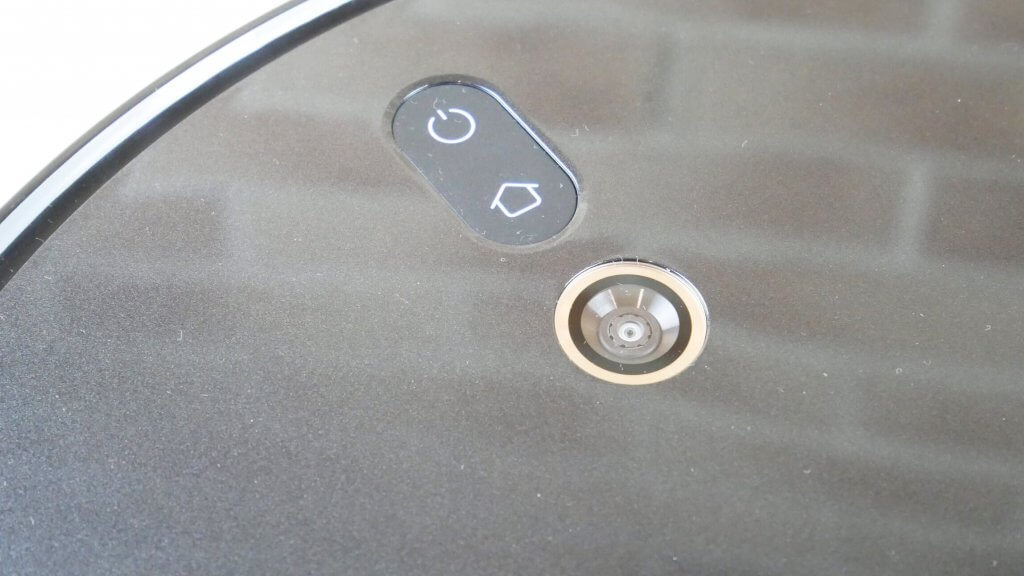 The dust collector is behind the robot. Surprisingly it can fit a lot, seeing as it is a pretty short robot. The container fits 500 ml (17 ounces) of dry waste. Inside you can even see curtains, which stops dirt from exiting when you take out the container. The filtration system installed is a HEPA-filter.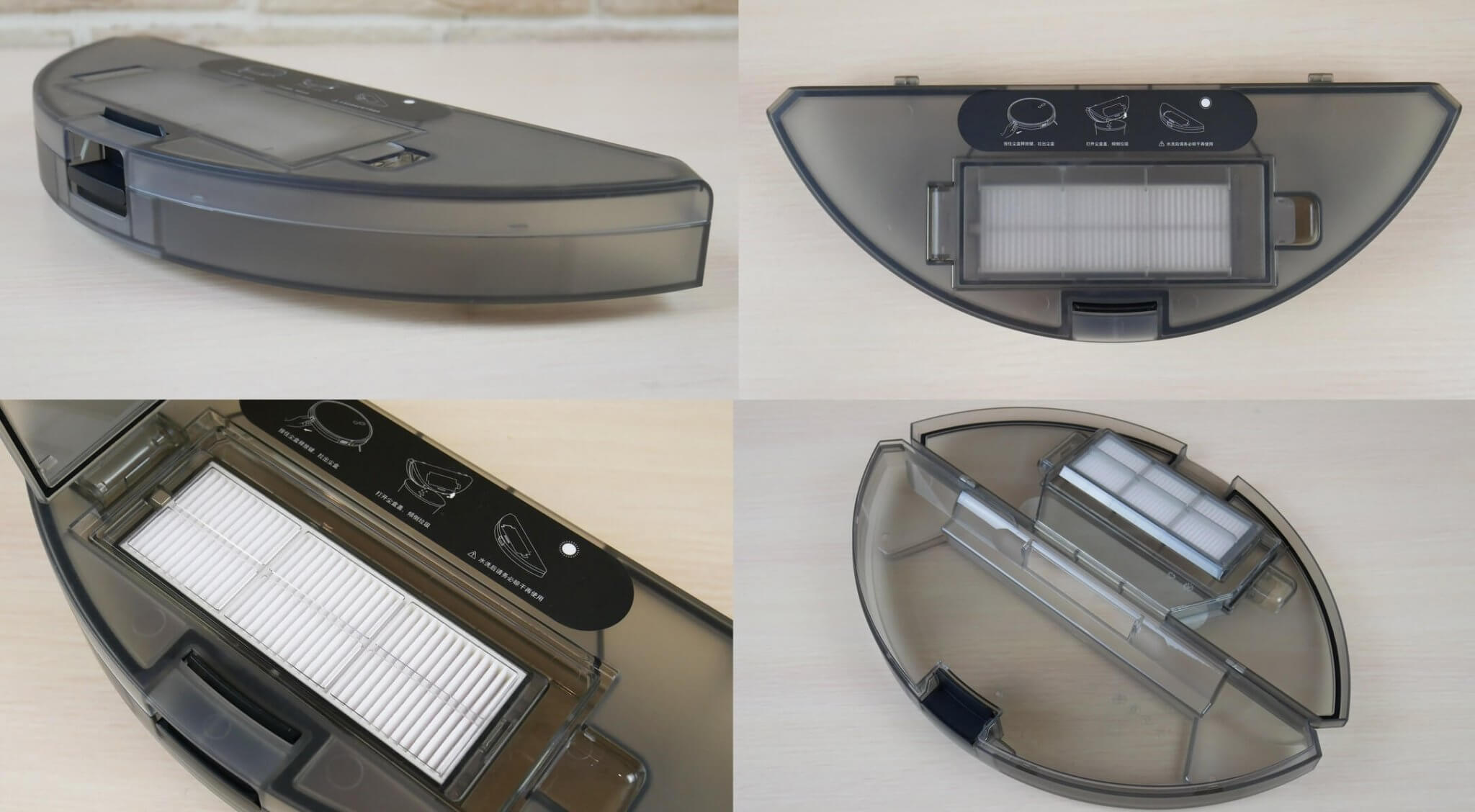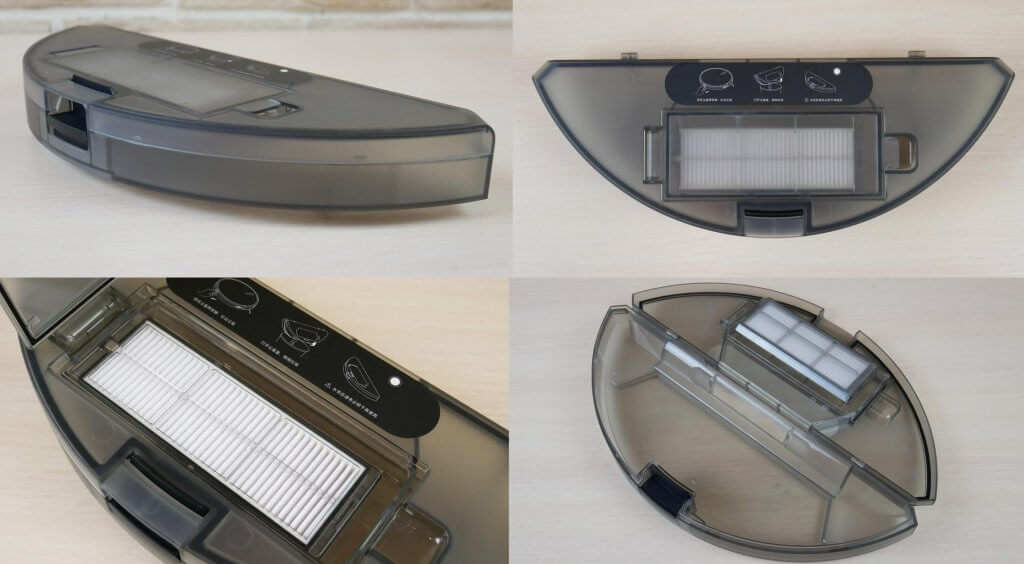 Instead of the container you can install a conjoined container for dirt and water. Inside we can see a pump for electronic water regulation, which is pretty neat. The water container fits 225 ml (7 ounces), while the dirt container fits 7.6 ounces of waste. The filtration system is the same one as before.


The nozzle is attached from the bottom with the help of a fixator. The cloth is attached with Velcro and a slider. The water gets on it from three openings.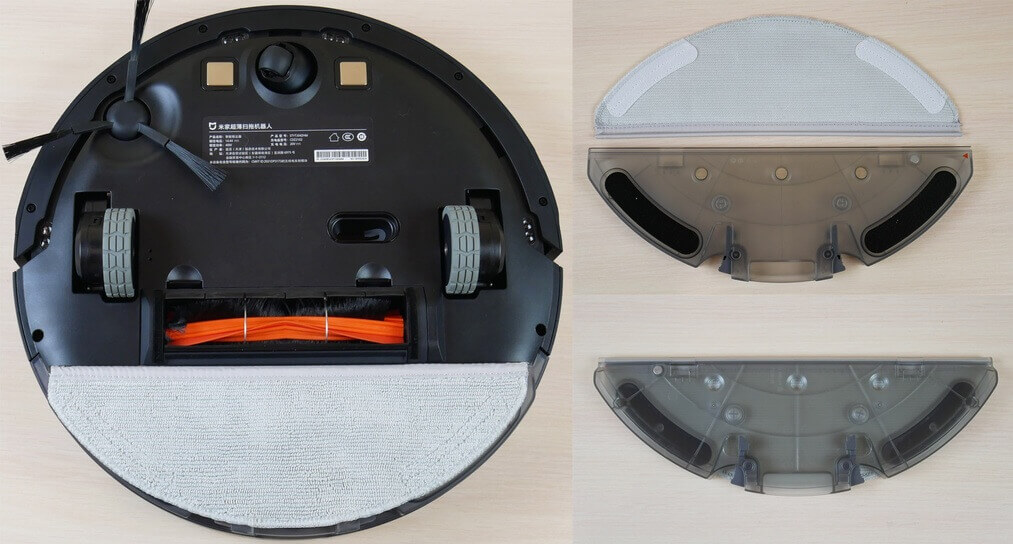 Now let's see how Xiaomi Mijia Ultra-Thin Robot Vacuum Cleaner looks from below. It has 4 anti-fall sensors. There is only one side brush – bristly, three sided, and easy to take off.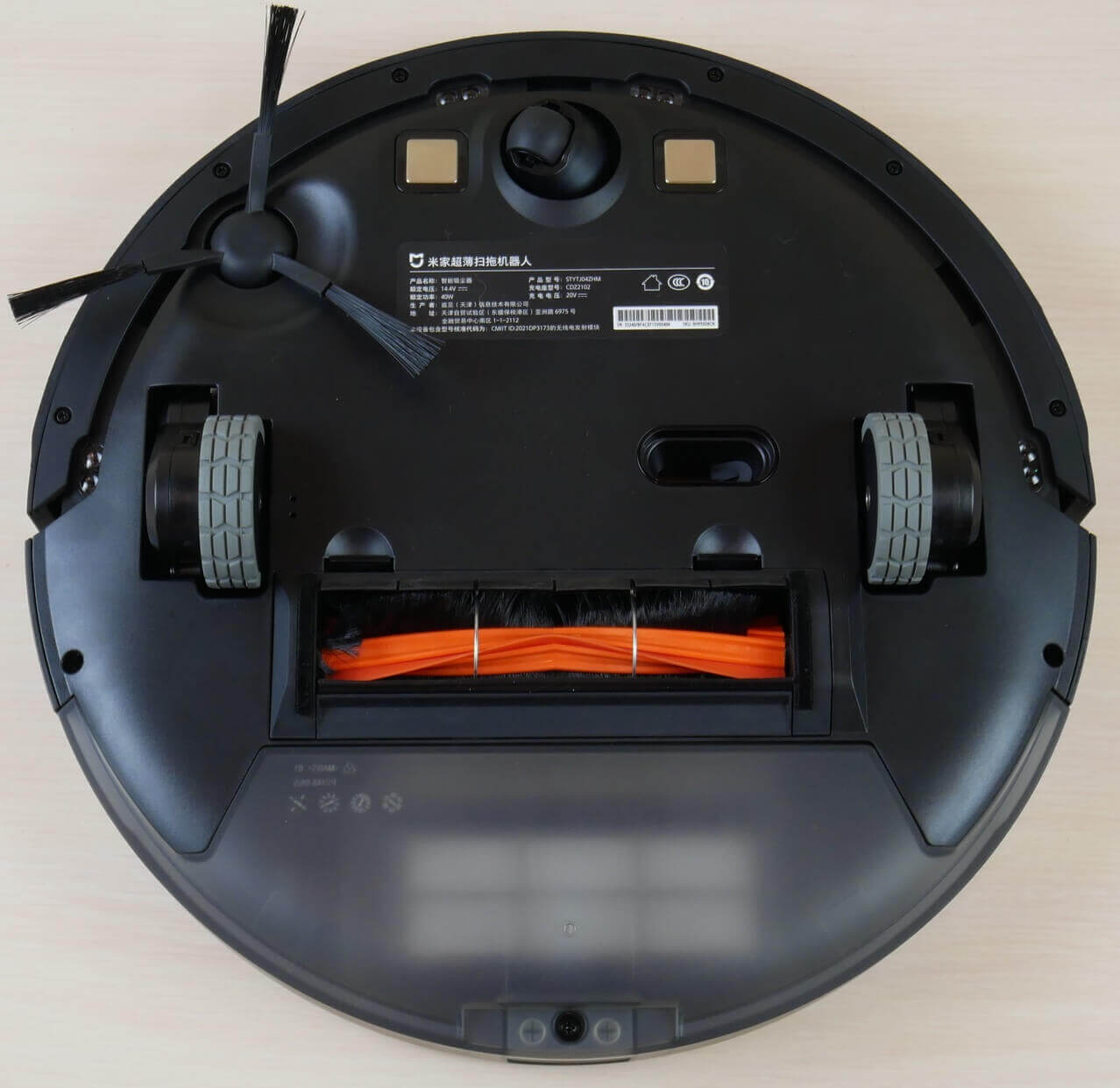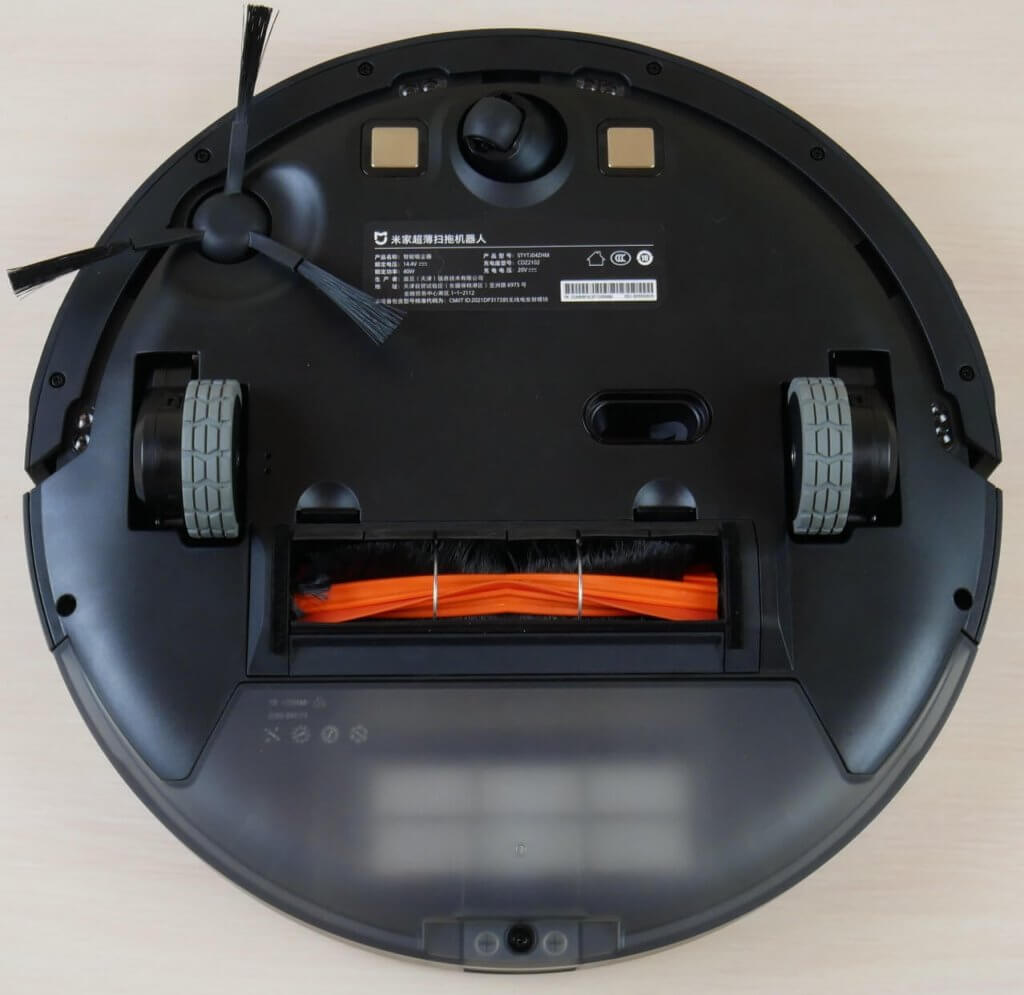 The central brush is also bristly. You can take it off from both sides to clean from hair and fur that may get stuck on it. Notice that the brush is much longer than other Xiaomi vacuum brushes. You can see for yourself the obvious difference in size between this brush, and a standard one.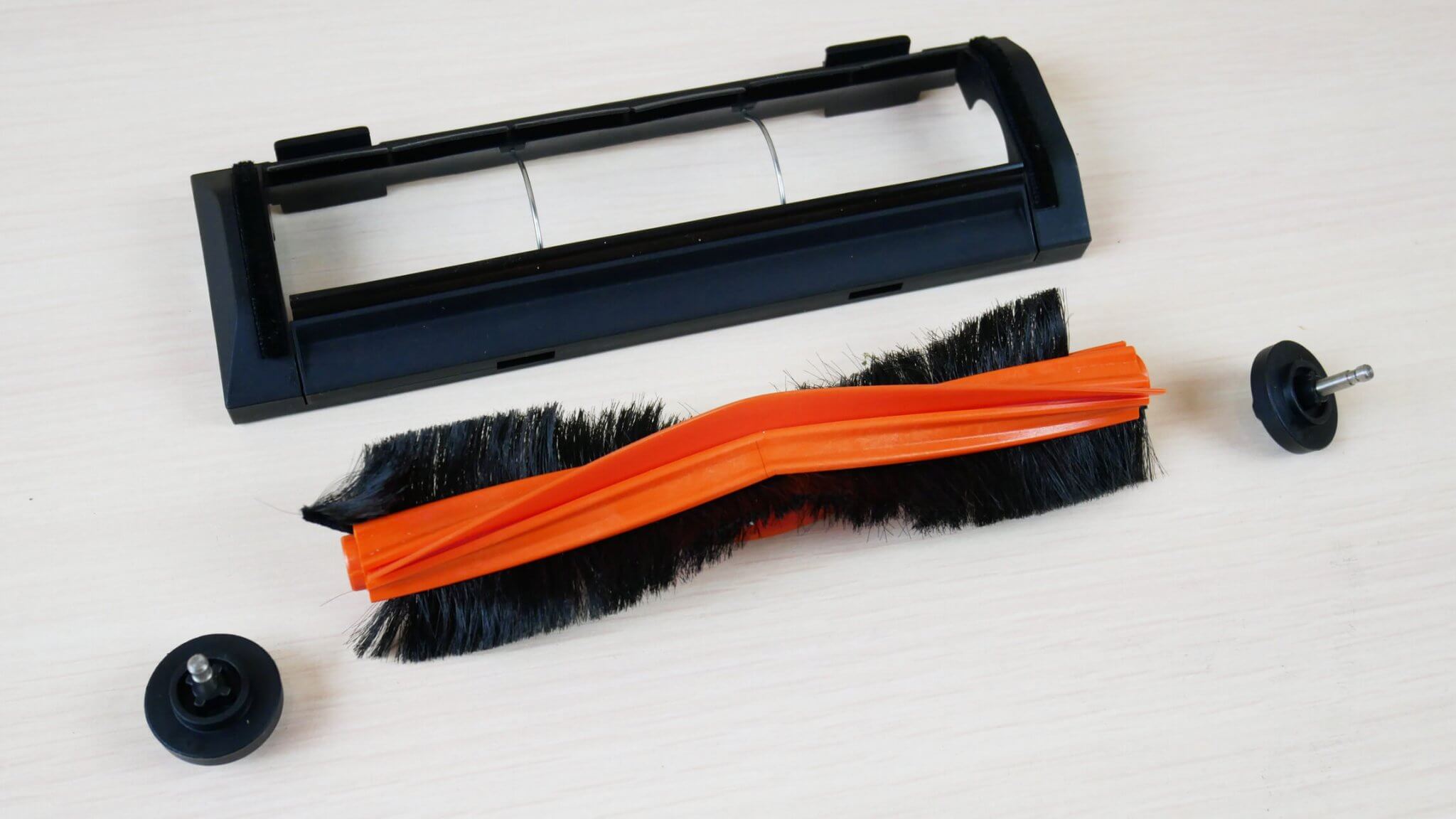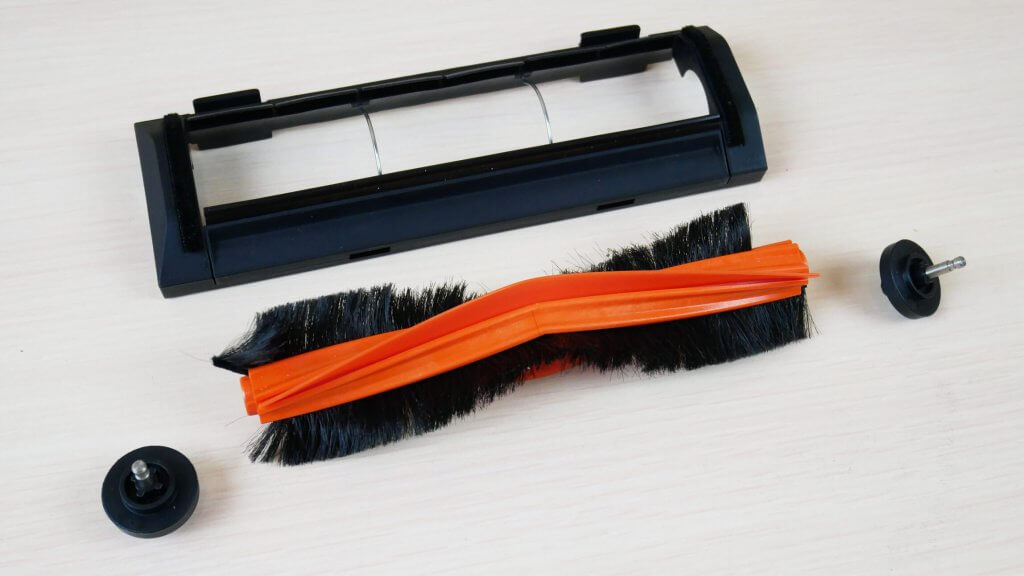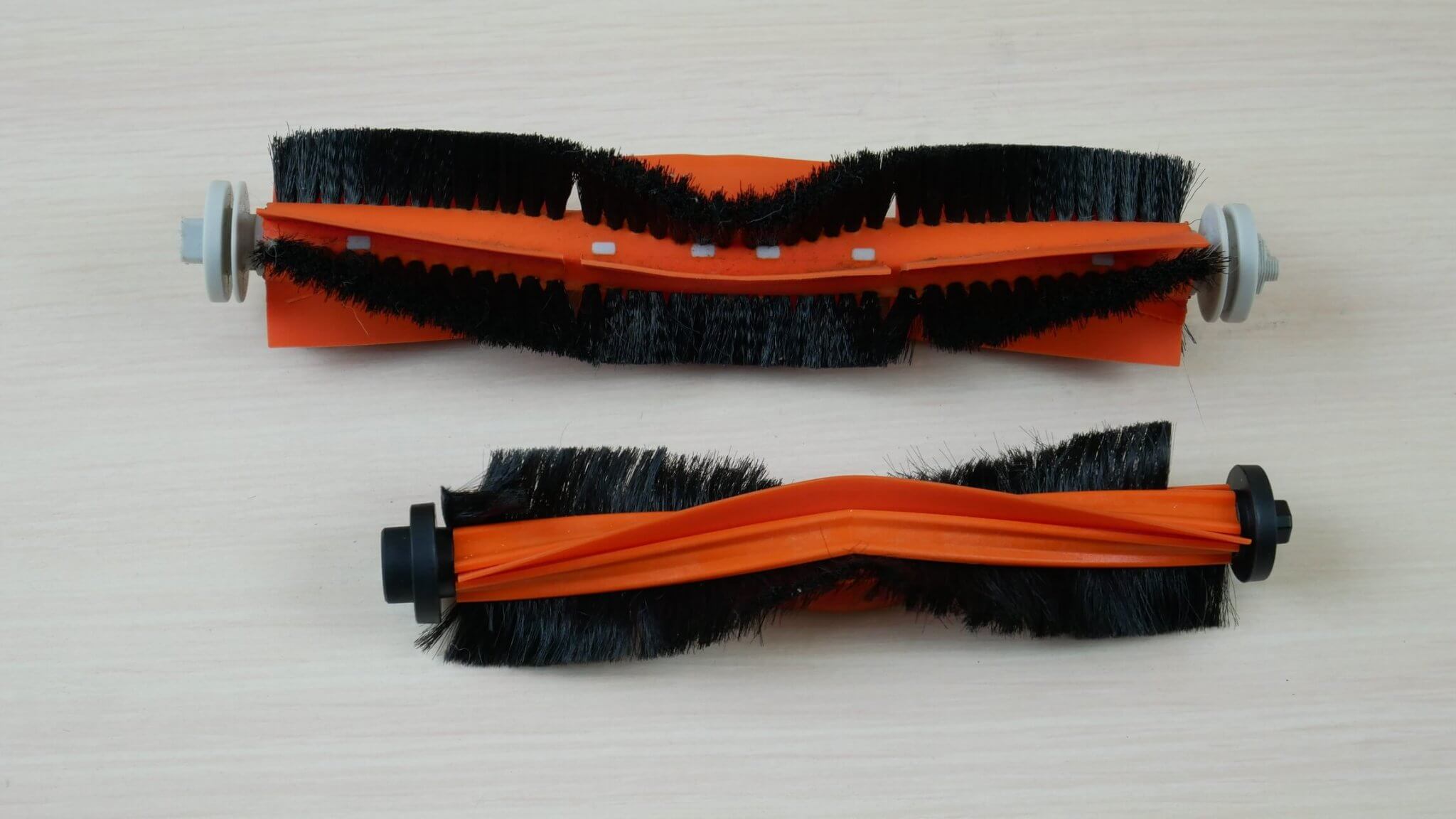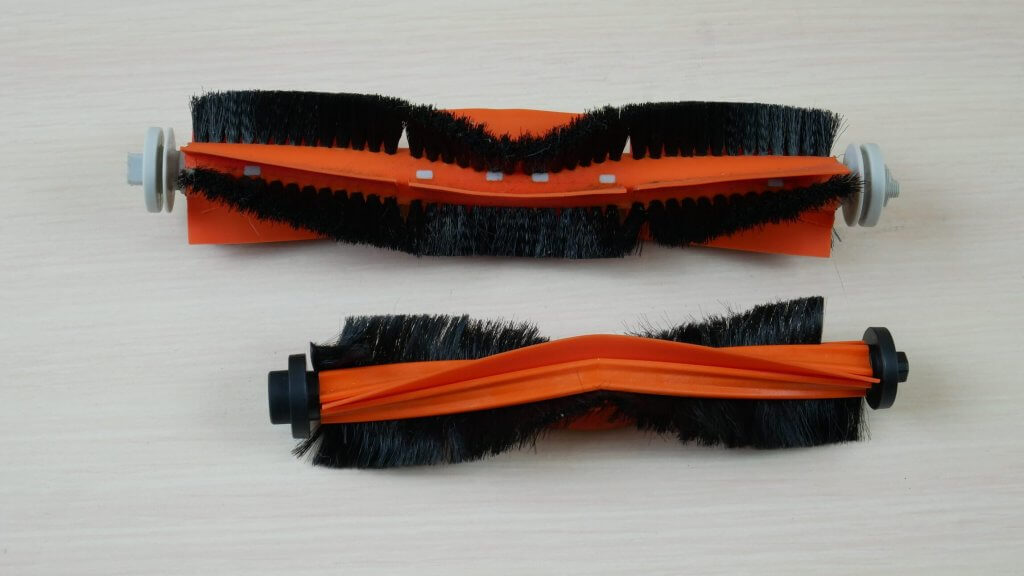 And note that above the central brush is a sensor, which helps orient the robot, and build the map better. Now that's a neat little detail. And the wheels themselves are of course smaller in diameter. Later, I'll definitely test, if this affects the off-road abilities of this robot vacuum cleaner.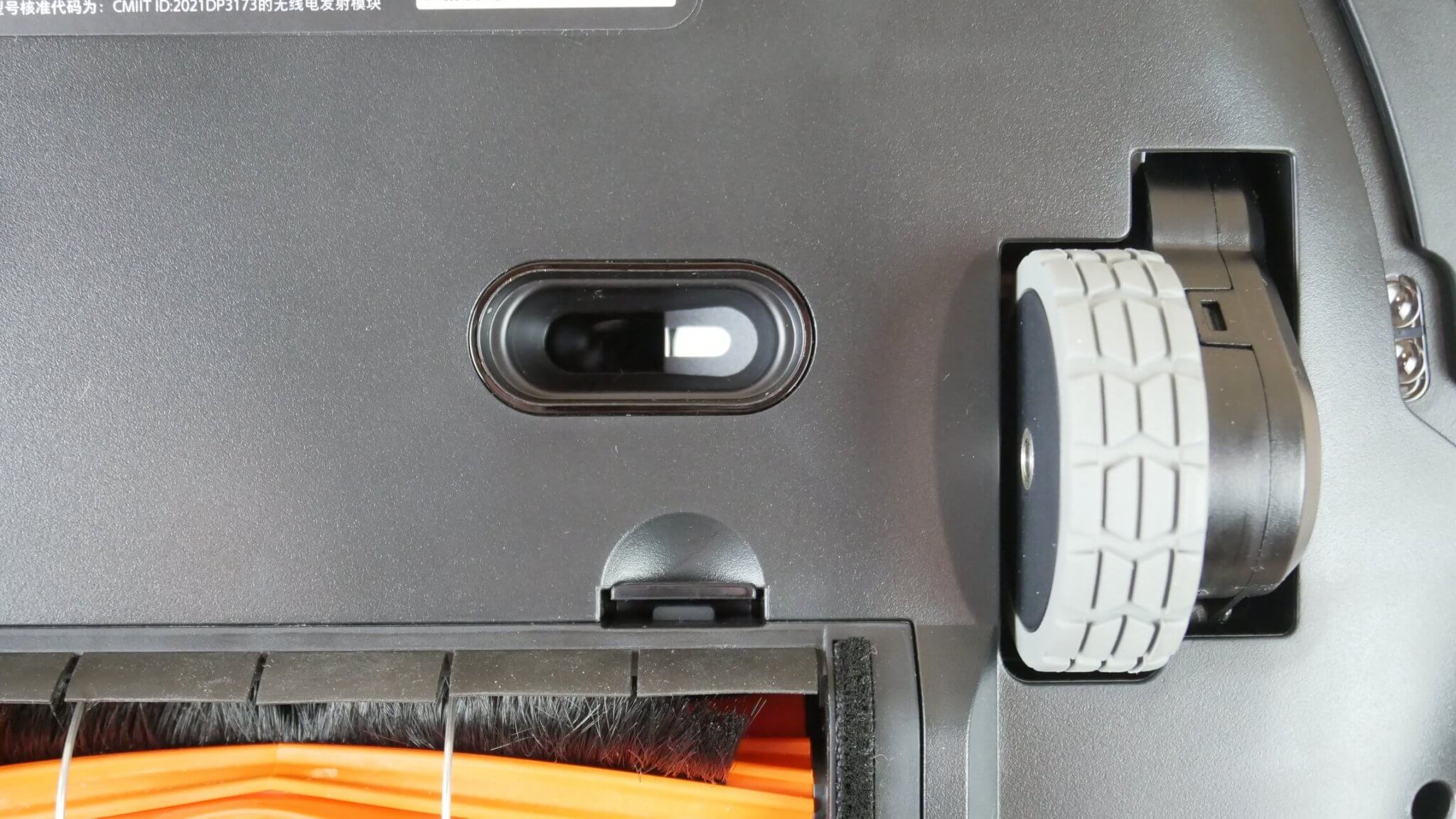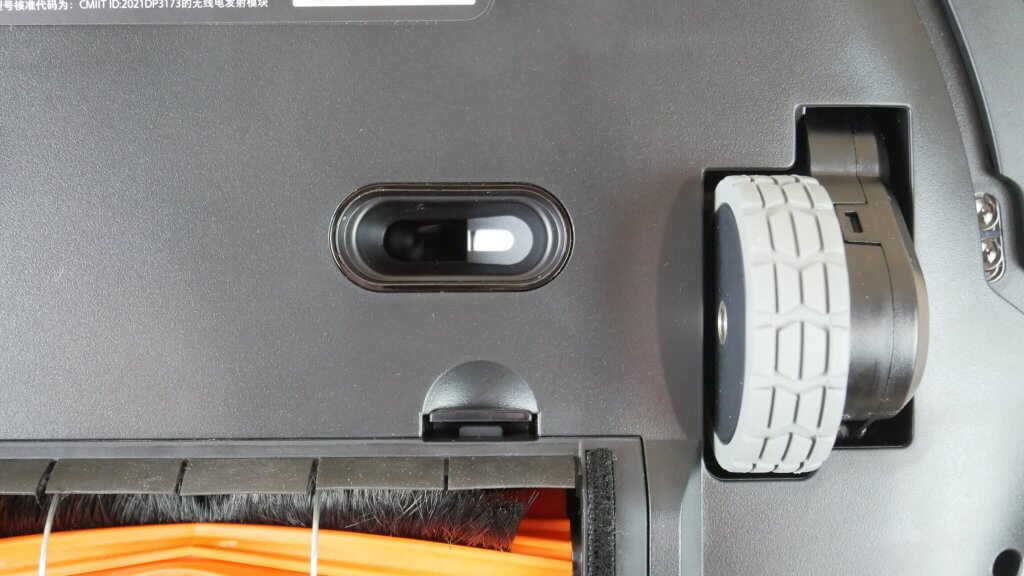 So, in general the assembly is average, which correlates with the price clearly.
Technical features
Xiaomi Mijia Ultra-Thin Robot Vacuum Cleaner's main characteristics, given by the manufacturer:
Battery Li-Ion 3200 mAh.
Suction power up to 2200 Pa.
Cleaning area up to 330 ft (100 sq.m).
Cleaning time up to 100 mins.
Dust container 17 Oz (500 ml).
Conjoined container 7.6+7 Oz (225+200 ml).
Obstacle size 0.79 inches (2 cm).
Size 12.7*2 inches (323*55 mm).
Functionality
Now let's review Xiaomi Mijia Ultra-Thin Robot Vacuum Cleaner's functions. For my review, I got a Chinese version, model stamped STYTJ04ZHM. So, this model connects to Chinese regions. But I didn't have any problems connecting, and the robot connected to my phone and Wi-Fi without any issues.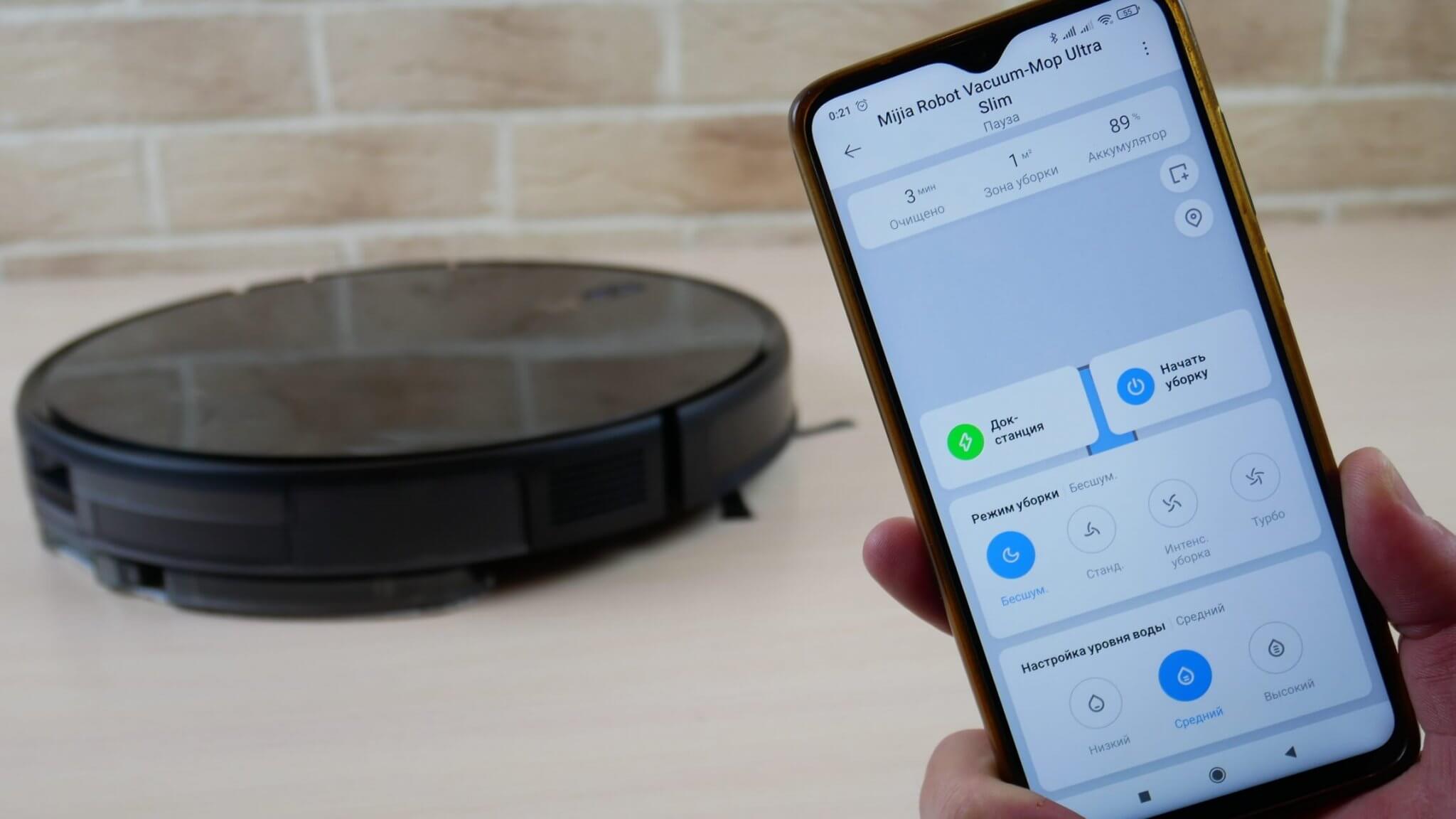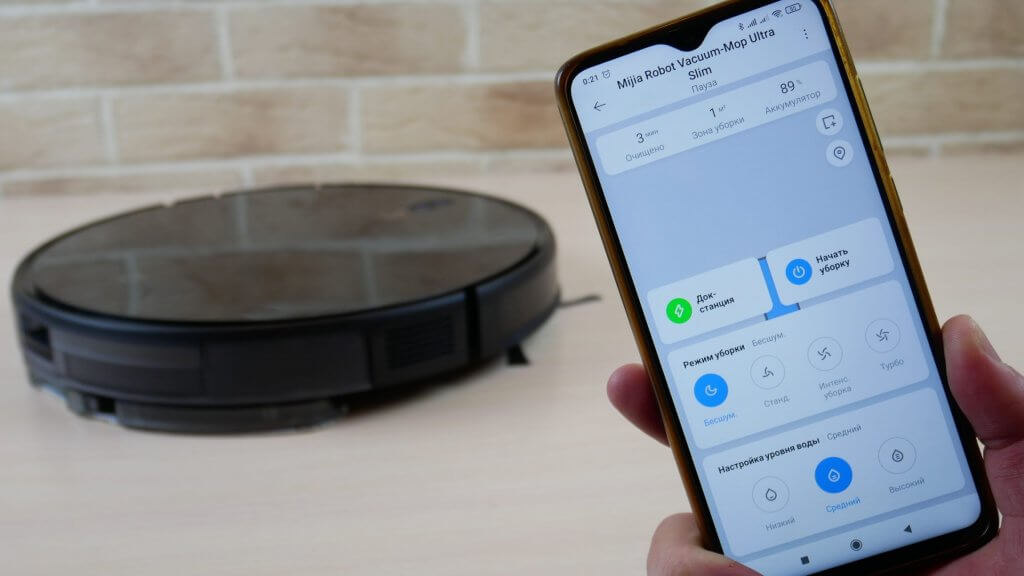 On the main control panel, the vacuum builds a map of the area and automatically zones it into rooms. If you swipe up you can see the menu, from which you can control the suction power and cloth wetness. Right of the map are 2 cleaning modes: in a select zone and locally. You can also choose the needed rooms for cleaning by pressing on them in the map.
In the settings module you can turn map saving mode, as well as set up a cleaning schedule, choose the time, days of the week, and suction power. Surprisingly, you can't choose individual rooms for cleaning. Bu you can enable for the robot to continue working after charging, set up do not disturb times, turn notifications on and off, chose one of two languages for the robot to speak in and control their volume.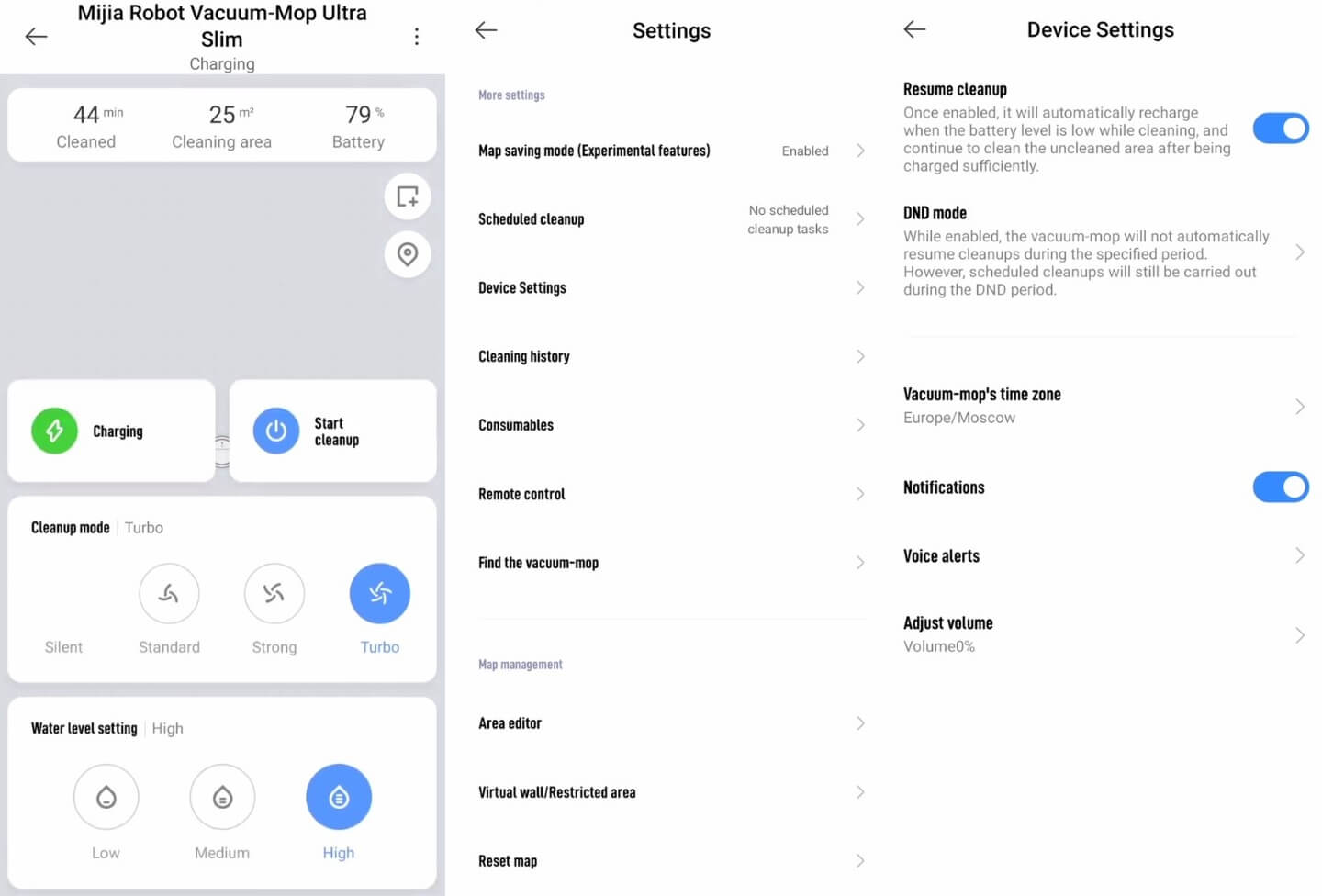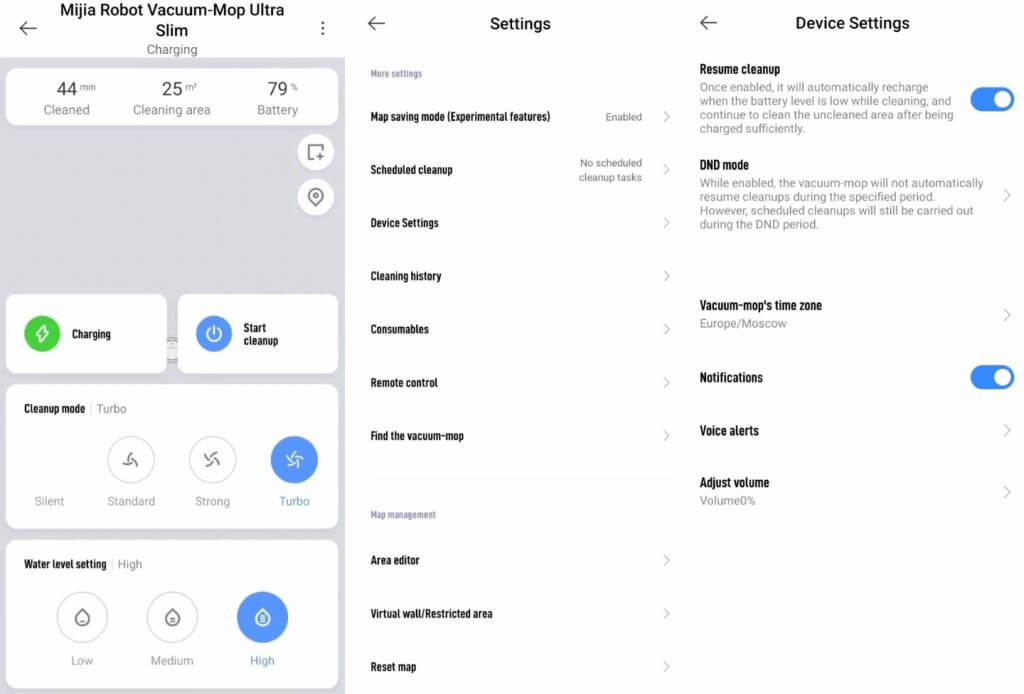 Besides that, you can see the reports of past cleans, check how much water you have left in your tank, manually control the robot, and turn on "find my robot". This is a clever feature, because who knows where your ultra-thin robot gets stuck, and with this mode, he'll be very easy to find.
In the map settings module you can change the room borders, name each room, and set up virtual walls and no-go zones. You can even set up individual no-go zones for mopping.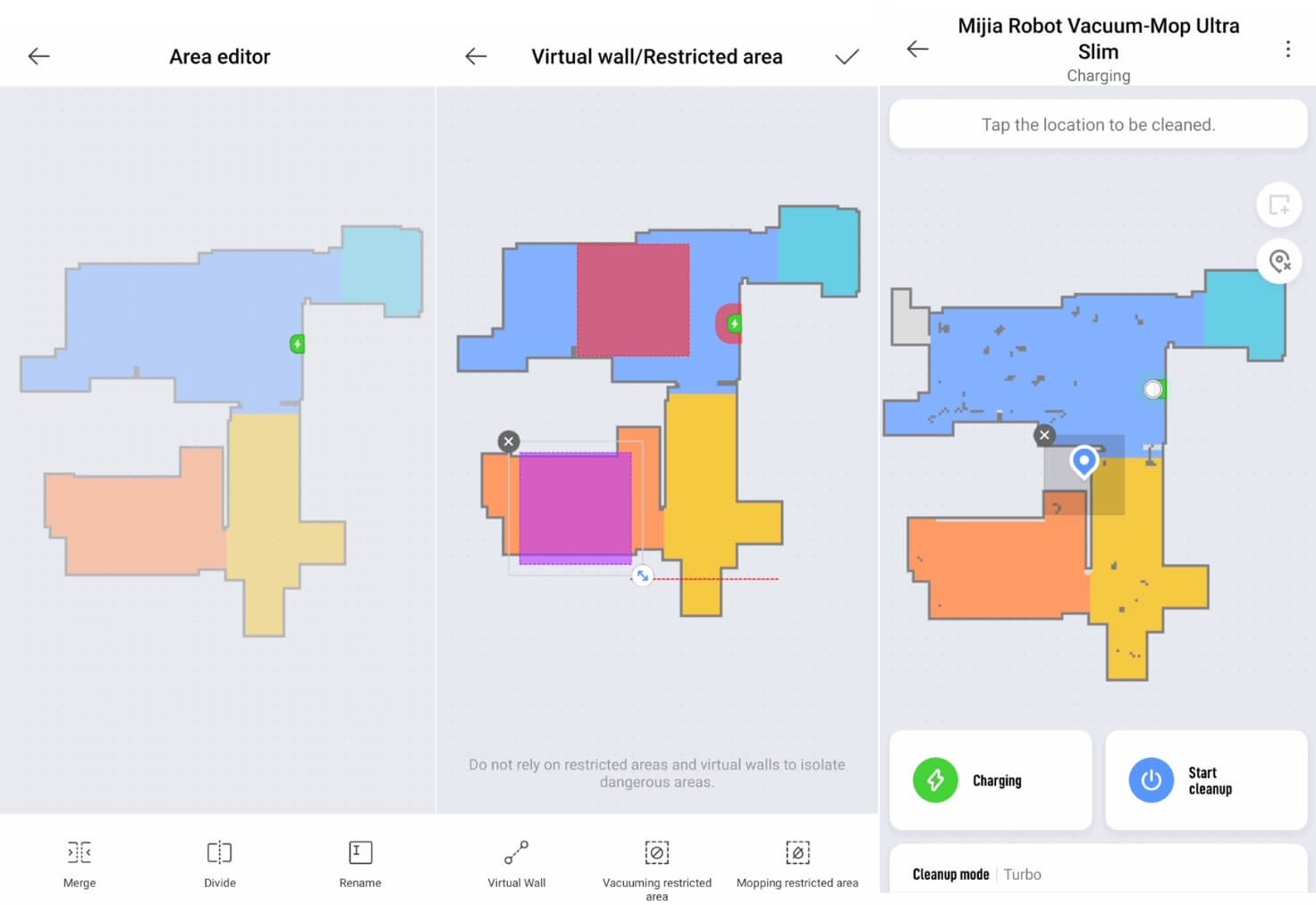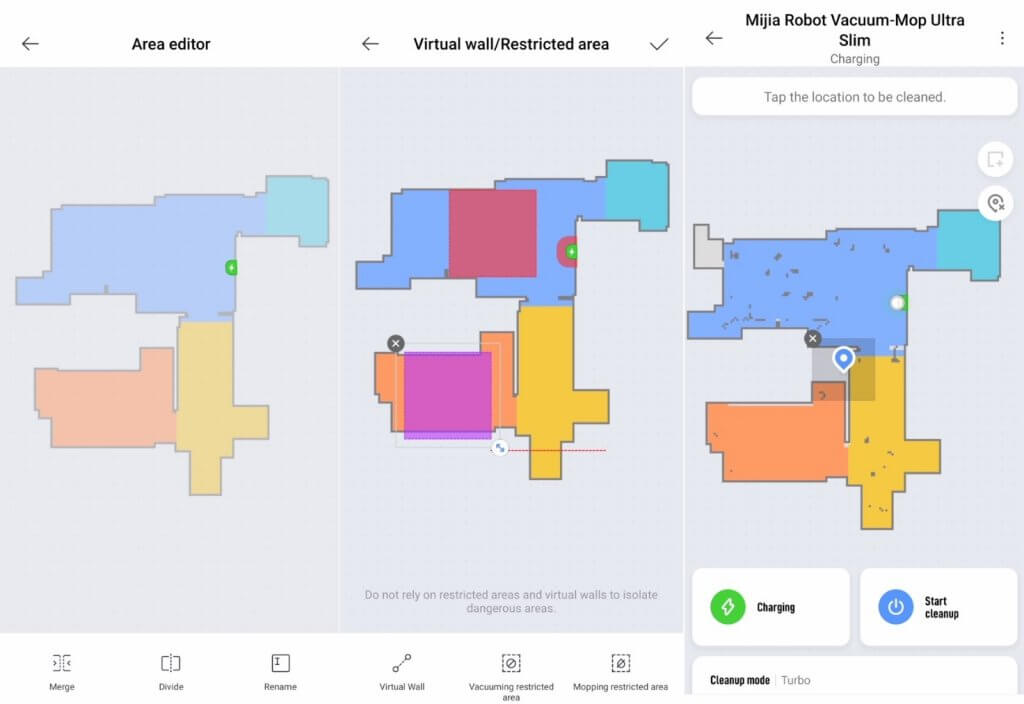 Additionally, you can change the robot's name, share your controls with other users, and update to the latest software. These are all of Xiaomi Mijia Ultra-Thin Robot Vacuum Cleaner's functions.
So, all of the main functions have been went over, though I do wish that there were carpet increasing functions, taking into account the weak battery, and choosing the needed rooms in your schedule. I just feel like this is not complete without them. Though I will give kudos to the fact that the app doesn't lag and works smoothly while operating on a Chinese server, so that's cool.
Testing
Navigation
And finally, it's time for testing. First, we just have to test Xiaomi Mijia Ultra-Thin Robot Vacuum Cleaner's navigation in a room with obstacles. It starts off by going in a snake like pattern, after which it goes around the perimeter, and returns to base. It didn't clean around the chair legs and box, but it didn't get stuck on the drying rack. It's safe to say that the navigation is average.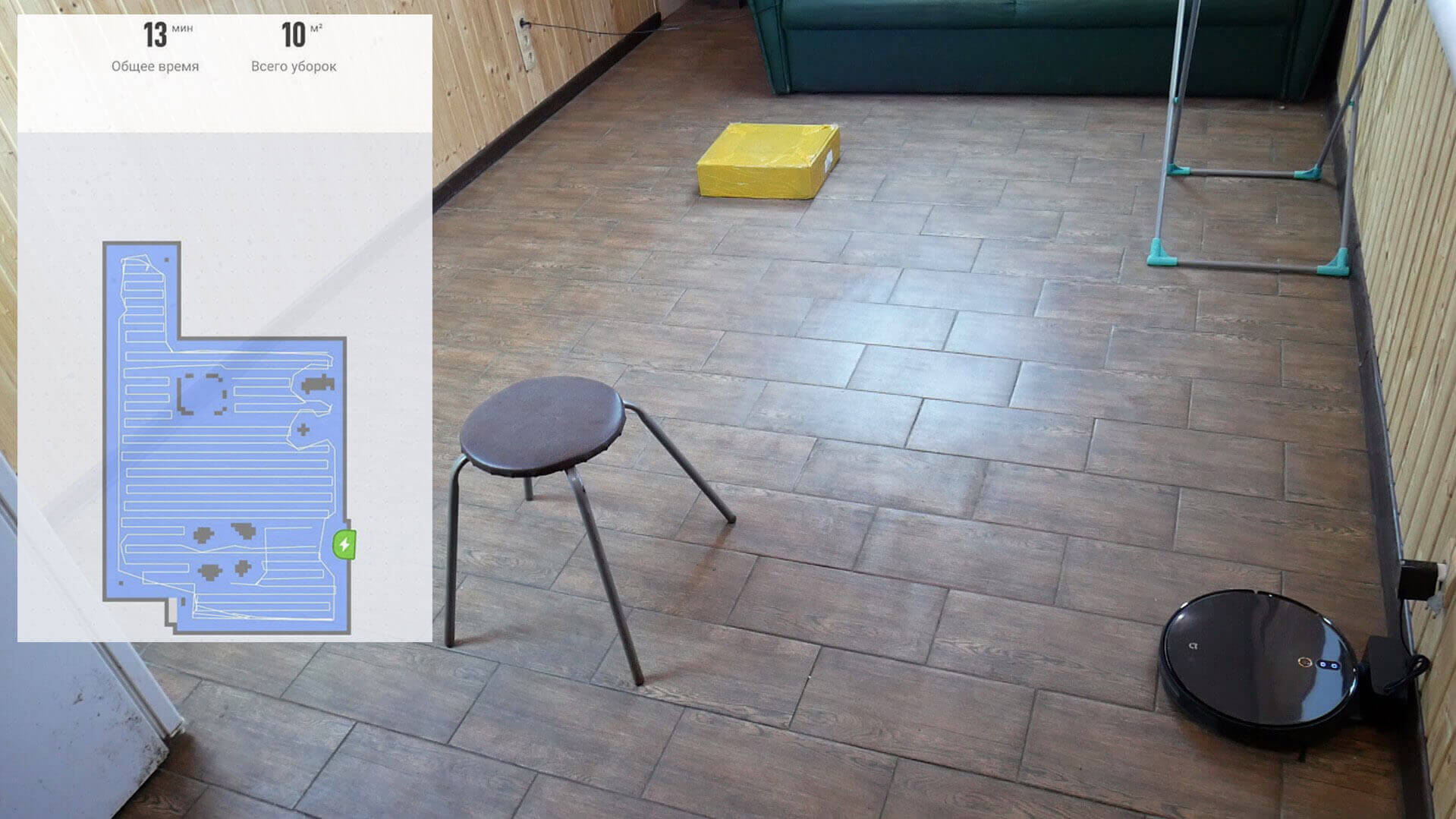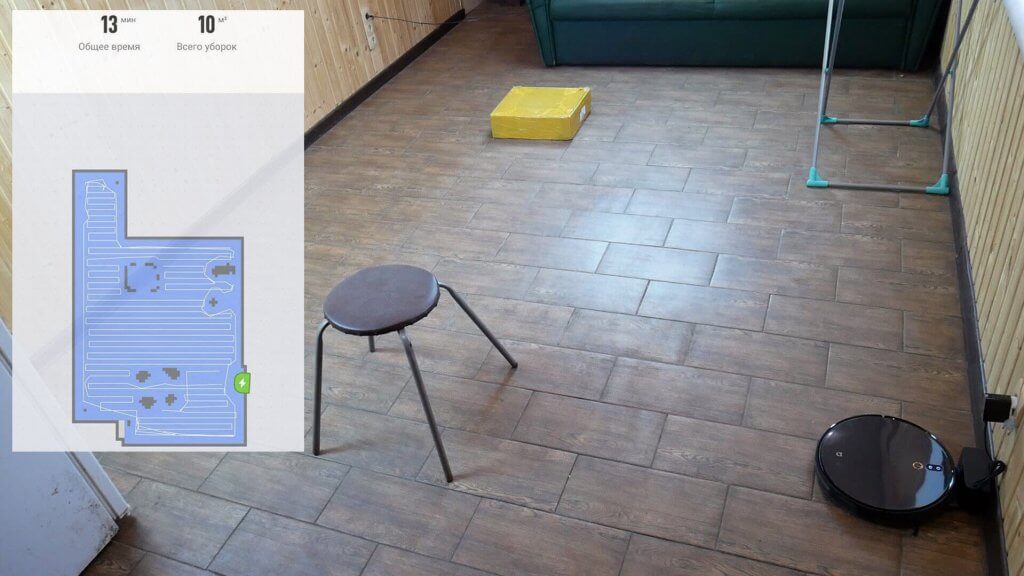 As for the navigation in the rest of the house, Xiaomi Mijia Ultra-Thin cleans room after room in a snake like pattern, then goes around the perimeter, and returns to base. As we can see, it has the same problem as Mijia 1T- the navigation doesn't work well on carpets and leaves uncleaned areas, even uncleaned rooms. Let me explain, one room had a carpet, and the robot recognizing it as an obstacle, decided not to go to it. And worse all- that you can't just turn off the navigation sensors, so it would work like a model without a ToF sensor on the bumper. This feature is present in Roborock, Dreame and Ecovacs. So, in total, the robot leaves uncleaned areas, which will be some points off.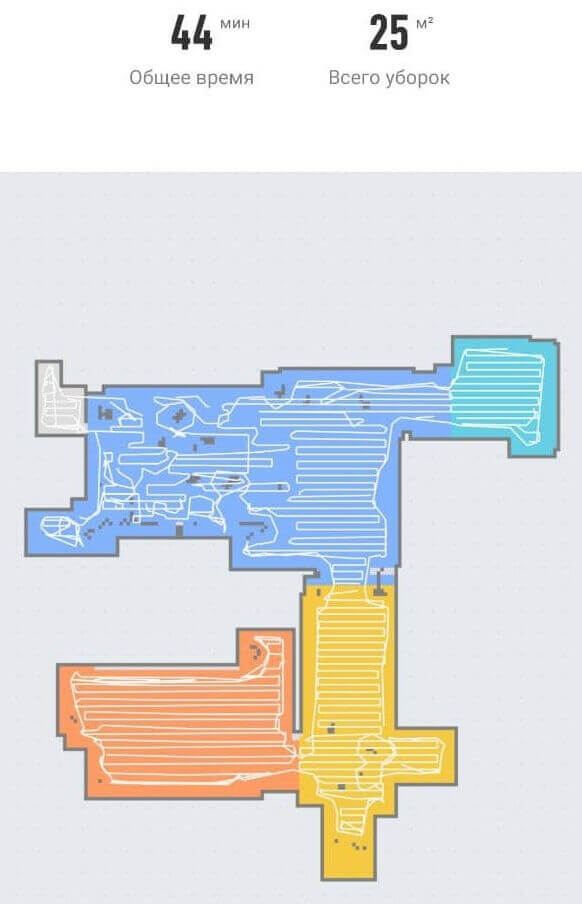 Obstacle avoidance
Additionally, I'll test how well the ToF sensor detects objects on the floor. For this test, I used some of the most common objects that may cause problems to this robot. So, Xiaomi Mijia Ultra-Thin pleasantly surprised me, it carefully went around all of the objects and easily returned to base.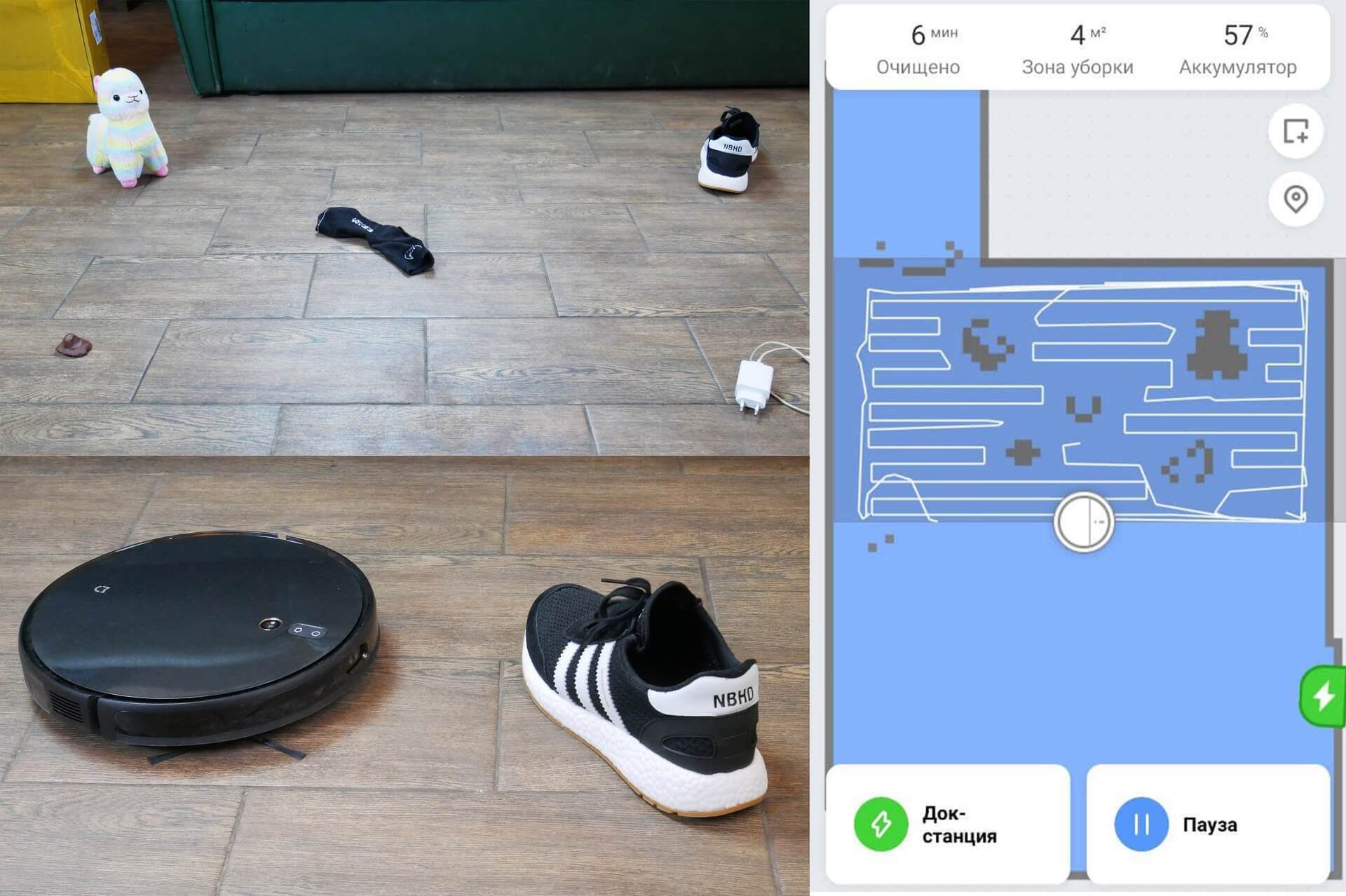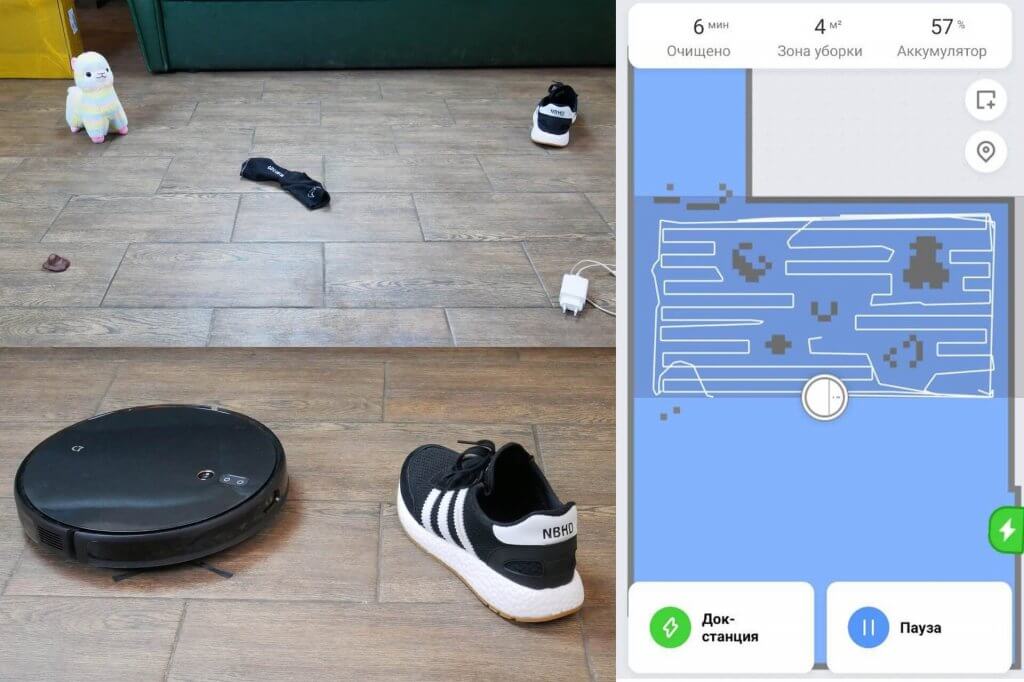 Though the detection system didn't mark them on the map, we can see that the robot did its main task pretty well. But note, that it's not always that the robot will do this good, it does go over objects sometimes. So, the detection system still needs improvements, but I can see clear progress.
Suction power
Oh, how I was surprised when while testing Xiaomi Mijia Ultra-Thin Robot Vacuum Cleaner could suck dirt out from 10 mm (.39-inch) holes, which is a challenge to other robots, who have 3000-4000 Pa. This isn't just a very thin, but a very powerful little robot vacuum-cleaner!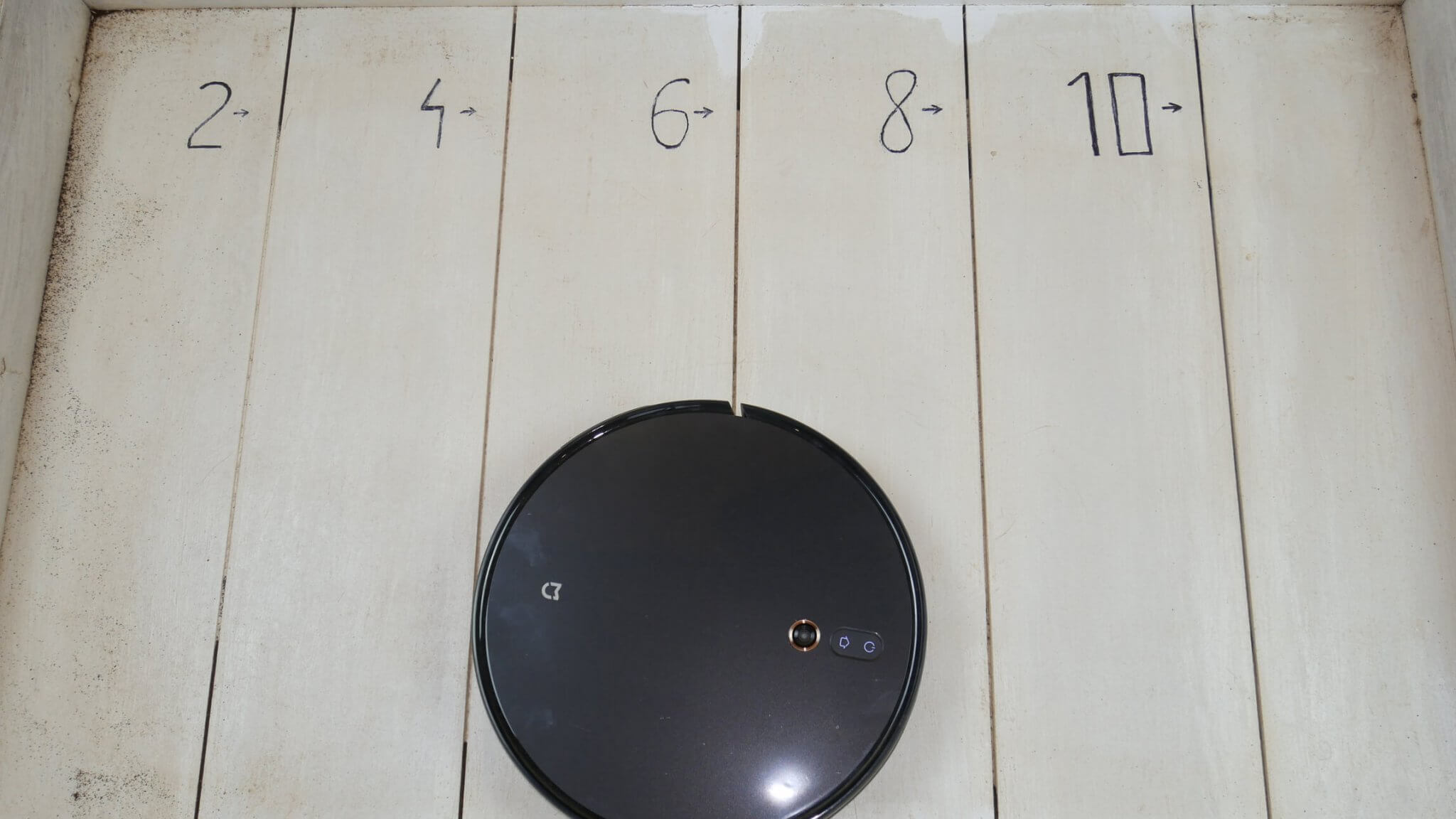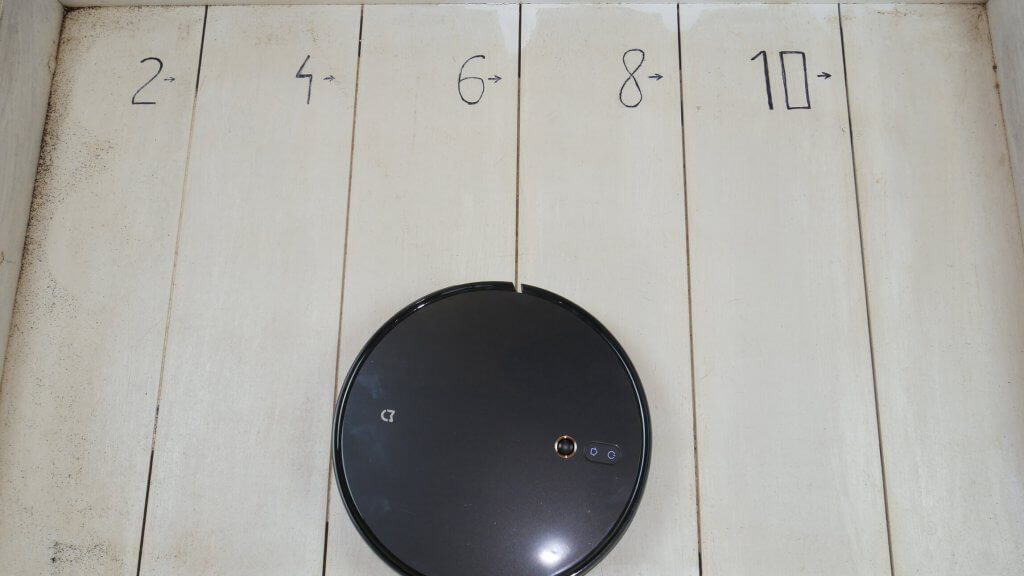 Hard floor vacuuming
The hard floor cleaning quality isn't spectacular, but above average indeed. Only the corners are left uncleaned, and some dirt is left at the site, which the robot tossed around with the brush. Some hair and fur are stuck on the brush, but most of the dirt is collected in the container. So, Test passed!


Carpet cleaning
And the carpet cleaning itself is actually pretty average. The robot collected most of the dirt, but it's still not visibly perfect. Though I will say that this problem is common amongst Mijia vacuums. They are usually the best at hard floors and low carpets. And also, the lack of an increasing power on carpet feature also takes a toll on the overall performance.


Wet cleaning
The scrubbing quality is less than average. The cloth isn't well pushed to the floor and doesn't suck up the dirt well, so we can see, so after the robot finishes its cycle we can see that there is a lot of dirt and water marks left. This test was failed.


Though for everyday use and dust cleaning, this robot does just fine. Plus, the robot simultaneously vacuums and mops the floor!
Passage of obstacles
And wow, Xiaomi Mijia Ultra-Thin Robot Vacuum moves over 2 cm (.79-inch) obstacles, seeing as the wheels and shell are smaller. This robot is perfect for off road surfaces.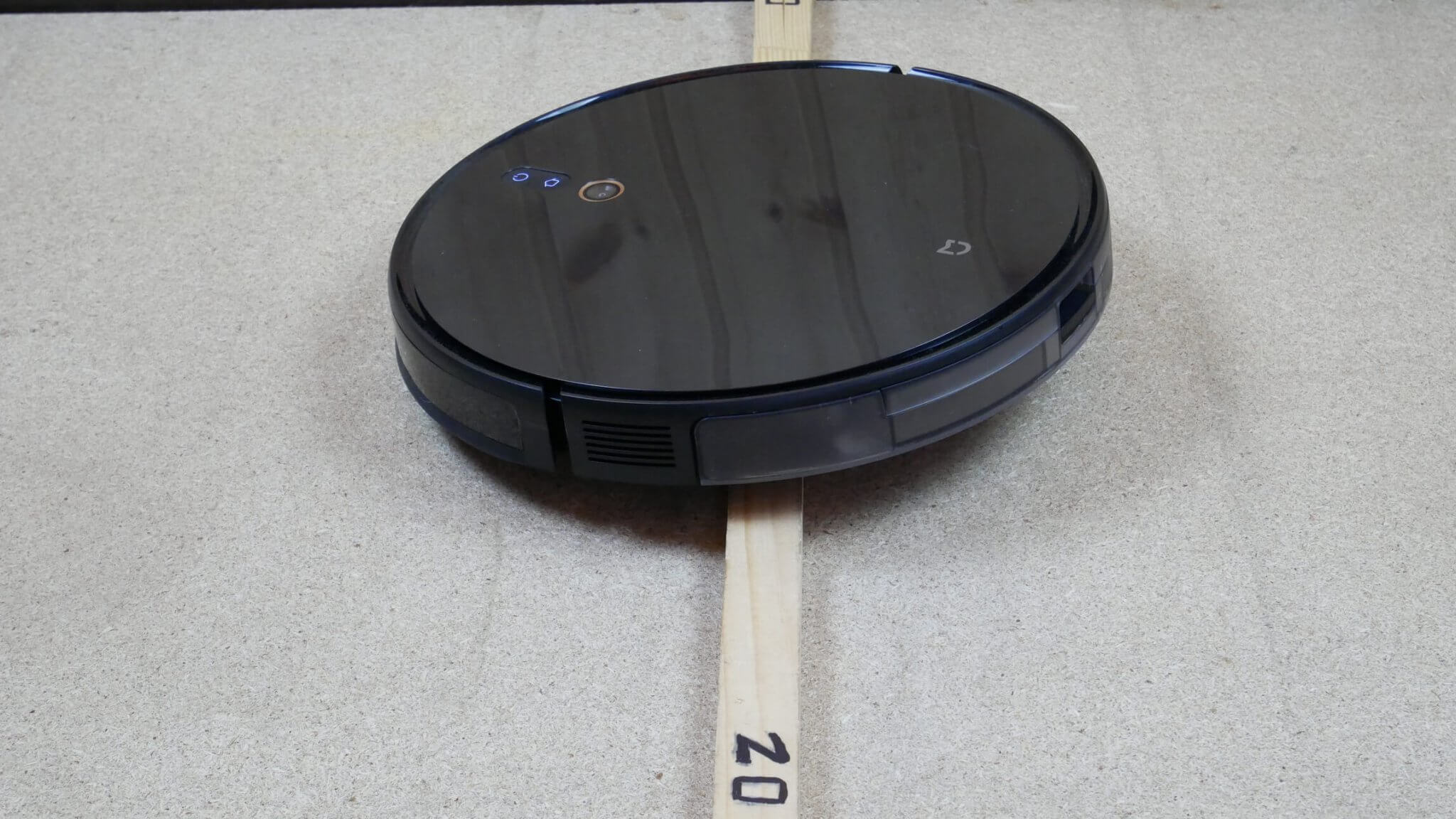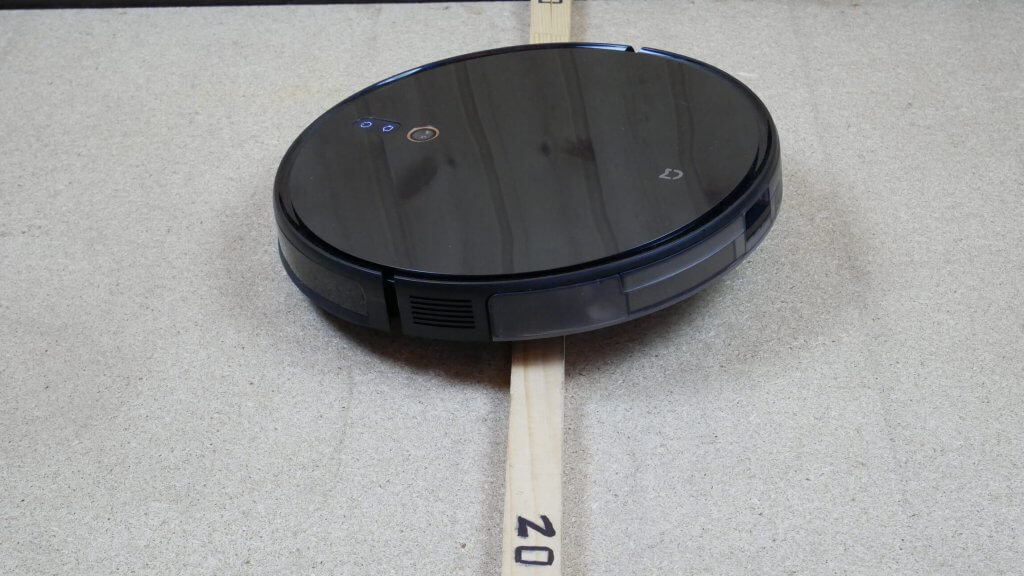 Passage of dark surfaces
And here's another benefit- Xiaomi Mijia Ultra-Thin isn't scared of dark surfaces, and smoothly drives on them, unlike most competitors.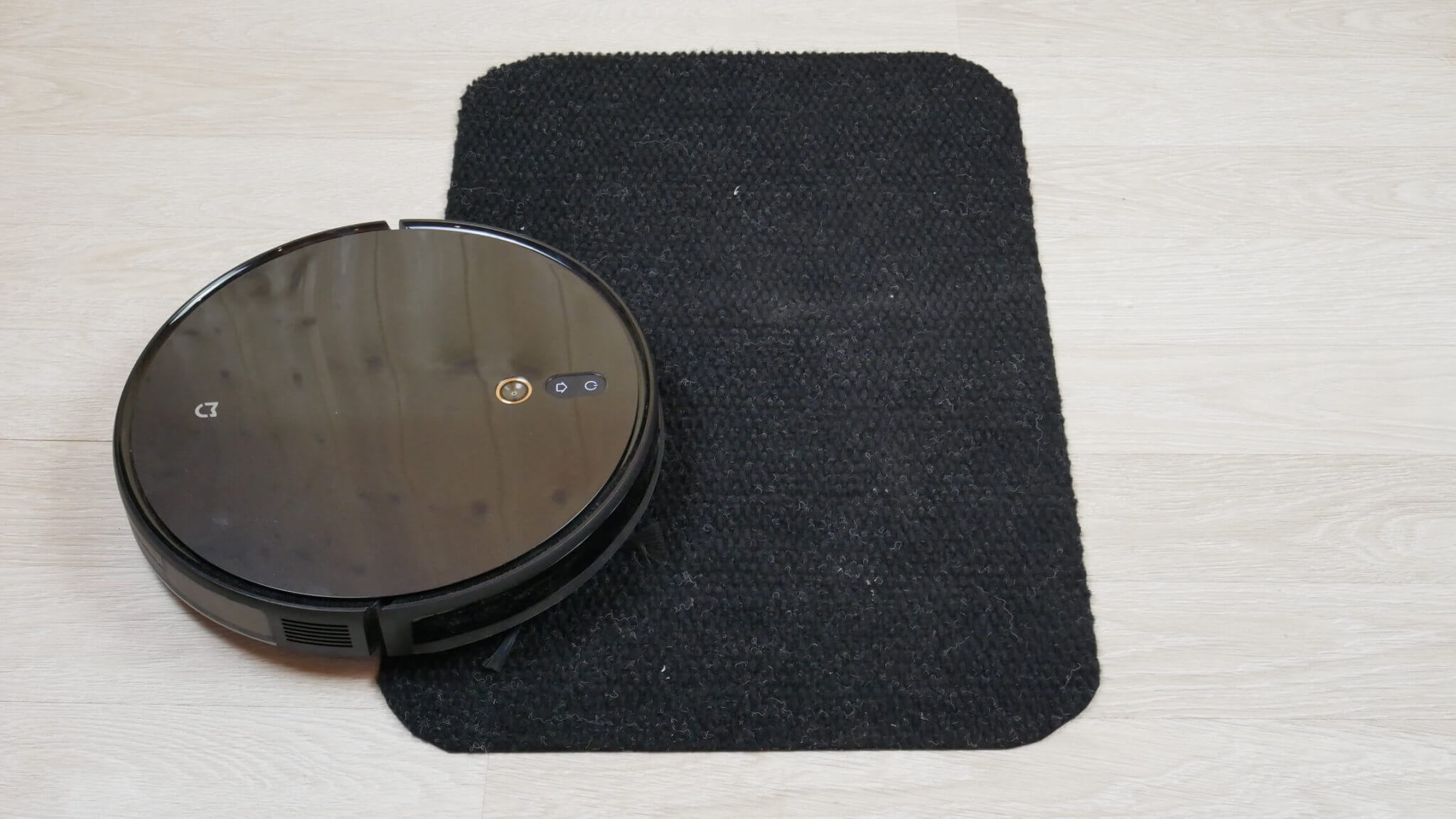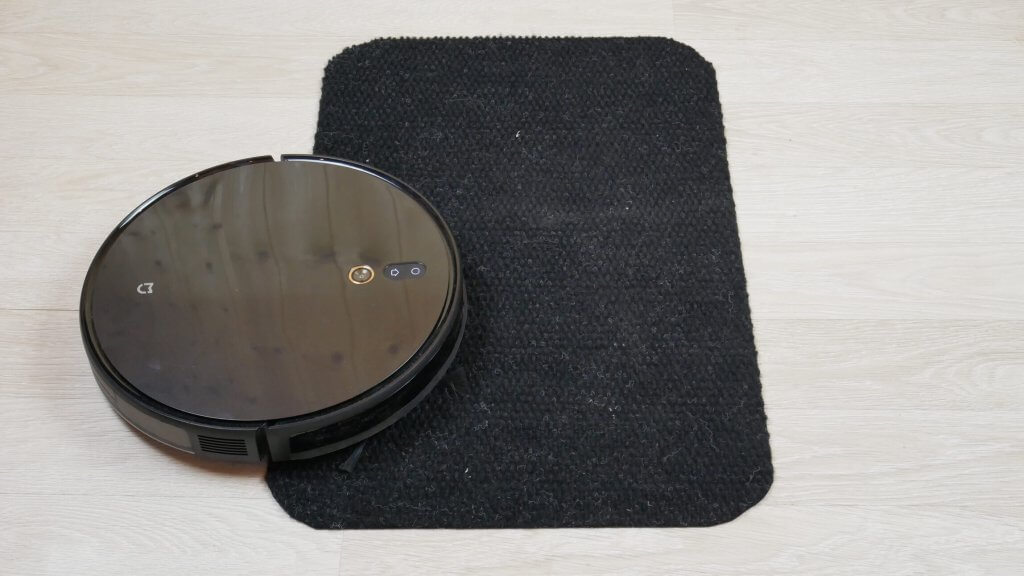 Noise level
Lastly, let's check the vacuum's volume in different modes. In quite mode it goes from 60 to 62 db. On medium it goes to 64 db, in intensive cleaning mode it reaches 67 db, and on max it goes all the way up to 72 db. So, this robot is oud, but that can be explained by the high suction power.
Summing up
Xiaomi Mijia Ultra-Thin Robot Vacuum Cleaner was thoroughly reviewed and tested. Our algorithm gave it a 66 out of 100, which is a great score for camera operating vacuums. This is just 1 point less than the best Xiaomi vacuum under $300 – the Dreame F9.
The overall rating of models that passed the Robotobzor test https://robotobzor.com/ratings/general-rating-of-robot-vacuum-cleaners.html.
Now I'll share my opinion on the benefits and problems that this robot has. I liked the following:
It definitely has a thin shell.
The cameras are good, thanks to which the vacuum builds a good map of the area and saves it.
Object detection feature.
High suction power.
Simultaneous vacuuming and mopping.
Big dust container.
All of the functions in the app that work well even on a Chinese server.
Good off-road.
Isn't scared of dark surfaces.
As for the problems, these are:
Not great at cleaning carpets.
Bad at scrubbing off dirt.
Object detection system doesn't work correctly on carpets.
You can't choose individual rooms when setting up your cleaning schedule.
All in all, it's pretty clear that Xiaomi Mijia Ultra-Thin Robot Vacuum Cleaner – is the best slim robot vacuum cleaner in 2022. All the competitors are worse in navigation, functions, assembly, or cleaning quality. The engineers over at Xiaomi defiantly outdid themselves with fitting everything a vacuum needs into such a thin shell. So, I think that tis vacuum deserves your attention, especially if you have low furniture, where dust and dirt get under. Xiaomi Mijia Ultra-Thin does a great job with its main task at hand, if you don't have high carpets or carpets at all, which is the biggest problem for me, as it's not good at cleaning carpets, if it will even go on them.
On this note I would like to end the review. If you have any further questions, make sure to ask them in the comments below. Bye guys, and have fun shopping!