Hey everyone! Welcome to Robotobzor! Today I finally got my hands one of the best Xiaomi robot vacuum cleaners under 300$. That the Dreame F9. I got lucky and bought the robot for 200$, but the actual price is 250$. Later, I'll test Dreame F9, and tell you if you should or shouldn't buy it. Don't forget to like and subscribe to keep updated with our latest posts. So, let's get started!
Package
First of all, let's look at what's included. Dreame F9 came in this cool box: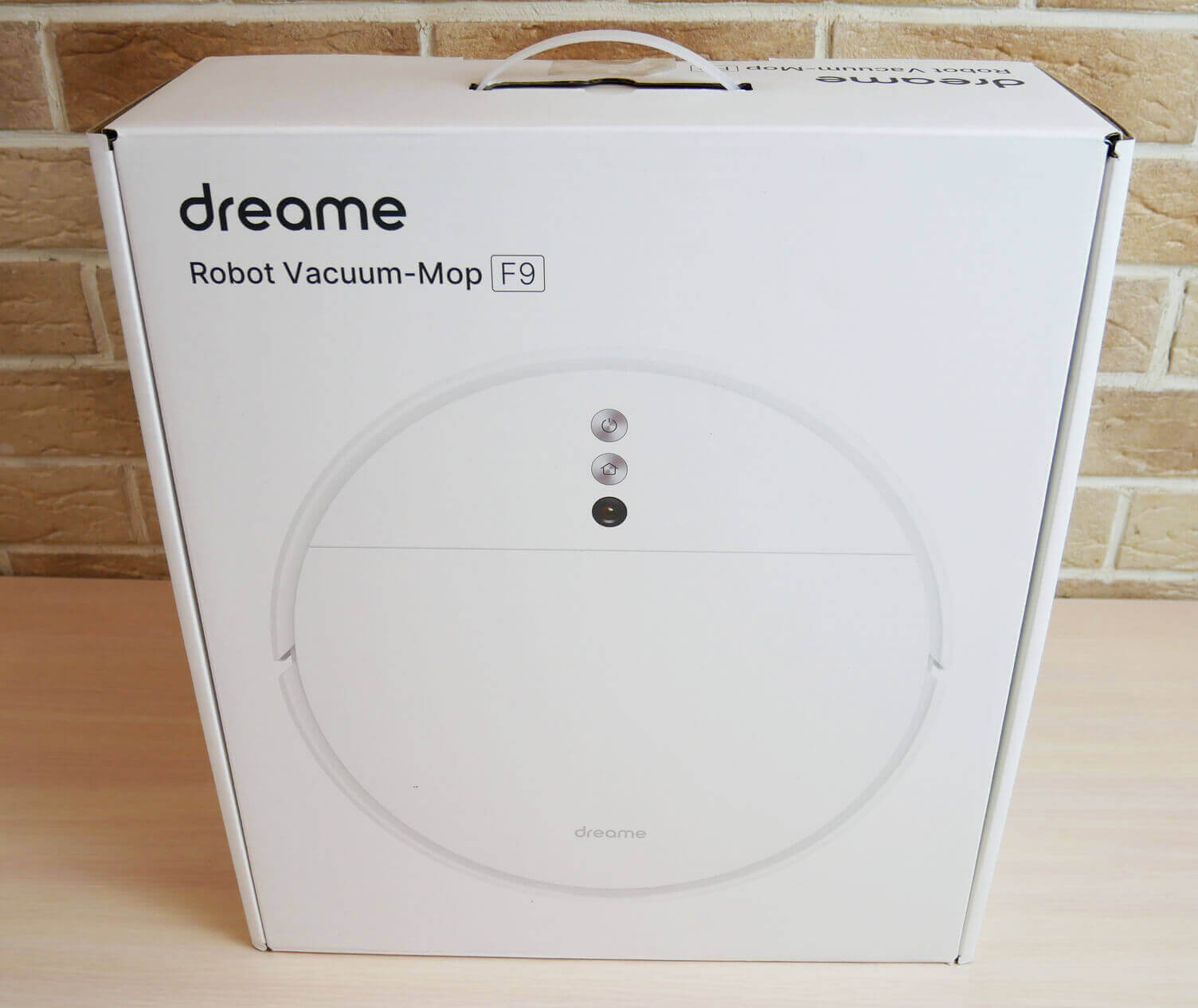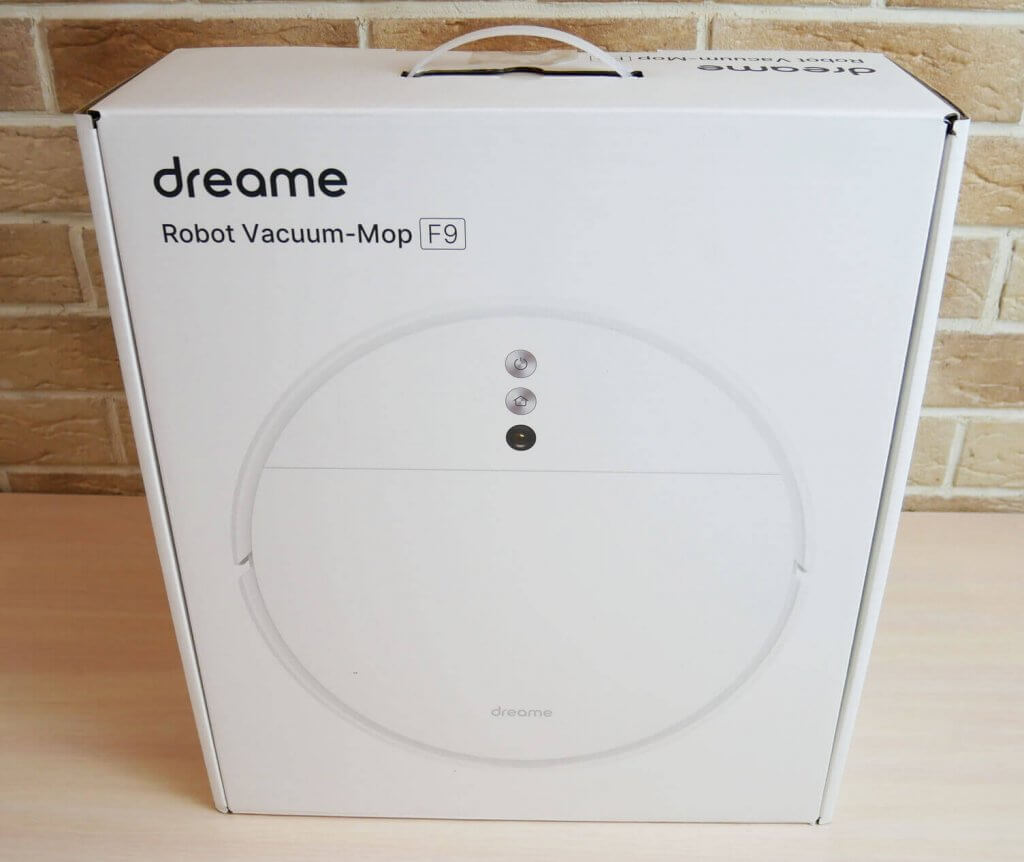 Besides the robot we got:
The base.
A charger.
A microfiber cloth for mopping
The manual written in several languages.
And the instructions for fast start.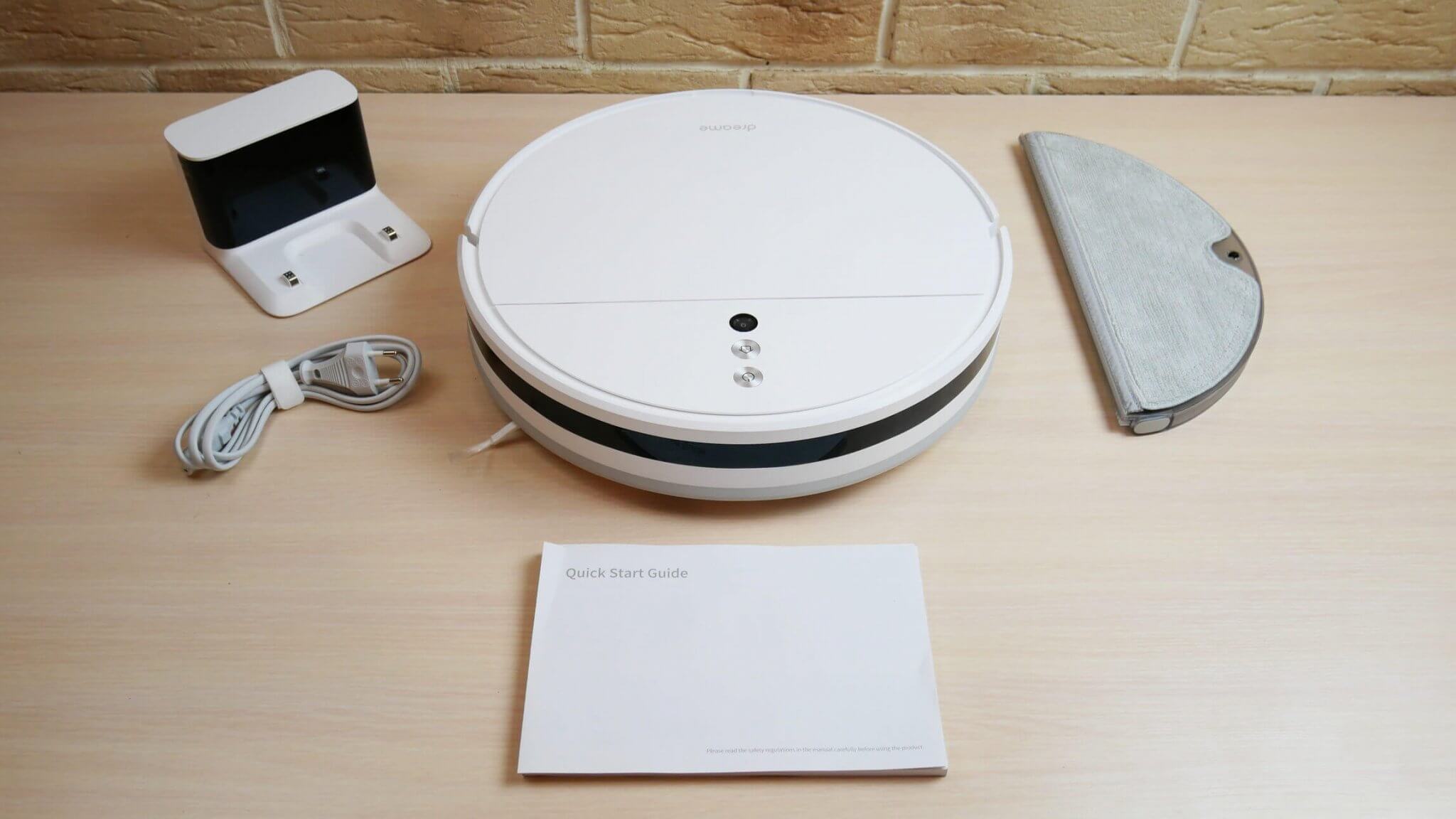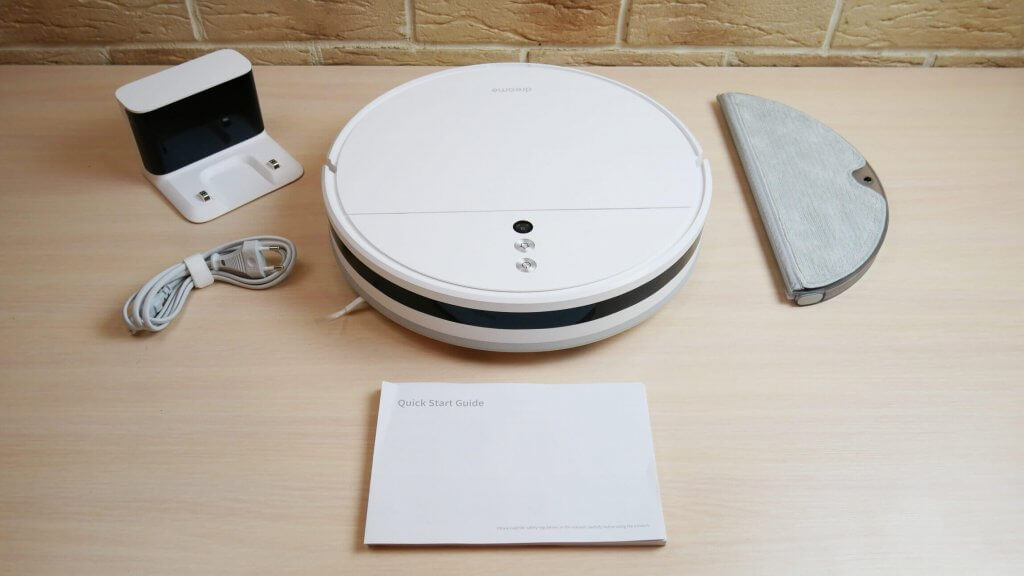 This box as usual doesn't include extra parts, so I recommend get an extra HEPA-filter. Or better yet a rookie kit for your first launch.
Design
Now let's take a look at the robot's exterior Dreame F9. Its white and round, like most other vacuums.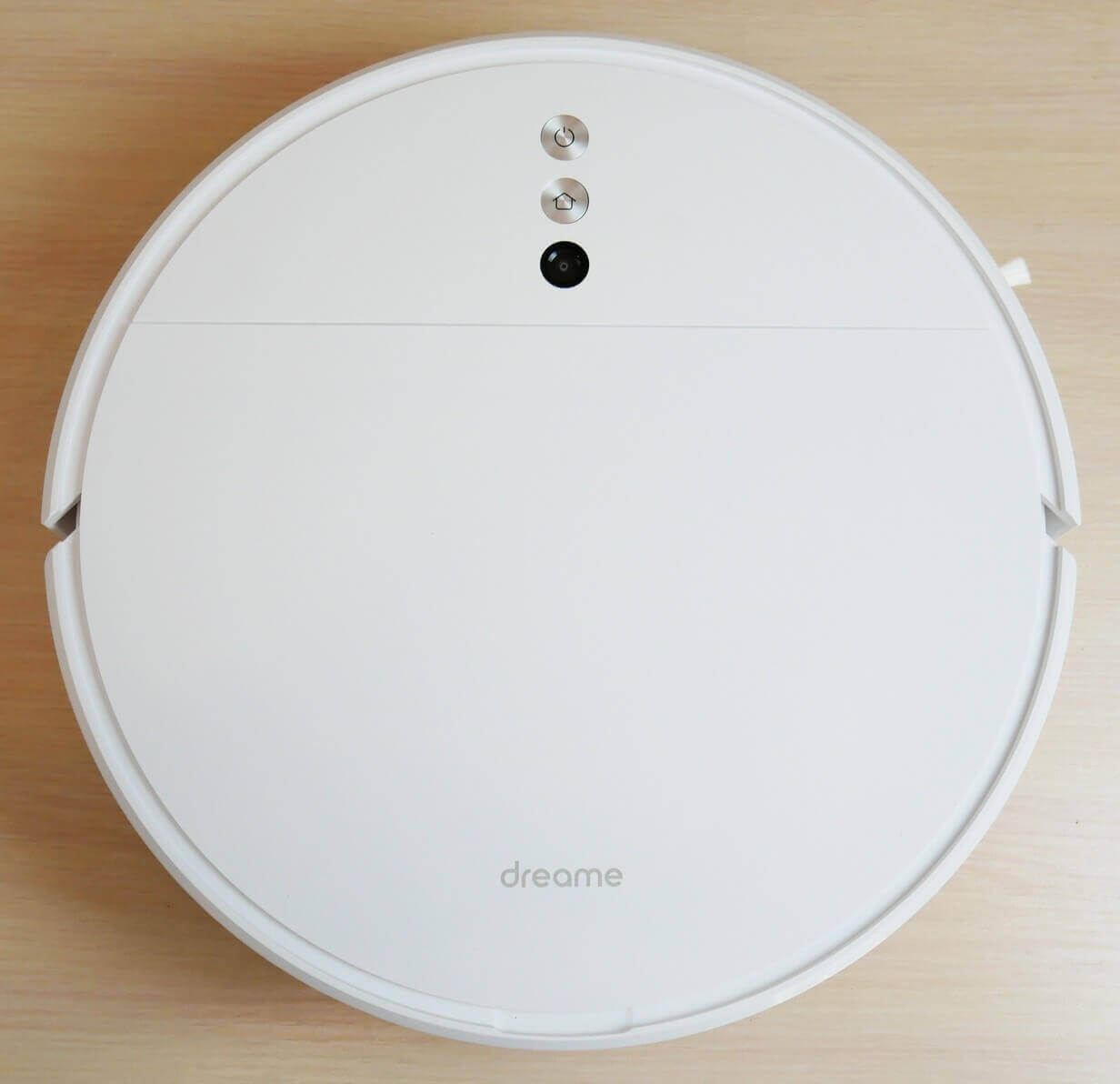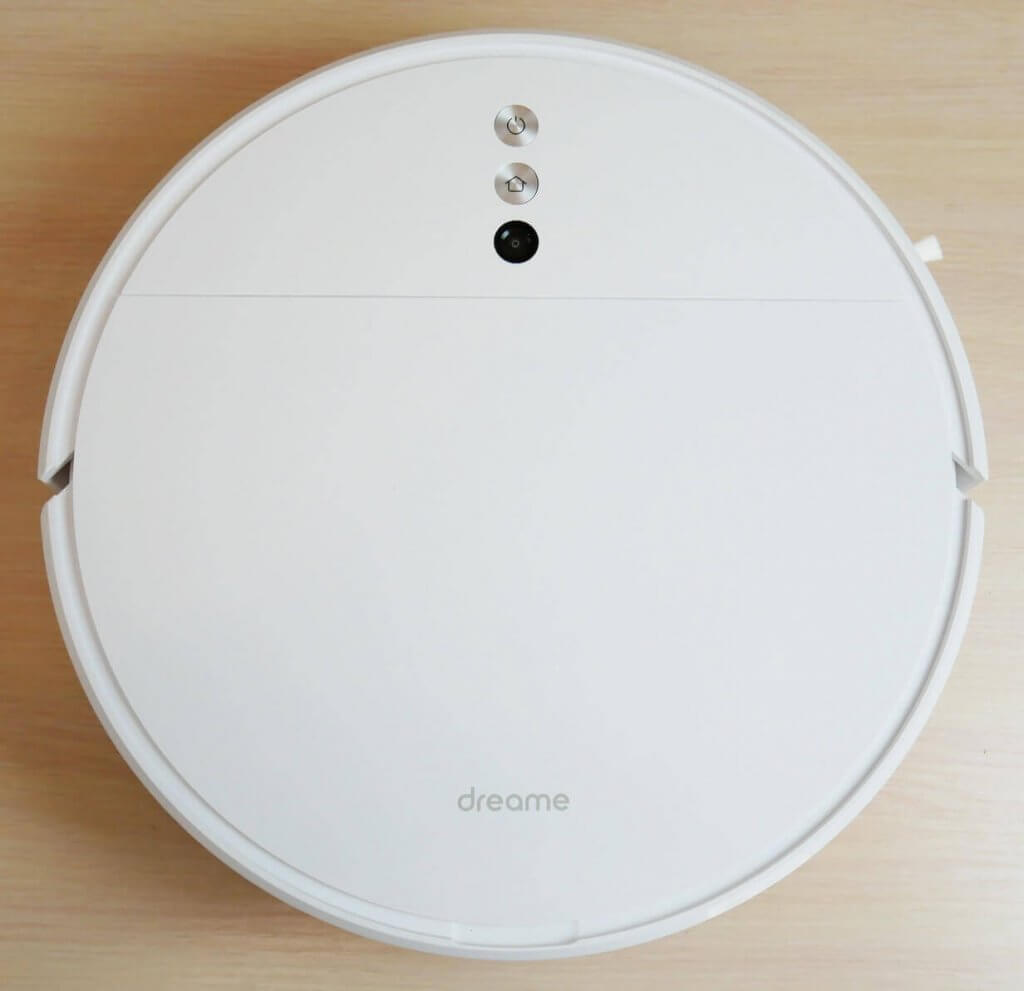 This robot actually looks exactly like the popular Mijia 1C, which will soon be tested in our upcoming video. The vacuum's height is only 8 cm (3 inches), so it's great for going under furniture, unlike other vacuums.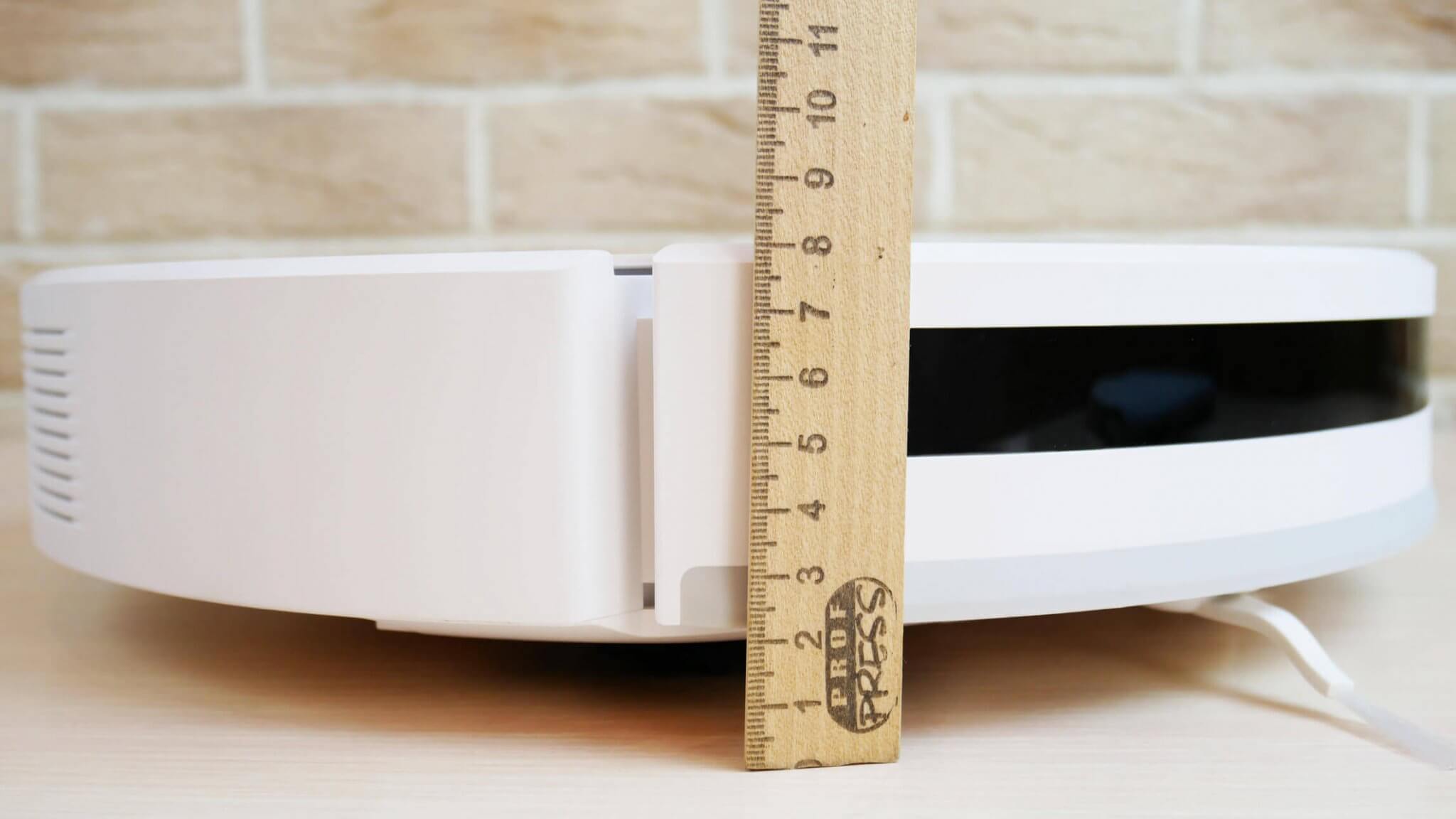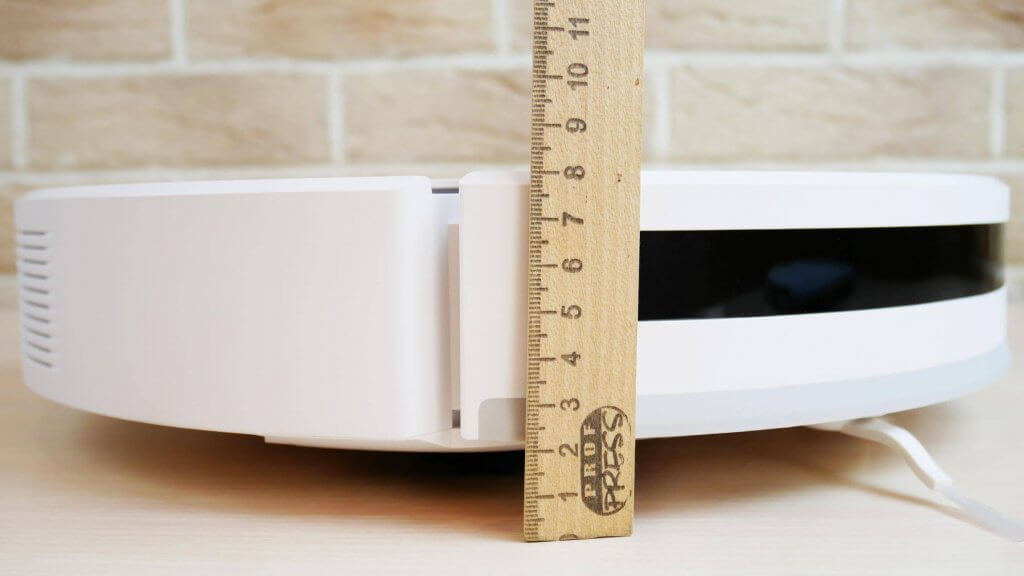 On the front end there is a bumper to protect the robot and furniture. There are 2 push buttons on the control panel: stop/pause and return to base. Next to it is the main navigation feature – the camera, thanks to which the robot can navigate by itself and build a map for later use.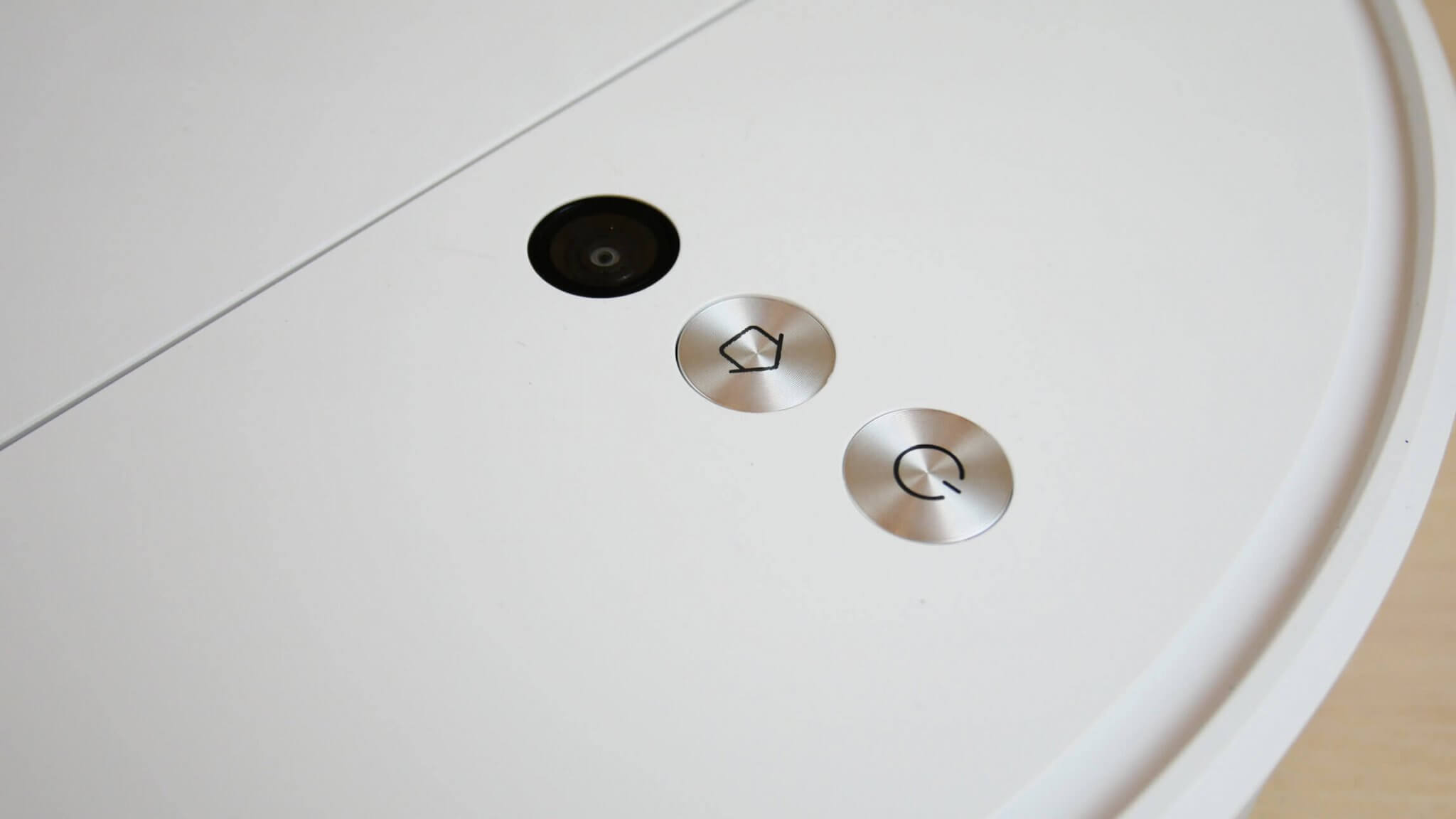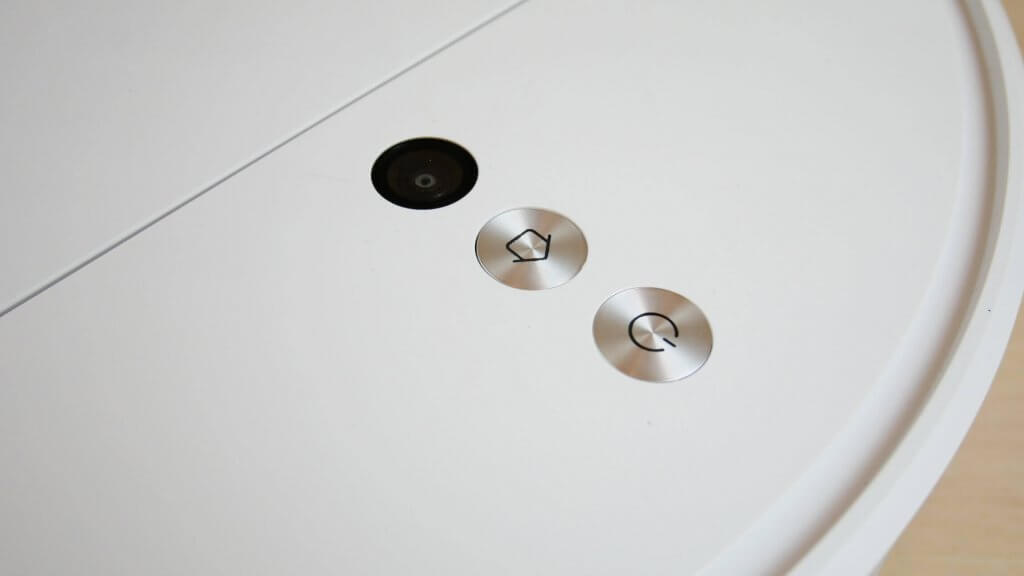 Under the main cap you will find the dustbin. You can easily take it off to empty the dirt. The container is pretty big and fits up to 600 ml (20 Oz) of dry dirt. The filtration system is based off the MESH and Hepa-Filter systems. Next to the container is a conveniently placed tool for cleaning the robot and its brushes.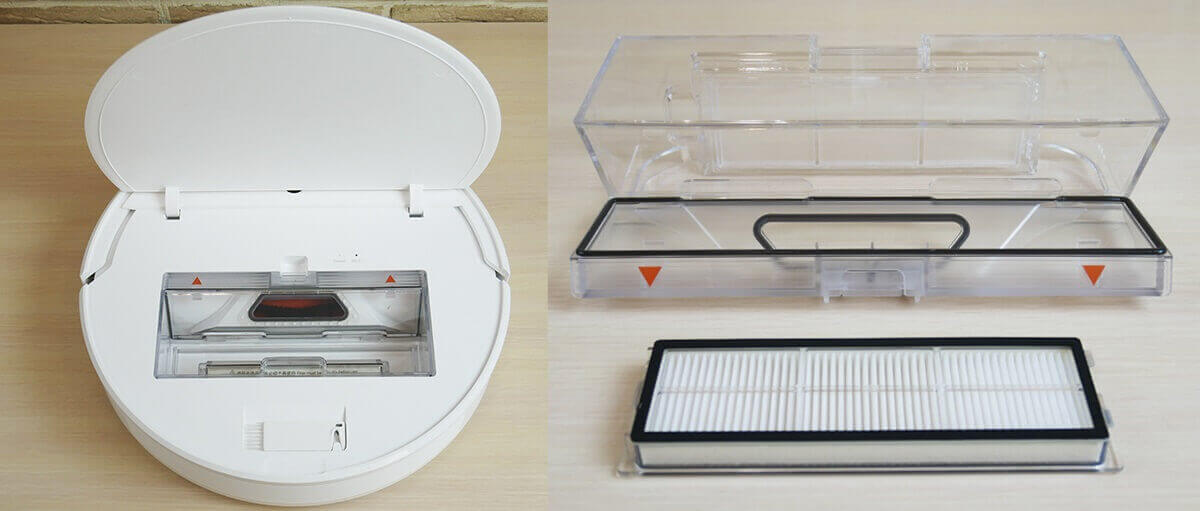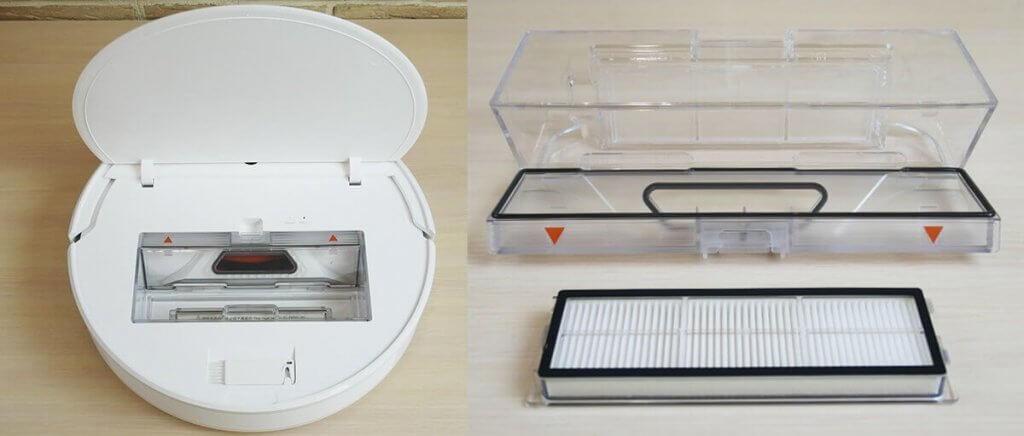 Behind it is the mopping rag. It stores 200 ml (6.7 Oz) of water. Inside we see an electronic pump for the amount of water the rag gets. The rag is attached with Velcro, and has a groove to slide it through. The rag is very fluffy all around, and there are no bald spots like in other vacuums.


Now let's look down below. There is only one side brush. It has three sides, can be taken off very easily, and has a brush like texture. On the front are 4 anti-fall sensors, as well as an additional optical sensor that helps the robot orient itself in a room.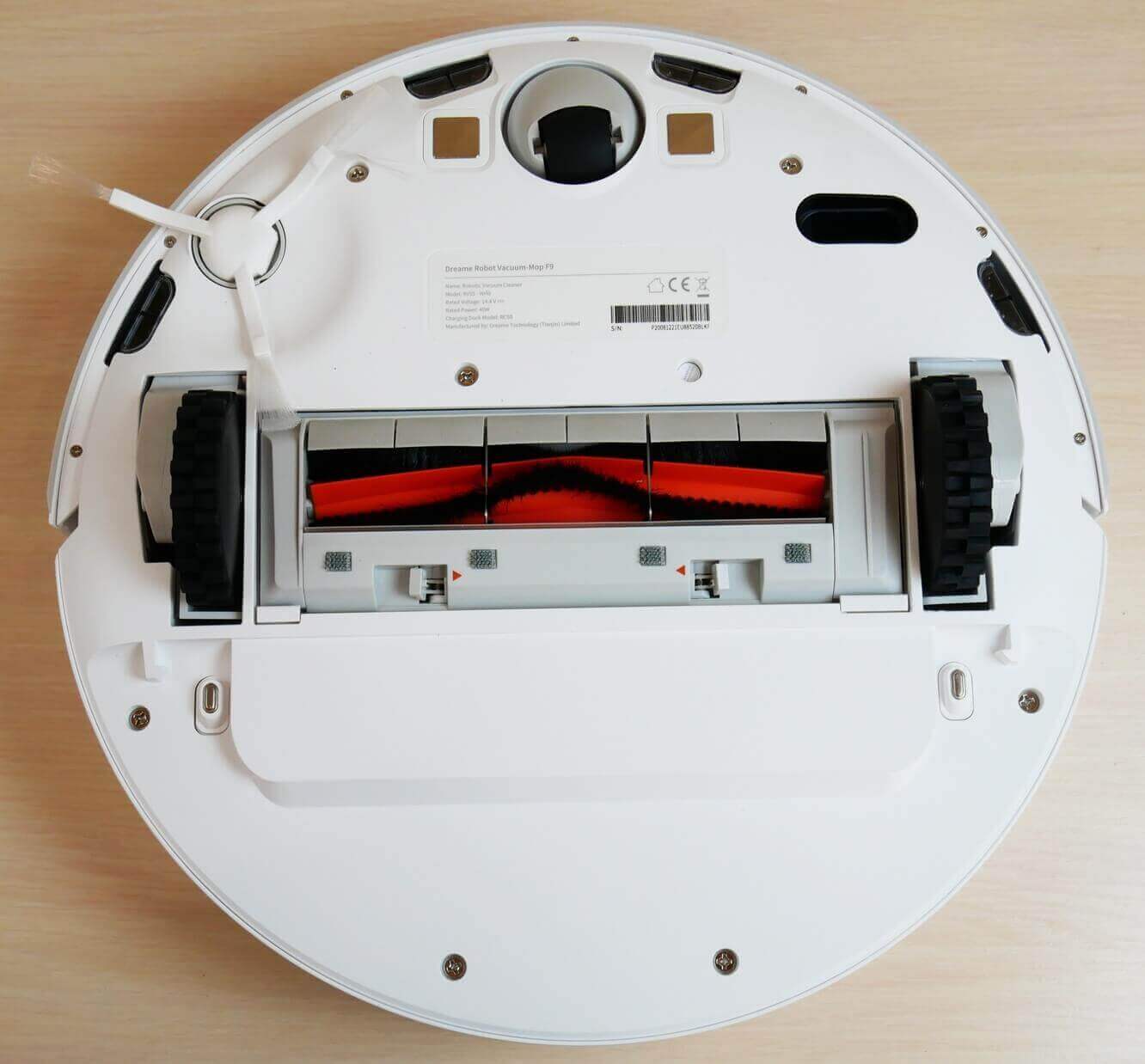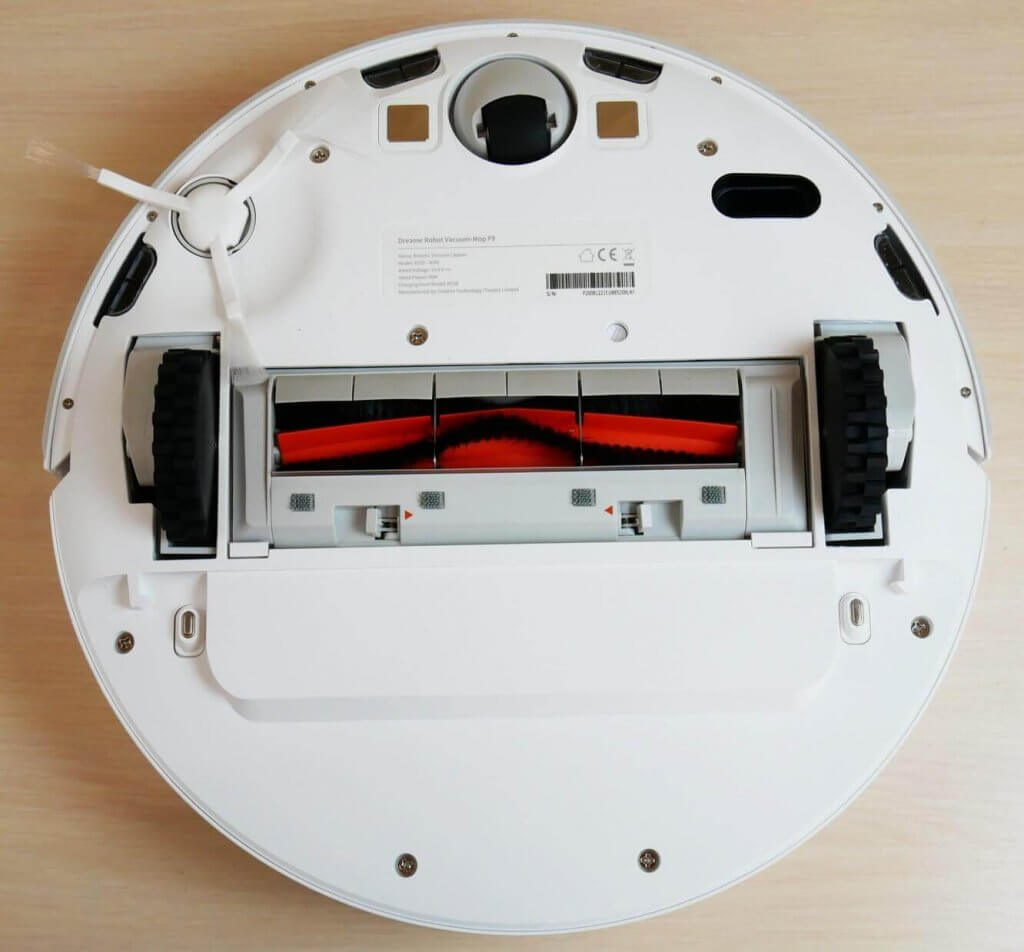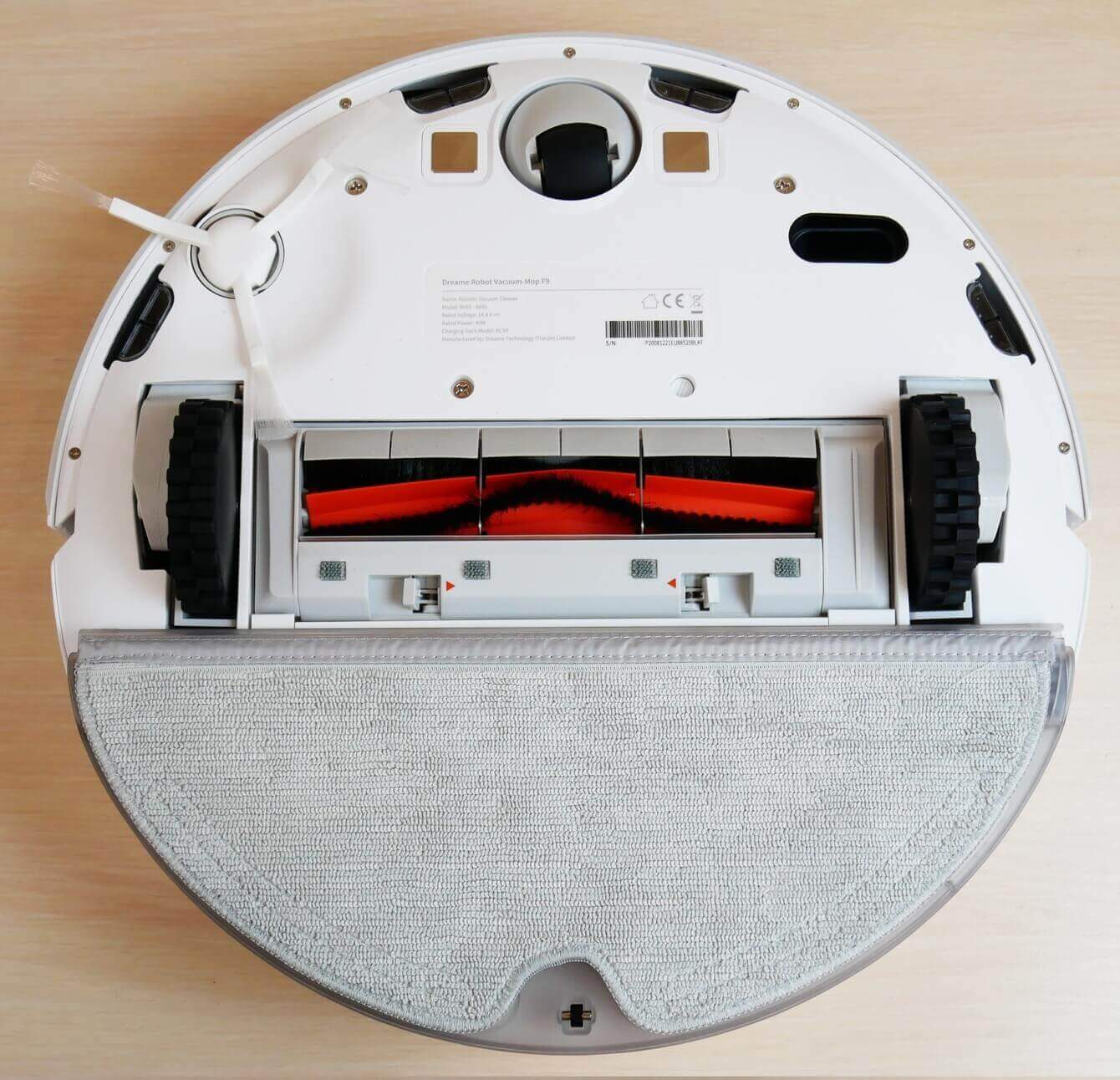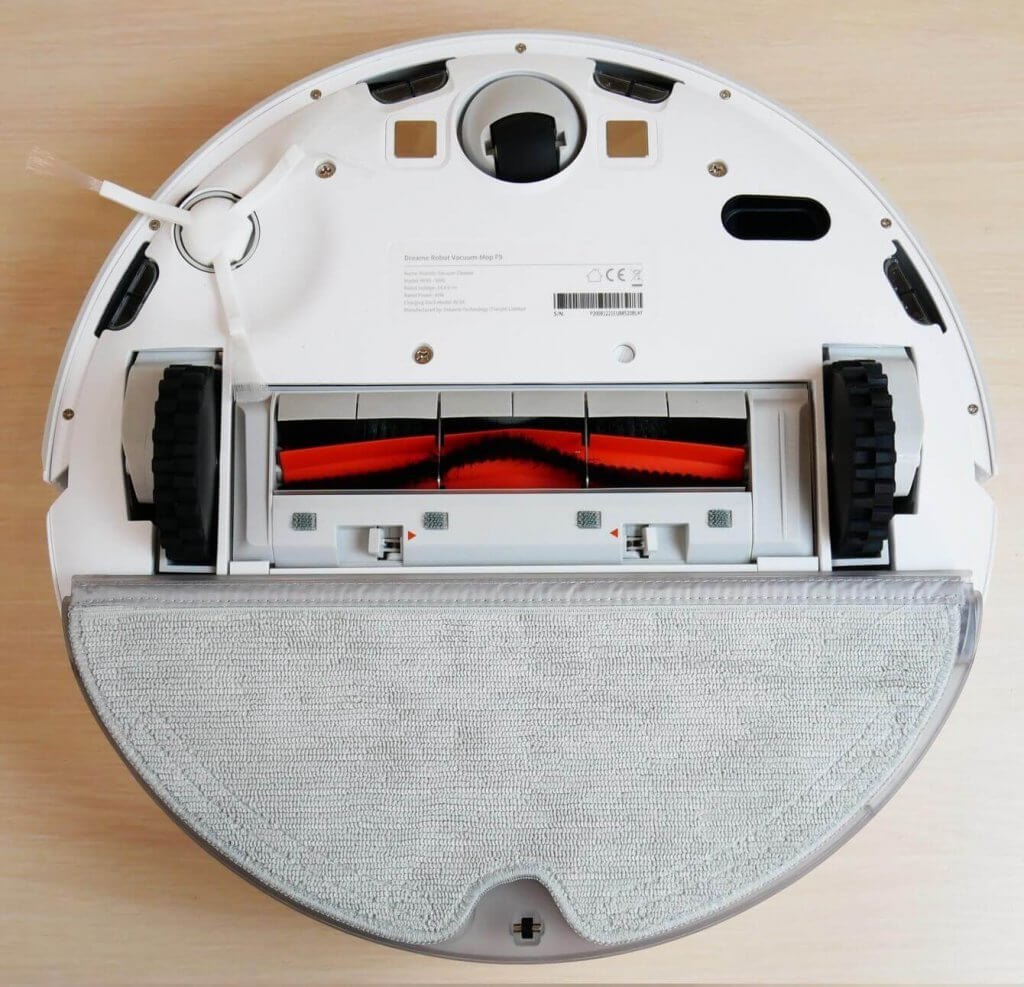 The central brush is bristly-petal, and can also be taken off for cleaning and maintenance.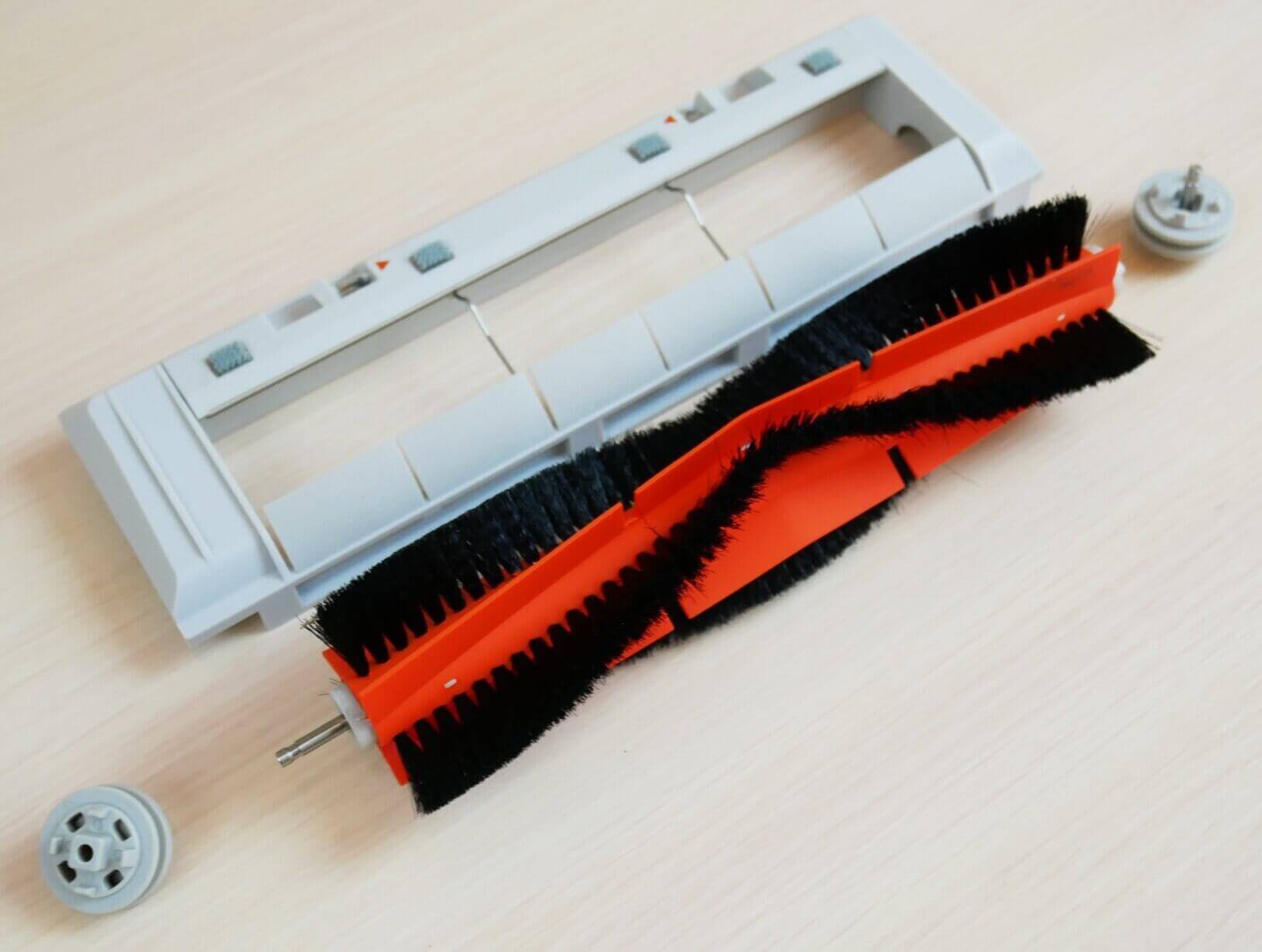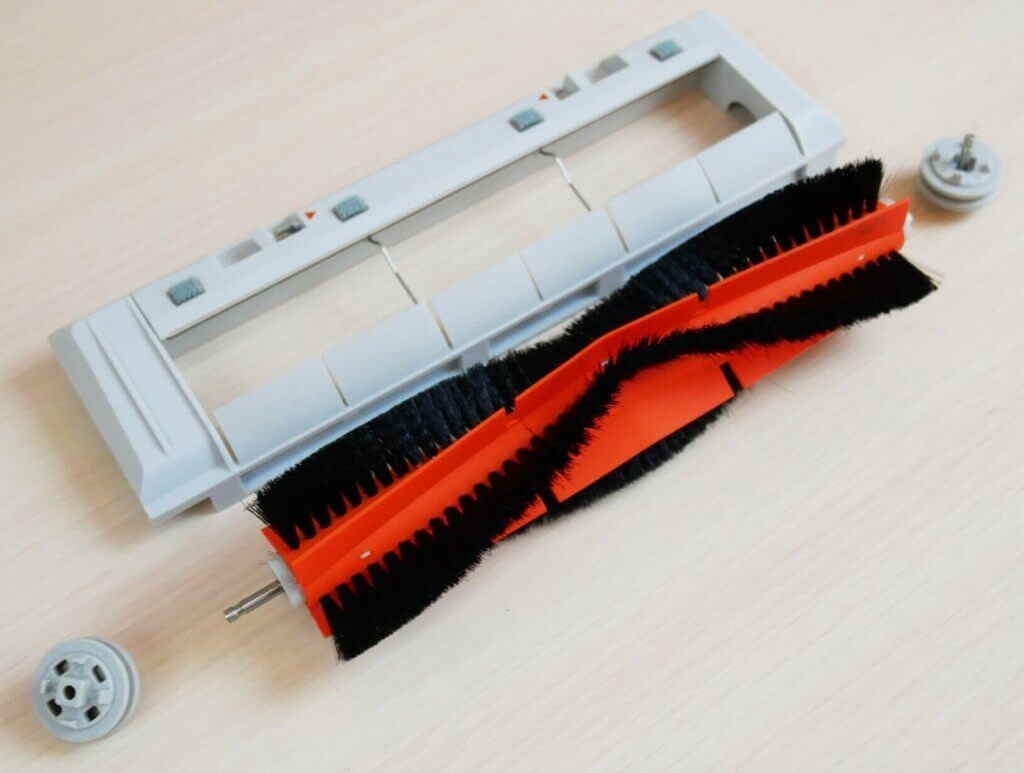 In general the robot is worth its money, and so far no complaints on my end.
Technical features
Now let's look at the main features of the Dreame F9::
Battery Li-Ion 5200 amps.
Suction power up to 2500 Pa.
Battery life up to 150 mins.
Vacuuming area up to 240 Sq. m (787 Sq. F).
Dust collector space 600 ml (20 Oz).
Water container space 200 ml (6.7 Oz).
Obstacle height up to 20 mm (0.7 inches).
Size: 350*80 mm (13.7*3 inches).
Sound level up to 72 dB.
Note that Dreame F9 has a great battery, which sets it aside from other vacuums, including Mijia 1C. And in general the vacuum's features are quite impressive. Now, let's move on.
Functions
Now let's take a look at Dreame F9's functions. You can control the robot through the Mi Home app. It supports the Russian Region, so the app will work on your phone. If you follow the instructions, connecting it to the Wi-Fi won't bring up any problems.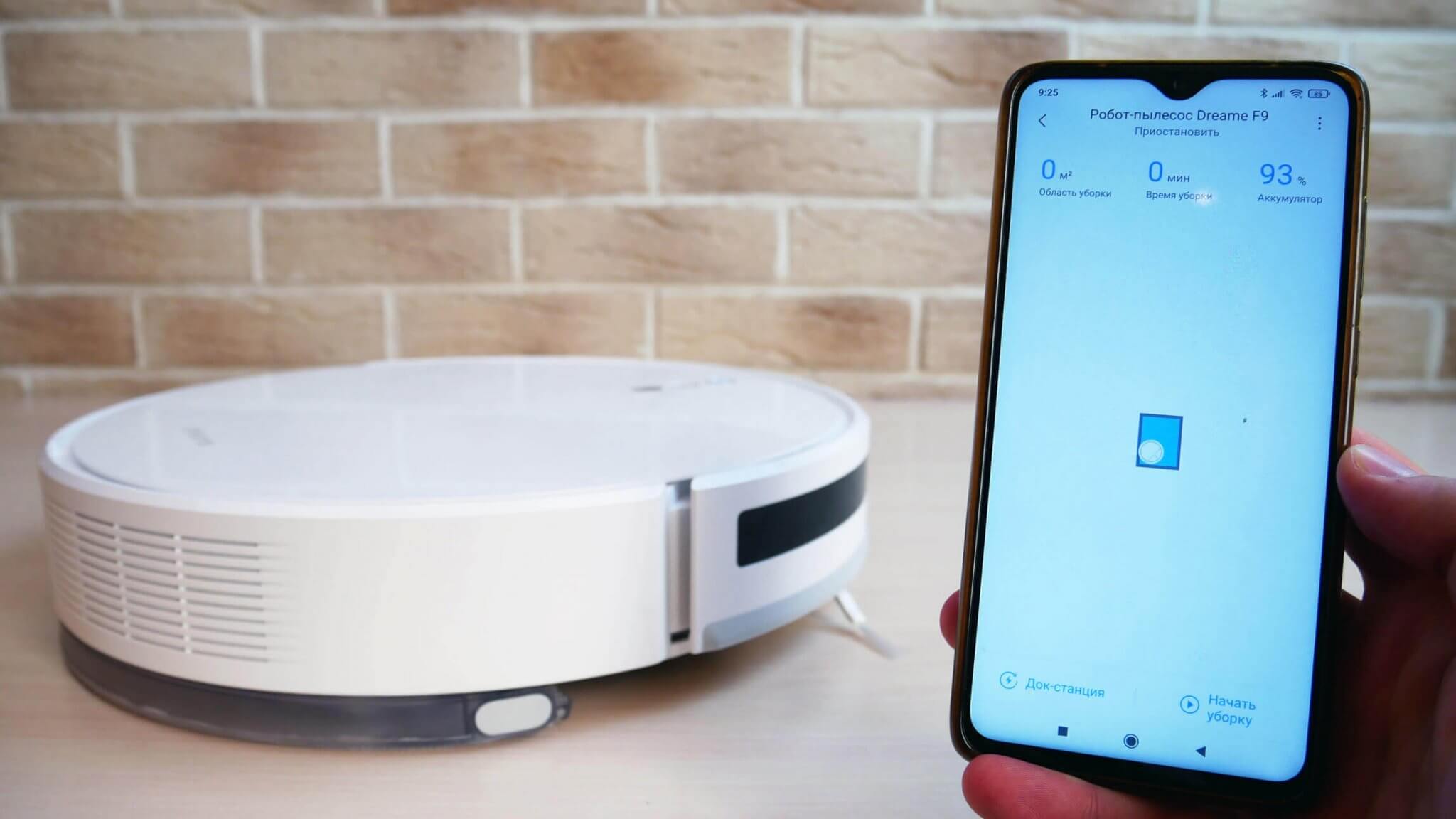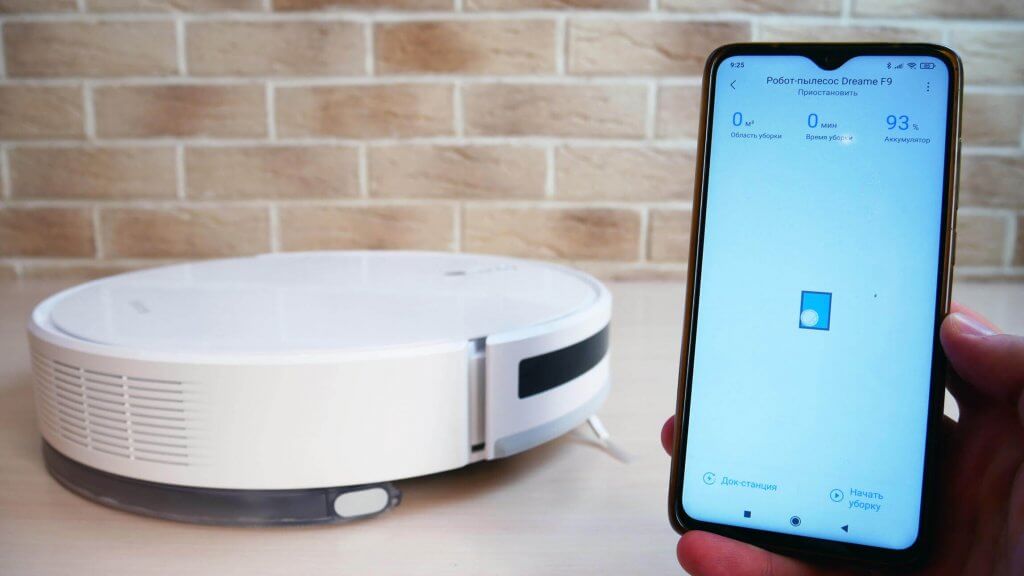 On the main page you can see the map that the robot had built, which it automatically zones for specific rooms. First let me introduce you to the settings. Here you can turn on the automatic map save feature, which is still being tested. You can also pick a language for you robot and set the robot's volume.
Plus you can turn on notifications, activate an increase of power when driving on carpets, turn on the continue after charging feature, and set do not disturb mode.
You can also control the suction power and cloth wetness and set a schedule for specific rooms.
Also, you check the cleaning log in settings, see how much water you have left, turn on "find my robot", change the vacuum's name, share your rot's settings, and update the app.
Let's look back at the main screen. Here you can chose one of the three cleaning modes. In room mode you can chose specific rooms for the robot to clean as well as the amount of rooms: one or two. In automatic mode the robot cleans everything it sees. And in zone mode you can set the robot to clean a specific zone.
And on the map you can set virtual walls, no-go zones, and no-go zones just for wet cleaning (no-mop zones). If necessary you can combine multiple rooms into one, separate a room into parts, and name rooms.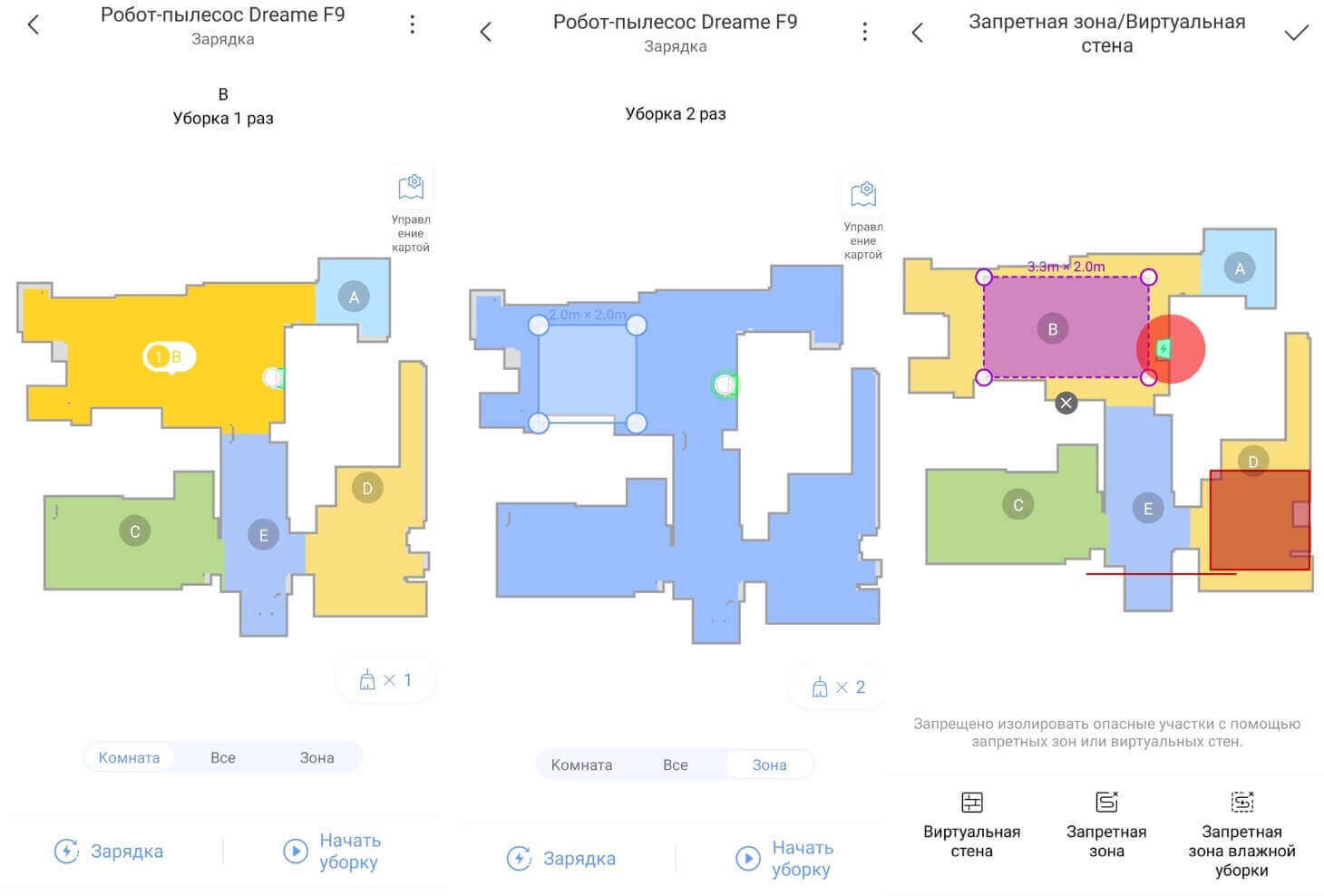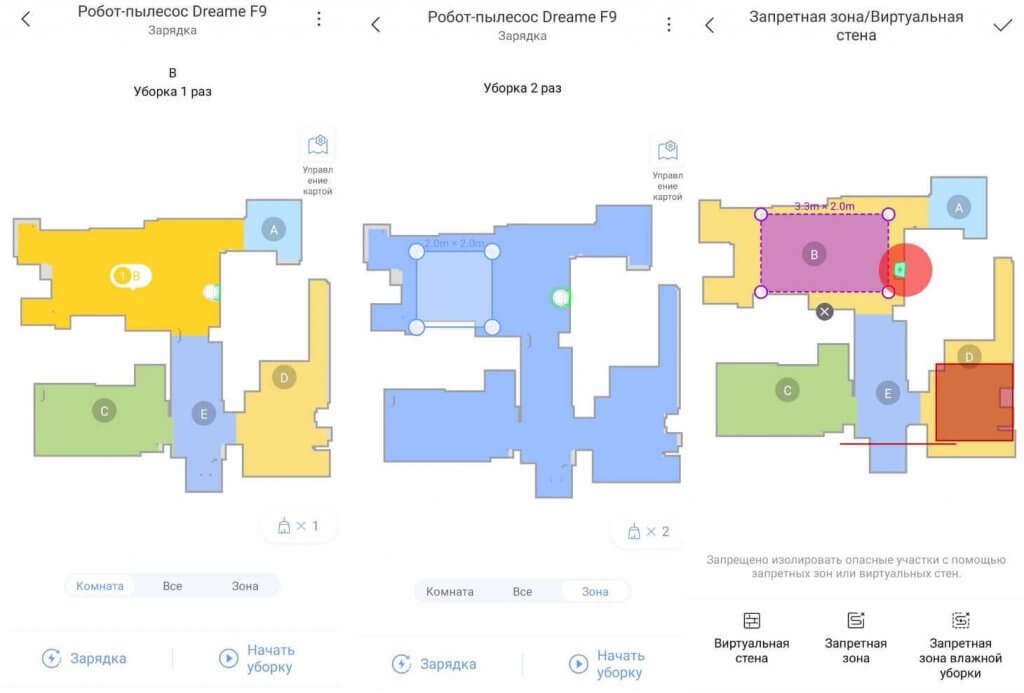 These are all of Dreame F9's functions.
Testing
Navigation
Lest finally start the test. First of all lest test Dreame F9's navigation in an obstacle course. First our vacuum cleans the area in a snake-like pattern, after which it goes around the perimeter and returns to the base for charging. The robot didn't clean around chair legs and the boxes, but at least it didn't get stuck on the legs. The navigation is good enough, but needs improvement.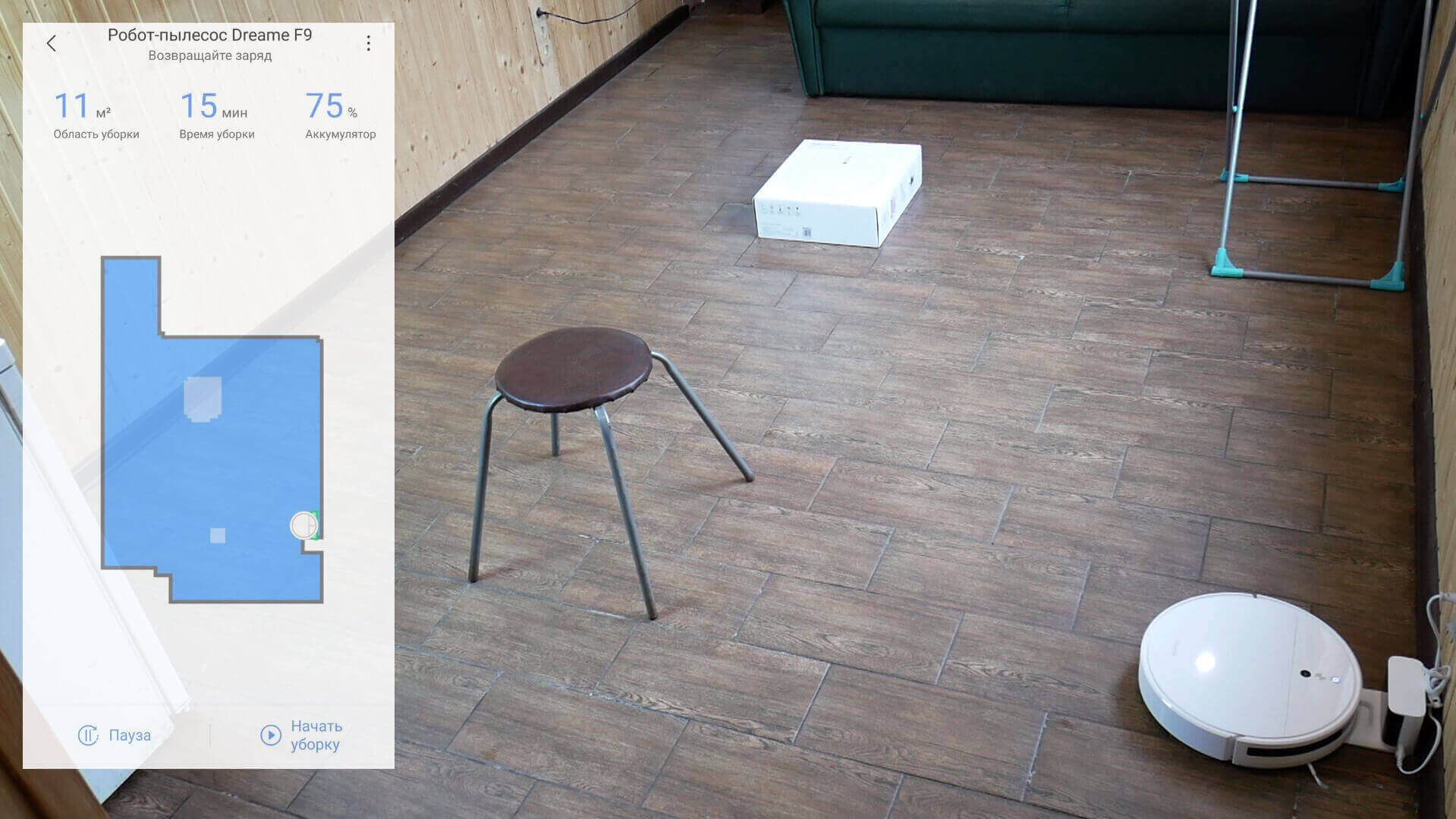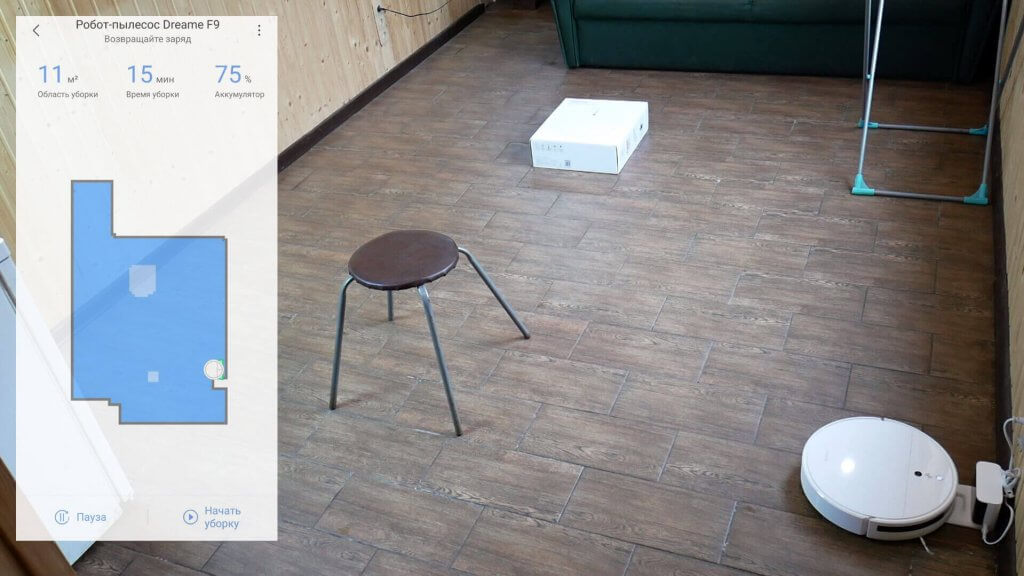 Regarding the rest of the house, I first set the robot at night without lights. Here the robot does a bad job building the map. But if your first launch is during the day, the robot can build a map and go off that. Plus the map gets better and better every launch, which is mentioned in the manual.


So Dreame F9 cleans rooms in a snake like pattern, after which it goes around the perimeter and returns to the base. There are no uncleaned areas, and the robot can orient itself pretty well.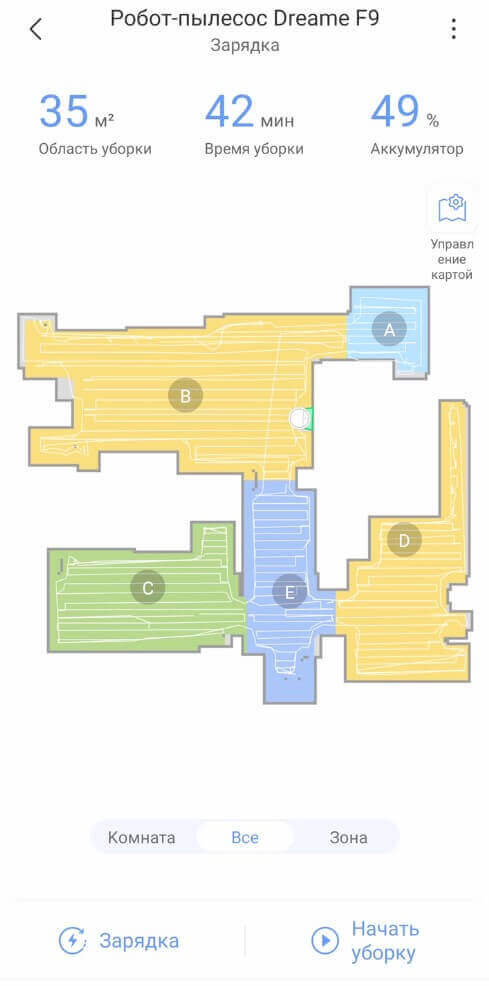 Suction Power
Dreame F9's suction power turned out to be a little better than average, it could suck dirt out of even 4 mm (0.15 inch) holes. This is better than needed for regular home use. Let's move on.
Hard floor dry cleaning
The hard floor dry cleaning was really good. The vacuum could pick up most of the dirt, leaving just some grains on the side brush. There was some dirt left in the corners that round robots can't reach. Most of the dirt is in the dust collector, but some hairs are stuck on the brushes.


Carpet cleaning
I'm also very impressed by the robot's carpet cleaning. It picked up most of the dirt, and over all did a good job.


Wet cleaning
The mopping is also very good. The robot could even get off the dried out spot on the floor. Only problem is that, Dreame F9, like most other vacuums, has a hard time getting dirt along the baseboard.


Over all, this robot is a great tool for mopping, and does a very good job with it. It doesn't flood the floor when set to max, the rag doesn't leave any stains on the floor, and the robot can mop and vacuum simultaneously.
Passage of obstacles
The vacuum can easily go over 2 cm (0.7 inch) obstacles without stopping, this is a huge benefit and is very helpful around the house!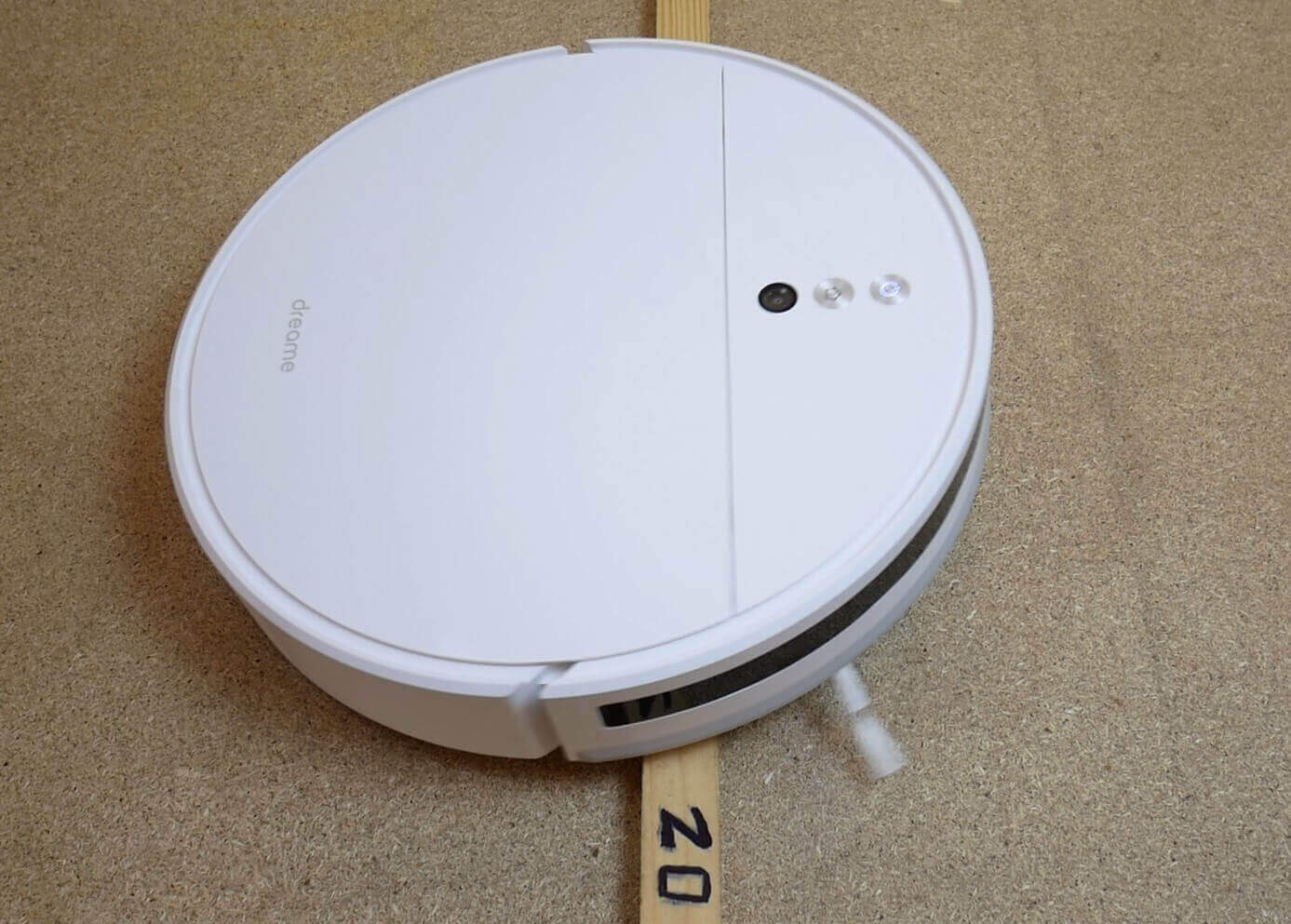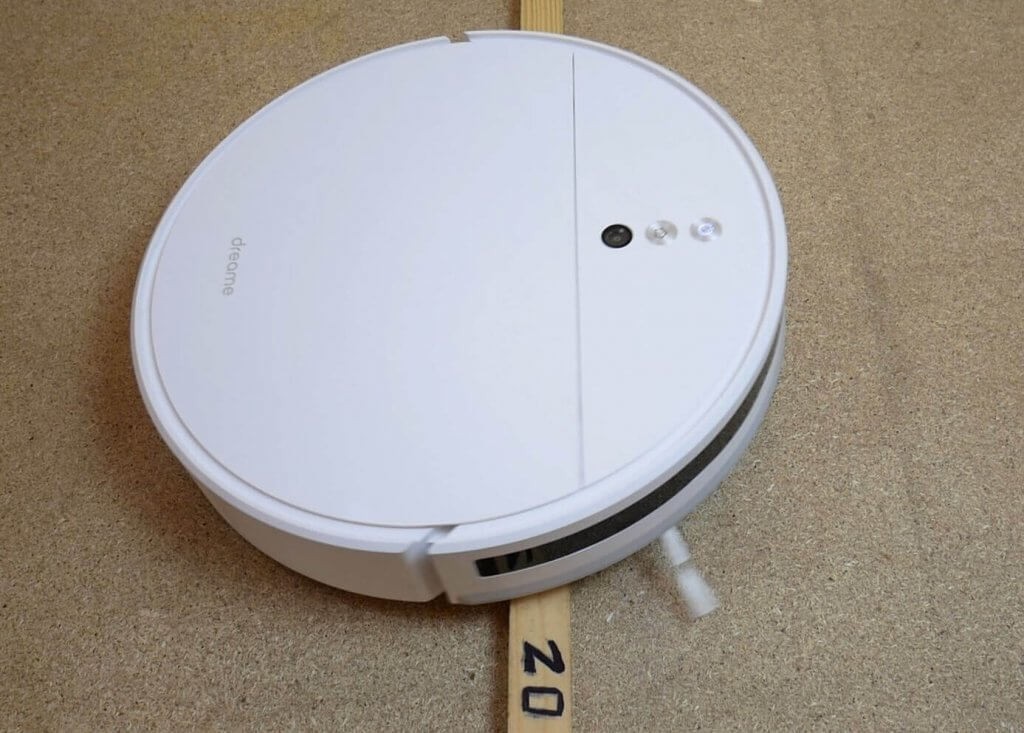 Dark places
Dreame F9 like most other robots will not go on dark spots recognizing them as cliffs. This is a very common problem in Xiaomi vacuums.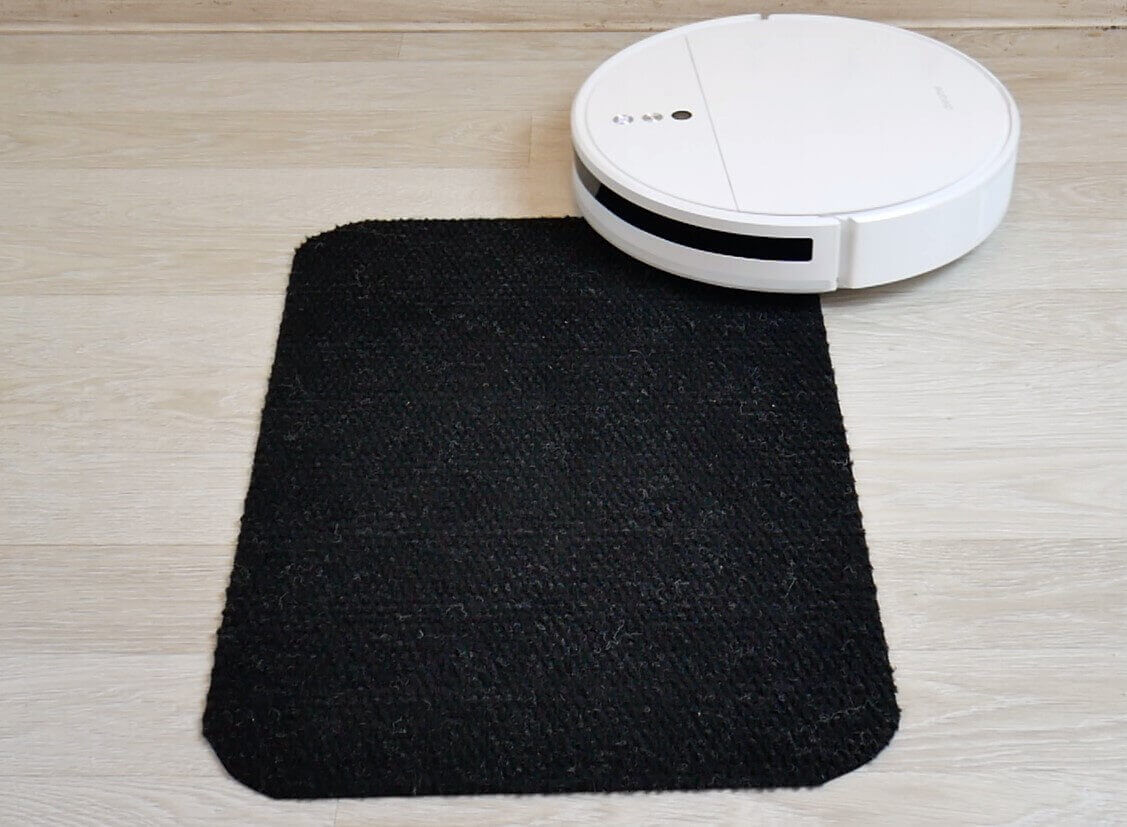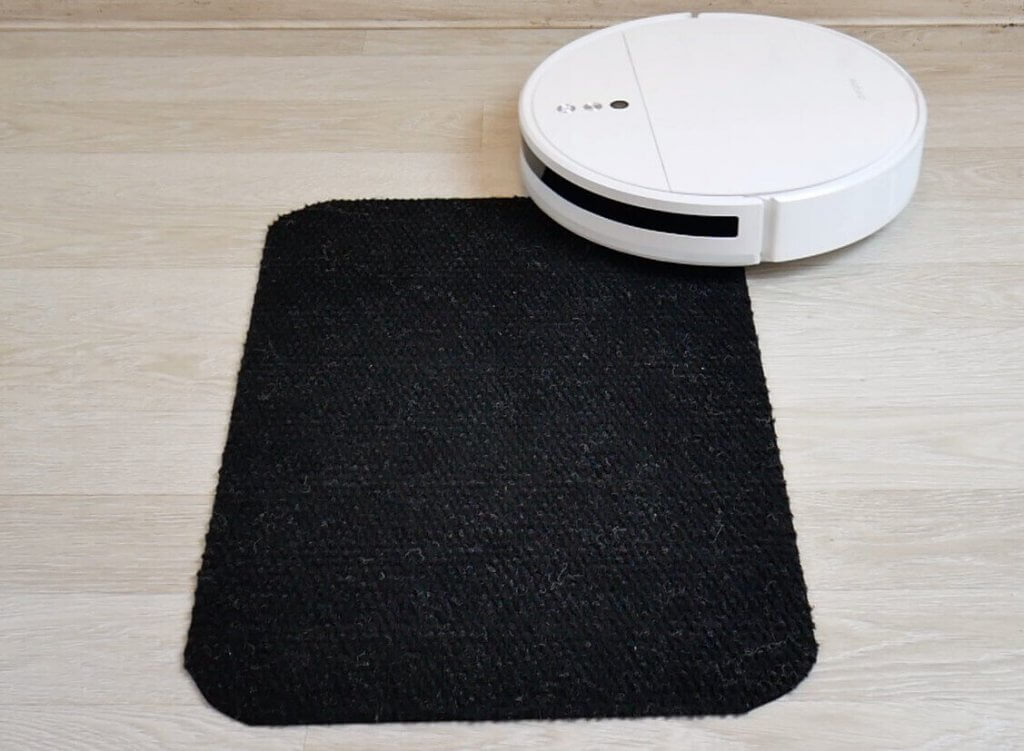 Noise level
Lastly I tested the vacuums sound level in different modes. On the lowest mode I got 58-60 dB. On medium it reached over 61 dB. On the pressure clean it reached 66 dB. On max it got around 72 dB, just like it was advertised. Yeah it's pretty loud, so be prepared.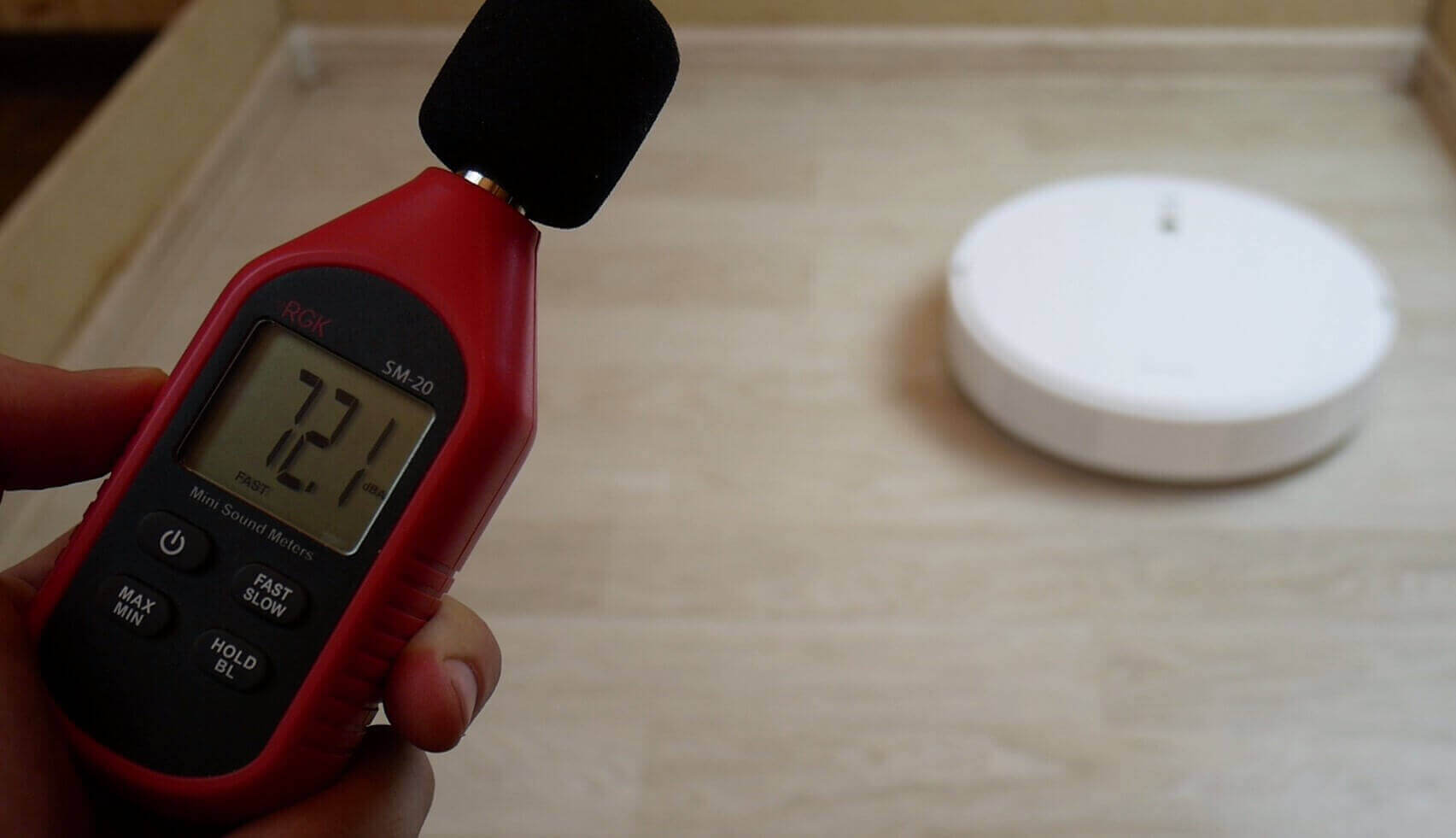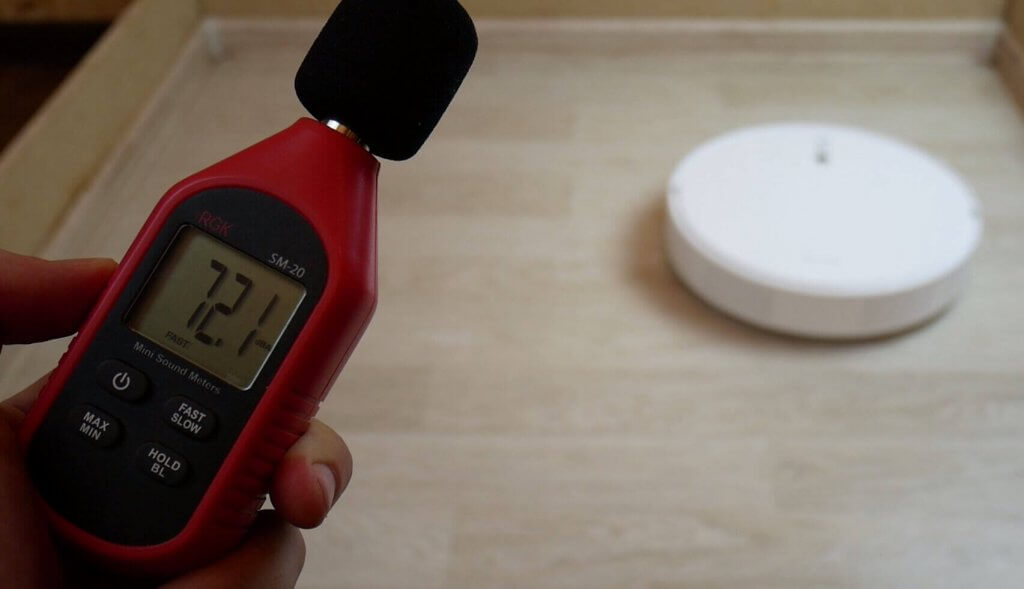 In conclusion
In this article I tested the robot vacuum Dreame F9 in details. In my opinion, the robot is decent and I got a good first impression, taking into account the price, the functions and the outcome. It got a 67/100 on our algorithm, which is a great score. This robot earned itself a place among the more expensive vacuums. Also, if you're interested, check out Dreame's brothers, Dreame D9 and Dreame Bot L10 Pro and got 71 and 77 percent.
The overall rating of models that passed the Robotobzor test https://robotobzor.com/ratings/general-rating-of-robot-vacuum-cleaners.html.
Now let me tell you my opinion on this robot vacuum. Following are the benifits:
A great navigation.
The suction power is above average.
Simultaneous wet and dry cleaning.
Both dry and wet cleaning are good.
Great functions such as: zoning for individual rooms, ability to pick a room, and the ability to set virtual walls and no-go zones.
Great with obstacles.
Well builed.
Short height.
Good price, taking into account the functions.
There aren't a lot of downsides, but here are the ones I found:
The robot is afraid of dark spaces.
No spare parts.
It is pretty loud.
For me the downsides don't play a role in my decision at all. In conclusion if you're looking for a robot under $250, this robot is the best robot for you and your house, and I extremely recommend it.
On this note I'd like to end my review. Have fun shopping, bye!