Hey guys! Welcome to Robotobzor! Today we'll look at a very interesting robot vacuum from Xiaomi. It's called Xiaomi Mijia 1T Sweeping Robot also known as – Xiaomi Mi Robot Vacuum Mop 2 Pro+. There are two interesting things about this robot. First and foremost – that's the addition of a ToF sensor on the front bumper, which helps the robot recognize obstacles and go around them. According to the manufacturer, Mijia 1T can recognize wires, small objects, and even the surprises your pet eaves you. All of this can set back cleaning. And secondly – the suction power reaches 3000 Pa, thanks to which the robot cleans better. Later I'll get a detailed review at and test Xiaomi Mijia 1T, after which I'll tell you if this robot is good enough for your needs. The price for the robot starts at $300, which is more expensive than the similar Mijia 1C and Dreame F9. Now let's get started!
Package
The Xiaomi Mijia 1T box doesn't have much. Not including the robot, the box includes:
A charging base.
A power cord with a Chinese plug.
A power cord with a European plug.
Nozzle for wet cleaning with installed microfiber cloth.
Manual in Chinese, as you might have guessed the robot I bought was intended for China.
And an instrument for cleaning the brush.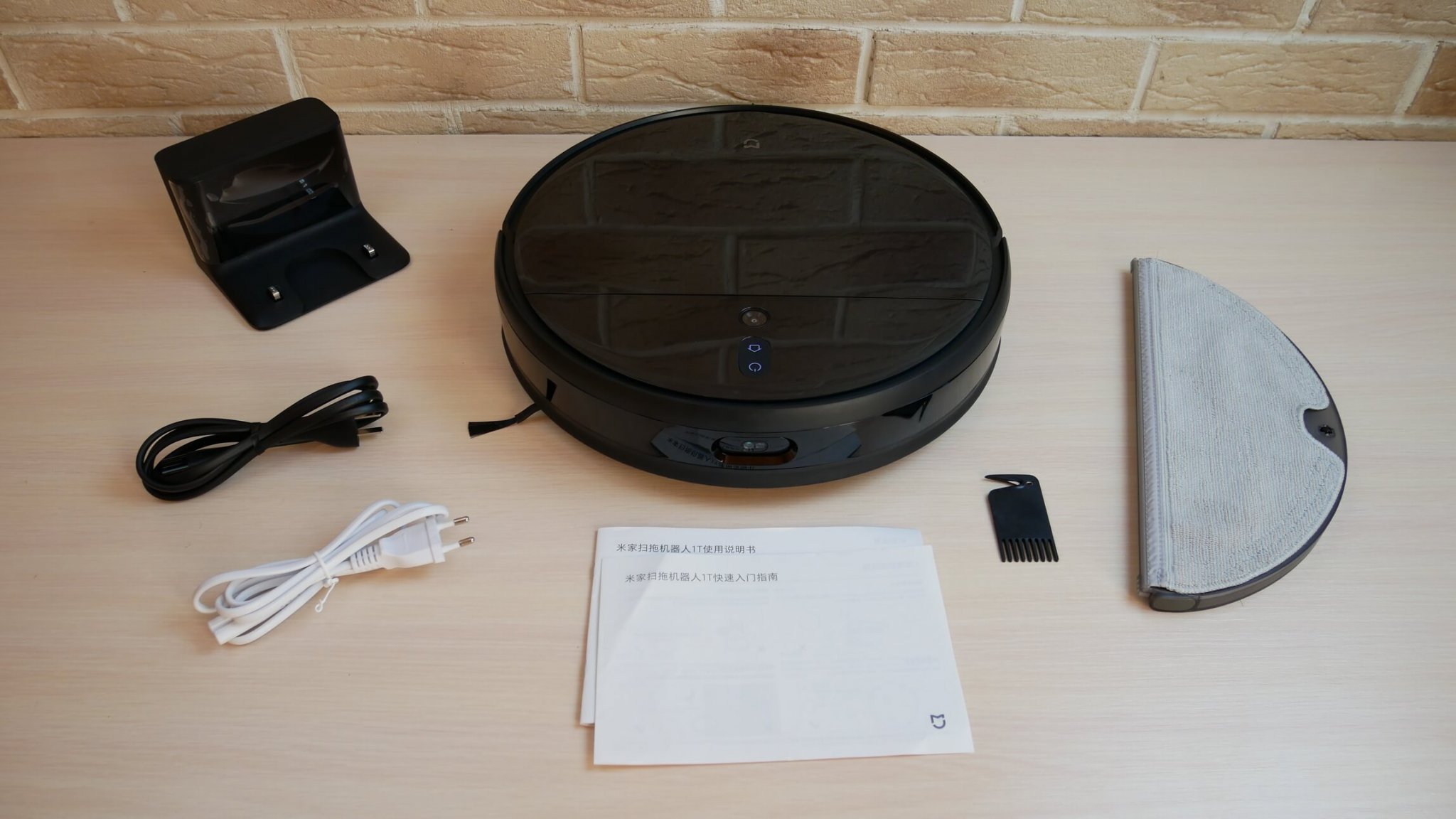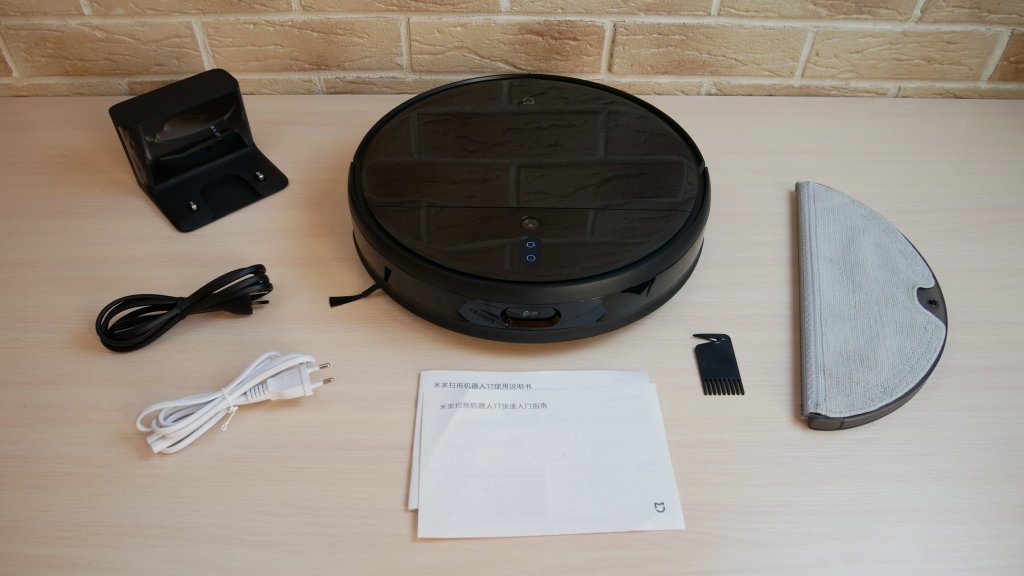 Like I said, there isn't much else in there, but that's common for the Xiaomi robot vacuums.
Design
Now let's take a look at the robot's exterior. Xiaomi Mijia 1T came round and black. It is 82 mm (3.2 inches) tall.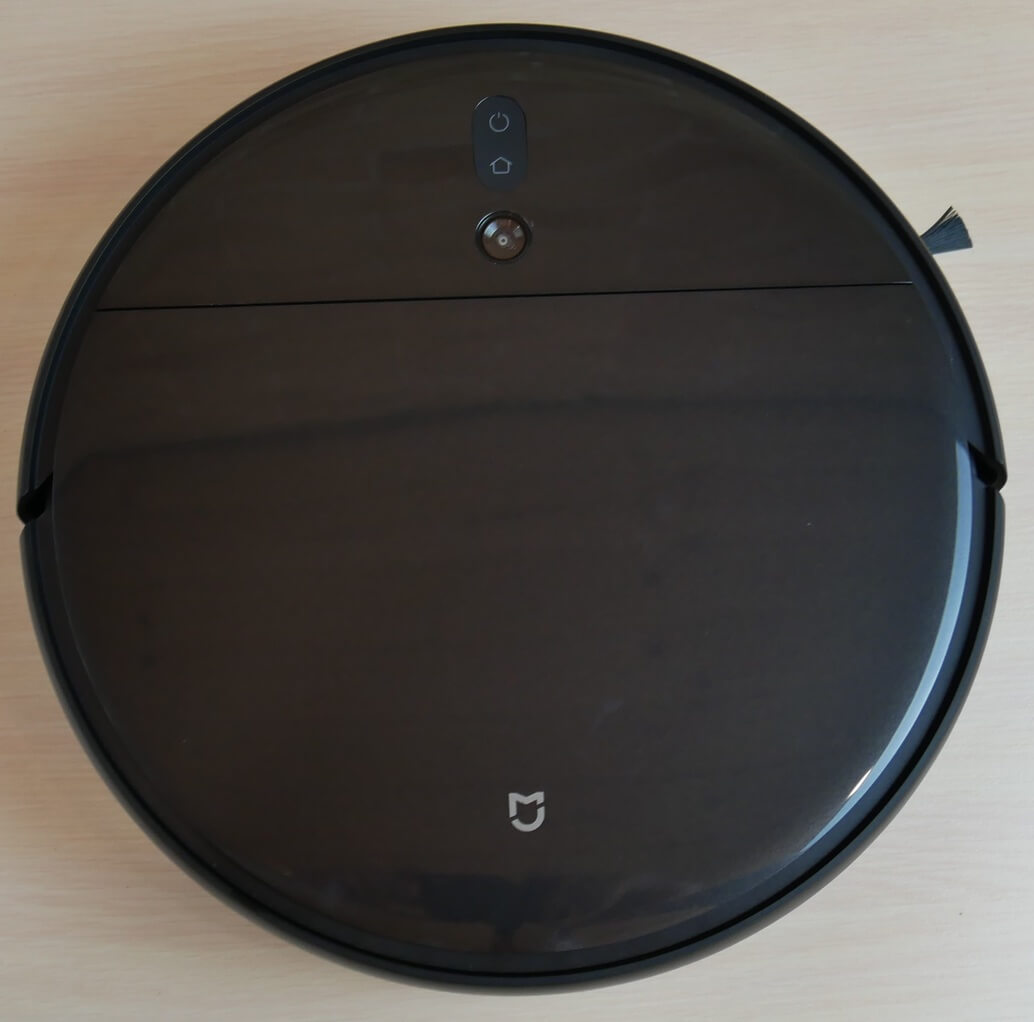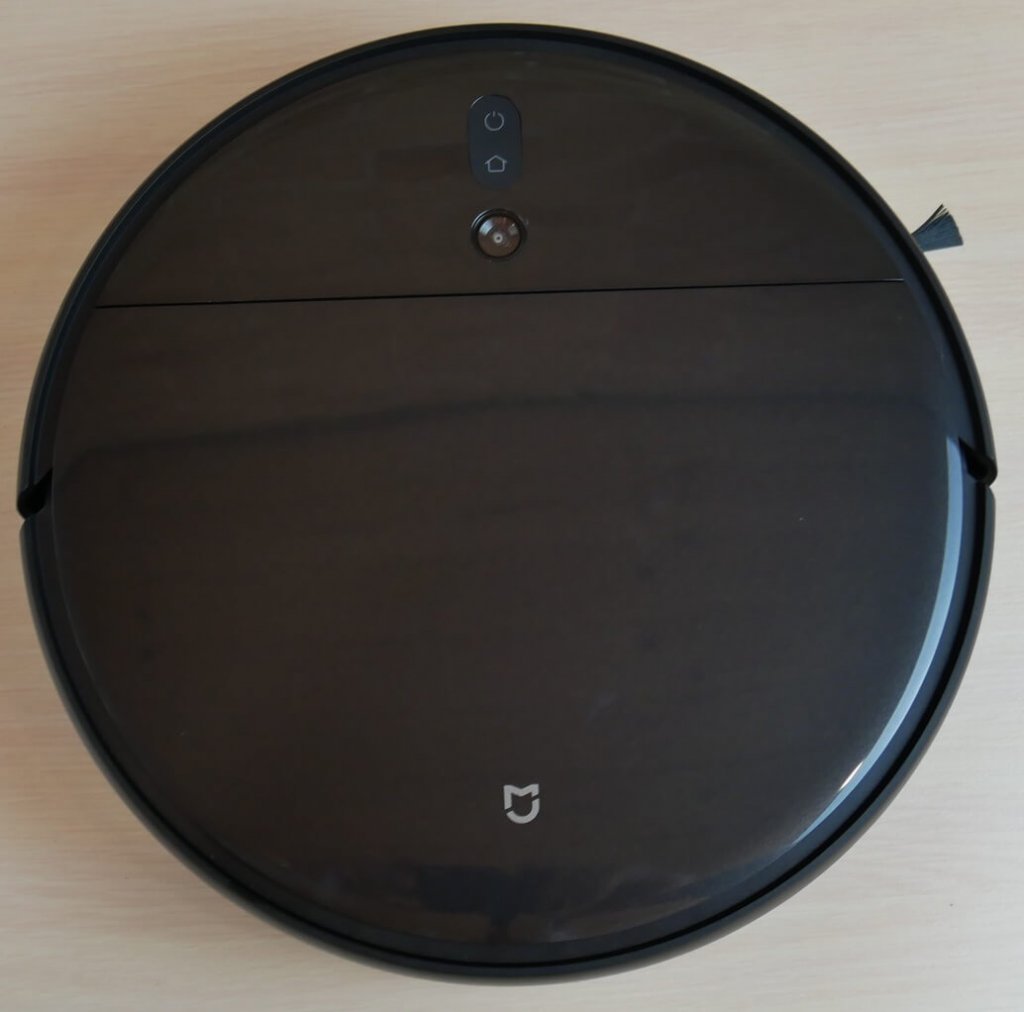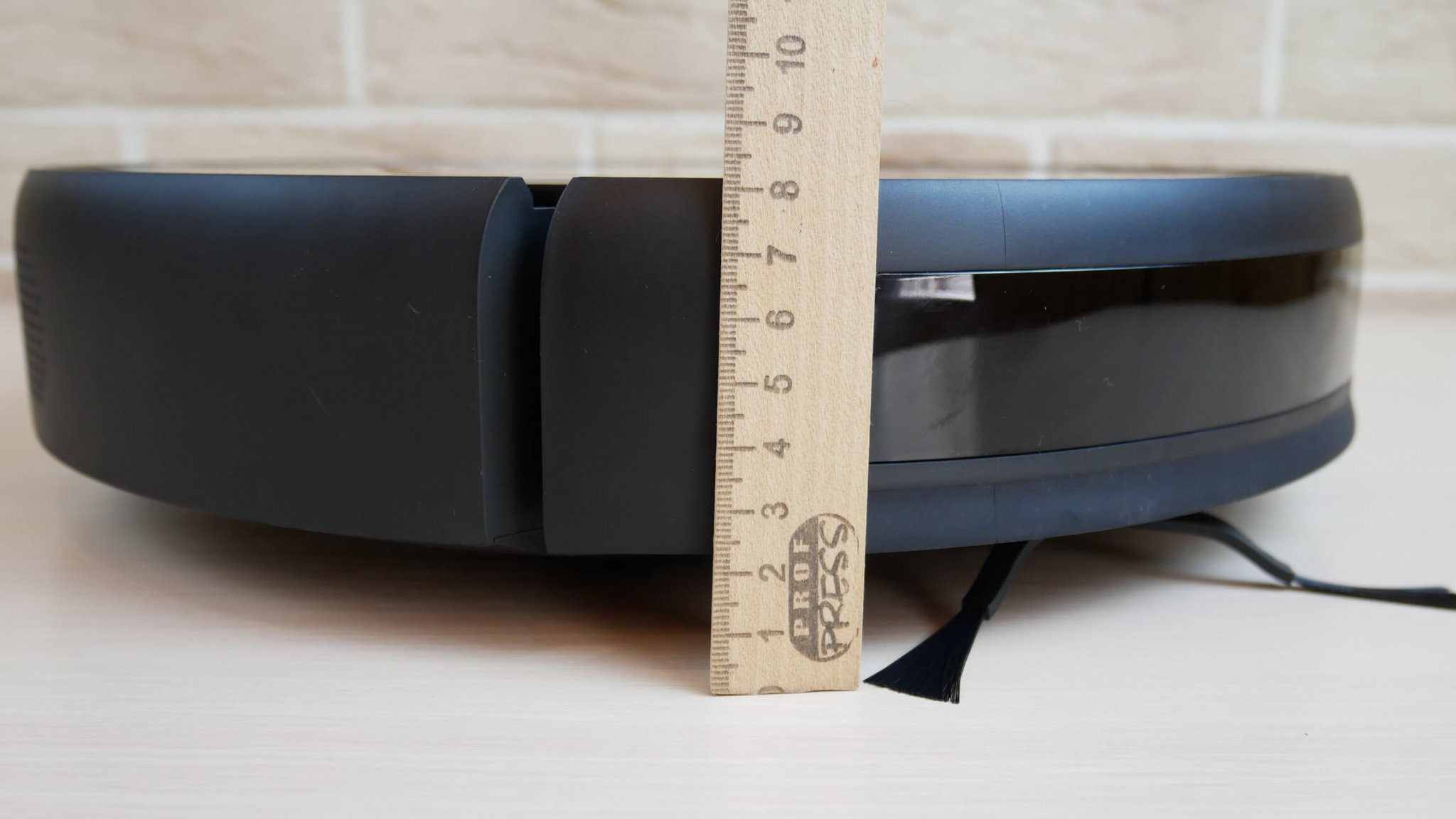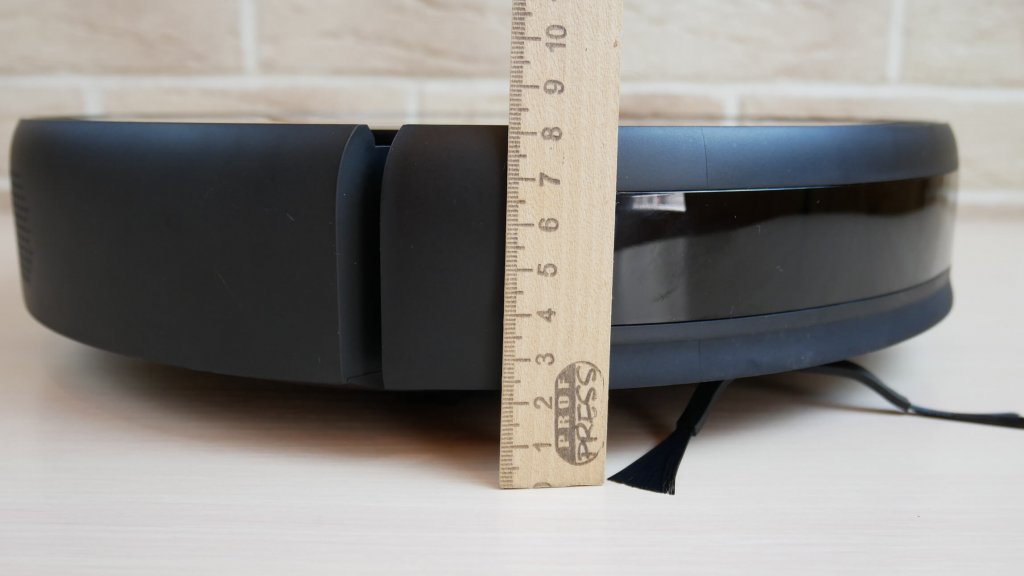 On the control panel up top are 2 buttons for" stop/pause and return to base for charging. Next to it is a navigation camera. Thanks to it Xiaomi Mijia 1T can build a map of the house and save it, but I'll come back to this later.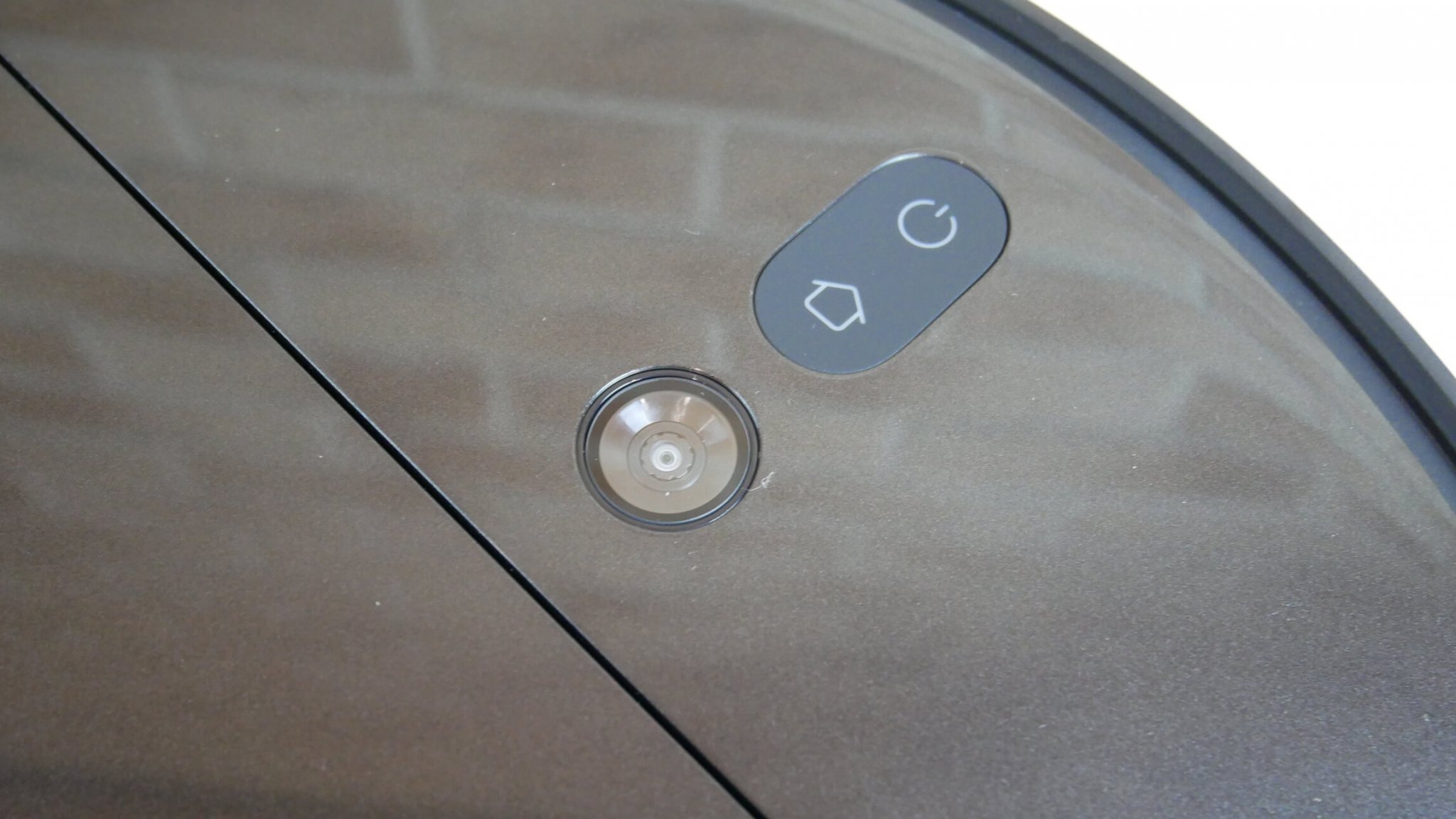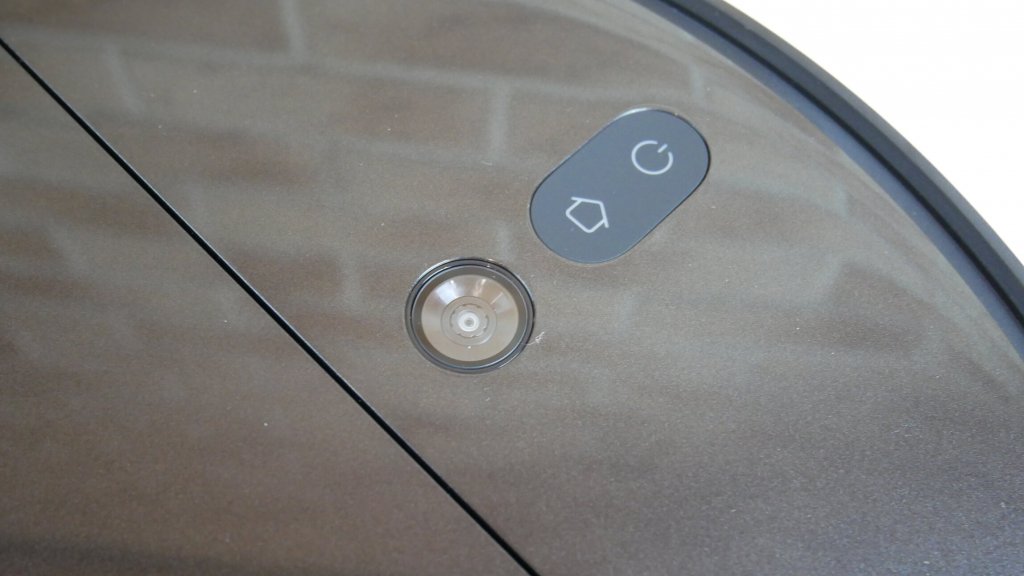 On the front we can see a sensor for obstacle avoidance on the floor.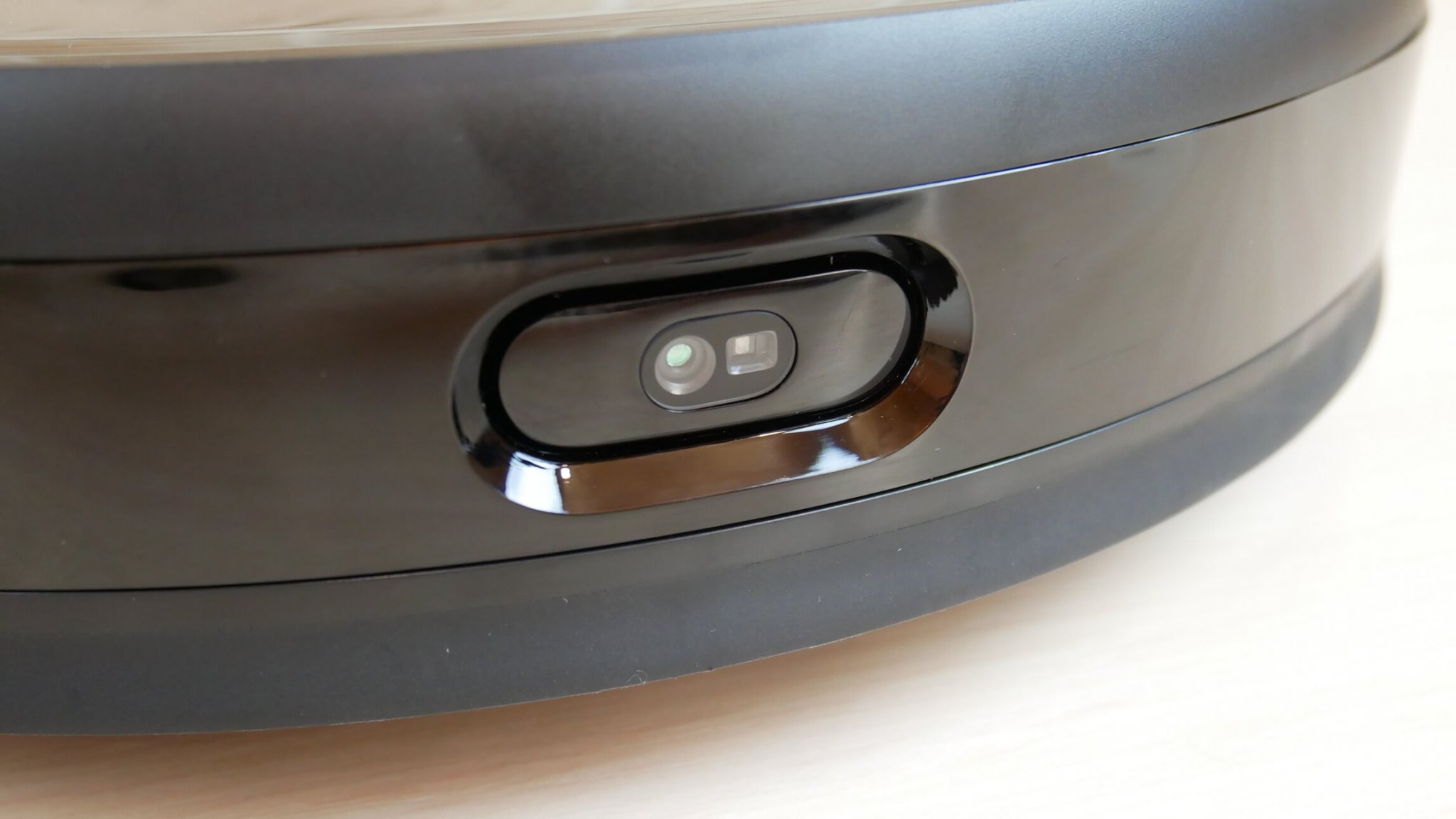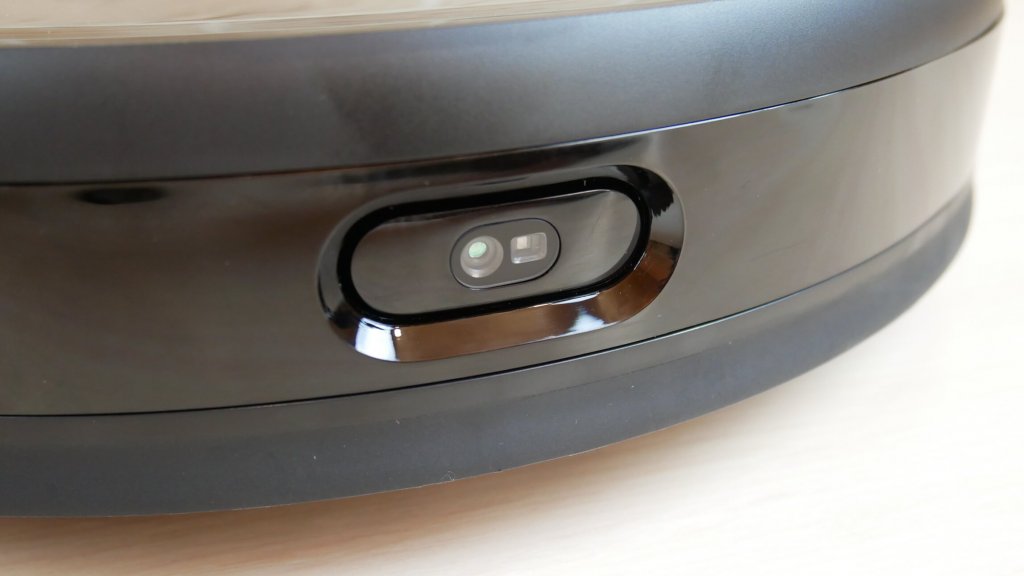 The dustbin is right underneath the lid. It fits up to 550 ml (18.5 Oz) of dirt. The filtration system is based off Mesh and HEPA-filters.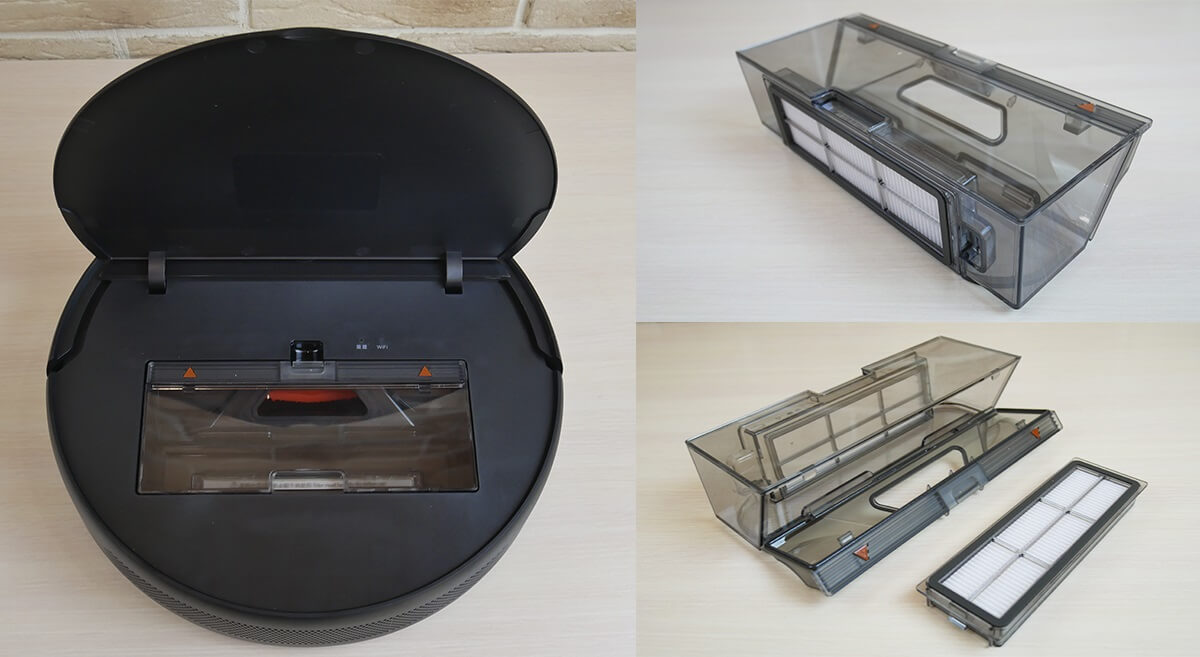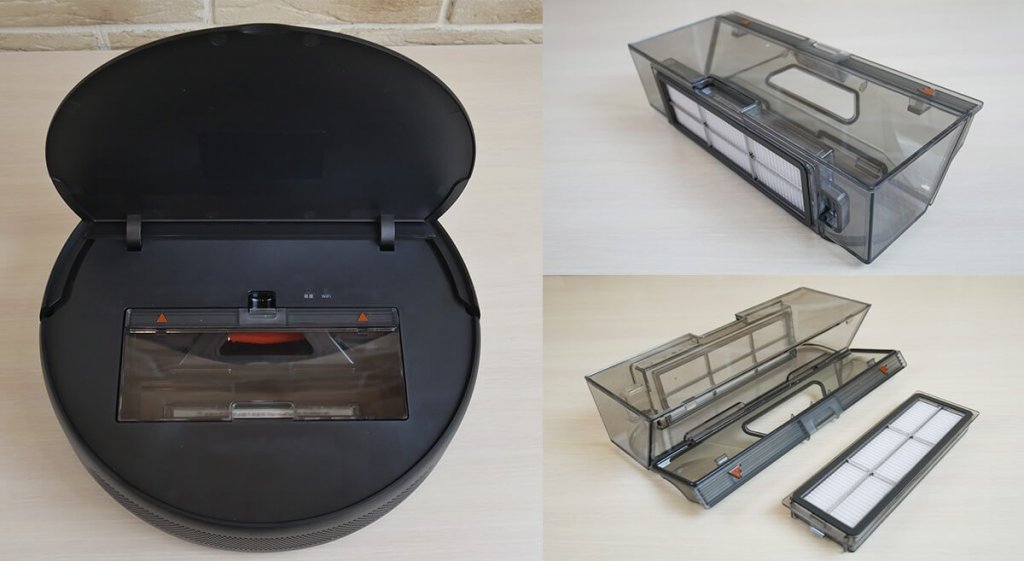 The cloth for mopping can be attached on the back. Inside it we can see an electronic water regulation pump. The container can fit up to 250 ml (9 Oz) of water. The cloth is attached through a slider and Velcro.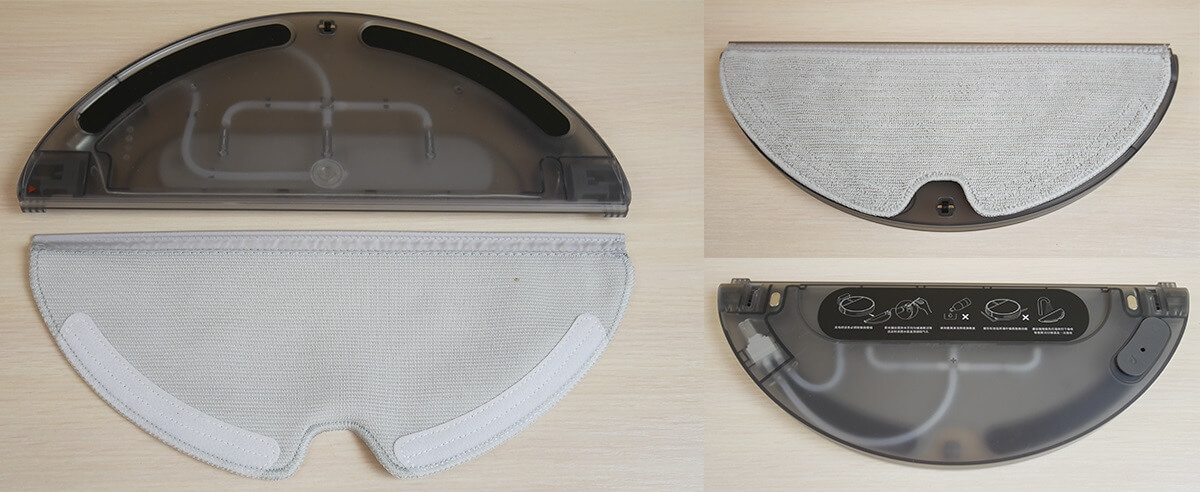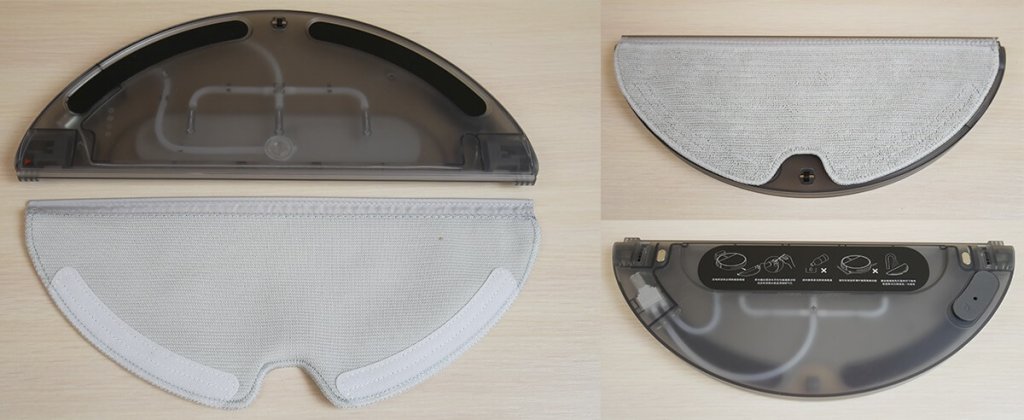 Now let's take a look at Mijia 1T from below. On the front are 4 anti-fall sensors, as well as an optical sensor that helps the robot orient itself.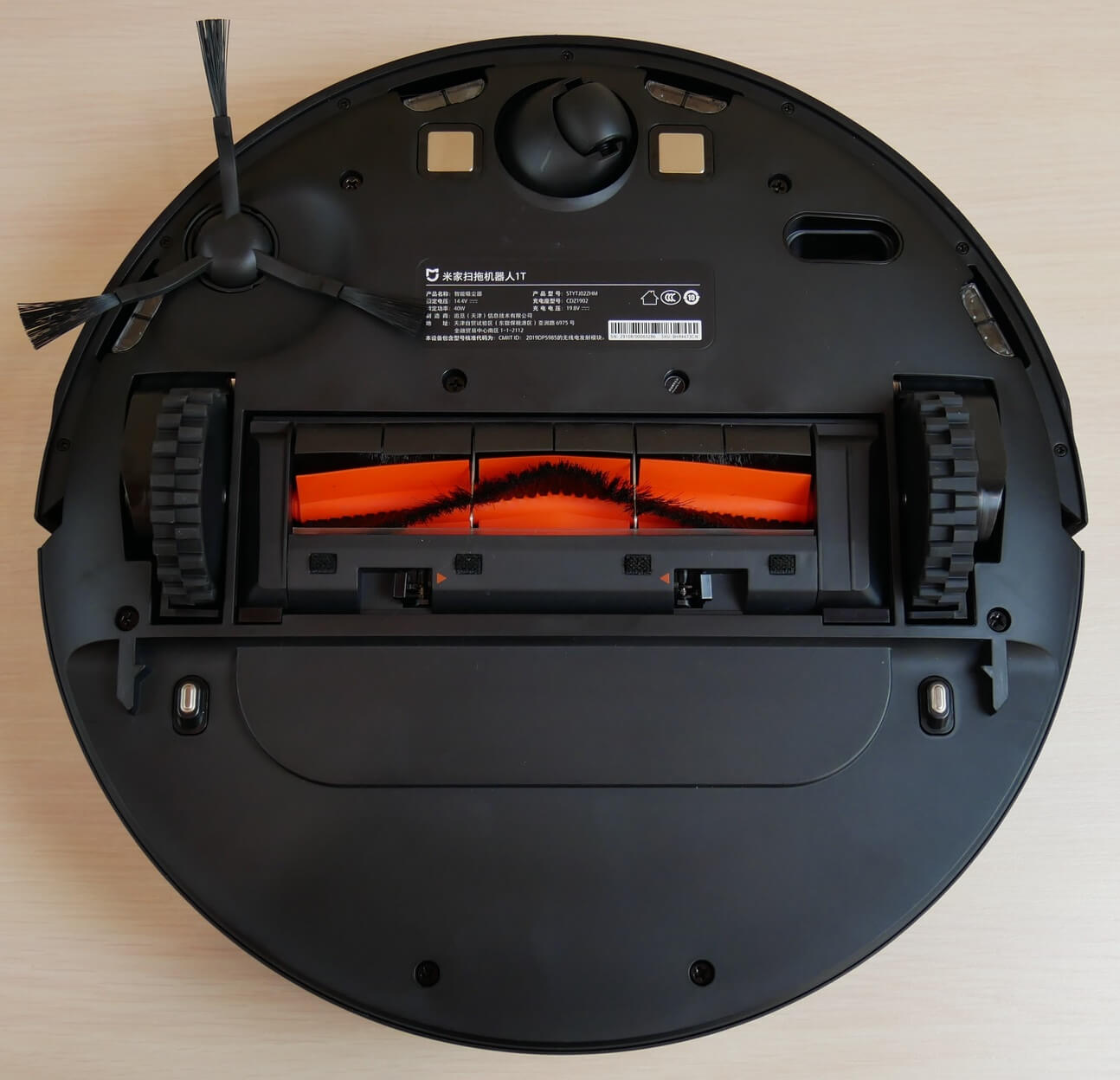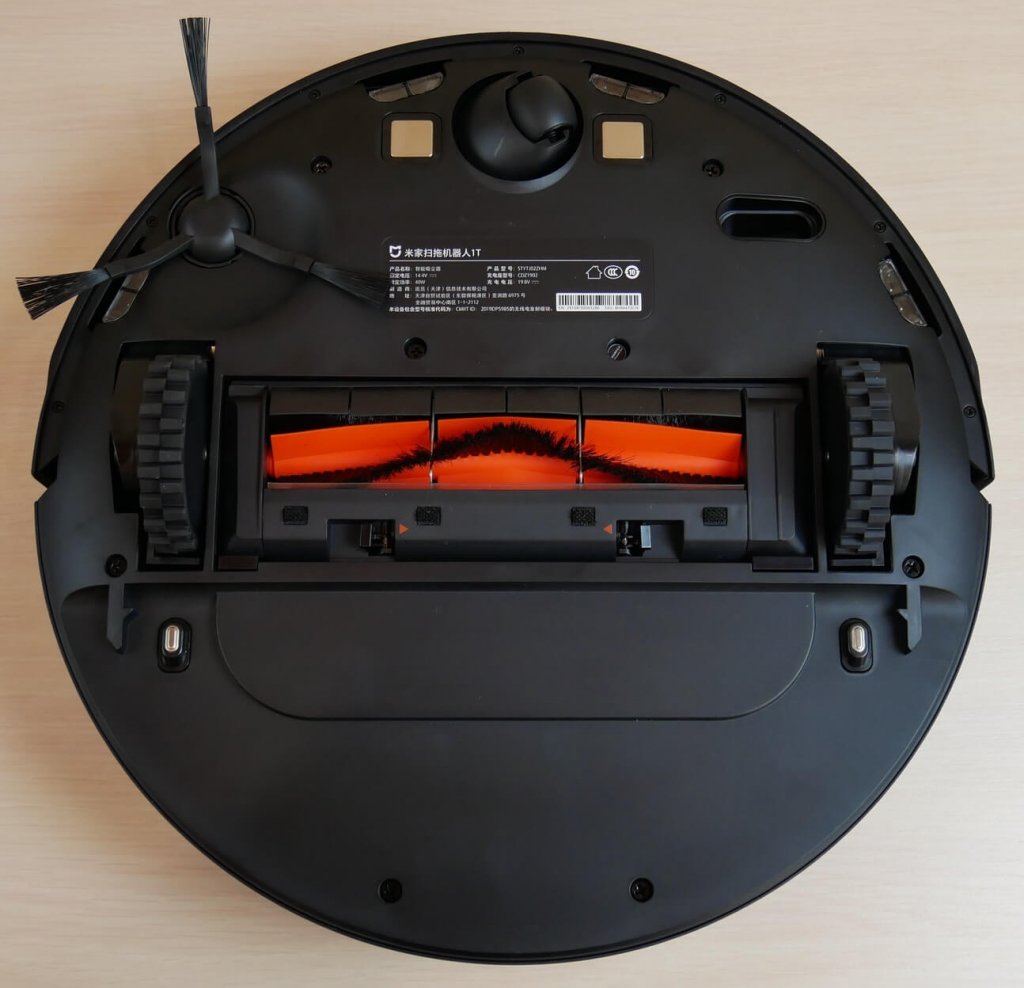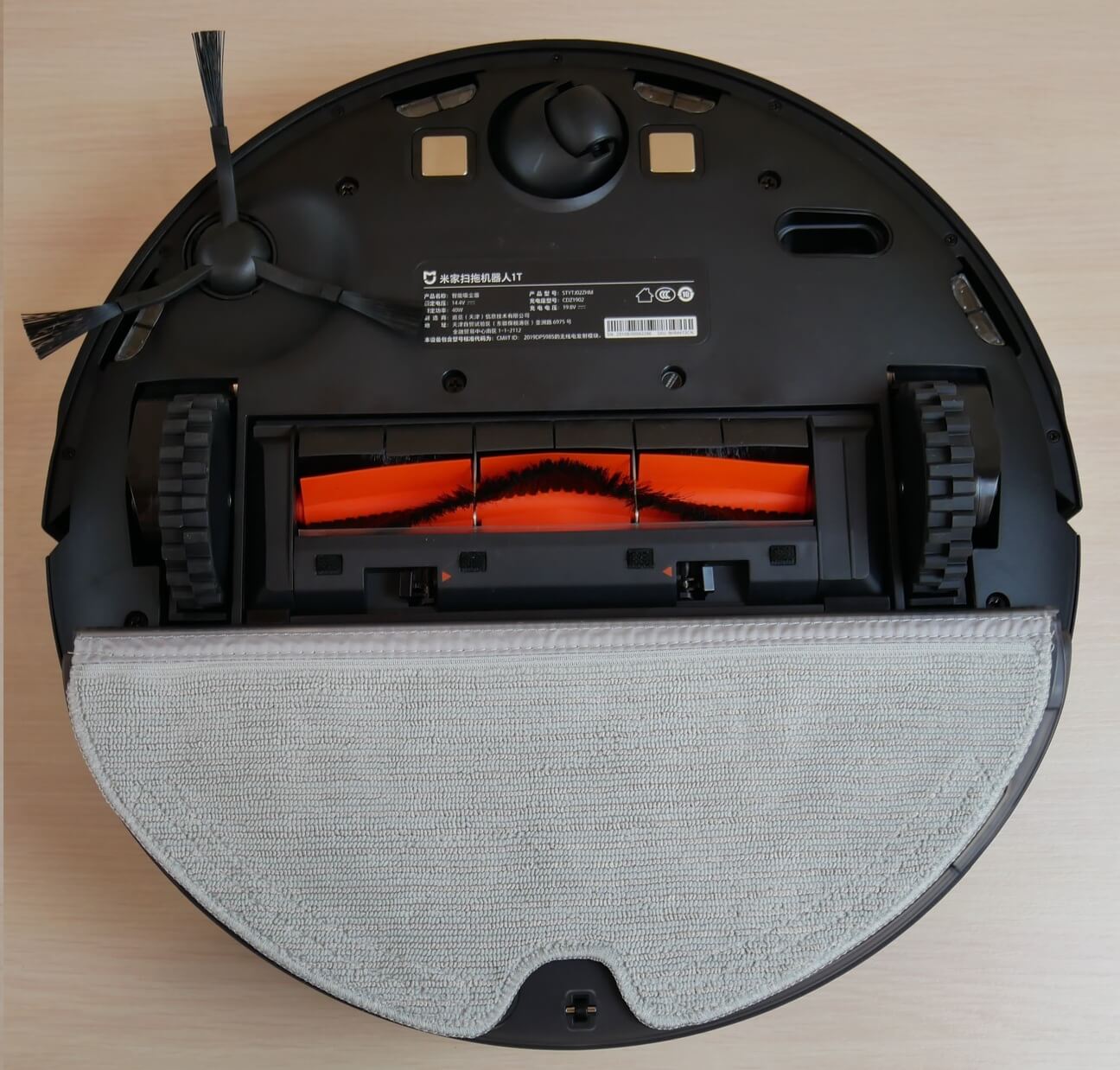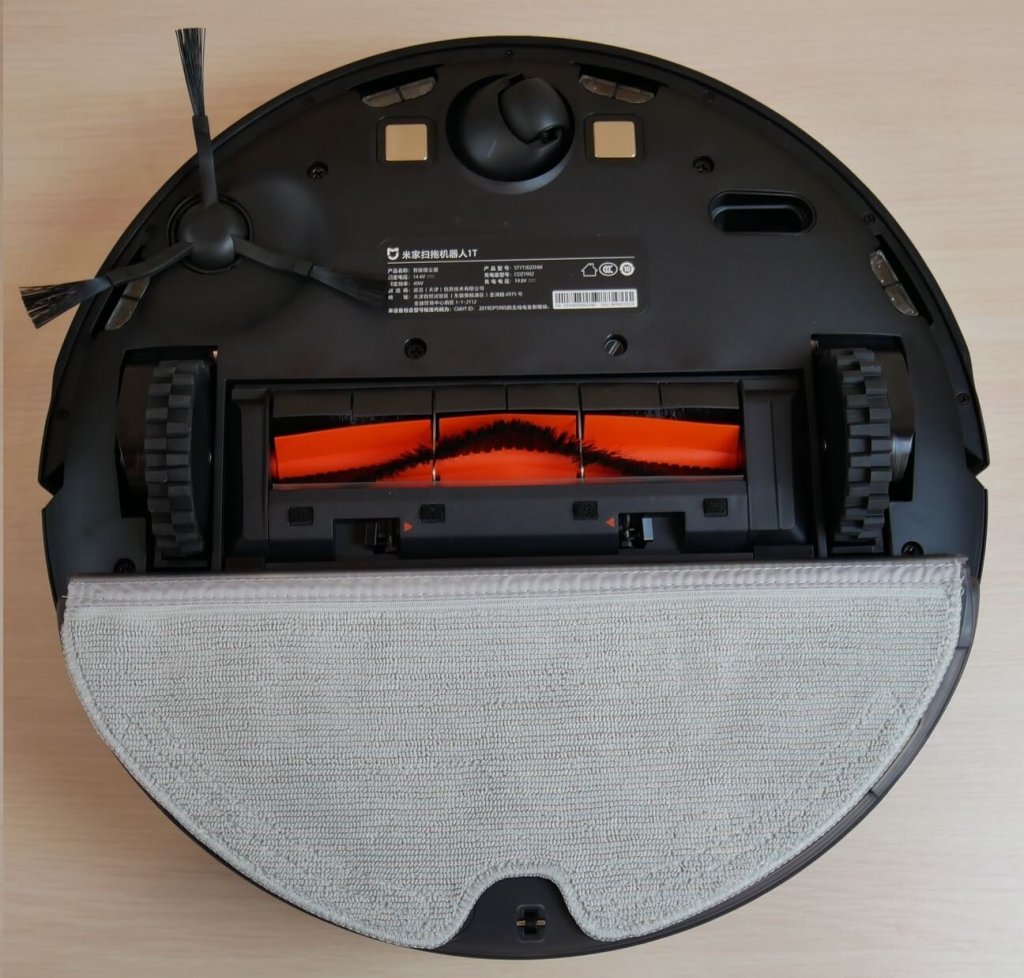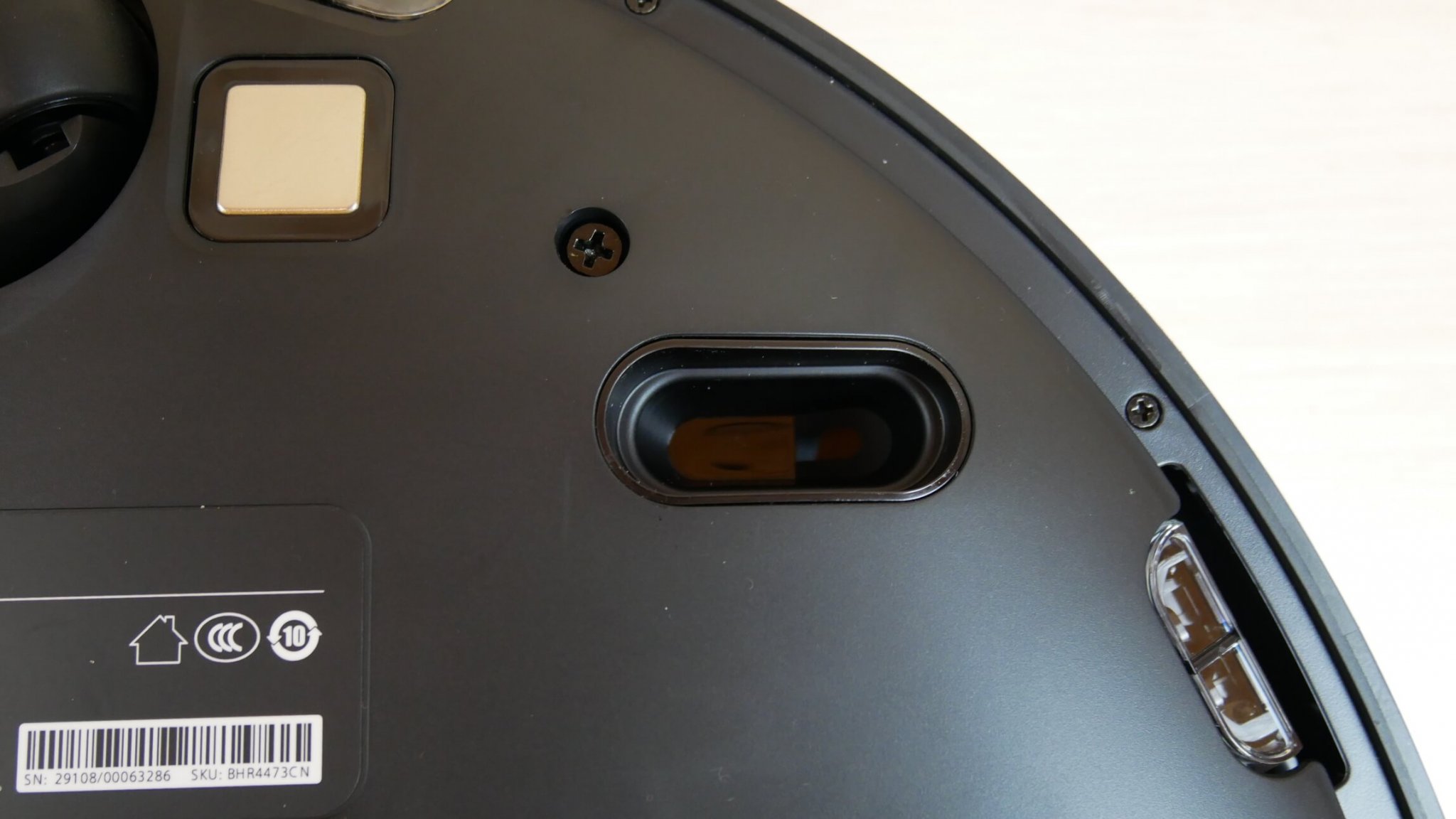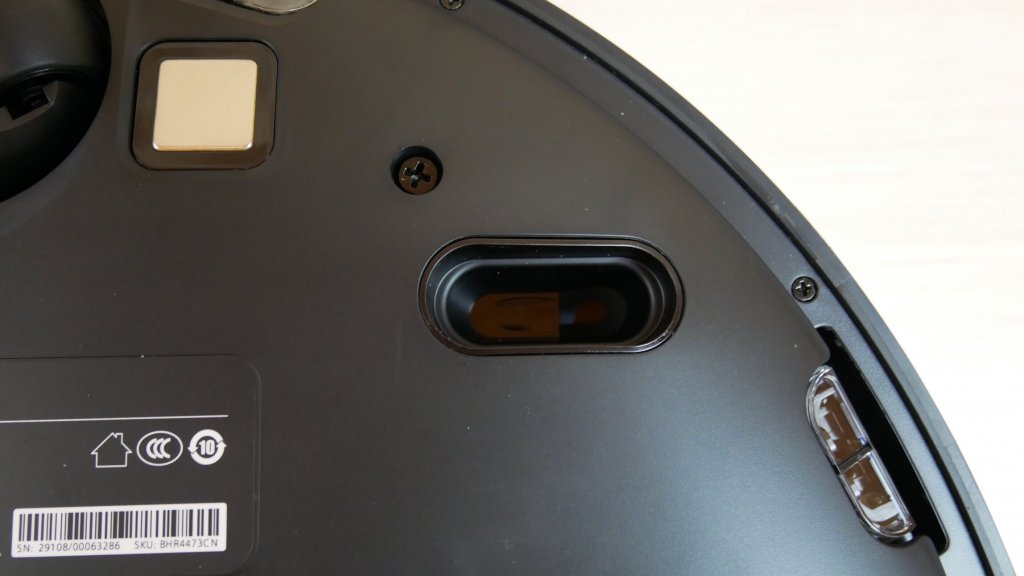 There is only one three sided side brush, with bristly ends. On the side we can see a brush that helps the brush clean itself from hair and fur. The central brush is a common model, bristly-petal and can be taken off from one side.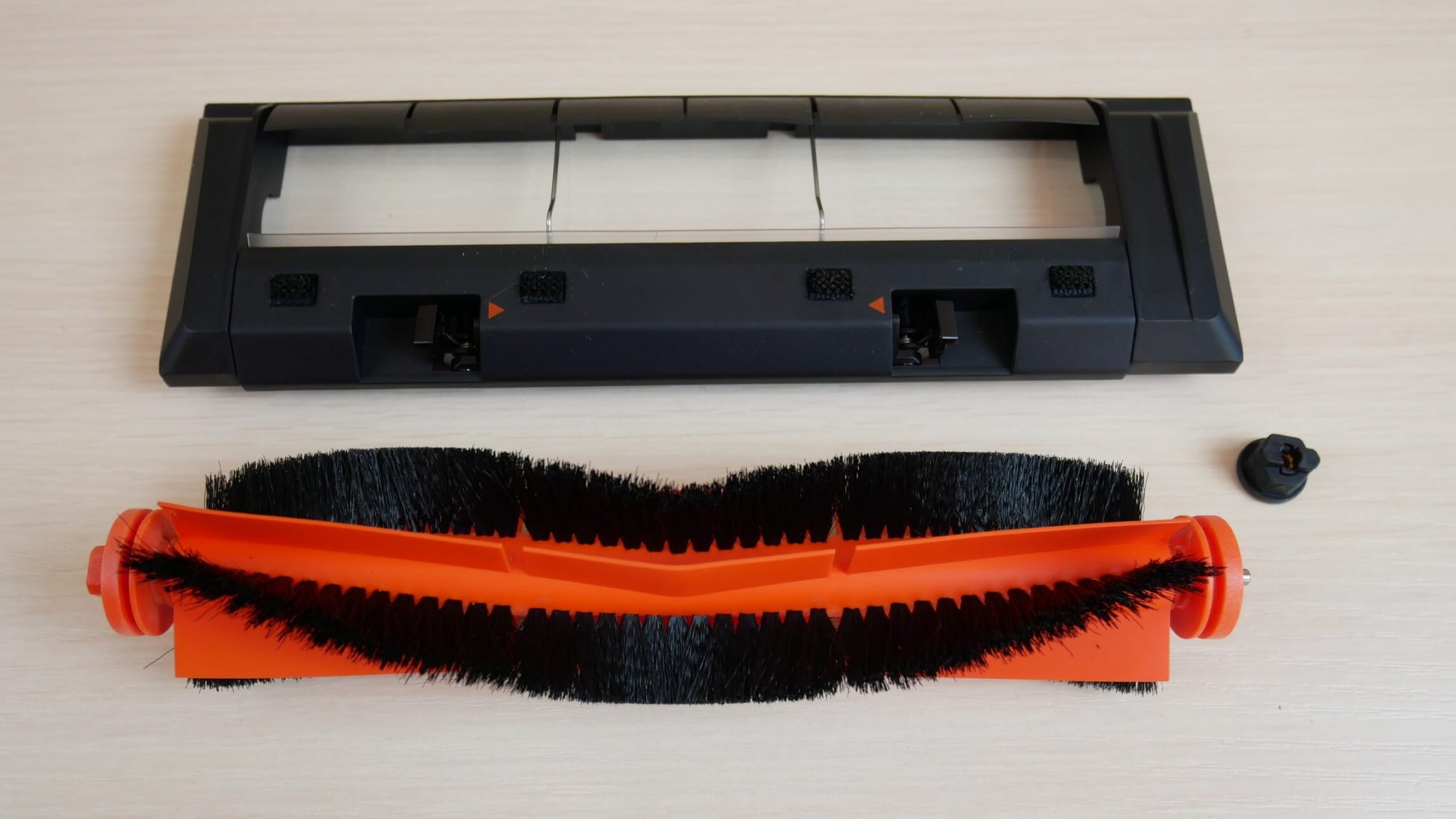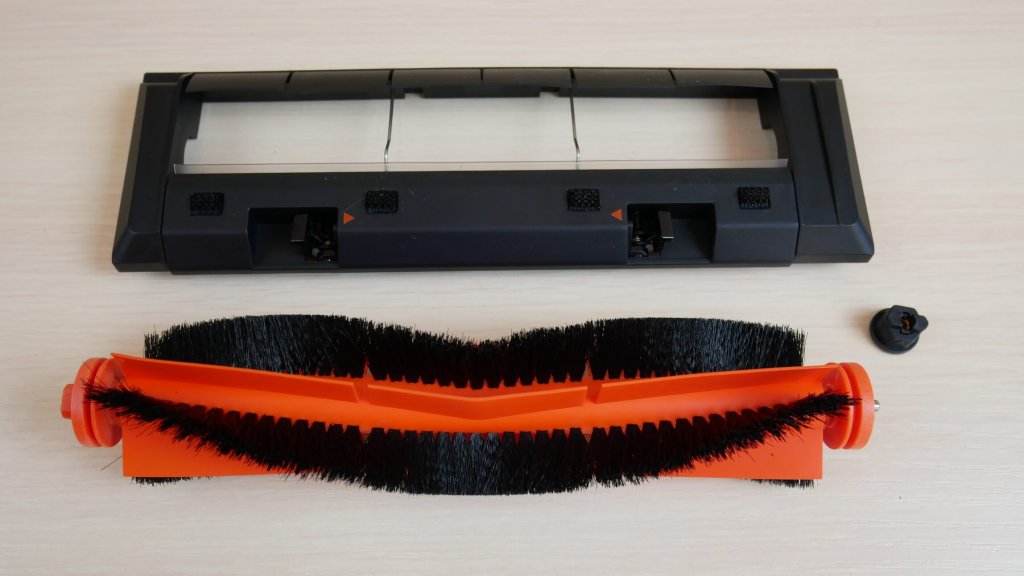 All in all Mijia 1T's quality is ok, which reflects on the price.
Technical features
The main characteristics of the Xiaomi Mi Robot Vacuum Mop 2 Pro+:
Battery Li-Ion 5200 amps.
Suction power 3000 Pa.
Work time 180 mins.
Are up to 240 sqm (787 Sqf).
Dustbin 550 ml (18.5 Oz).
Water tank 250 ml (8.5 Oz).
Obstacle size up to 20 mm (0.7 inches).
Size: 350*82 mm (13×3 inches).
The characteristics are up for competition, especially the suction power, which we'll stop on later
Functions
Now let's move on to Xiaomi Mijia 1T's functions. The robot is controlled through the Mi Home app.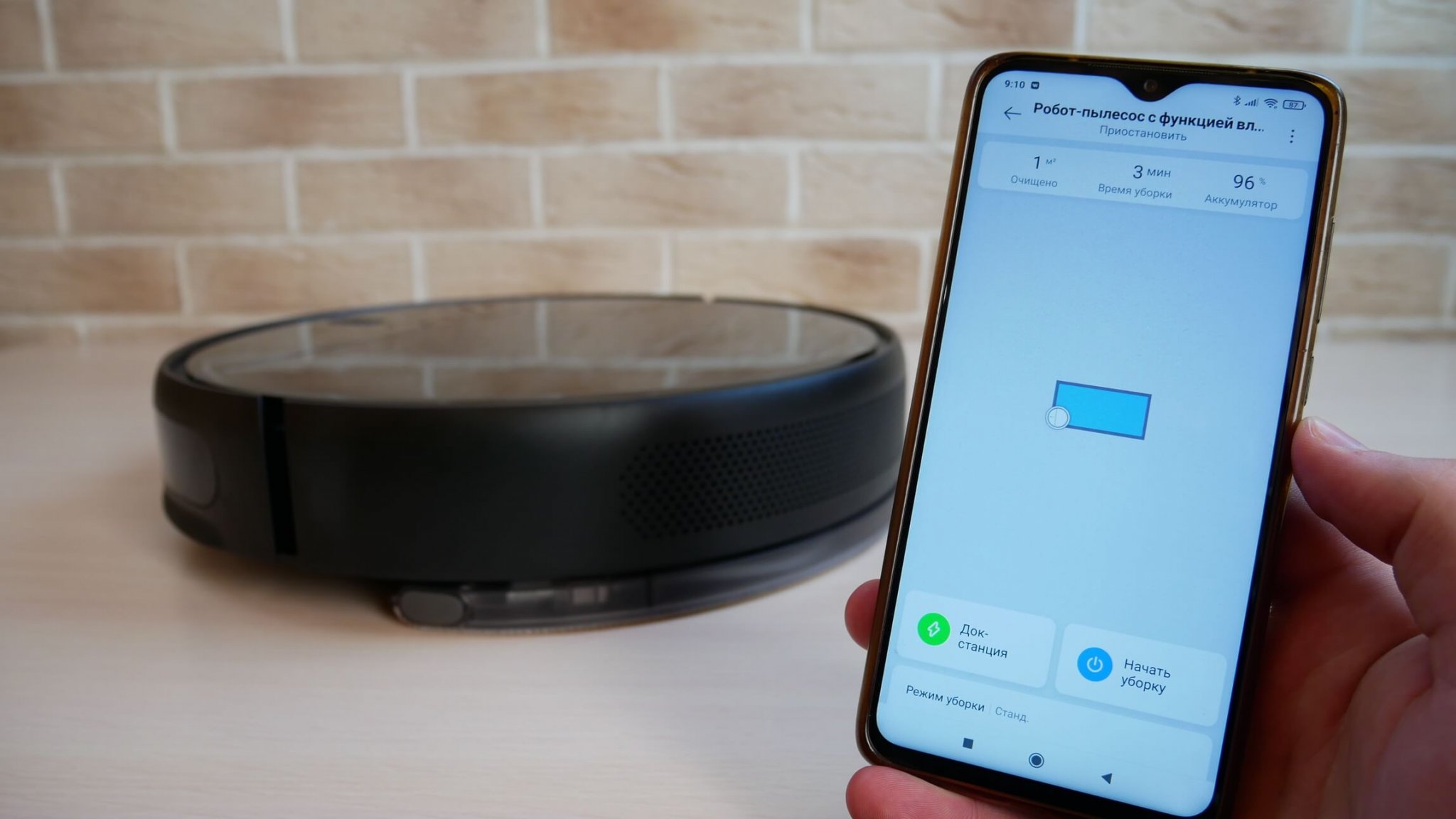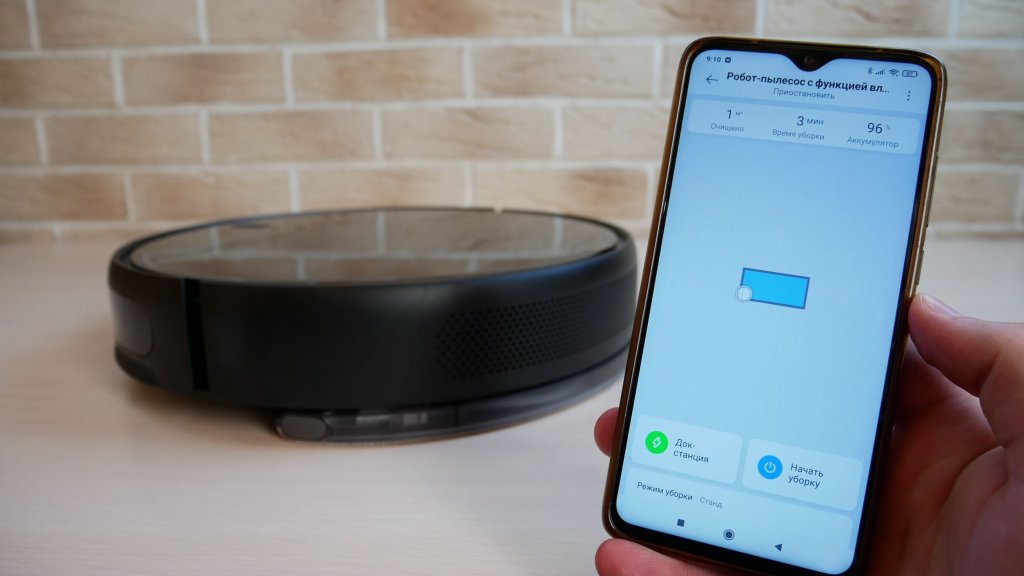 On the main screen you can see the map the robot had built, saved and zoned for individual rooms. In the settings you can save the map, set up a cleaning schedule, chose the time, days, and the suction power. Sadly, you can't pick individual rooms for cleaning. But you can turn on automatic power increase for carpets, make your robot clean after charging, and also turn on "do not disturb" for specific times. You can also turn off notifications and chose the language you want your robot to speak it. The robot I got can speak only in Chinese and English.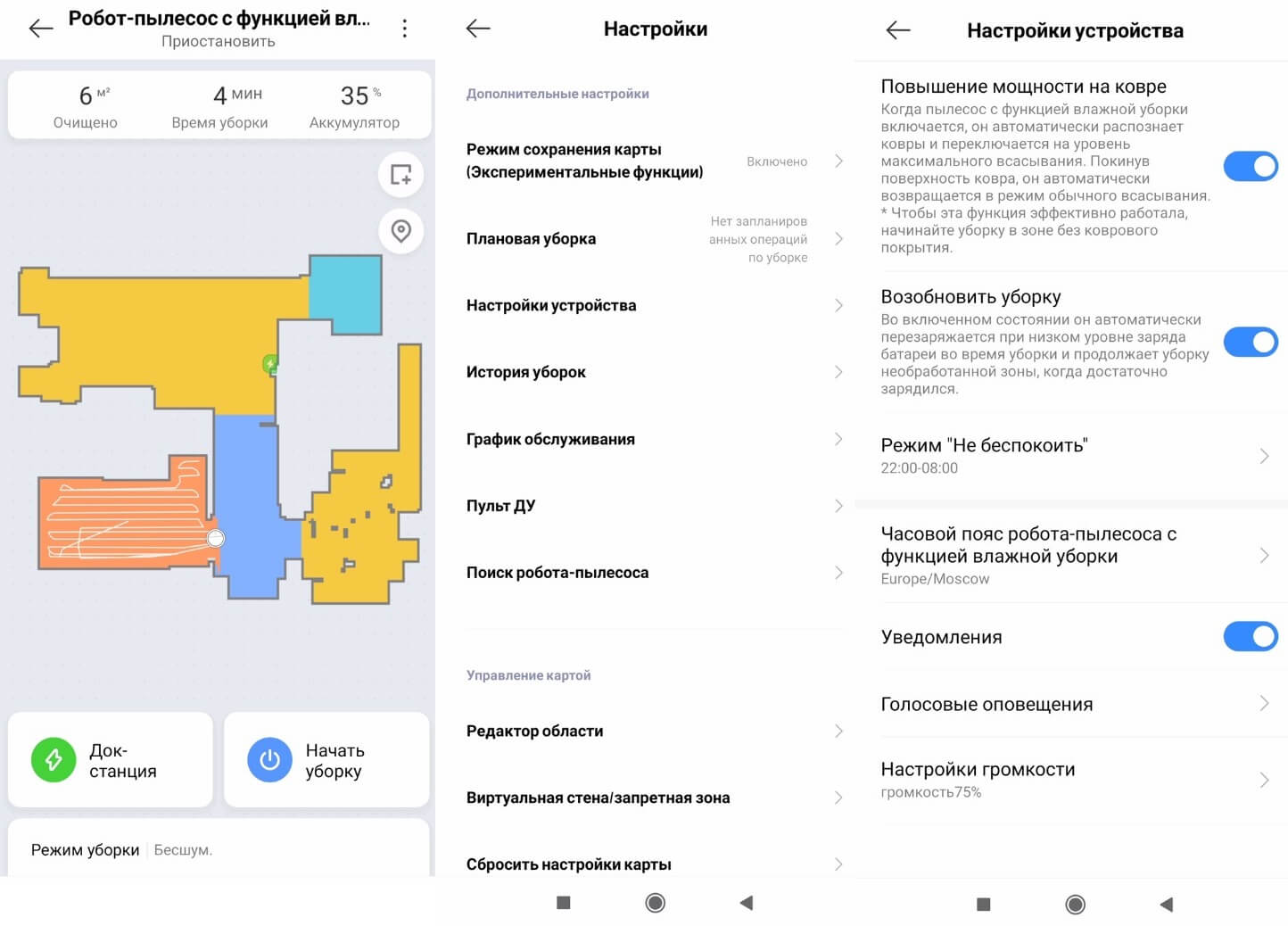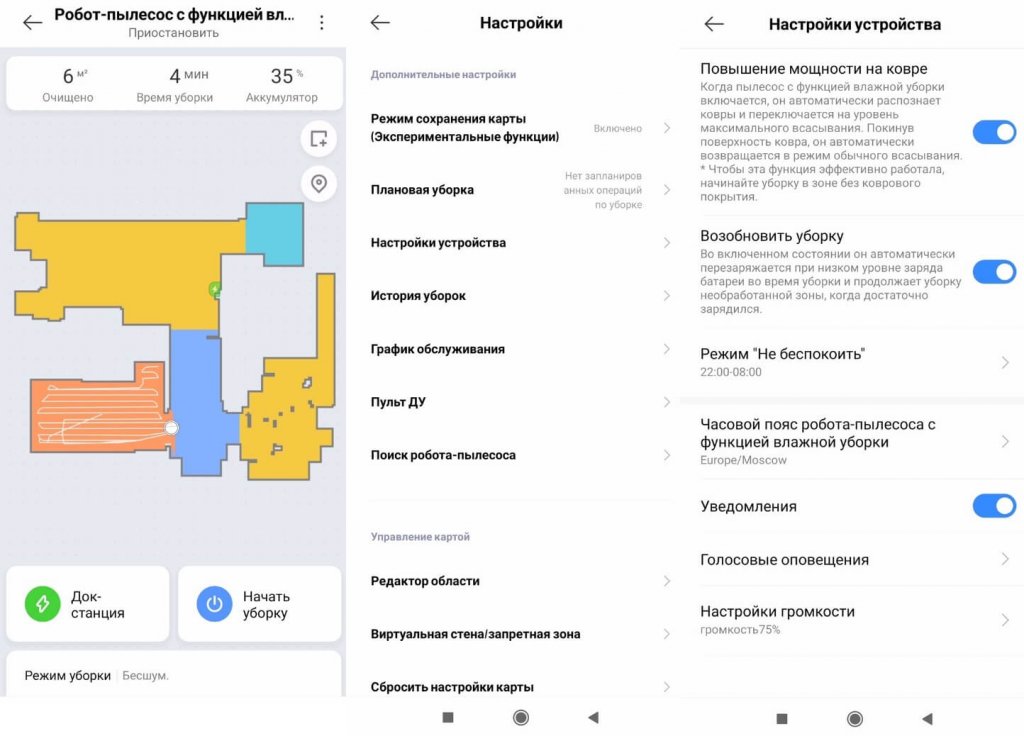 In the menu you can also find the cleaning log, in which you can view your water level, manually control your robot, and turn on "find my robot". In your area editor you can connect rooms together, or separate them apart. Below you can find a section where you can set up virtual walls, no-go zones, and no-go zones for mopping.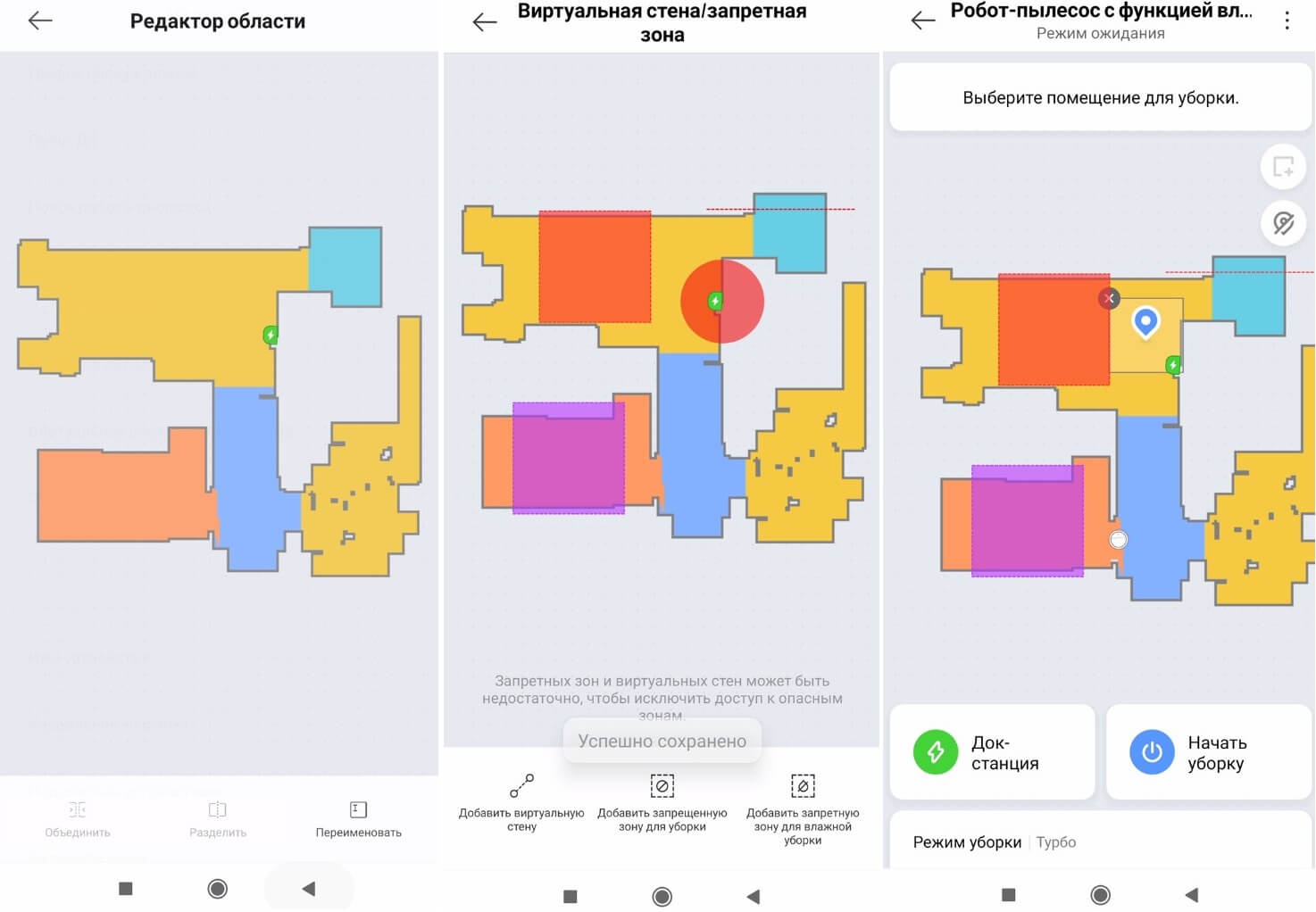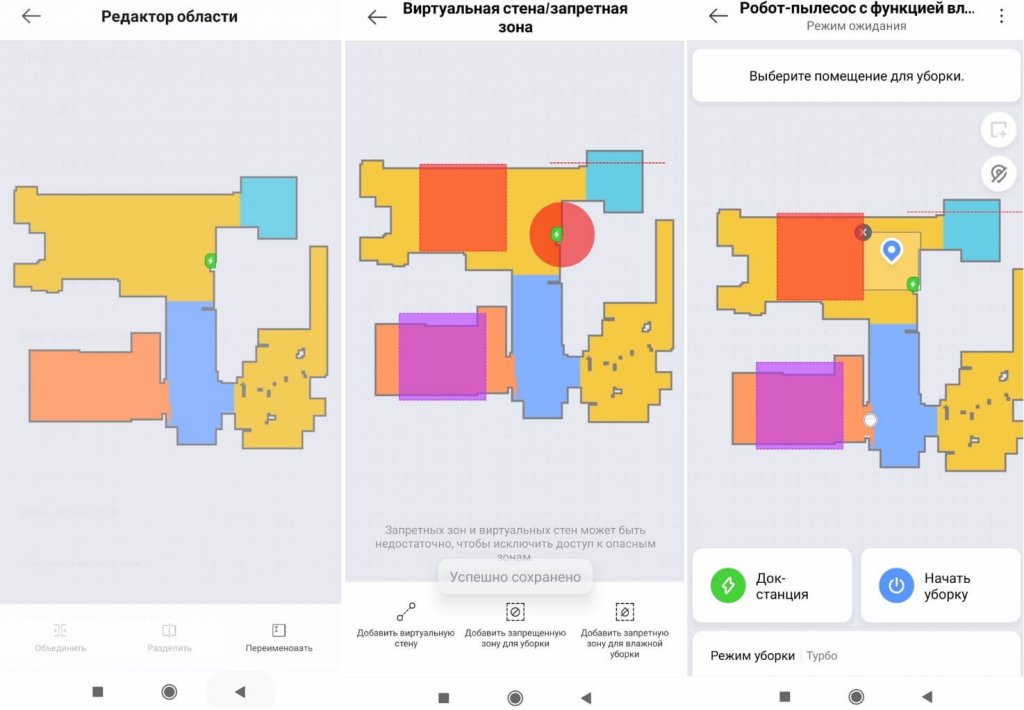 Well, you can also name and rename your robot, share your controls with others, and update your app.
Let's go back to the main screen. The bottom two buttons are responsible for automatically cleaning, and getting the robot back to the base. If you swipe up, you will see a section for regulating your suction power and checking your water level.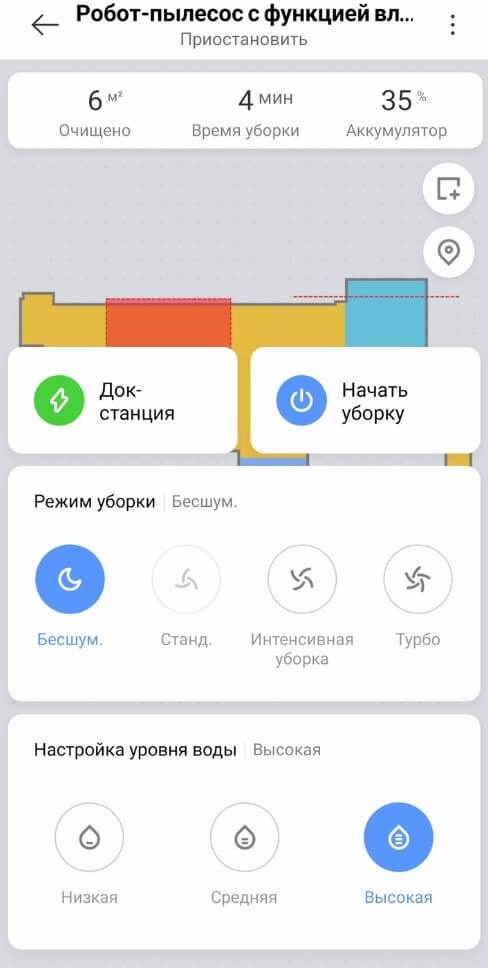 On the map you can set a specific point for your robot to clean, or just pick specific rooms that need tidying up. So, these are all the functions. We went over the main features, and I'll add that the robot can continue cleaning from the spot it left off after charging
Testing
A detailed video review Xiaomi Mi Robot Vacuum Mop 2 Pro+ with all the tests:
Navigation
And finally let's move on to the tests. Let's first test Mijia 1T's navigation in a room with obstacles. First our robot goes around the room in a snake like pattern. Thanks to the ToF sensor on the front, the robot almost doesn't even touch the objects. It didn't clean around the chair legs and boxes, but ended going back to the chair legs. It didn't get stuck on the drying rack. After going in a snake like pattern, the robot goes around the perimeter, and goes back to its charging base. The navigation isn't bad but it isn't the best amongst robots with cameras.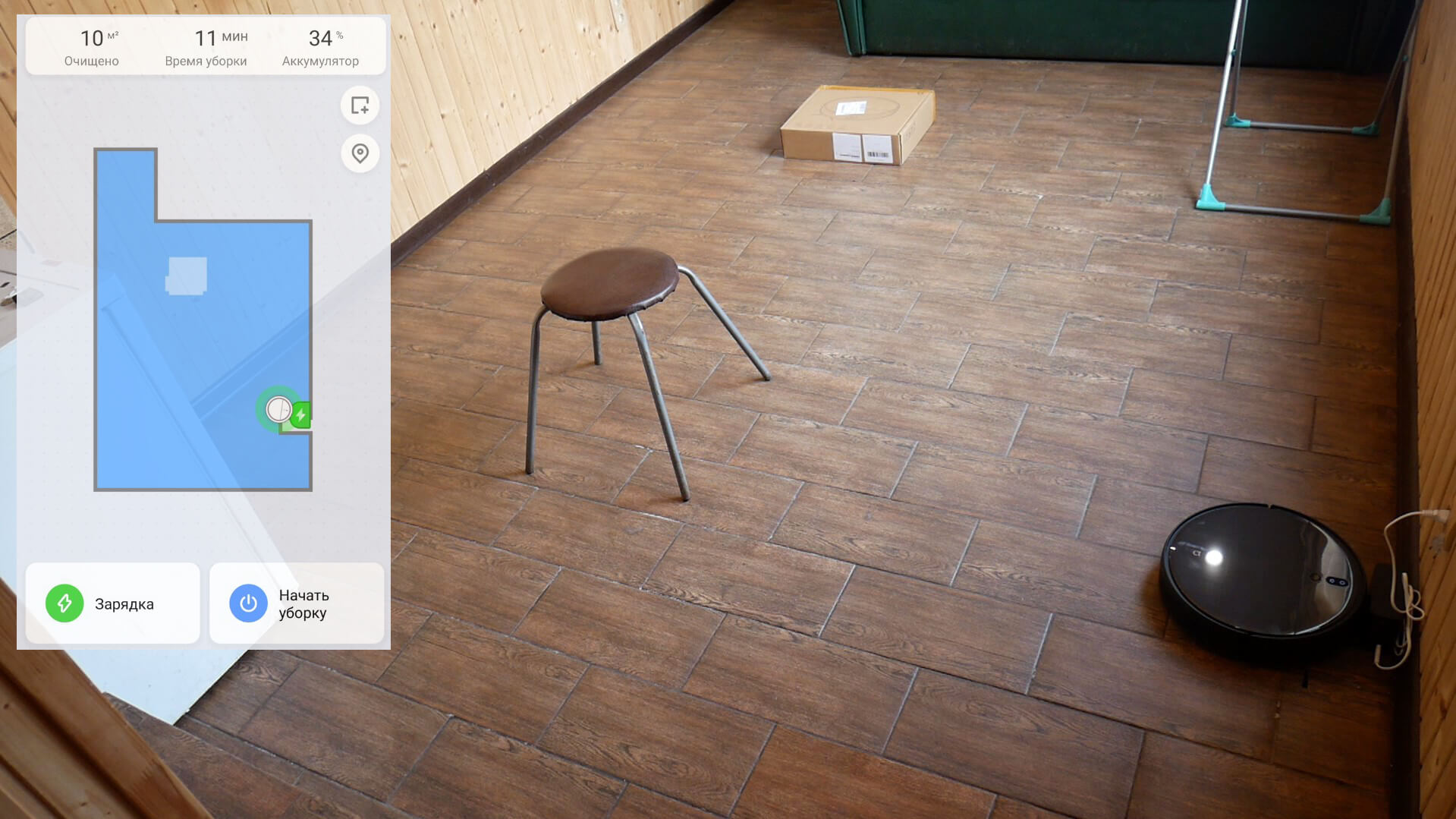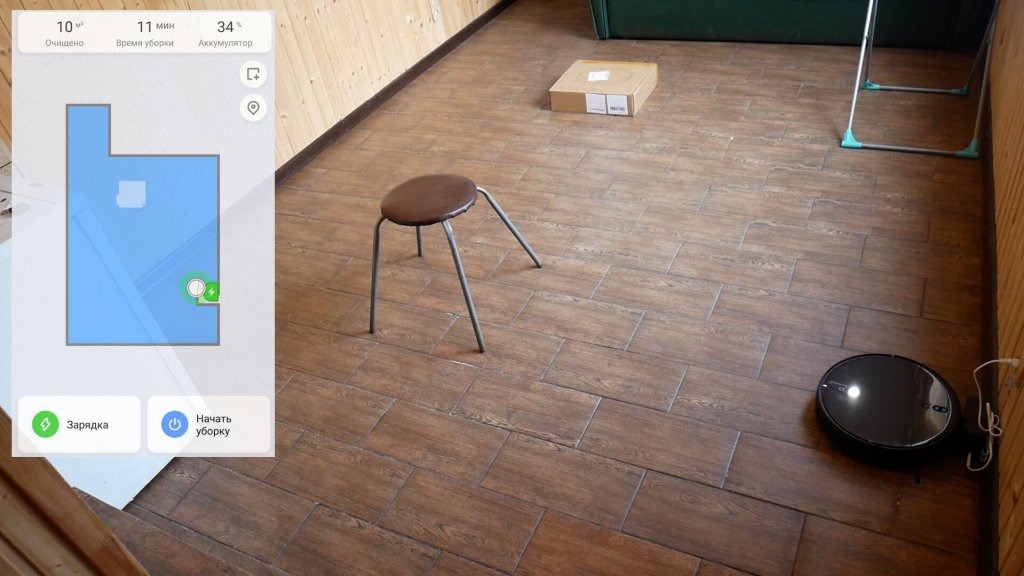 Now let's see, how well Mijia 1T identifies objects on the floor. As you can see, the robot wasn't able to identify the sock and got it stuck in the brush, after which it couldn't continue working. I moved it to move on with our tests. The pet experiment also went down in the gutter. But at least it kind of recognized the wires, and some small objects and toys, which it still touched while cleaning, just didn't fail completely. Then I got to thinking, and though "would by results be different on a lighter surface?" No they weren't. So I think our test with recognizing object on the floor was totally failed, and don't buy this robot if it's this function you're going for.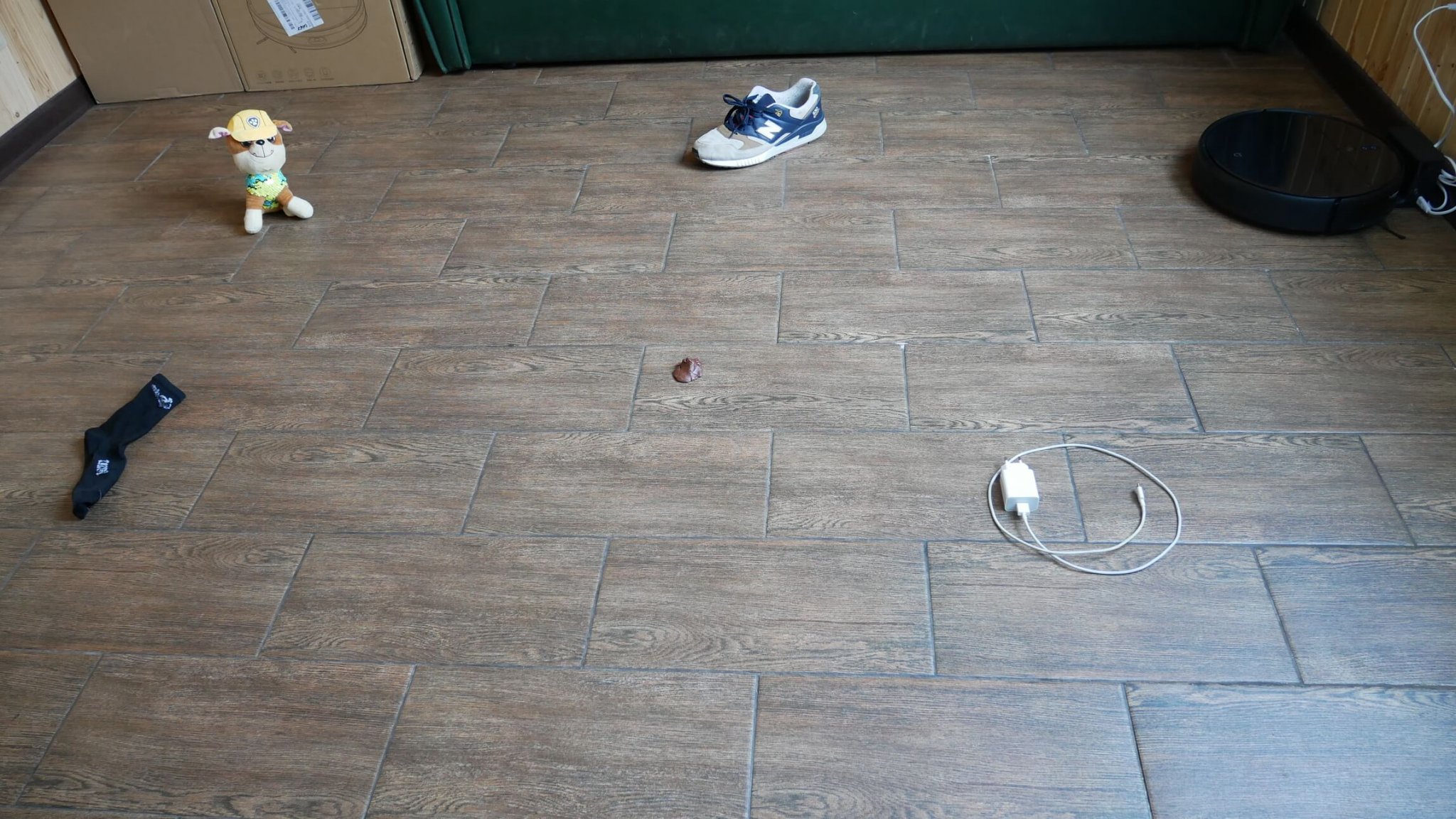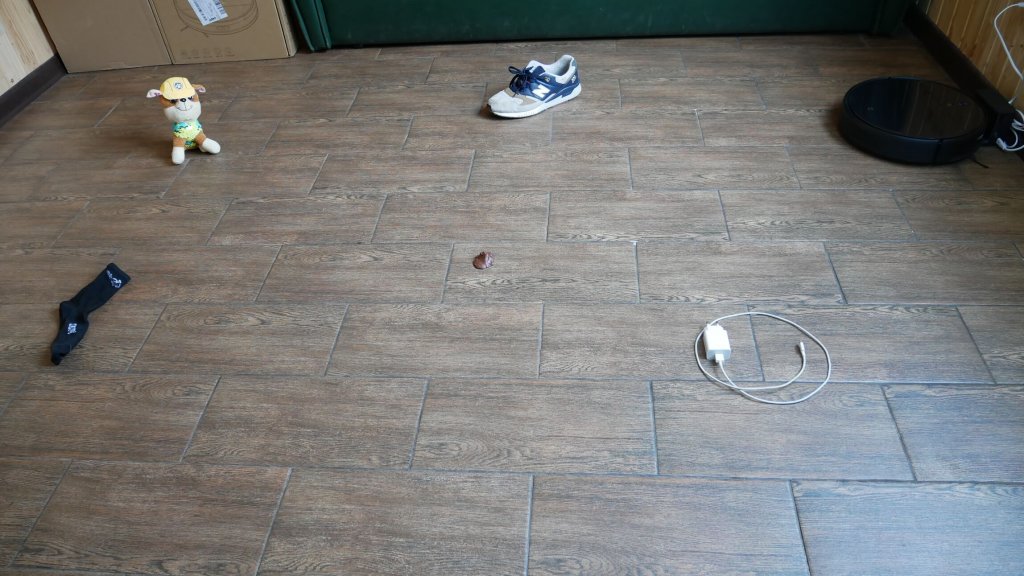 Well and the navigation itself, is a little problematic. The front sensors act very weirdly on fluffy carpets, and in result the robot's movement becomes chaotic. Here take a look for yourself. But the problem doesn't occur on hard floors.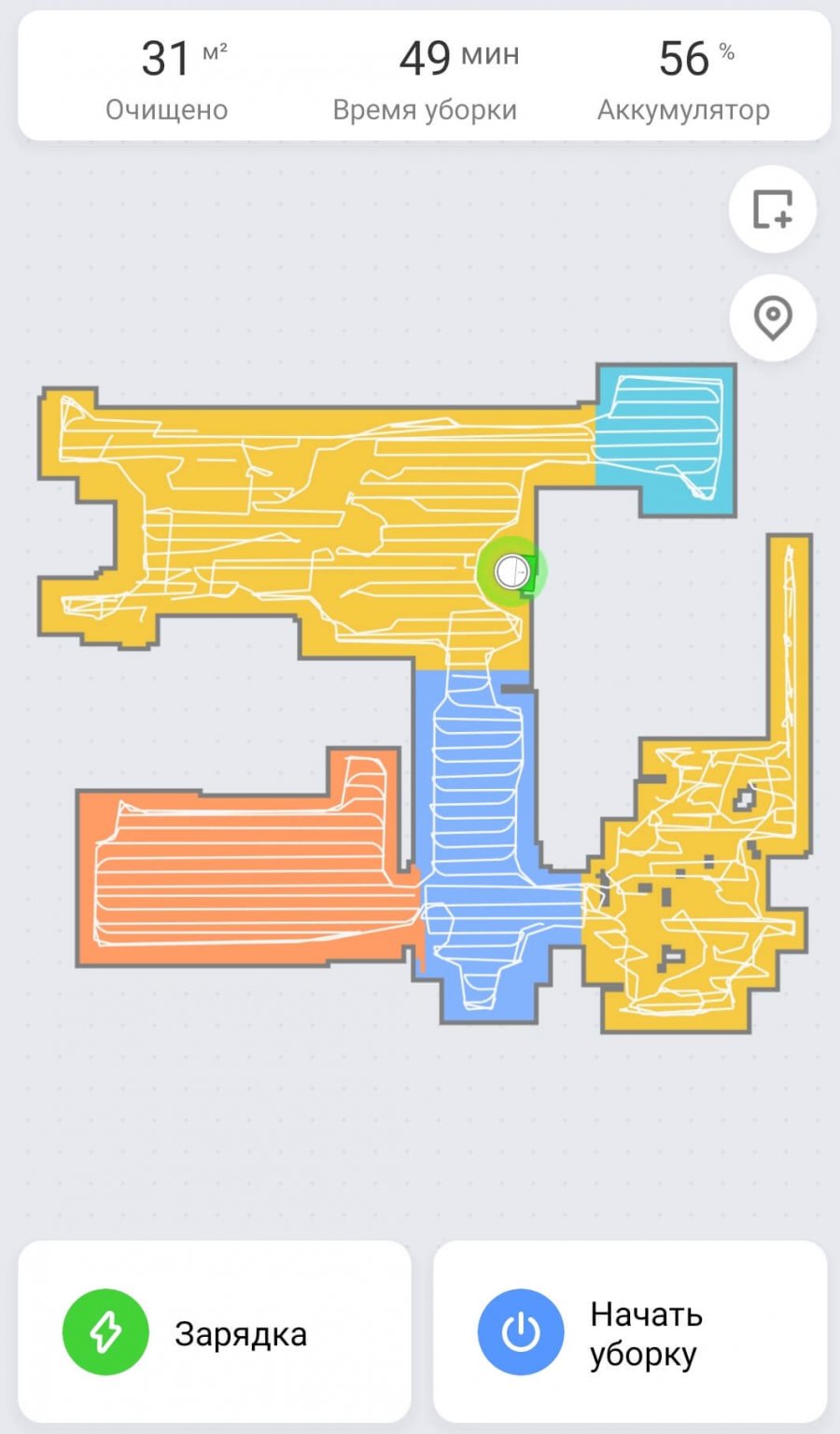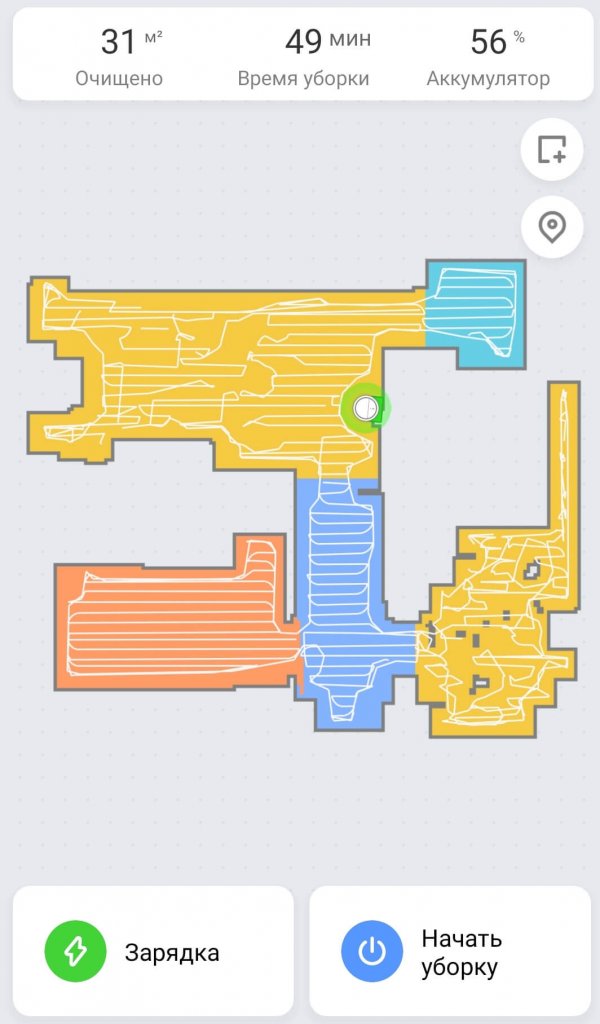 So, the robot went first in a snake like pattern, then around the perimeter, cleaning room after room, but there are still uncleaned areas on the carpet, and as we can see Xiaomi Mijia 1T's sensors are hurting it in the long run. The navigation in itself is crappy, and I'm not too happy with it. But, the robot is more careful than the Mijia 1C and Dreame F9, and that's a fact. If the carpet problem is fixed in the future then the navigation will be fine.
Suction power
Even though the manufacturer stated 3000 Pa for the suction power, the robot can only suck out dirt from 2 mm (0.07 inches), so the numbers are all a corporate lie. In reality Xiaomi Mijia 1T's suction power is closer to 2000-2500 Pa.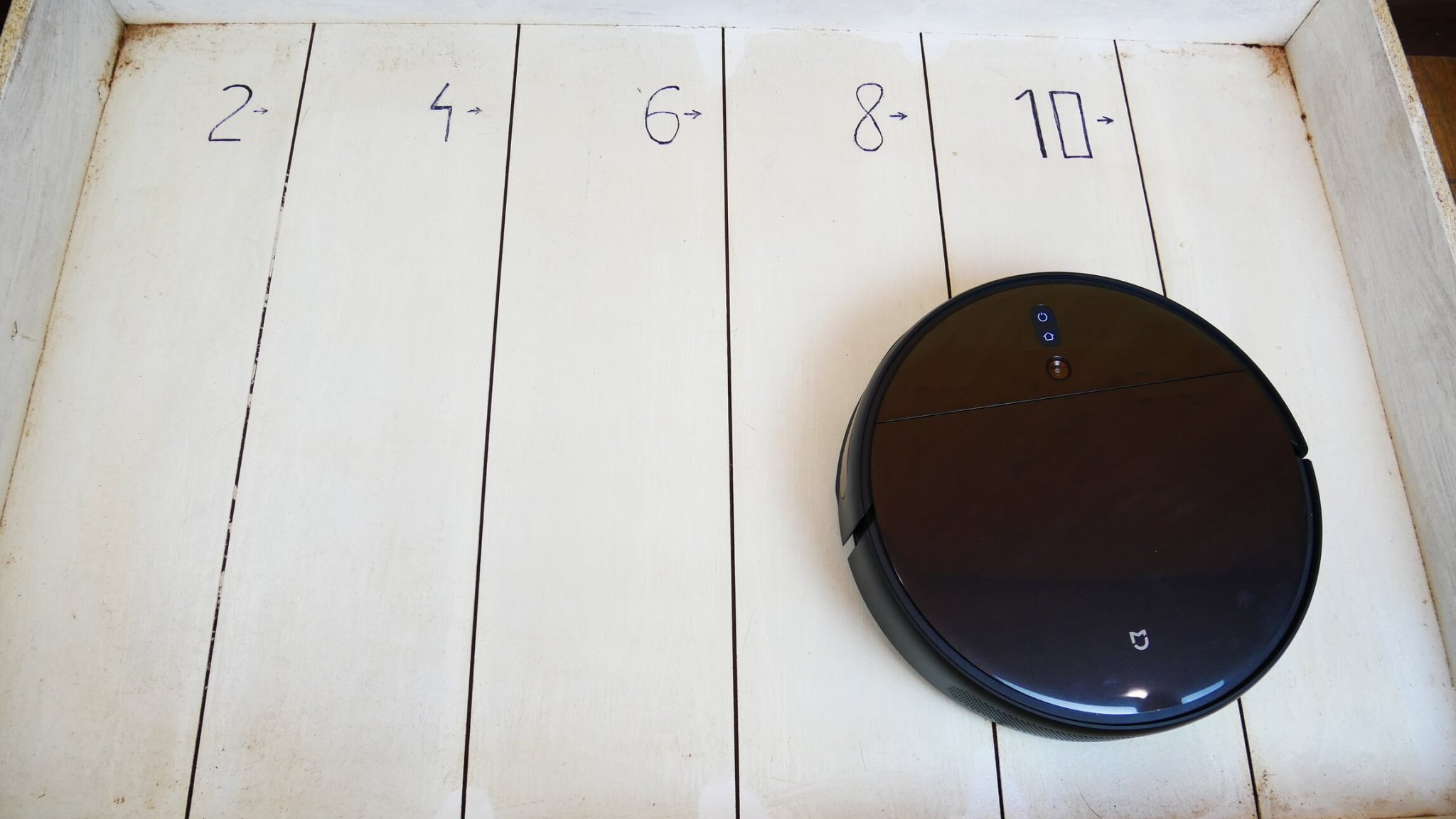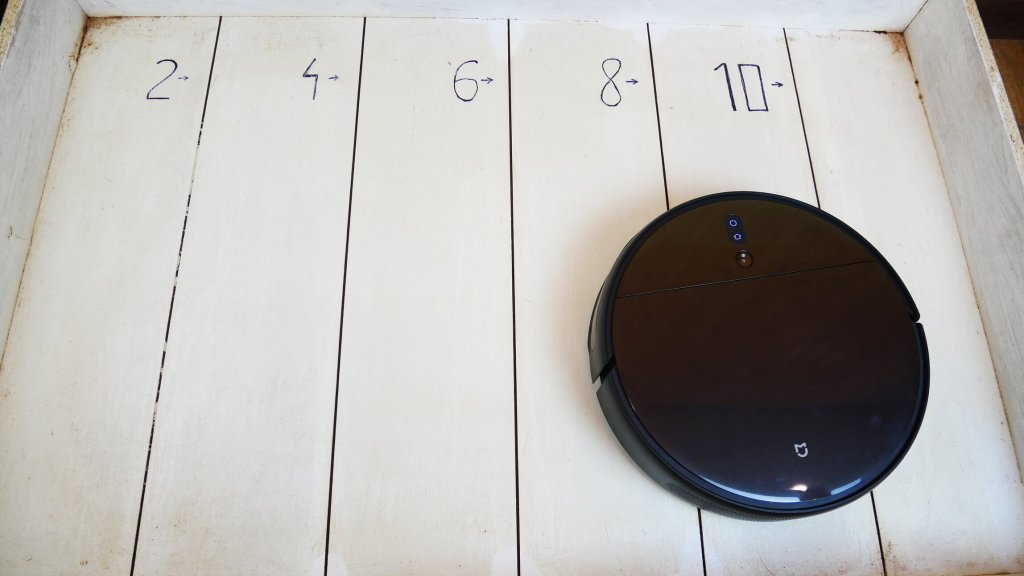 Hard floor vacuuming
The hard floor cleaning is above average. But again, the camera causes unnecessary movement, but mostly the dirt is gone. Only a bit of dirt is left in the corners, where most round robots can't reach.


Carpet cleaning
ЕIf we're going to talk about Xiaomi Mijia 1T's ability to clean carpets, then I have to mention that the cleaning itself is good, so I' not complaining.


Mopping
The quality of mopping dirt from the floor is above average as well, but that's common amongst Xiaomi vacuums. A small line along the baseboard remains, but that's the current setback of Xiaomi.


But this robot will do for quality mopping of your house. The cloth is wet, but doesn't cause puddles, the trail has a good amount of water, and most importantly – the floor doesn't have streaks and spots. The robot-vacuum can also simultaneously vacuum and mop, so that's a plus.
Obstacles
Xiaomi Mi Robot Vacuum Mop 2 Pro+ goes over obstacles pretty well. Baseboards measuring 2 cm (0.788 inches) raise no problems for our robot.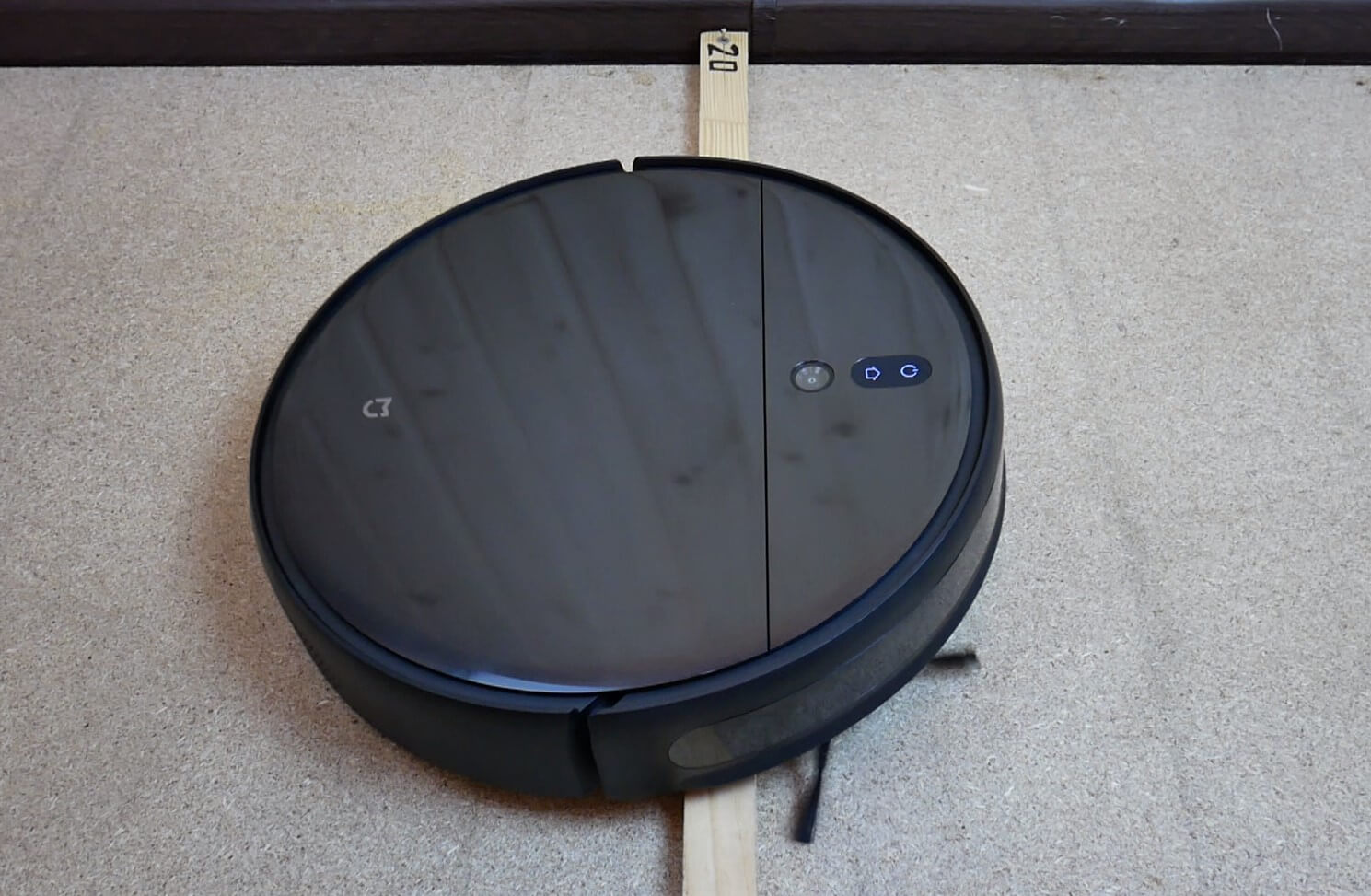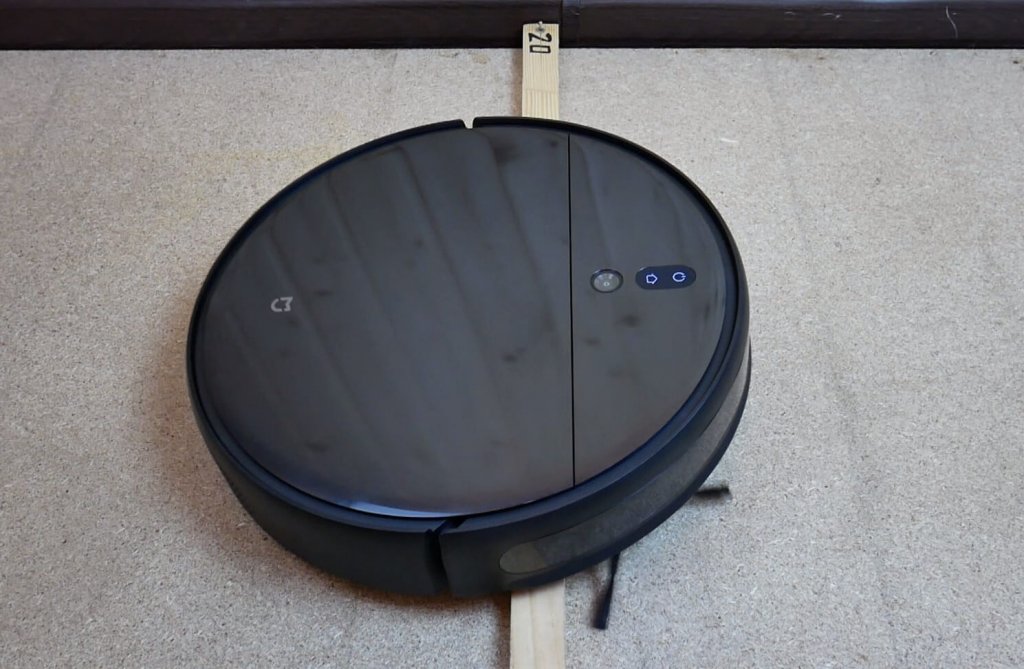 Going over dark spaces
Xiaomi Mijia 1T avoids the black rug, and goes around it. But that's common amongst all Xiaomi vacuums.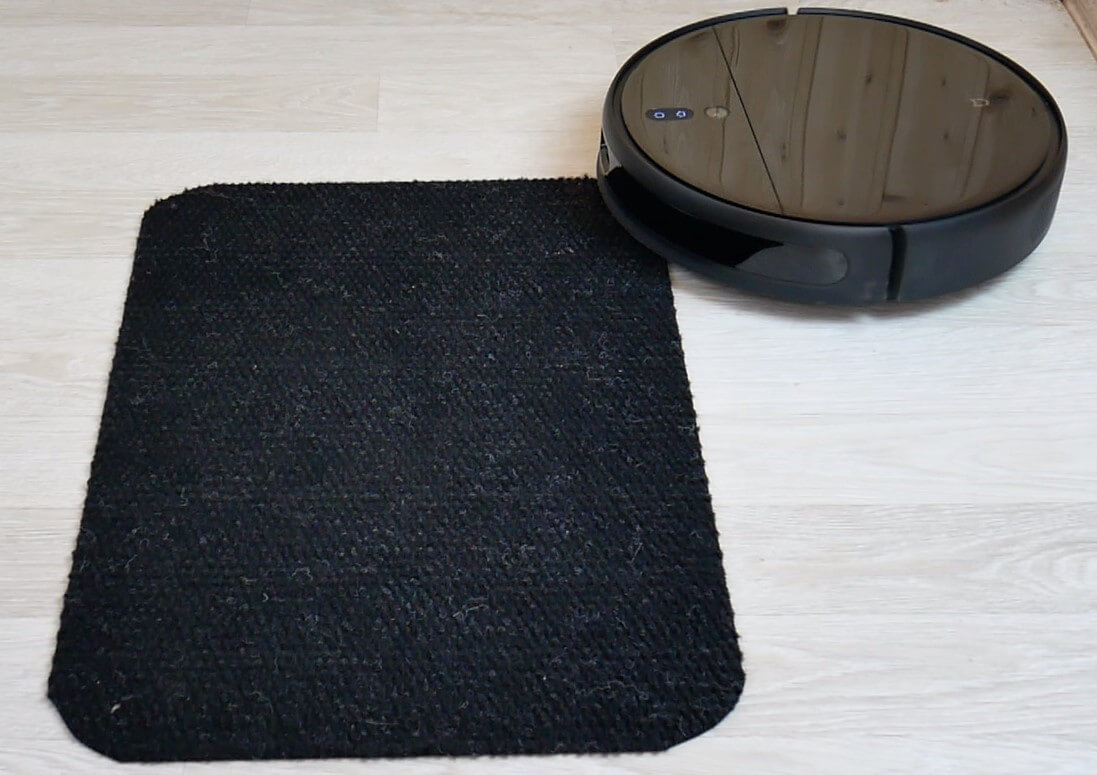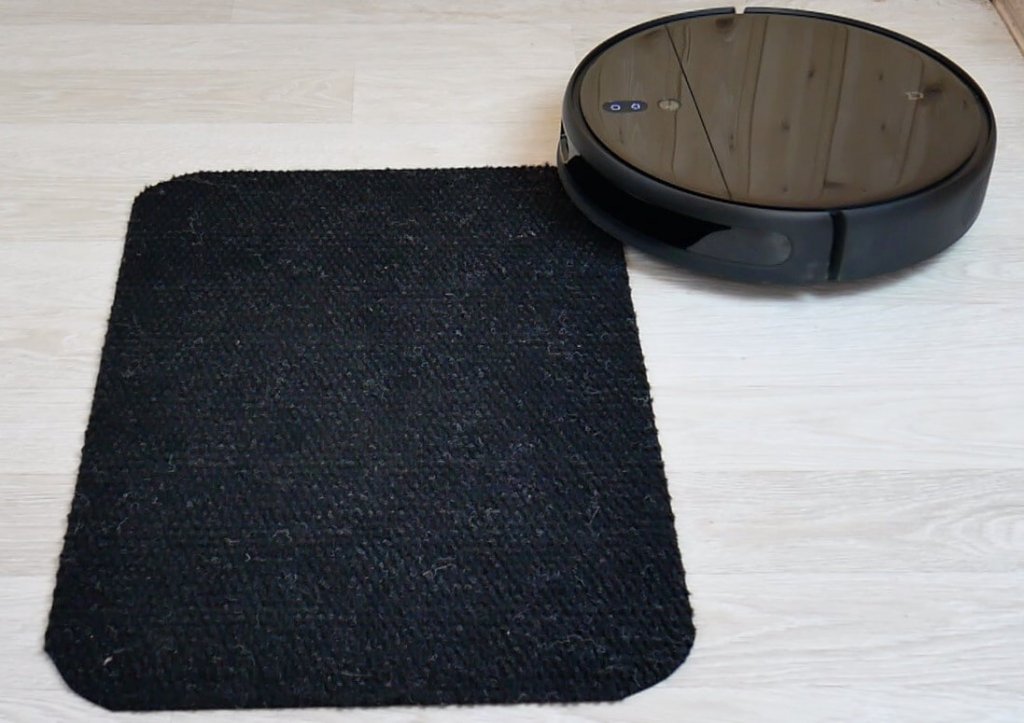 Noise level
Lastly, lets test Xiaomi Mijia 1T's noise level in different modes. On the lowest mode it reaches 57-60 dB, on the regular mode it goes at 61 dB. When pressure cleaning it goes to 63 dB, And in turbo the max is around 65 dB. This robot is pretty quiet compared to the others.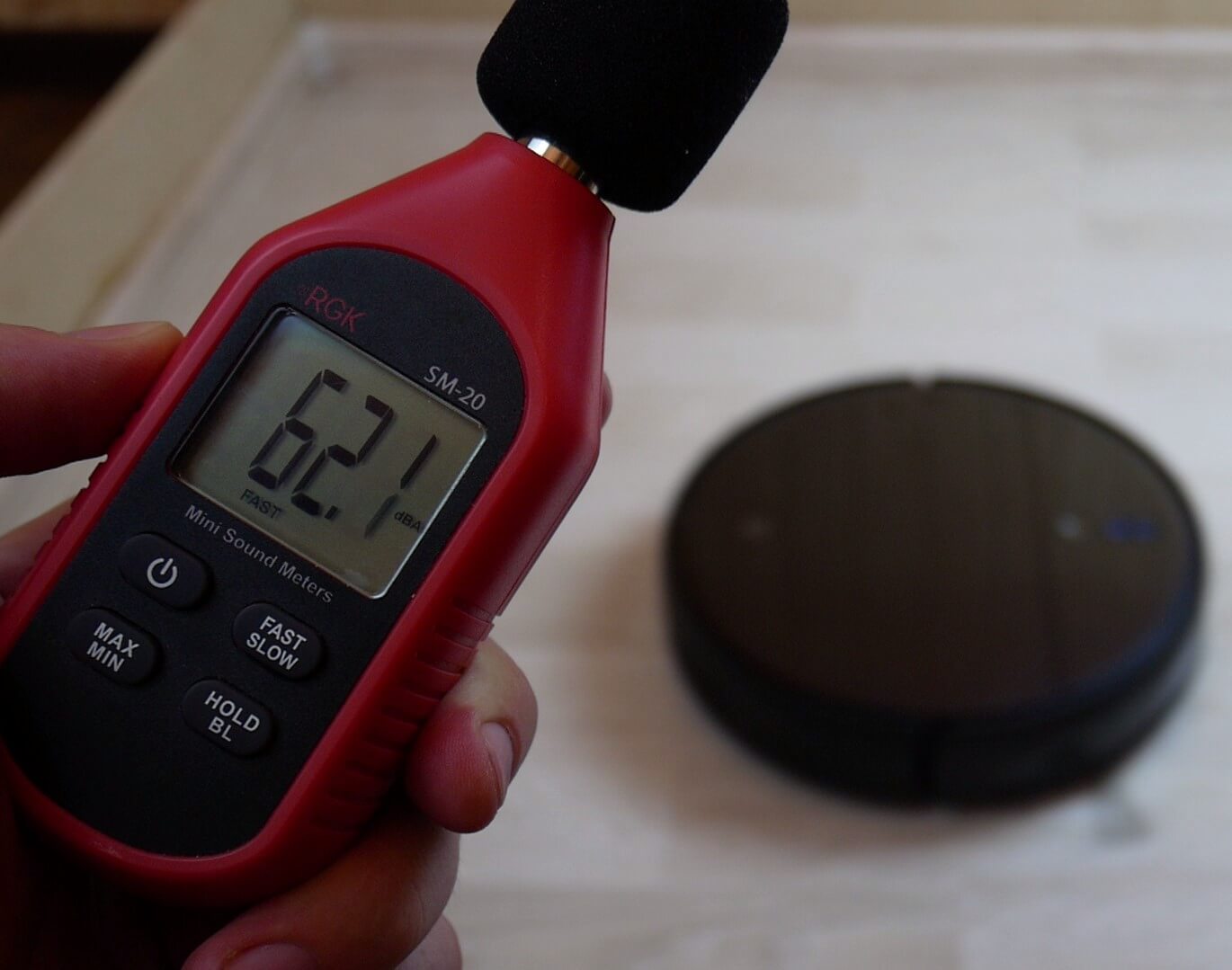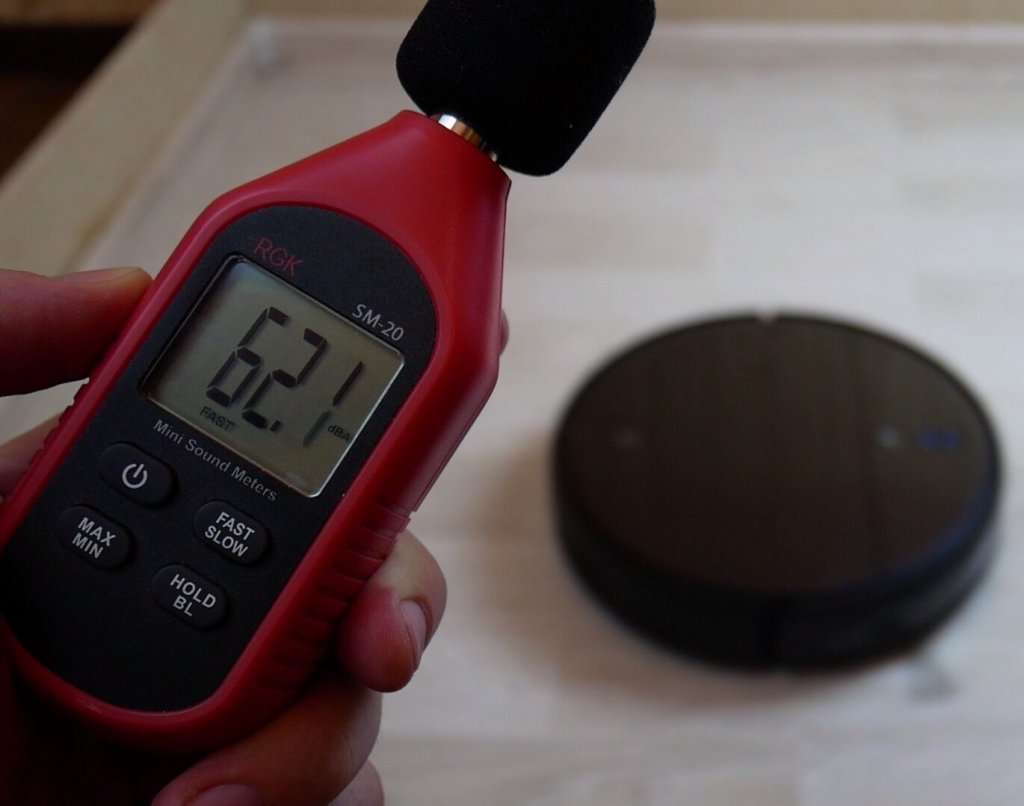 In conclusion
Xiaomi Mijia 1T was thoroughly tested and detailed. Based on our algorithm, it got a 57 out of 100, and that's 10 less than Dreame F9, which was tested by us before, and acts as the best Xiaomi Robot Vacuums under $300. I took off 2 additional points from Mijia 1T for the slow app, which is on a Chinese server, and that the front two sensors hurt the robot's cleaning. Solet's look at all the benefits and disadvantages of this model.
The overall rating of models that passed the Robotobzor test https://robotobzor.com/ratings/general-rating-of-robot-vacuum-cleaners.html.
The benefits are:
Simultaneous mopping and vacuuming.
Big water and dust containers.
Great with obstacles.
Good functions such as: no-go zones, virtual walls, and individual rooms for cleaning.
A powerful battery.
The mopping and vacuuming is above average.
The main disadvantages, that in my opinion are more important, are:
The robot isn't good at identifying objects on the floor.
The system of obstacle avoidances hurts the robot's cleaning when on carpets.
The app is slow with the Chinese servers.
You can't chose individual rooms when setting up your schedule.
No spare parts.
The robot avoids dark spaces.
So I really don't see a point to you buying Xiaomi Mijia 1T for that large of an amount. You're overpaying for the sensors that identify objects on the floor, if you compare it with Mijia 1C and Dreame F9, which are the main competitors for the Xiaomi brand, and the sensors are also very bad at identifying the objects, and actually hurt the robot when cleaning carpets. And the suction power turned out to be less than advertised. So I recommend saving your money and buying something else, or open your budget up a bit more and buy the Dreame Bot L10 Pro, which costs around $450, and has a 3D sensor, which better identifies objects on the floor. It also has a better battery, making it a better option for your purchase.
On this note I'd like to end this review. Have fun shopping, bye!