Hey guys, welcome to Robotobzor! Today, we'll take a look at Dreame Bot D10s robot vacuum cleaner. The D10s line was announced at the end of 2022 and currently has three models: Dreame Bot D10s, D10s Pro and D10s Plus. For this review, I'll be looking at the newest one. At around $400, it has a navigation lidar, an upgraded silicone turbo brush that cleans hair fur much more effectively, and increased suction power to 5,000 Pa. Now, Dreame Bot D10s will be tested and looked at, after which I'll tell you if I think this is worth your time or money. Let's get rolling!
Equipment
The robot came in this box: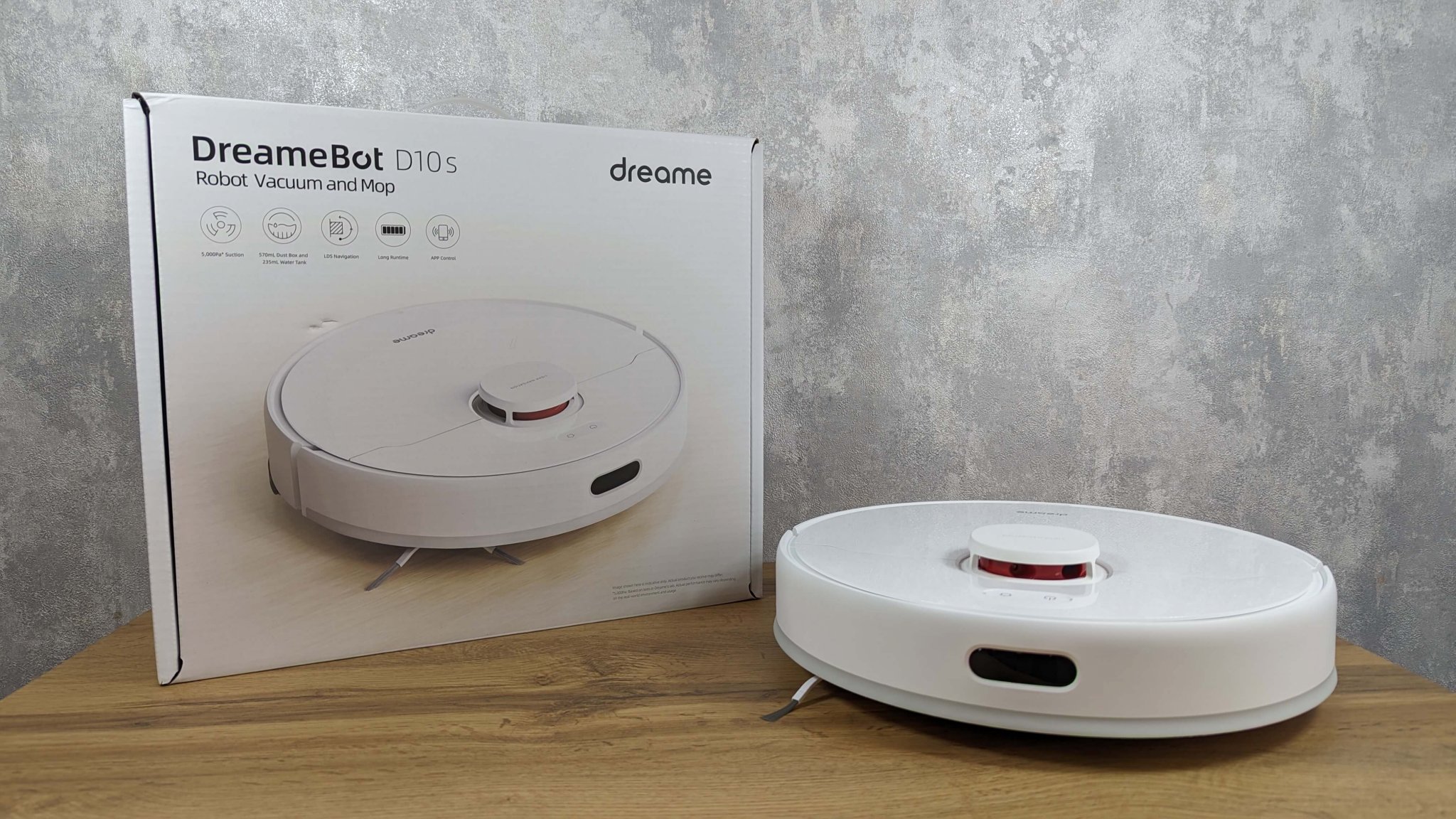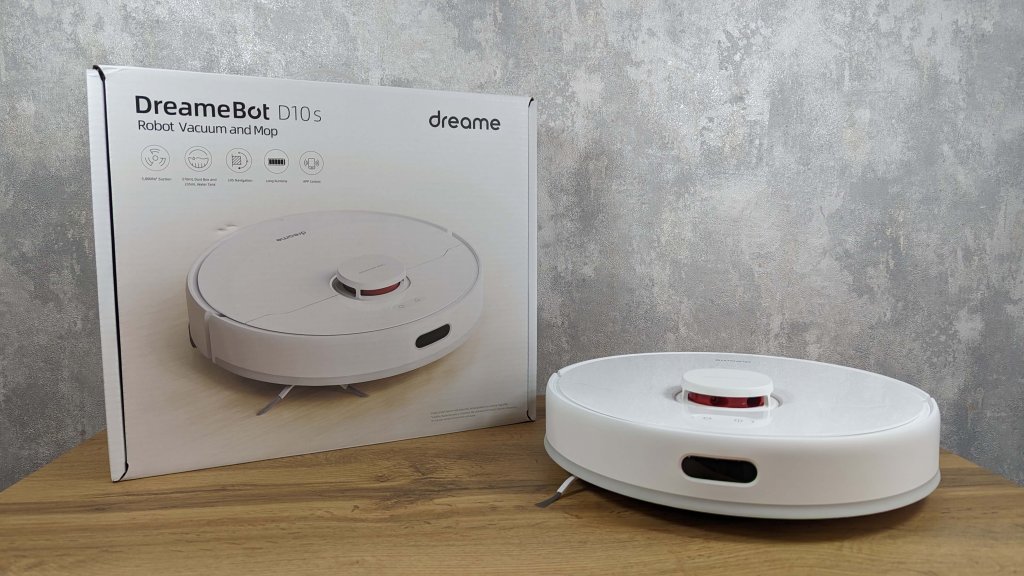 The box includes:
Charging base.
Power adapter.
Mopping pad.
Instruction.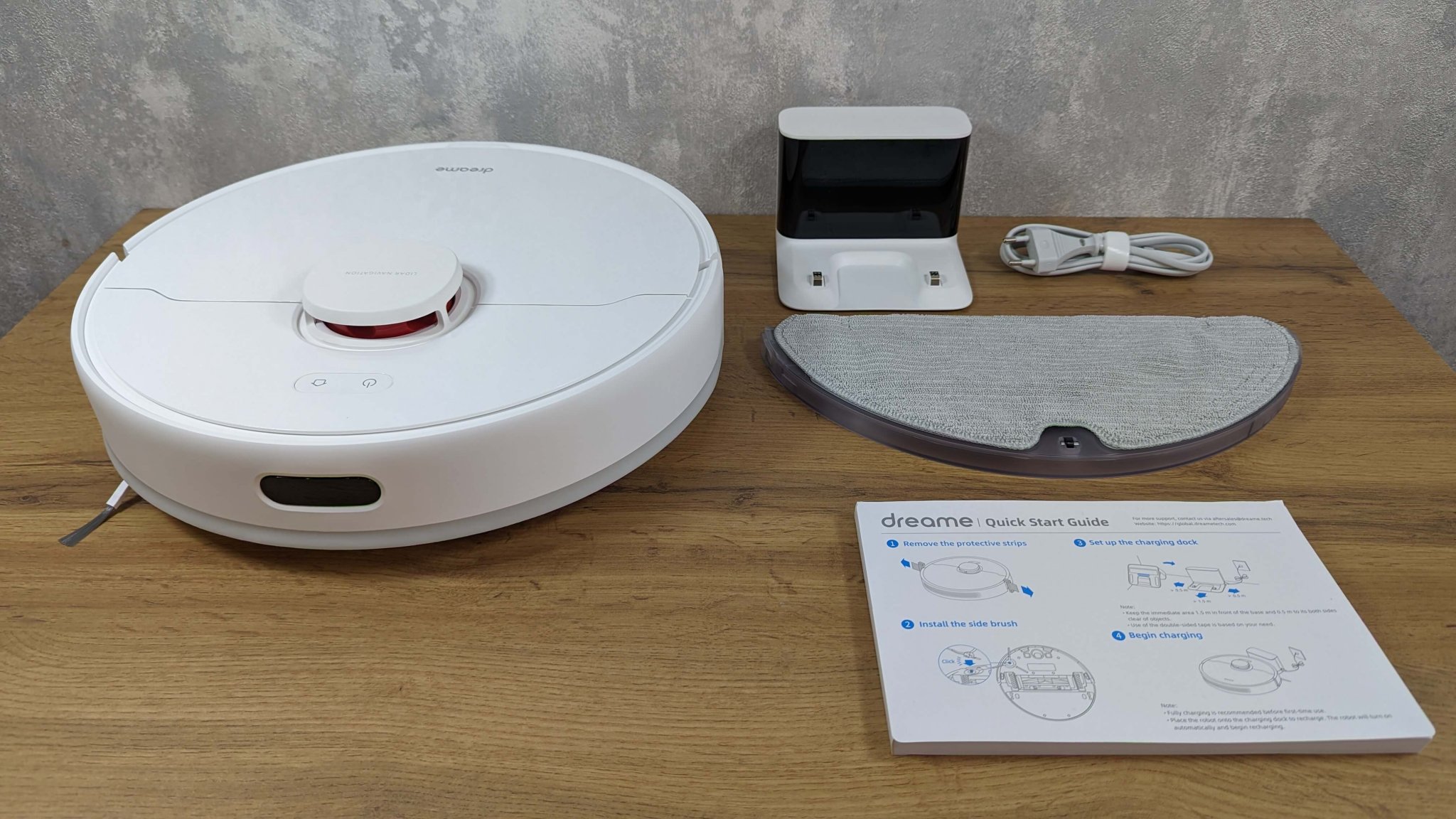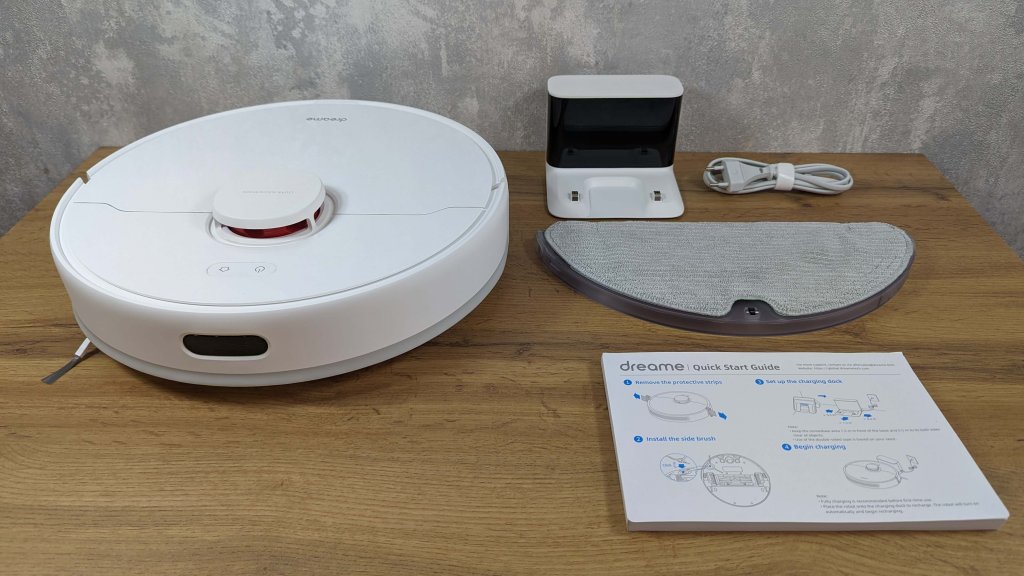 The box isn't packed to the brim, and extra towels/ filters aren't included..
Design
Now let's look at the robot's build. It's white and round, with a bumper on the front. The bumper also houses a sensor for detecting obstacles. Surprisingly, there's no wall sensor.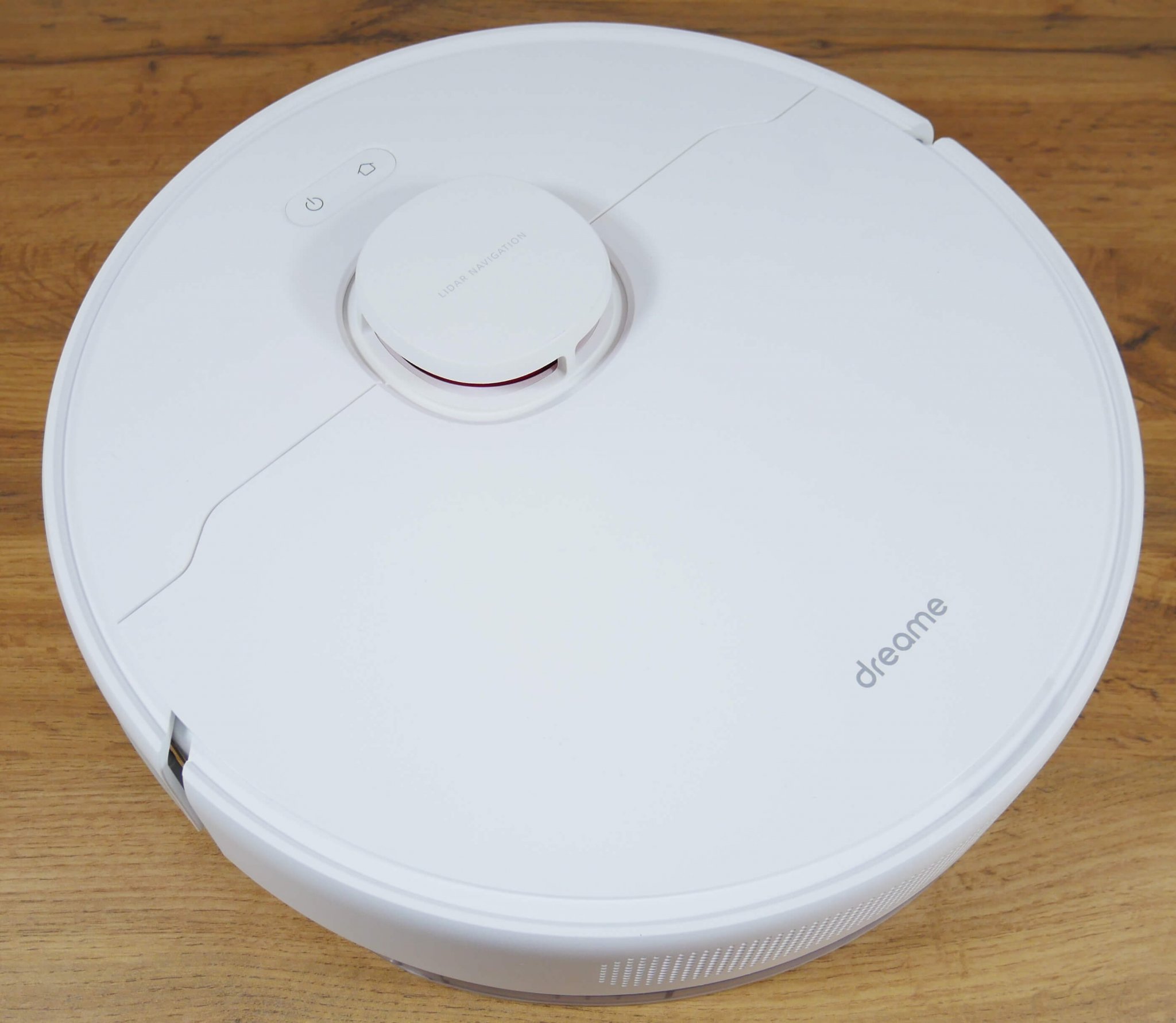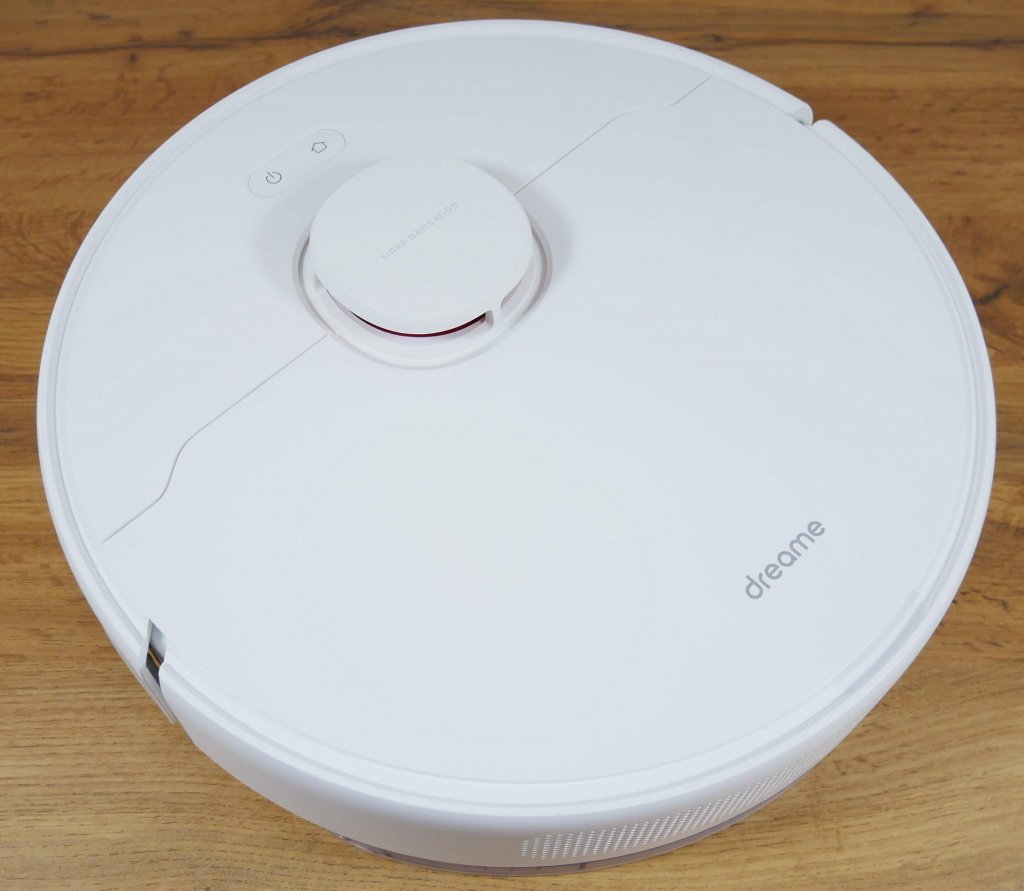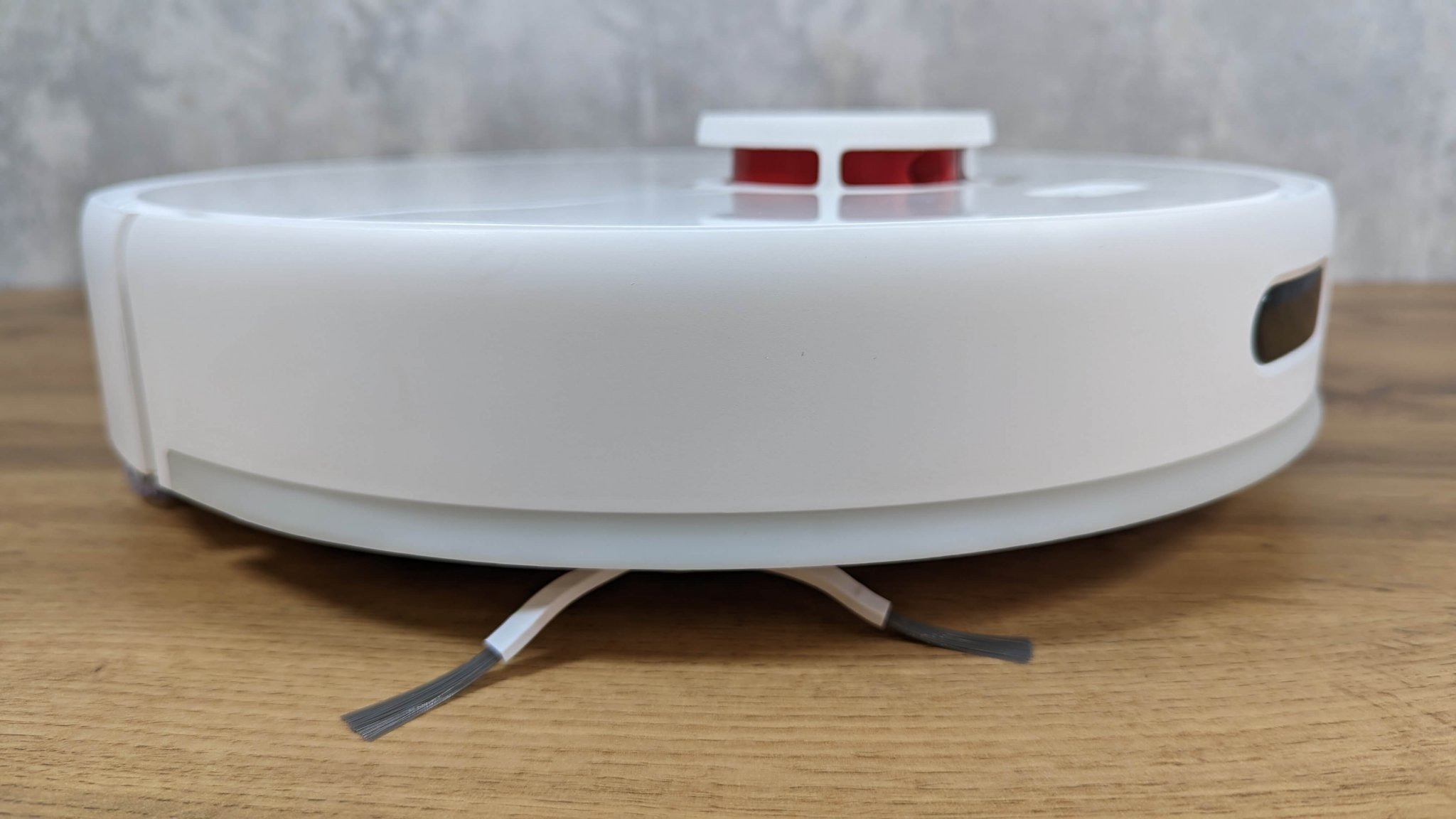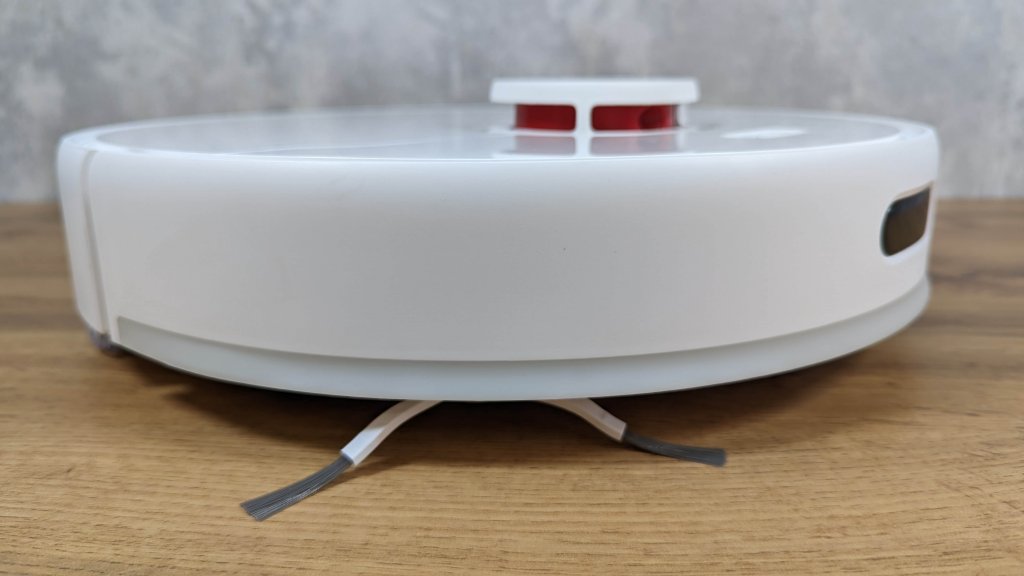 The control panel has two buttons. Navigation is made possible with LIDAR, and it has a HEPA filter. It's also equipped with a springed lid to stop it from getting stuck under low furniture. The trash container is under the top lid, and the tool for cleaning the robot is conveniently put near it. Both the filter and the container can be washed with water. The container holds up to 570 ml (19 o.z) of dirt.


There are 4 sensors on the bottom to stop it from falling. The manufacturers decided to abandon the carpet detection system. There is only one, three beam brush, which is easy to take off. The central brush is fluid. It's also silicone, and can be taken off from both sides to clean from hair and fur.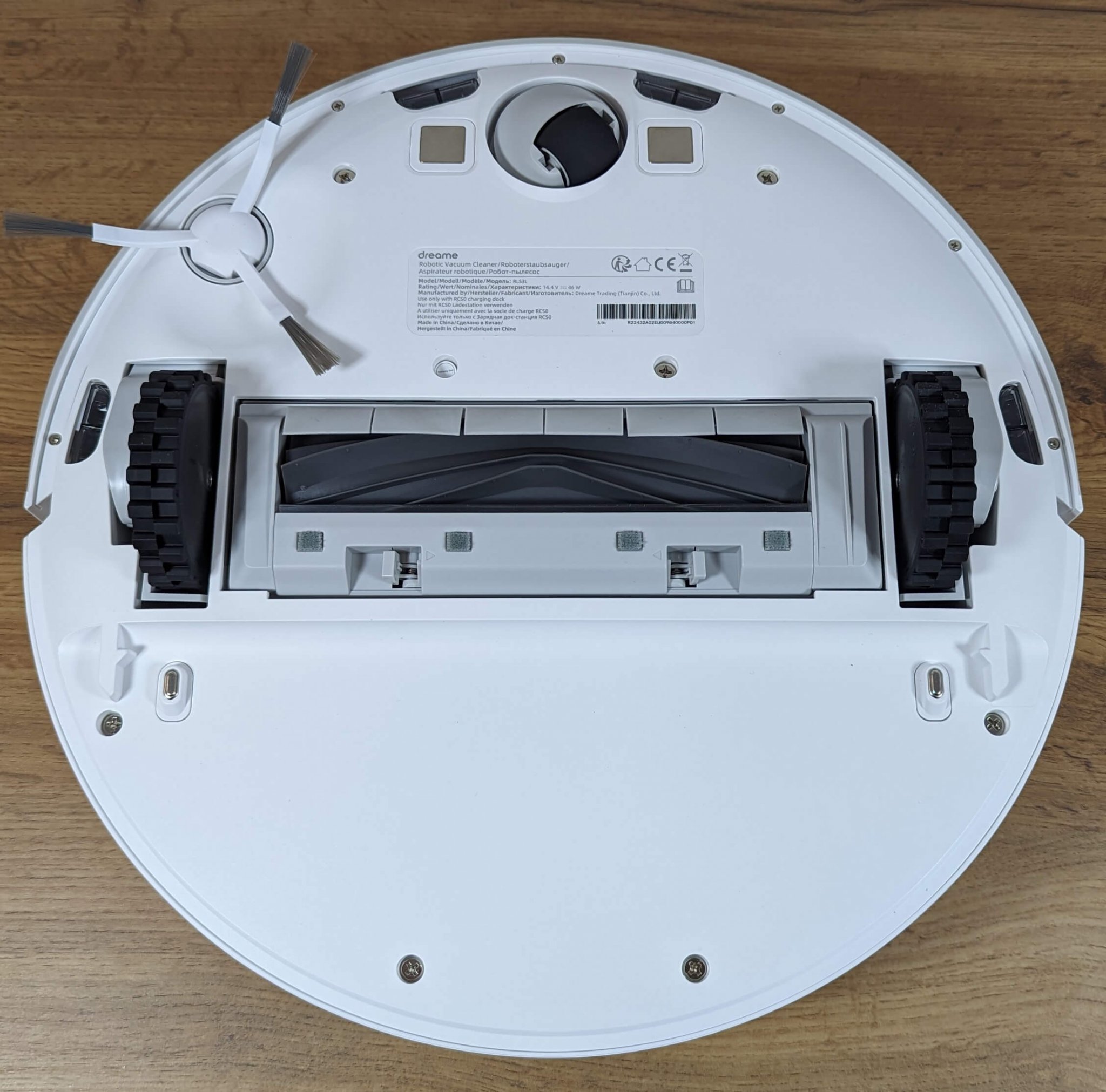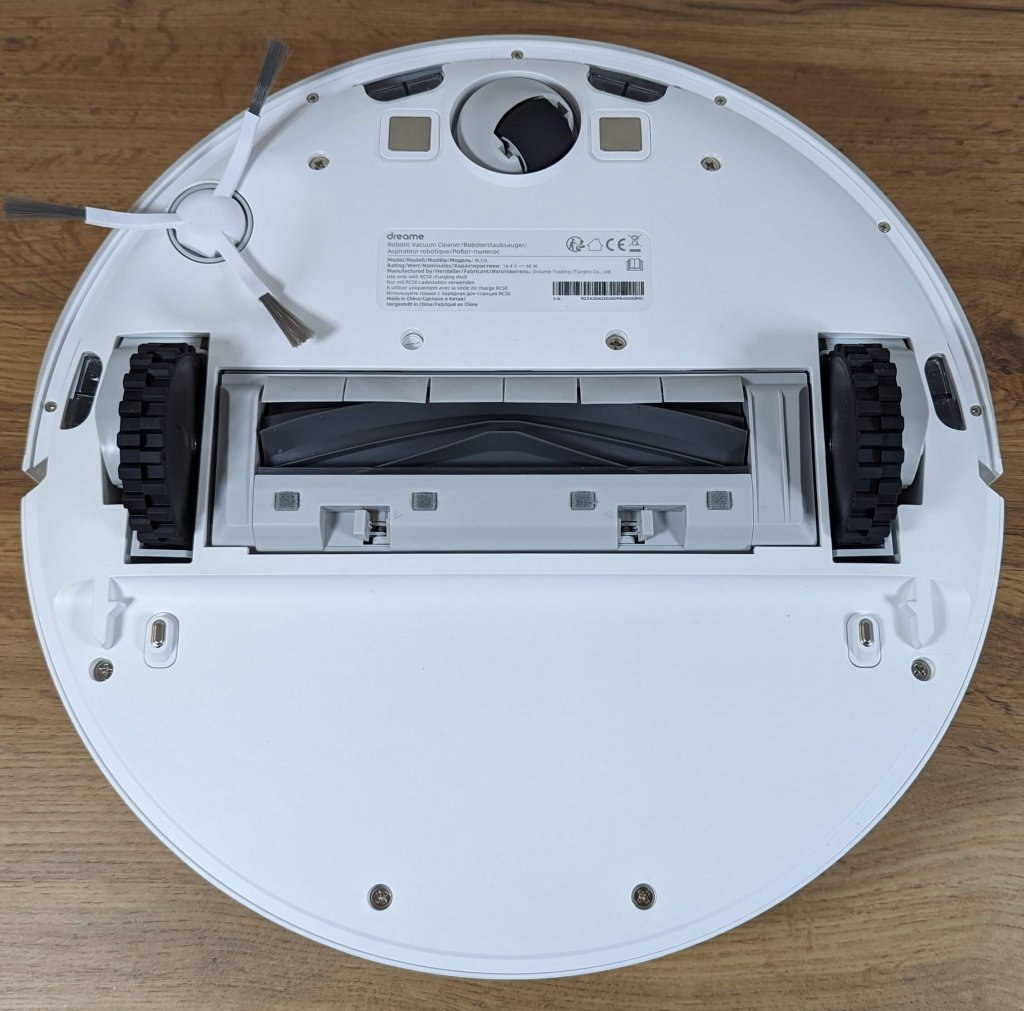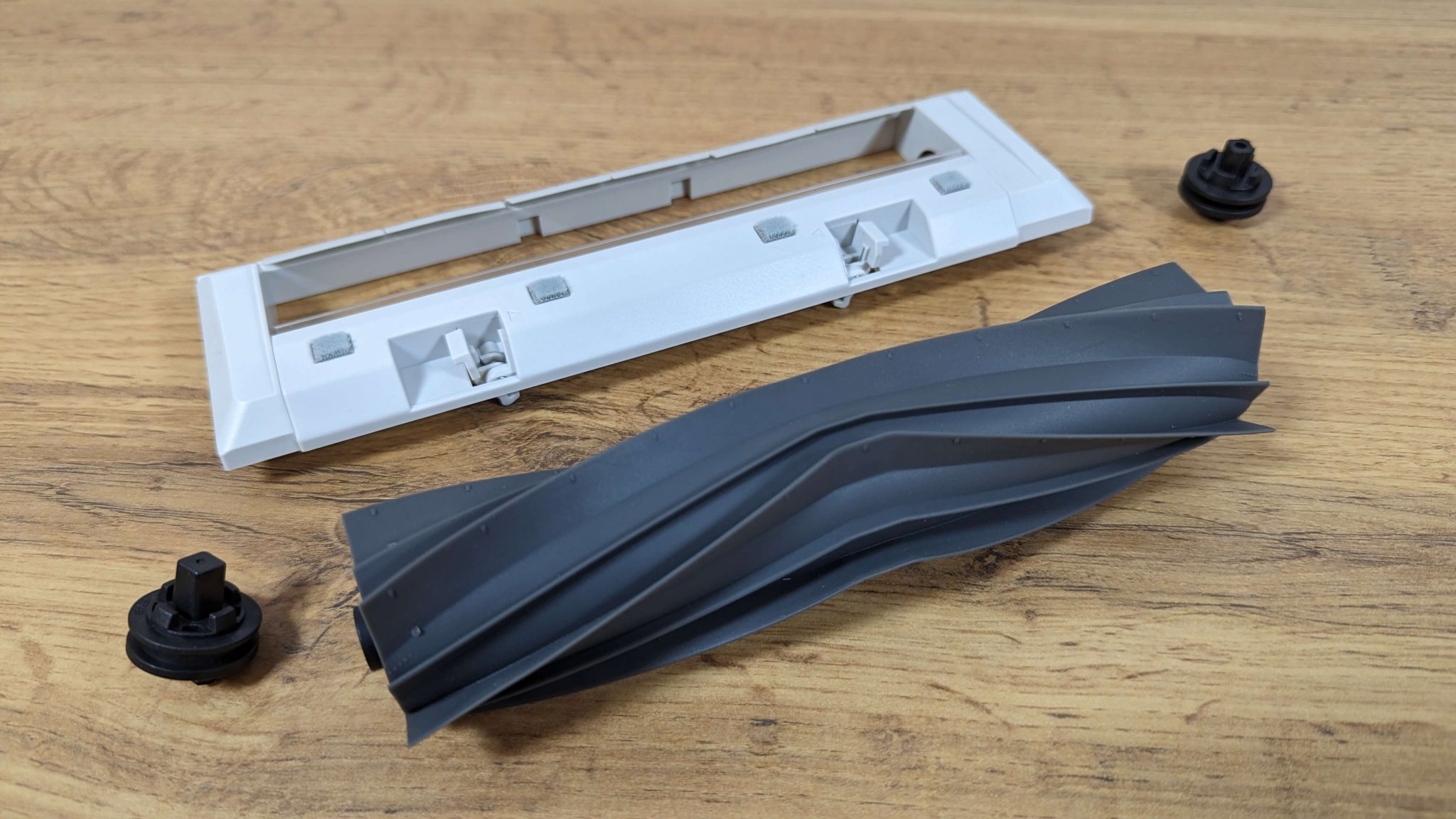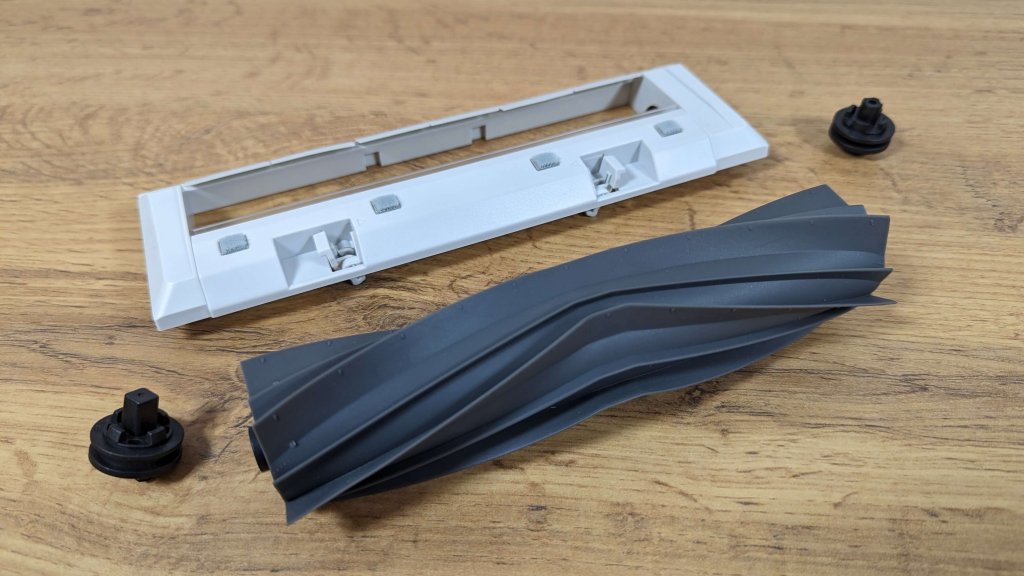 The mop nozzle is standard, holding up to 235 ml (8 o.z) of water. There is a pump inside for electronic water adjustments. Surprisingly, the wipe is attached to the nozzle using pockets. The usual groove was replaced, which I think was much more convenient. Personally, I think it's strange.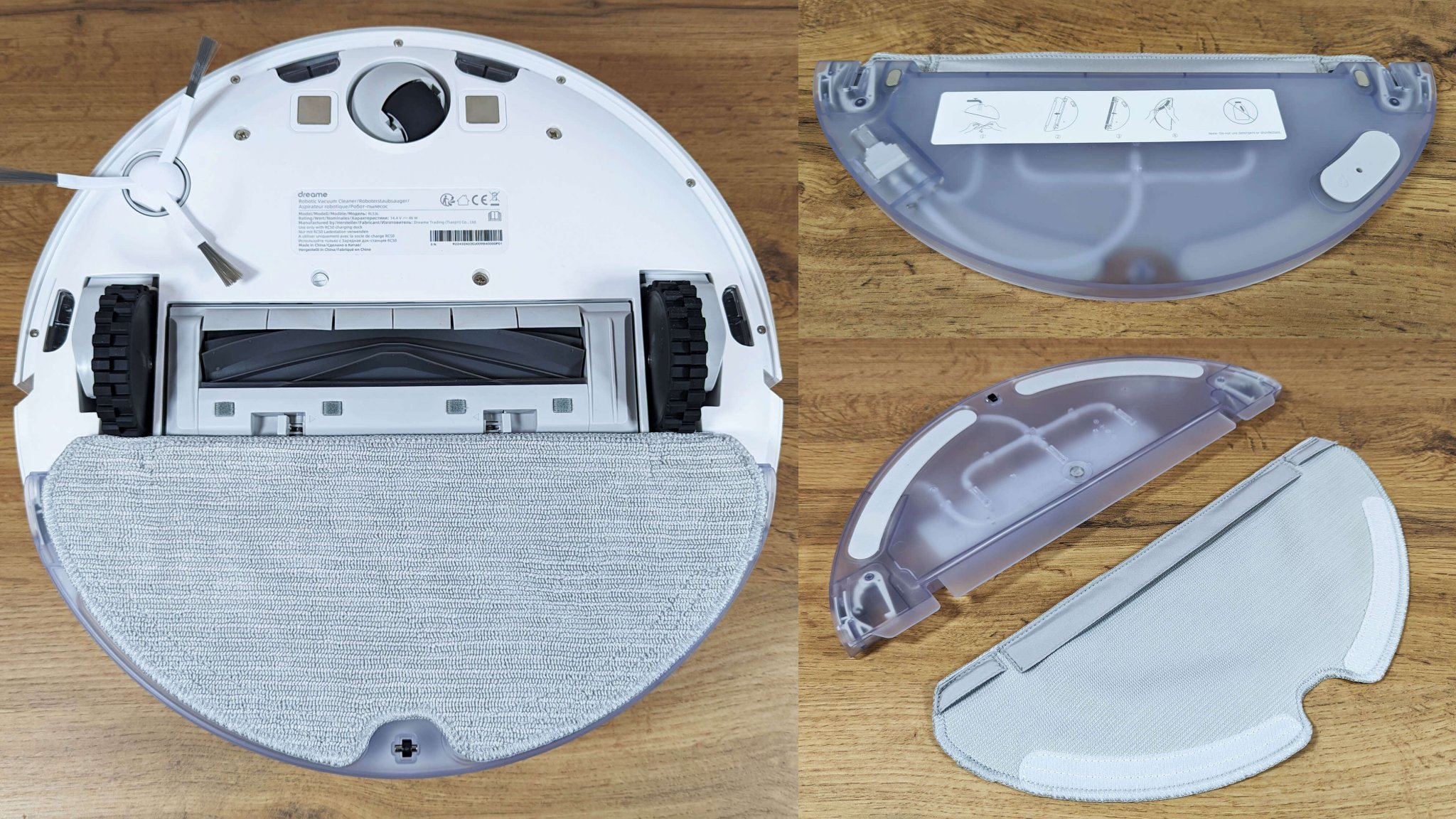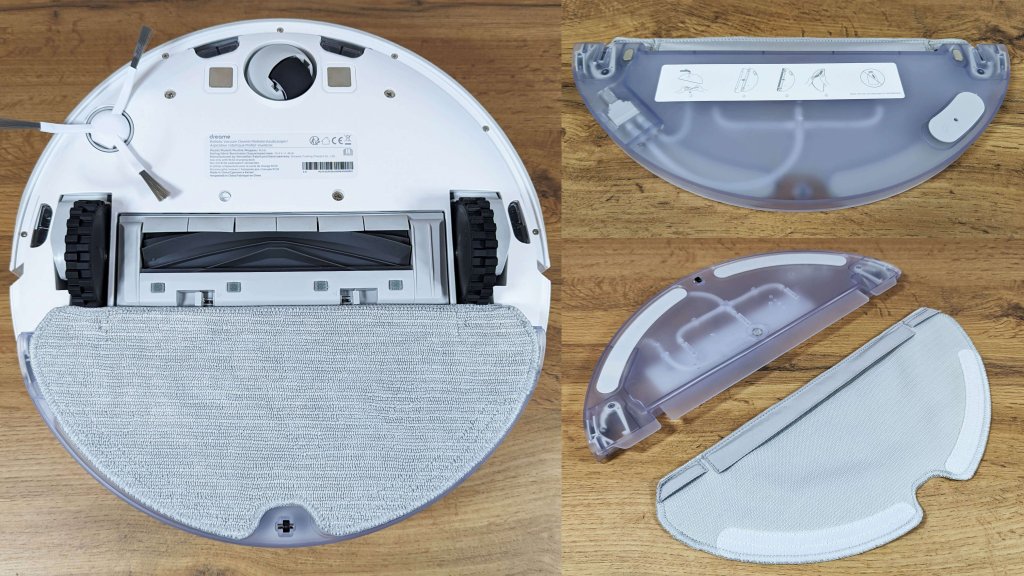 Overall, it's a pretty standard design, I didn't see anything new, not counting the silicone brush, which is also in the previously released Dreame Bot L10s Pro and Ultra.
Characteristics
The robot's main characteristics, given by the manufacturer:
Battery Li-Ion 5200mAh.
Suction power 5000 Pa.
Battery life 280 mins.
Cleaning area 250 sq.m (820 ft).
Trash bin size 570 ml (19 o.z).
Water tank size 235 ml (8 o.z).
Obstacle size 20 mm (.78 In.).
Size: 350*97 mm (13.7 x 3.8 In.).
Weight: 3,7 kg (8.1 lbs).
The only thing worth highlighting here is the increased suction power, which I'll check in the tests. Otherwise, it's quite standard.
Functions
Speaking of features, Dreame Bot D10s is controlled through the app Dreamehome, as I couldn't find it in the list of supported devices for Mi Home. I managed to connect the second time, but for some reason there was an error the first time. In any case, it's easy to connect, just read the instructions.
Dreame Bot D10s main features:
Can save multiple maps in memory.
Automatically zones the space into rooms.
You can choose the zones and rooms that need cleaning.
Virtual walls and no-go zones (also for mopping).
You can regulate the suction power.
You can regulate how much water the mop gets.
Custom mode.
Cleaning log.
Cleaning schedule
Voice alerts.
Automatic power increase on carpets.
Supports voice assistants.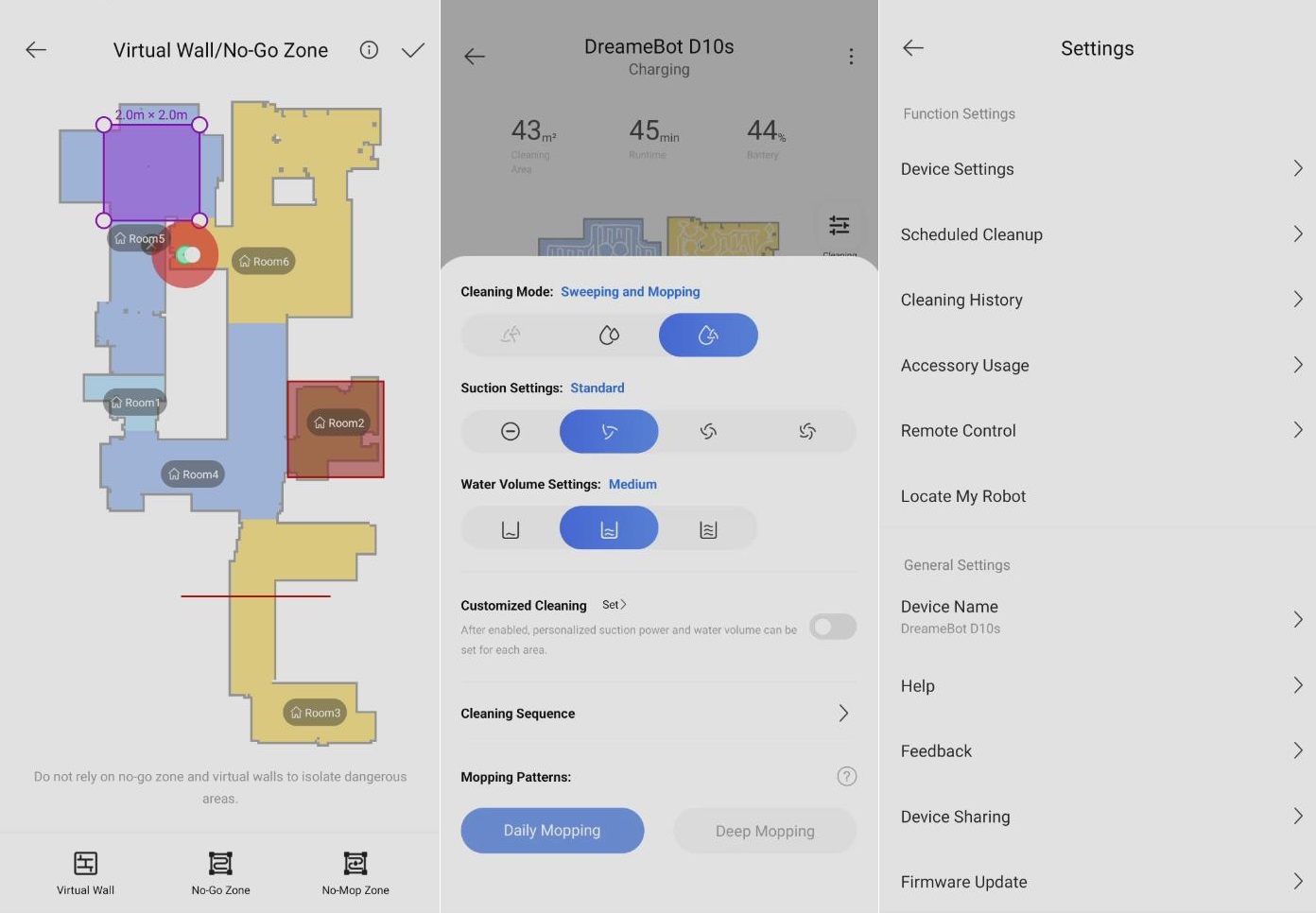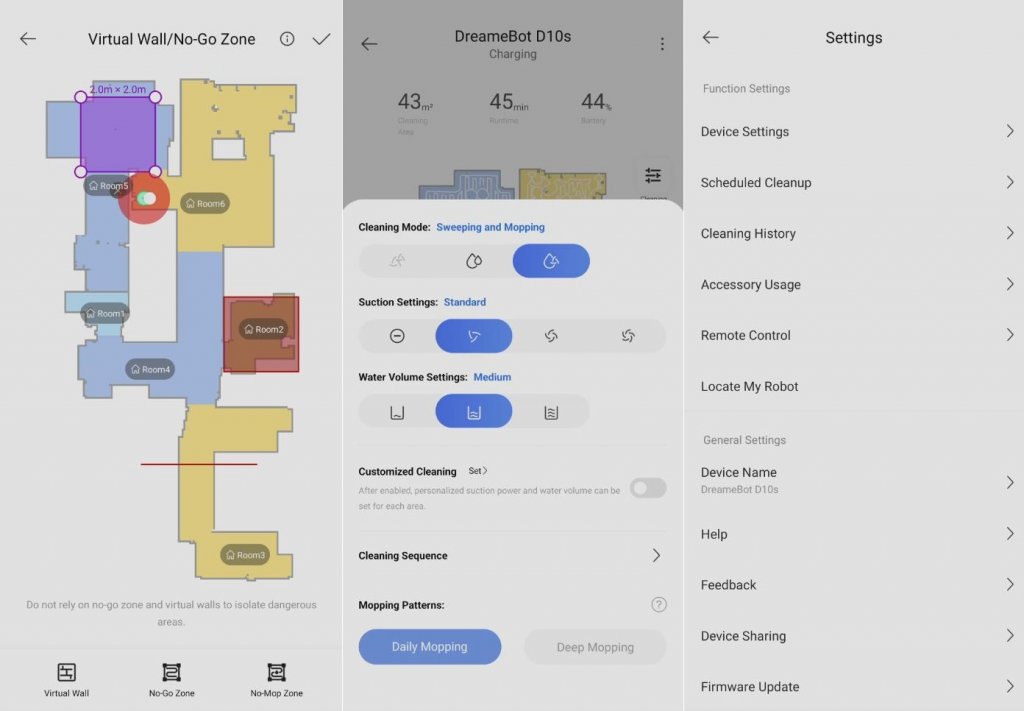 As you can see, all the basic features for easy customizable cleaning control are here.
Testing
Navigation
And, finally, let's move on to the tests. First of all, let's test the navigation in a room with obstacles. The robot-vacuum cleaner passes first along the perimeter of the room, then cleans the whole available area in a snake-like pattern. The legs of the dryer didn't give him a hard time. It swept around the box and chair legs separately, then returned to the station. The robot had bumped into the chair legs, which is caused, among other things, by the lack of a wall sensor. However, in any case, it definitely passed the test.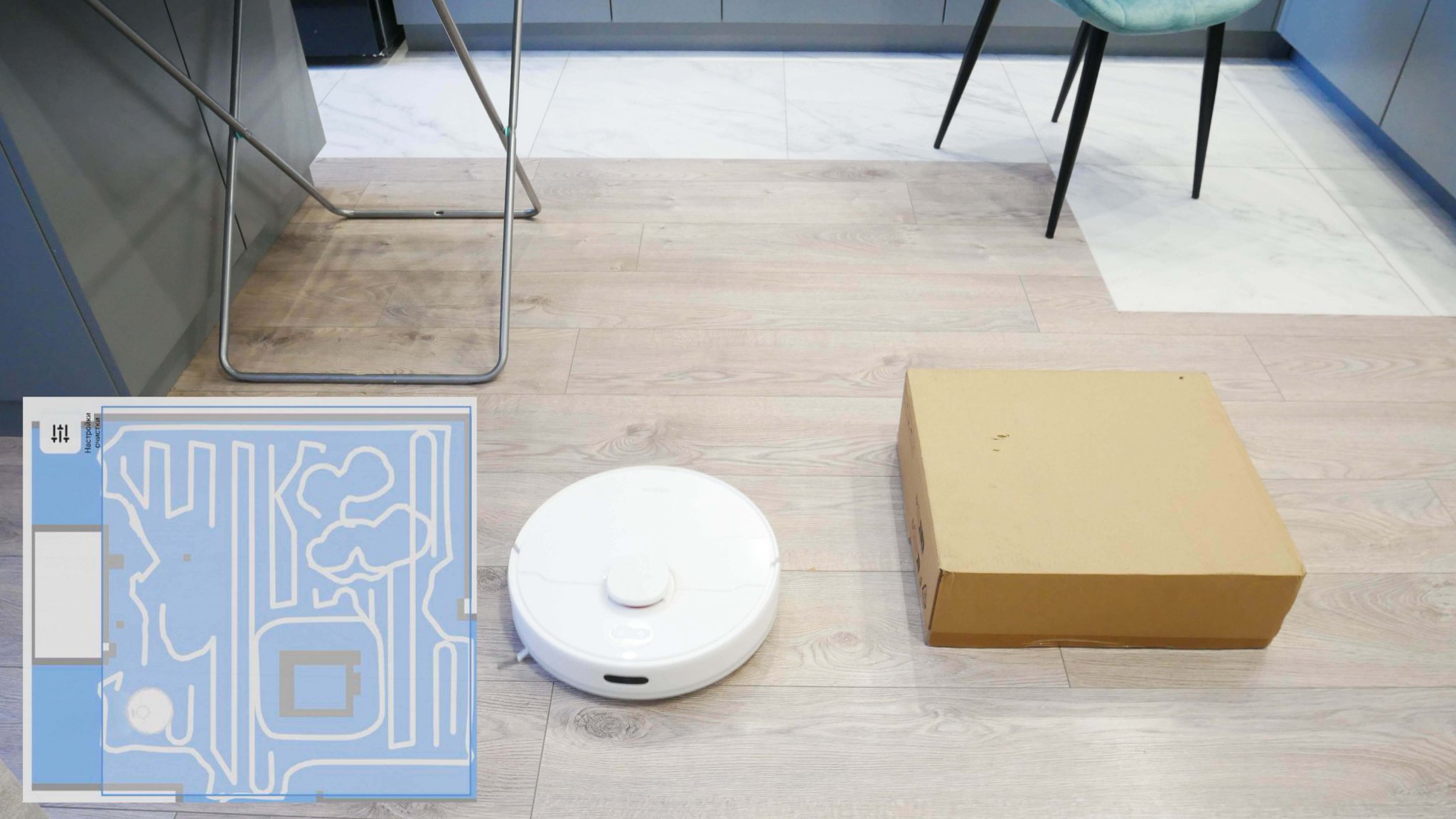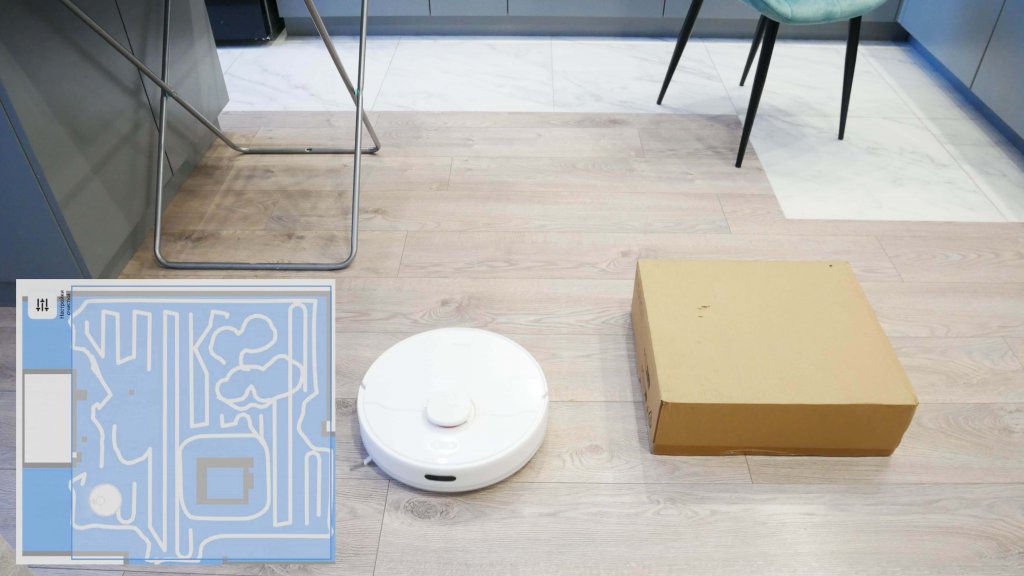 Speaking of navigating within the house, the Dreame Bot D10s cleans room by room first by perimeter, then in a snake-like pattern. Nothing left dirty, it was fast, and so I can safely say that the navigation is pretty good overall!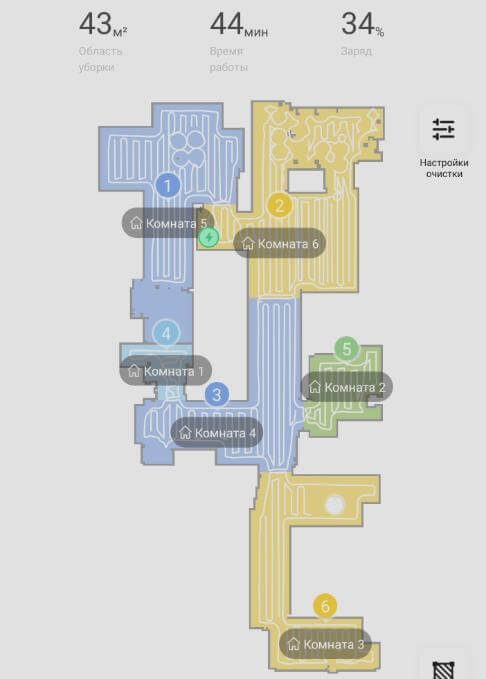 Suction power
As for the suction power, the vacuum sucked dirt out of 2mm (.07 In.) and 4mm (.15 In.) deep slots, just like the earlier Dreame Bot L10s Pro and Ultra. It even sucked dirt out of the 6mm (.23 In.), but then it brushed it back in. So the actual suction power is the same as its predecessors: increased, but not very high. For example, Dreame Bot L10 Pro managed to suck the dirt out of the 10 mm (.39 In.) slot without any problems..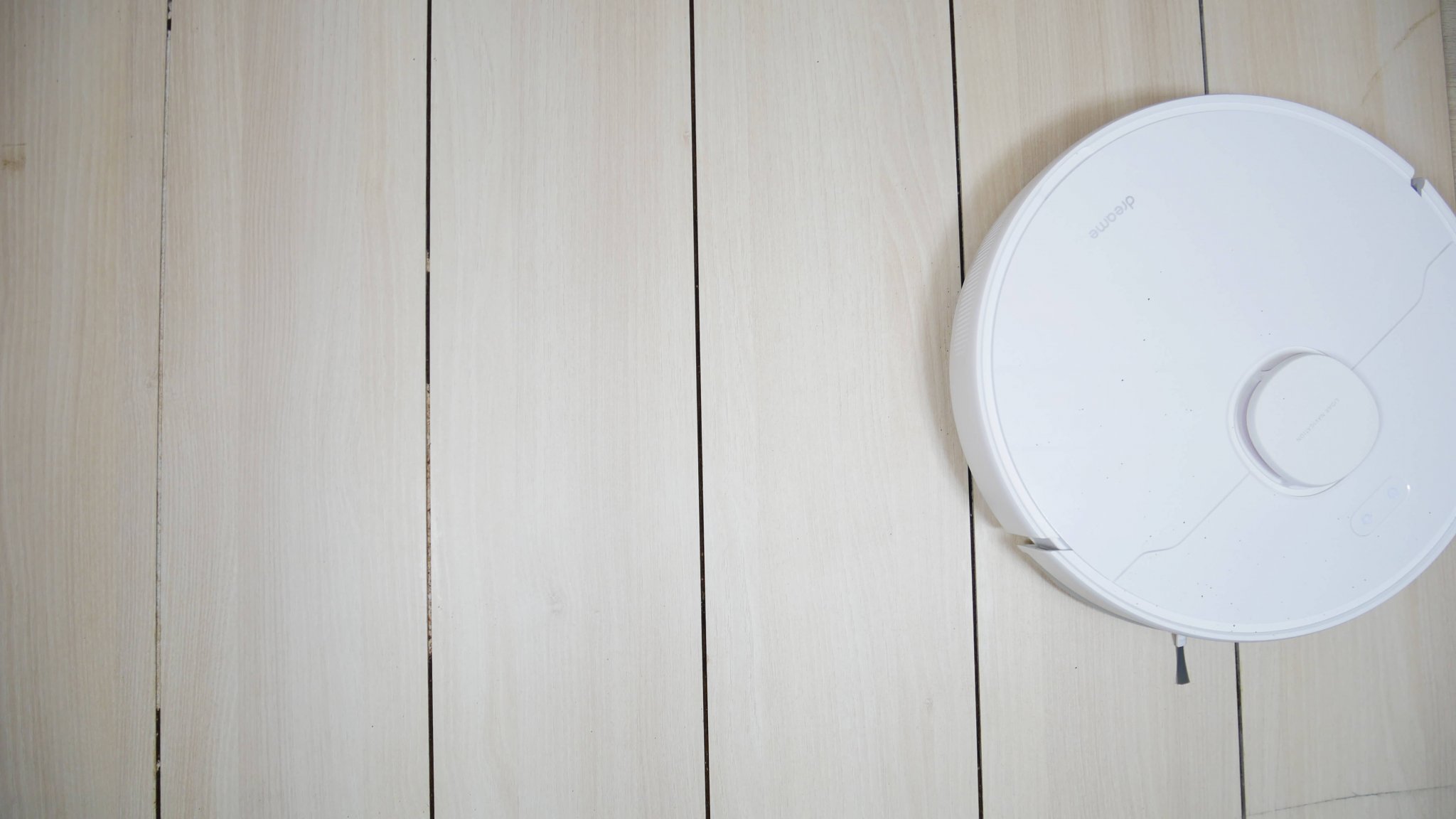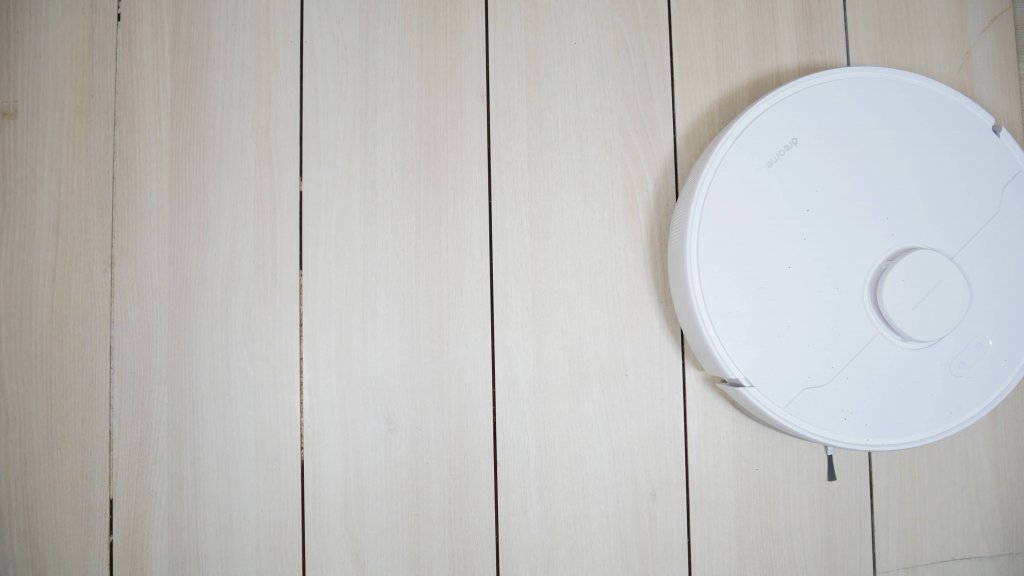 Vacuuming
It picked up differently sized trash pretty easily. Only some dirt remained in the corner, which is common for round vacuums.


You can see that some hair is wrapped around the brush. But it's very easy to clean, which is the main advantage of the silicone brush. Most of the dirt is in the container, and so the test was passed with flying colors!
Carpet cleaning
Speaking of the carpet, the silicone brush is still less effective on medium length carpets compared to the bristle brush. Nevertheless, the carpet is still clean after the test, with only a few clumps of hair stuck on the brush. The robot definitely had a triumphant victory over the dirt!


Mopping
The Dreame Bot D10s is definitely not the best at scrubbing out dirt. The wipe holder is a little weak on the floor, and the water supply on max runs out very fast. As a result, most of the dirt traces were left on the stand. Other Dreame robot vacuum cleaners with a standard straight wipe also showed this same result. This robot is more suitable for delicate mopping and dusting.


Mopping on carpets
As for mopping with carpets, Dreame Bot D10s doesn't see them, and so it doesn't go around them with the mop nozzle on. It's worth noting that the suction power does increase. Anyways, you can stop your carpets from getting ruined by putting no-go zones on your app's map.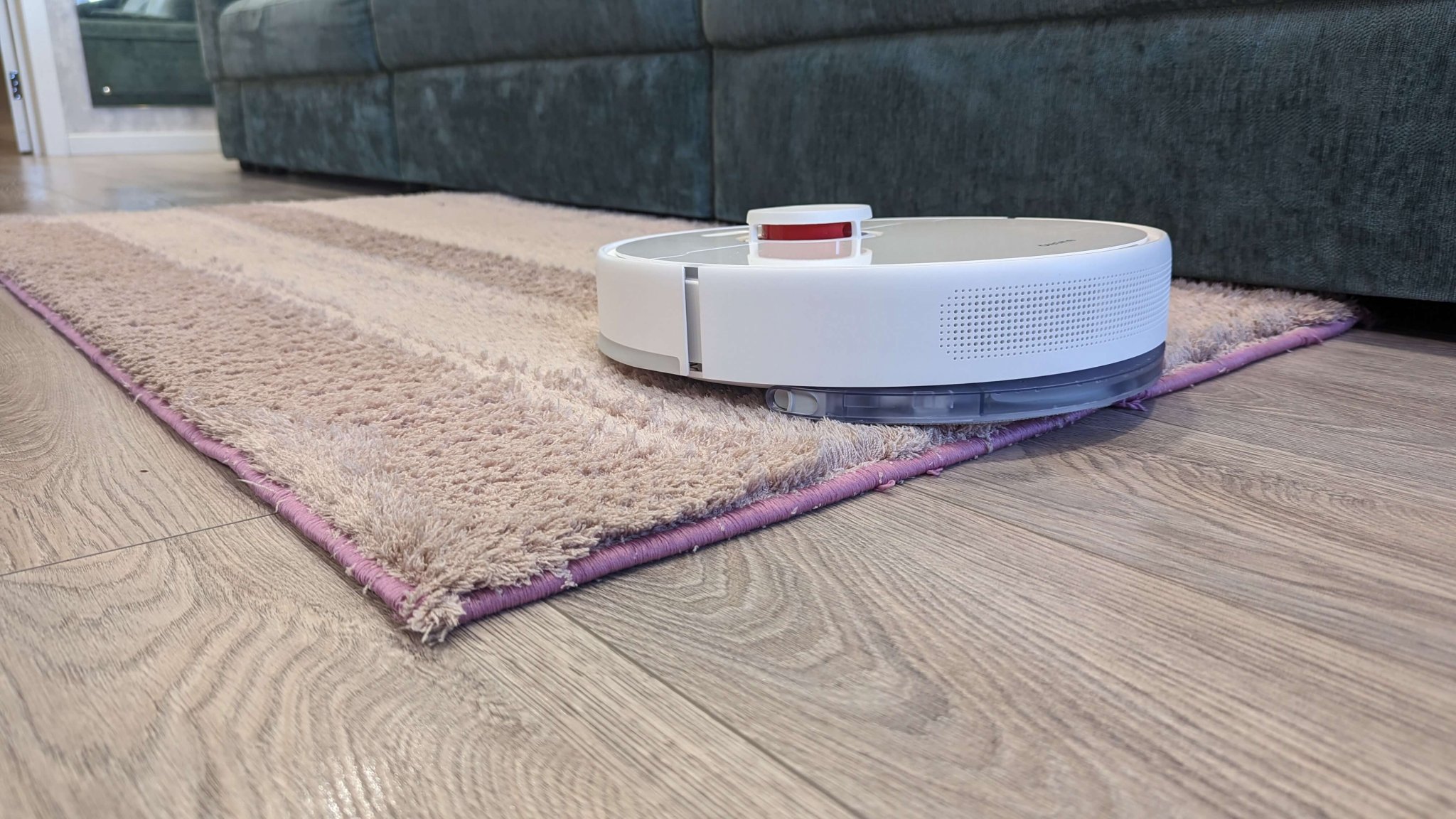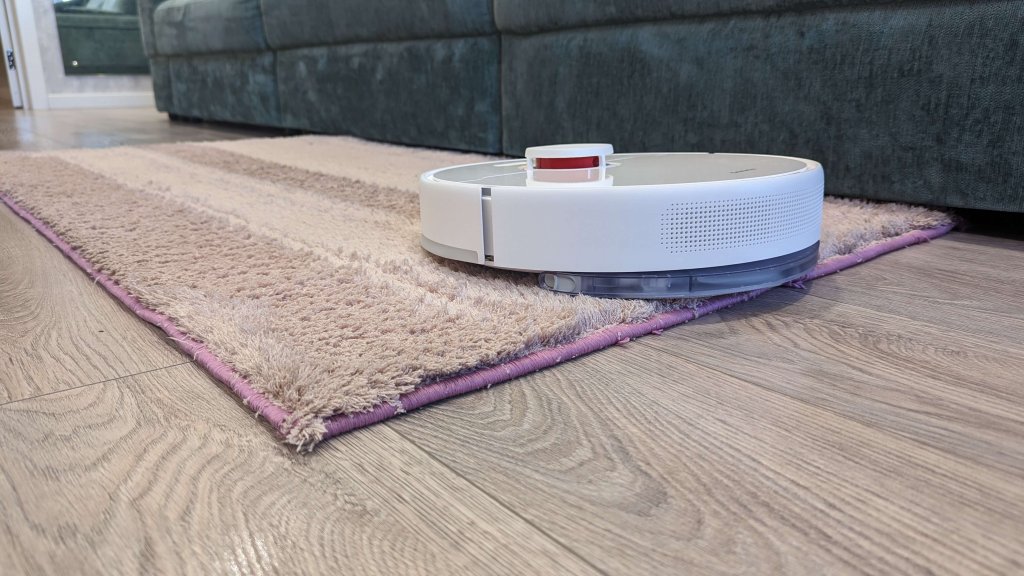 Obstacles
The Dreame Bot D10s had no problem crossing 2 cm (.78 In.) high baseboards. That's awesome!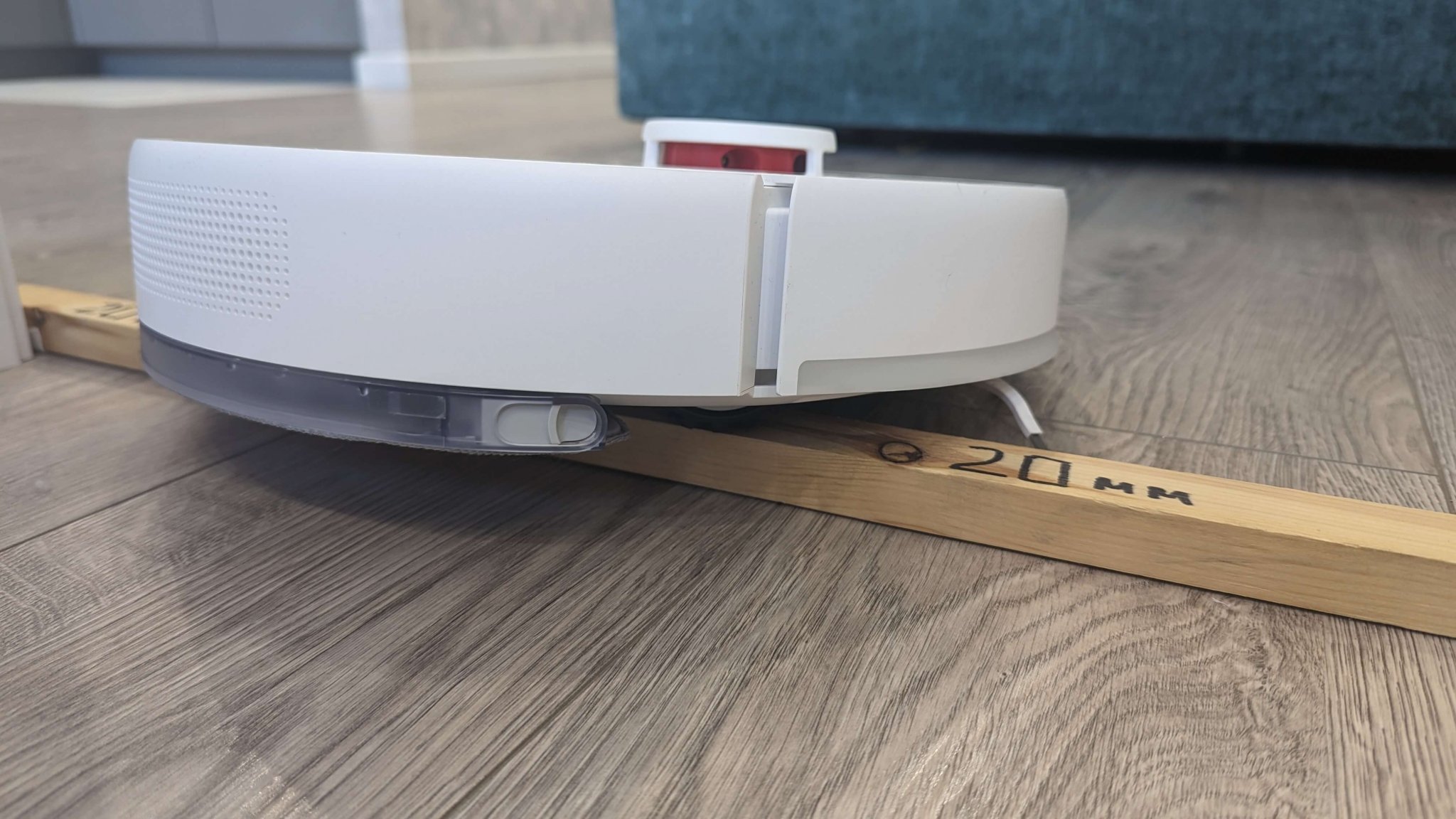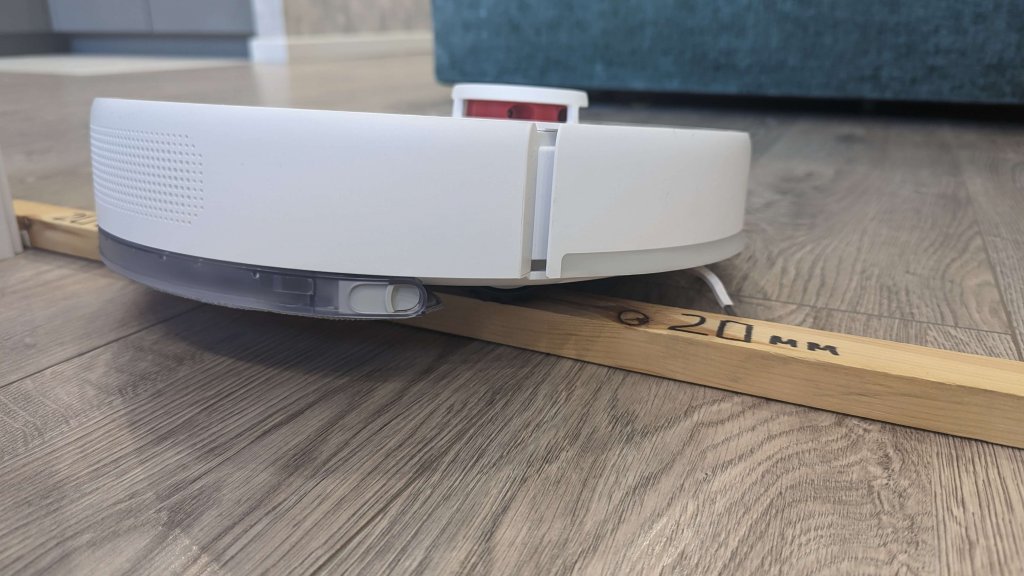 Dark spaces
Ah, but the robot is unfortunately afraid of black spaces, seeing them as cliffs. This isn't good and it's important to remember this when looking at this model.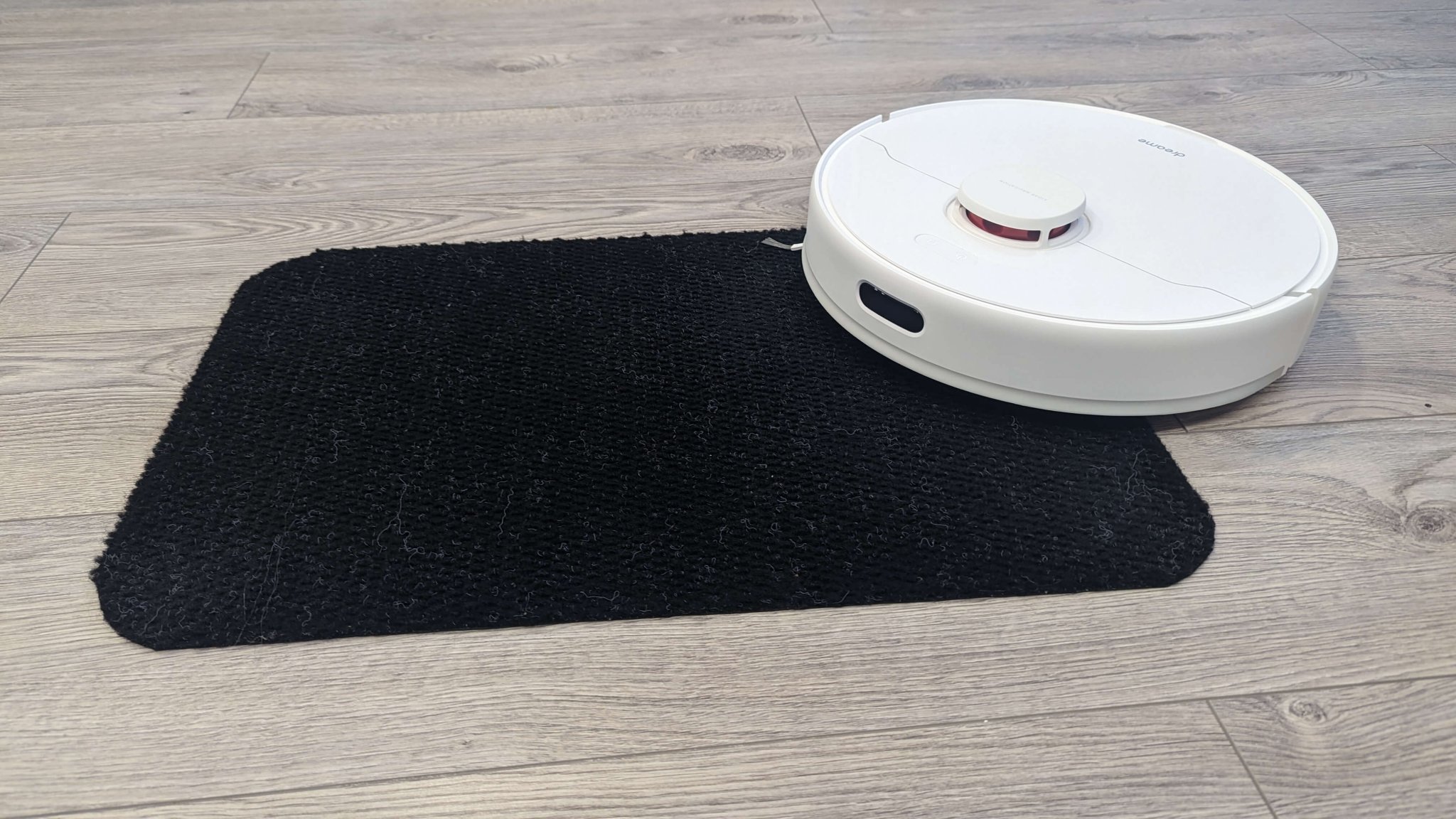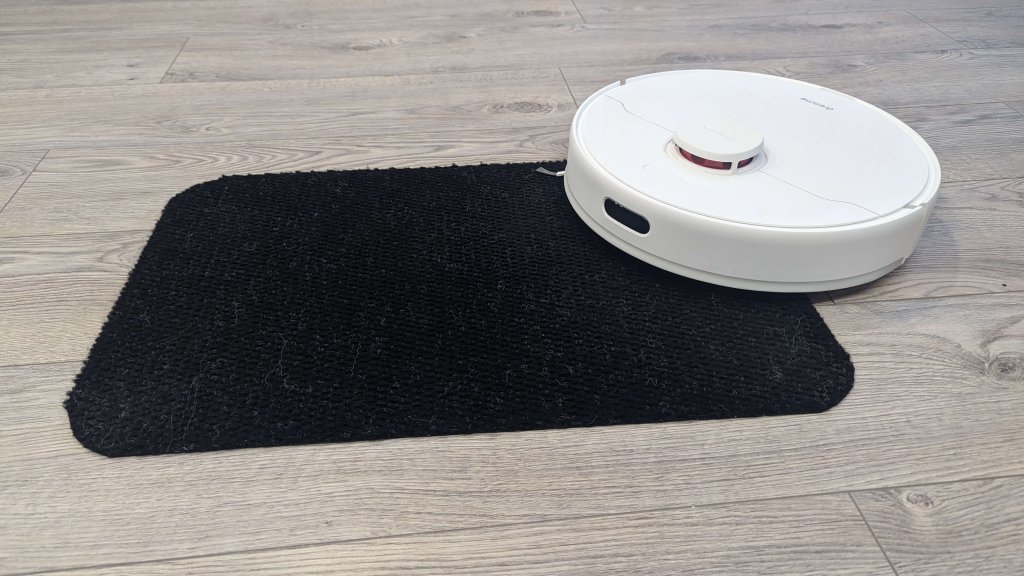 Noise Level
To close off my tests, let's run the robot's volume in different modes. With the suction turned off it's between 57-58,5 dB. At standard power the volume rises to 59-60 dB. In the "Strong" mode, the volume goes up to 63.5-65 dB, and at max power, it peaks at 69.2 dB. It's slightly loud, but not horrible. This is mostly due to the increased power on the robot.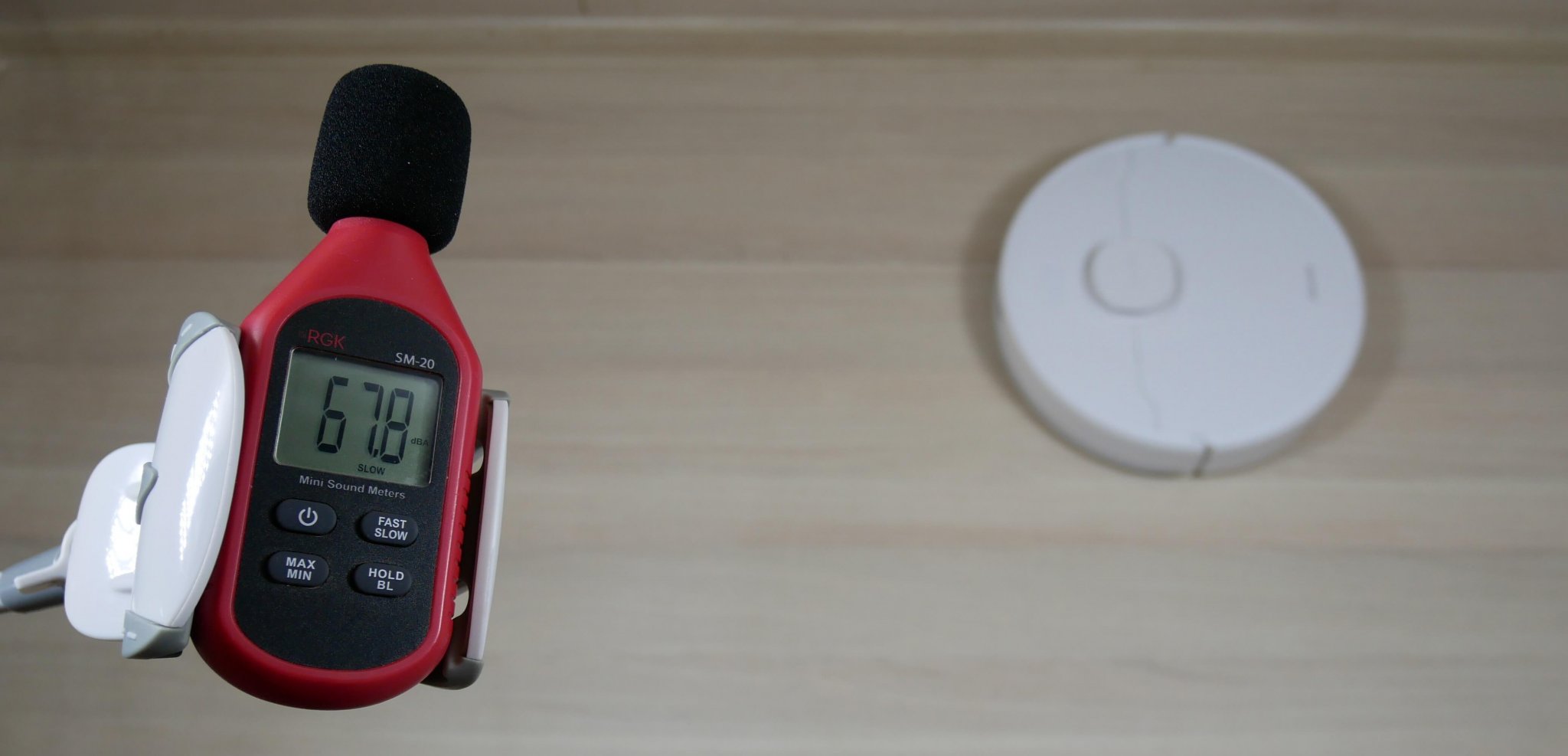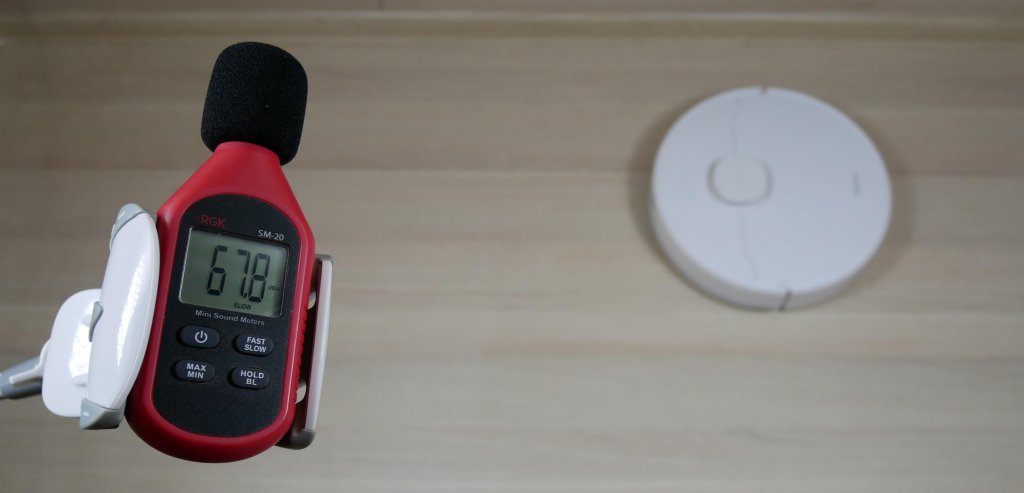 Summing up
The Dreame Bot D10s robot vacuum cleaner was tested and reviewed in great detail this episode. Our system gave it 119 points. Honestly, this is pretty standard, but its still behind names like Dreame Bot D9 Max and D9 Pro, which were actually more powerful and structurally a bit better.
Overall rating of robotic vacuum cleaners that have passed the Robotobzor test: https://robotobzor.com/ratings/general-rating-of-robot-vacuum-cleaners.html.
So first I'll highlight the pros and cons of the vacuum, and then give my own opinion. I liked the following:
New brush which makes it easier to clean hair and fur.
Higher suction power.
The vacuum can simultaneously mop and vacuum.
Quality vacuuming.
It's controlled through the Dreamehome app.
Lots of functions to make the cleaning mode under you.
Good off-road.
As for what could be better, I thought of this:
The mopping is kinda average.
It's scared of dark spaces.
There's no carpet or wall sensor.
Overall, the vacuum left a positive impression of itself on me. It does well with its main task, and the transition to its own mobile application, which is not provided for earlier models, is certainly a big plus. Mopping in almost all Dreame robots is mediocrely implemented, not leaving out the models that have rotating disks, so I'm not picking a bone with it.
Given the presence of a silicone brush and the lack of a wipe lift mechanism for carpets, I would recommend this robot vacuum primarily for cleaning on hard surfaces, or if you have pets that shed a lot. The brush is much easier to maintain than other vacuums in the D-line. Also if it was 10-15 percent cheaper, I would think that people would want it way more. So if you see a sale, I strongly encourage you to look for it within about $350.
On this note, I'd like to end the review. Please leave any question you may still have in the comments, and I'll take a look at them. Have fun shopping, bye!